Wilshire Center to Norma Desmond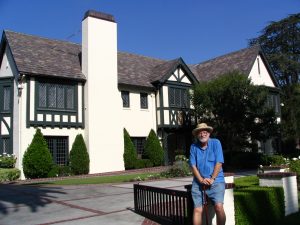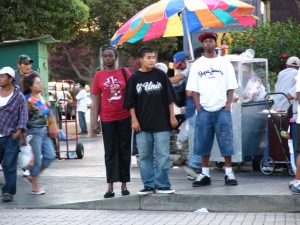 We've been having a heat wave, but we can't let that stop us, so we have to walk either early in the morning or late in the evening. For the second day of this walk we tried the evening. It was starting to get pleasant, though you couldn't call it cool, when we parked near the corner of Wilshire and Vermont. The first thing we encountered was a little bit of MacArthur Park here at this big intersection. No, not a stupid cake out melting in the stupid rain, but crowds of Hispanic people and sidewalk vendors selling fruit and bacon-wrapped hot dogs. I must say, nothing says "Los Angeles" to me quite as much as those sidewalk vendors. And the dogs are pretty damn good, they come with a grilled jalapeño.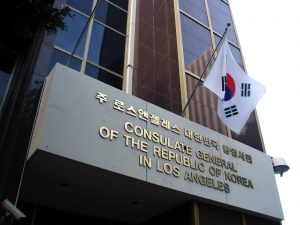 Everything else around here is Korean. The consulate is there, and a lot of churches with Korean script (do they have an alphabet, or are those pictograms?). It's an area with a lot of churches. Methodist, Presbyterian, something Japanese, a Jewish temple. Most of them look fairly old and traditional, but there is one that is ultra-modern. Want to guess? It's the Catholic one! Anywhere else but Los Angeles you can rely on the Catholic Church to be the biggest and fanciest and most traditional, with belfries and towers and baroque curlicues and gargoyles and, for all I know, hunchbacks. It looks like the modernistic stained glass in this one might be pretty nice from the inside (and when was it they started locking up Catholic churches? Used to be, you could enter them any time of day and look around. Sign of the times, I guess …), but the building itself might be a missile silo, and doesn't present a very pleasant aspect to the street. But this is Los Angeles, it's a young city compared to those Back East, and it's where a lot of awful ultra-modern architecture got its start. We also have a hideous "cathedral" downtown, that could be a cold-storage warehouse, or maybe the place they keep the old indulgences and records of priestly pedophilia on file. It looks a little like Uncle Scrooge's money bin … but lately, I doubt there's much money in it. The Los Angeles Archdiocese may have to send its remaining priests out on the street selling fruit and bacon-wrapped dogs to pay off the $660,000,000 judgement against them …
Another unlovely aspect of LA is that we still don't have much of a sense of history. I know it's not the only place—the '60s devastated many cities of some of their most lovely landmarks, such as Penn Station (and almost Grand Central) in New York. But the next place we walked by was where the Ambassador Hotel used to be … until just over a year ago! Unbelievable! Yeah, I know it was a wreck, it closed in 1989 because the neighborhood had deteriorated … but it's back now, it's a nice neighborhood, the place could have been renovated and I'll bet people would have flocked to it. The place had a history, dammit! Bobby Kennedy was shot there, for chrissake! Dustin Hoffman did his famous awkward walks through the lobby under the eye of Buck Henry as the desk clerk in The Graduate. Countless other films were made there.
And unless you've read about it, you'd never in a million years guess what greedy corporate vandals were responsible for this abomination. The Los Angeles Public School District! How's that for teaching your students the value of history? I have no idea how they came into possession of the property, but they decided they desperately had to have a school right there, and they fought tooth and nail against some very determined opposition, including quite a few movie stars like Diane Keaton, and they won. Now, my friends and neighbors, nobody is more in favor of education and good schools than I am. But you cannot tell me there wasn't some place less culturally significant they could have built this one.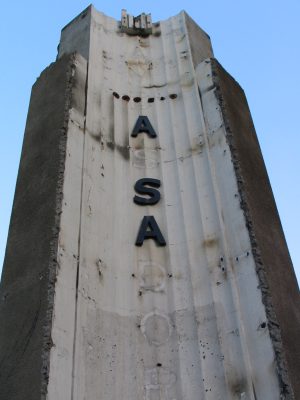 The deal was they were going to save the old Cocoanut Grove and turn it into an auditorium, or something. Also the coffee shop and the pantry area where RFK was gunned down by Sirhan Shithead Sirhan. (Sirhan also filed a suit to stop the demolition, under some bullshit grounds of "forensic testing." Once a shithead, always a shithead, I guess.) Whoever wrote the Wikipedia article is clearly angry, so I don't know how much to trust it, but he or she claims the LAUSD blatantly ignored that promise, and much of what they agreed to save is now gone. It's hard to tell. The property is surrounded by a fence to hide the shame of the whole enterprise, but through the gaps you can see a lot of plowed ground, and something still standing out there. I don't know if it's the Cocoanut Grove. Other than that, the only remnant is a battered wall with a frieze on it depicting what looks to be hotel staff waiting on a guest, and a tower on the corner that looks like it used to be part of a grand entryway. On it are the letters: A S A. You have to fill in the AMB S DOR yourself, though you can see the ghosts of the letters. Very sad.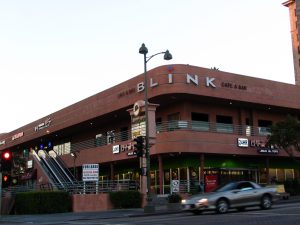 Across the street is the sad remnant of another Los Angeles institution that no one had the sense to preserve: The Brown Derby. There were four of them, and the one in our neighborhood, at Los Feliz and Hillhurst, now called just The Derby, is the only one still operating under that name. But the one on Wilshire was the only one that was actually shaped like a derby hat. It's where Hollywood stars, agents, and producers used to meet after the Cocoanut Grove closed, and where the Cobb salad was invented. It's where Lucy Ricardo dumped a plate of food in William Holden's lap. It was moved a block west once, intact, then closed in the late '80s. Somehow they managed to preserve the dome of the hat … and then painted it orange. Now it's the Café SheeRi. Gag me.
I know it's not just Los Angeles. Take a stroll through any big city with a guidebook or someone who's lived there a long time and you will find a lot of places where something neat used to be. And I'm not opposed to progress, I just define it differently than those who are really out for nothing for profit, and the past be damned. I'm in favor of preservation and renovation. There are so many examples of where that sort of thing has worked. Ghirardelli Square in San Francisco. Union Station in DC. Pike Street Market in Seattle. Honestly, don't you think the Brown Derby with the original brown hat and the Ambassador Hotel with the refurbished Cocoanut Grove would bring in tourists as well as locals?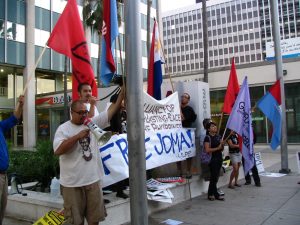 Later we passed a very small, rather pathetic group of demonstrators in front of some company from the Philippines, urging the immediate release of somebody called Joma to a largely disinterested world. That turns out to be Jose Maria Sison, founder of the Philippine Communist Party and its armed auxiliary, the New People's Army. Joma lived in exile in the Netherlands for 18 years, and was just arrested by the Dutch police for ordering the execution of two former comrades back in the islands. Sorry, dudes. Way down on my list of stuff to get upset about. Right down there with Free Mumia.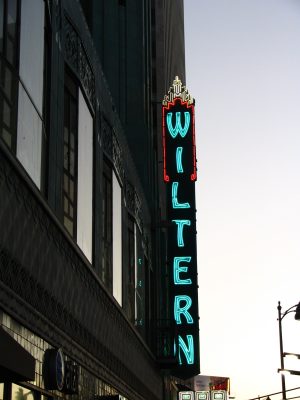 By the time we got to Wilshire and Western it was starting to get dark, but that was okay, because Lee got some pictures of the beautiful old Wiltern Theater with the neon turned on. It used to be a movie theater, and unlike so many it has survived as a concert venue. The building is a sort of turquoise green color and, I think, art deco. Amazing that it's survived. I'm sure there are plenty of developers who'd like to tear it down and put up another glass tower.
We made it as far as Crenshaw. It was quite dark by then, and we caught the 720 Express bus, which made only two stops on the way back to our car. Since we were in Koreatown I had wanted to eat something Korean … but all the places were either too fancy, or too down home. By that, I mean the menus were on the wall and in Korean only, and there were only Koreans sitting at the tables. Not being that familiar with that cuisine, we elected to stop in at a little old blue-roofed IHOP tucked away behind the Red Line station apartments. We were waited on by a fat and jolly Mexican woman who I pretended was Korean, and I had a pretty good Korean Philly cheesesteak, and Lee had the Korean pot roast. I mentioned Norma Desmond in the last installment's title, but didn't get to her. I will, I will, just be patient. First, some scandal!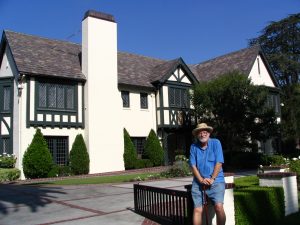 This time we started early, getting to 6th Street, a block north of Wilshire, at about 8:30 AM. We parked on a beautiful street in the Windsor Square area of Hancock Park, a very, very upscale neighborhood where the "old money,"—old in Los Angeles terms, anyway—took up residence in the '20s. These are the people who sneer at the parvenus of Beverly Hills, Bel-Air, and Brentwood, the people who got streets and neighborhoods and buildings named after them: Doheny, Chandler, Huntington, Van Nuys, Crocker. (Science fiction writer Larry Niven is a Doheny grandson.) We were a half block north of a square block that has been and continues to be quite important in Los Angeles history, in almost any way you can name. This is the Getty block. We were right across the street from the official Mayoral Residence, the former Getty House. This is where our once-popular mayor, Antonio Villaraigosa, used to live. He's still mayor, but he doesn't live there anymore because his wife, the long-suffering Corina, kicked his sorry philandering ass out of the house back in June after Hizzoner was forced to reveal (or let the press reveal it for him) that he'd been having an affair for years with a television reporter. Very sad. They once loved each other so much that they went beyond hyphenating their last names, they fused them. He was Antonio Villar, and she was Corina Raigosa. Isn't that sweet?
It gets a little confusing here. Around the corner, on Wilshire, is a tall, fairly bland building that used to be Getty Oil, and now seems to be renting space. Before that … it was the Getty Mansion. In 1950, when it had recently become empty and was awaiting the wreckers, Billy Wilder filmed the exteriors for Norma Desmond's mansion there. You know, the scene where William Holden is floating face down in the pool, dead as a mackerel, and still manages to narrate two hours of film. Quite a feat! Anyway, the confusing part is, there was the Getty Mansion, which was huge, and there was the Getty House, which ain't no shack. You can see down the driveway that there is a smaller structure in back. The Getty Guesthouse? Was there ever a Getty Privy? A Getty Doghouse? There is a Getty Tennis Court, you can see it on Google Earth. Pretty fancy digs for a mayor, if you ask me. Even fancier for a women and her two children who, technically, don't have anything to do with LA city government anymore, not even in an ornamental capacity. But who asked me, right?
The first structure of note as we headed west was the Scottish Rite Temple of the Holy and Utterly Irrelevant Order of Masonry, or something like that. Whatever you say about them, they have some lovely buildings scattered around the country.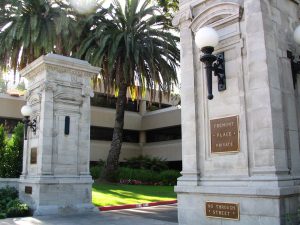 Then across the street is Fremont Place, a gated, private community that looks very ritzy. Onward, and the next neighborhood is Brookside, a place I can't find any reference to at all, not even at Wiki, which is pretty obsessive about LA neighborhoods. Its chief function seems to be to provide office space in six or seven long, low, unattractive buildings—and one tall one with bars on the windows that looks like a high-rise prison—for Farmer's Insurance.
Then we were at La Brea Avenue, and the sun was getting higher and the day was inching up toward the 95 degrees we would eventually get, so we called it quits and rode the 720 back to Crenshaw, non-stop.
Next: The Miracle Mile!
September 7, 2007
© 2007 by John Varley; all rights reserved