The Dead – Hollywood Forever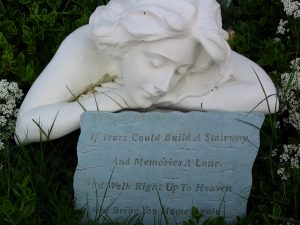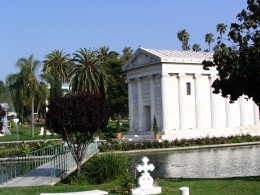 Lee is very much into cemeteries, and I like them, too. Los Angeles has one of the most fascinating collections of famous stiffs anywhere in the world, in about a dozen major graveyards, from the San Fernando Mission (which has Bob Hope) to Westwood (which has Marilyn Monroe). Some are accommodating and don't mind thanato-tourism. Some are uptight, like Forest Lawn, and won't help you find a particular urn or hole in the ground. There are websites that will direct you, though, and we decided to take a day off and stray a few blocks off Sunset for a tour of the Hollywood ∞ Forever Cemetery, not far from our apartment, which has some real superstars … though no very lively ones.
I hasten to add that Lee has been doing this for a long time, and is less interested in famous corpses than in the monuments themselves. She used to regularly haunt (so to speak) the pioneer cemetery in Portland, where many of the people have streets named after them. Still, it doesn't hurt to be walking among the stones and look down and say, "Hey! It's Fay Wray!" (A very simple stone, just the name and 1907 ∞ 2004.)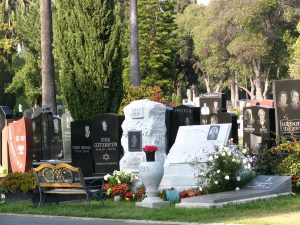 In the last ten years (we learned from a couple of guys from Orange County whose family has a plot here) the place has come to be dominated by Russians and Armenians and some Greek Orthodox. You see a lot of those weird three-armed crucifixes, the Slavonic Cross. These are people who are not satisfied with a small stone set flush in the ground. They like big ones, black stone, smooth, and very often with photo-real pictures etched in them by some new process that probably involves lasers. You have to be reminded of 2001: A Space Odyssey. But when they cluster together it's more like a necropolitan Manhattan.
The place was opened in 1899, when there probably wasn't much in the neighborhood but citrus groves and cow pastures. This was a decade before the movie people came, but now the southern border is the gigantic walls of the Paramount sound stages. Also, since this is an old place, they had segregated neighborhoods. The southwest corner is the Jewish ghetto. It's packed, and so is the long mausoleum that borders Paramount and contains the mortal remains of Benjamin "Bugsy" Siegel. I suppose that's better than some places, where Jews weren't welcome at all. But there were limits. Hattie McDaniel wanted to be buried there, but it was against the law to bury "colored" with whites. Not that the owners would likely have welcomed her … but in 1999 they put up a nice monument, acknowledging that it was wrong, and welcoming her there. Her survivors nixed the idea, not wanting to disturb her, but it was a nice thought.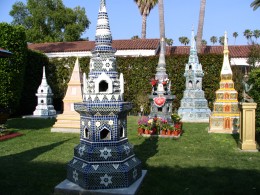 Things are truly ecumenical now. There is no segregation, old graves are mixed with new, Jews are with Christians. There is a separate alcove, very pretty, for Thai Buddhist shrines, but I'm sure it's because the Thais wanted it that way.
Some cemeteries are very strict, very uptight about what you do around a grave. Only one small vase of flowers, for instance, and they will be removed when they start to wilt. No plastic flowers allowed. No erect headstones to get in the way of the lawnmowers. Not here. I'm sure they must have some rules, but they're pretty lax. They seem to recognize that different cultures deal with death in different ways. What is gaudy and tasteless to some is perfectly appropriate to another. Some graves seem to explode with flowers. Some are massive edifices; you expect a garage and a swimming pool. Then there are some simple wooden crosses.
Against the east wall is the hardest part to visit. There was a narrow strip of land, not big enough for an adult coffin, and it looks like the management decided to bury children there. About half of them have Hispanic surnames, and I couldn't help but wonder if the plots were donated. This is not an inexpensive cemetery. The wall is covered with ivy, and the ivy is covered with plastic flowers and the ground is covered with toys and papers and … well, just about anything you can imagine, as long as it's bright. We encountered a young Latina there with her two young boys. Her third boy, killed in an accident, was a few feet away. I think she came there frequently. Lee lost it, and I had a lump in my throat, too. The headstones told the story. This one lived for 6 months, this one for 2 years, this one for 2 weeks …
Onward
The grounds are full of birds, including a very aggressive, giant white swan, a lot of black swans, big fearless geese, ducks, and a few peacocks. All day long we heard the songs of mockingbirds.
Not as many famous people here as at stuffy Forest Lawn, but quite a selection, and a lot easier to find. Here's the ones we found: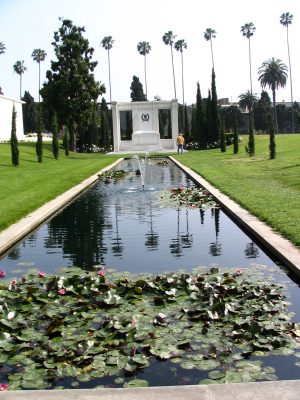 The biggest pile by far holds the bones of Douglas Fairbanks, Sr. and Jr. "Good night, sweet princes, and may flights of angels sing thee to thy rest." There's a brass profile of Sr., looking like a Roman Emperor. I've often wondered if the size of the stone is proportional to the size of the ego. Or the insecurity.
In a far corner is Florence Lawrence, "The Biograph Girl," the first movie star. Once she got her name into the credits of a film (the actors used to be anonymous) the star system was born, and it became possible for someone to become as famous as Fairbanks.
But no question, the star of the show is Rudolph Valentino. He's in one of the mausoleums, and as chance would have it, we were there on the day after his birthday! Fans have been coming here for 80 years after his death to honor him, and the piles of flowers were still fresh from the day before. You have to figure that none of these fans were even born when he kicked the bucket, in 1926. That's stardom!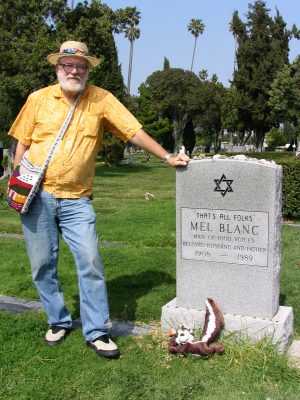 Favorite epitaphs:
Mel Blanc: That's all, Folks!
Joan Hackett: Go away – I'm asleep.
Marion Davies is here, and Jayne Mansfield. So are Darla Hood and Carl "Alfalfa" Switzer. Janet Gaynor, first Best Actress Oscar winner. Fay Wray, who was 97. Adolph Menjou. Constance and Norma Talmadge. Victor Fleming, director of both The Wizard of Oz and Gone With the Wind … both in 1939! Amazing! Charlie Chaplin's mother and son are both here. John Huston and his mother. C.B. De Mille and Harry Cohn, founder of Columbia Pictures, and their wives, in tombs that look very much alike.
Keeping up with the mogul next door, I guess. Tyrone Power provides a bench for his guests to sit on. Thanks, Ty, I needed it!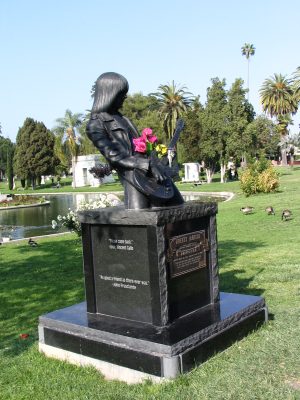 Then there's Iron Eyes Cody, the "Weeping Indian," Nelson Eddy, Peter Finch, Peter Lorre. Eleanor Powell's ashes are in a bronze book, as are many others. She is one of my two favorite female dancers. (The other: Cyd Charisse.) Johnny Ramone (the former John Cummings) has the coolest monument, laying down some heavy punk rock on his guitar.
The second most notorious resident, after Bugsy, is probably Virginia Rappe, who would not be remembered at all except that she died at a party with Fatty Arbuckle (possibly from a botched abortion), and Roscoe was accused of raping and killing her. After two hung juries he was acquitted … with a written apology from the jury. But he had already been hung by a slander campaign from the Hearst newspapers, and his career was over.
There's a lot of history in a graveyard. One part that doesn't show is that George Harrison was cremated here. It is rumored that his ashes were scattered in the Ganges, but I can't confirm that.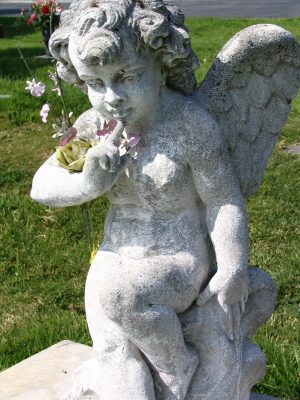 I made an astonishing and totally accidental discovery while we were looking for Charlie Chaplin's son. In a little niche, behind glass, was a photo of a guy holding a helmet that, I was pretty sure, was used in that awful serial from the '50s: Radar Men From the Moon. I had Lee take a picture because I couldn't read all of the name on the other picture, just ORGE D. ACE. I went to the IMDb and sure enough, it was George D Wallace. Commando Cody! He died less than a year ago, and worked right up to "Joan of Arcadia" and "Buffy the Vampire Slayer." 180 screen appearances and … who do you suppose has 6th billing in Radar Men From the Moon? Why, it's my old friend, Peter Brocco!
Small world.
May 15, 2006
© 2006 by John Varley; all rights reserved