Toluca Lake
We parked on a street called Screenland, in what Burbank calls the Media District. Warners, the Disney Channel, and scads of other smaller concerns, like the Dolby Company, are in that area. Olive Street runs around the perimeter of the Warner Studios, and when it crosses the river it becomes Barham Boulevard, which snakes around the south of the vast Universal City properties until it reaches the Hollywood Freeway. There is no way to access the river from there. To the south is Universal, and to the north is the private Lakeside Golf Club. Our only choice was to follow a rather serpentine path through a small neighborhood called Toluca Lake. Somewhere in there we left Burbank and entered Los Angeles again, where we'll be for most of the rest of the trip upriver.
A very strange place, Toluca Lake. We began on streets with ordinary, even smallish, houses, but when we finally got to Toluca Lake Avenue the housing began to be quite magnificent. Huge houses, even estates with several buildings on them, mostly concealed behind secure walls. Armed response! And you could walk every street in the area and never get a clue as to whether or not there is an actual lake there. For all you know, it might be just a developer's term: Thingamabob Heights, Doohickey Corners, like that.
There is a lake, but there are only three ways to get a look at it:
1) Fly over it in an airplane or helicopter.
2) Live in a house on the lake.
3) Know someone who lives in a house on the lake.
The lake itself is owned collectively by the homeowners association composed of that handful of people whose property backs up on it. It used to be an ordinary lake until the 1920s, when the good old Army Corps of Engineers put in a concrete bottom.
However, the fabled "luck of the walker" came to our aid again, and we discovered a fourth way to see the little body of water that 99.9999% of Angelinos have never seen, and probably never will see. Actually it's more like:
3A) Get to know somebody who lives on the lake.
How do you do this? You strike up a conversation with a man who is walking his dog by—how else?—complimenting him on his dog. We talked for a while, and asked if there was any vantage point where the public could see the lake. He said no, it was completely enclosed, and fences and hedges between the grand houses were deliberately arranged to prevent the proletariat from seeing anything. Darn it, we said. We'd sure like to see. Well, how badly do you want to see it? he asked. Was he kidding? Was he asking for a bribe? Seemed odd to me. This was an ordinary-looking, friendly dude. Then his next question: Are you paparazzi?
What the fuck? He had to be kidding.
He wasn't. We didn't know why until later. But he said he had to finish walking the mutt, and if we met him in 20 minutes at his home—and here he gave us the address—he'd let us in, and we could see the lake from his back deck.
So we went there, and he was as good as his word.
Here I have to insert a disclaimer:
I'm not going to name this fellow (I'll call him Mike), and I'm not going to describe his house. And, alas, Lee is not going to post the pictures she took of the lake. While we were back there Mike pointed across the lake and named some of his neighbors and former neighbors, names you'd know. Those were just the half-dozen houses we could see, and the long, narrow lake stretched around a curve for quite a ways out of sight. Past residents included Bob Hope, Bing Crosby, Moe and Larry Fine (two of the Three Stooges), and a couple of the Little Rascals. Toluca Lake has been a home to famous people for a long, long time. So he hadn't been kidding about paparazzi. They snoop around and hide in the rose bushes, trying to get a shot. Everyone there is very protective of everyone's else's privacy, and of their own.
The homeowners association is also very protective of images of the lake. They charge filmmakers a lot of money to shoot there, and Mike specifically requested that we don't post the pictures we took, since if the association happened across them it could get him in trouble. He felt they were maybe a bit too hard-nosed. He felt there ought to be at least some sort of public access, even if only for a few days out of the year … and yet he was a bit conflicted on that, pointing out some problems they'd had with workers and gardeners and such fishing in the lake (which is full of turtles, big koi, and—if Mike can be believed, and I tend to—ancient bass large enough to swallow the baby ducklings we could see splashing around down there). Lakeside residents had rescued many ducks and geese wrapped up in fishing line with hooks embedded in them.
So Lee took no pictures of his home (she wouldn't have anyway, she's not a snoop like that). Suffice it to say that it was large, and beautiful. We also agreed we wouldn't post the pictures she took of the lake … which is a damn shame, as it is incredibly beautiful. I did an image Google and found only one useful picture, and it doesn't begin to show the true glory of the place. Lee's pictures will be shared only with friends and family, and not over the Internet.
The lake? There's a fountain spraying water into the air in the part of it we could see. Mansions all the way into the distance. (There are only 34 lots that front on the lake. The cheapest one there goes for $990,000, which is either a mistake or one heck of a bargain. The most expensive is almost 8 million.) All of them have a small dock, and each dock has a small boat or two. The lake isn't big enough for speedboats, and they're probably forbidden, anyway. These are flat-bottom party rafts with awnings and little putt-putt motors, and even little paddleboats. I wouldn't doubt there are many canoes as well. Rich peoples' toy boats, people who probably have yachts at Marina del Rey. What a place to do one's morning exercise, punting on the lake! Air bubbles stream to the surface in various places, revealing that the whole lake has to be filled and filtered artificially, it's not large enough to stay healthy on its own. It's all a sort of wonderland resort, right out of a fairy tale. Again, wish we could show it to you!
After maybe twenty minutes we thanked Mike effusively and were taking our leave, when his wife pulled up into the driveway outside, got out of her car … and put on a "What the fu … ?" expression. Clearly Lee and I didn't fit into her mental image of neighbors. Jehovah's Witnesses? Tricky process servers? Paparazzi? But Mike introduced us and she was gracious. Maybe he does silly, impulsive things like this all the time, and she was used to it. Whatever, we're very glad he did. Thanks again, Mike!
Plodding back toward the car (I always plod by this time in our walks) took us through more of Toluca Lake and as far as Lodge Avenue, where we turned north to Riverside Drive yet again. Soon we were in a commercial district with lots of hair and nail parlors, dog washers, and restaurants. We'd previously eaten at Paty's, which seems popular and has one of the world's oldest working waitresses, and at a small Mexican place across from a great map store. This time we selected Mo's (Great Food, And Mo! Since 1995!). They serve great burgers, with a "burger bar" where you can choose your own side dishes, including a potato salad to die for. While we were waiting for our food something kept nagging at me, and I got up and went to look in a side room. And sure enough, this was the place where I had burgers with Paul Newman … and about ten others. The place had been remodeled and Mo was the new owner, but there was no question, this was the place.
This was in 1980, and John Foreman and I and the others had just attended a screening of a movie Newman had directed, The Shadow Box, on the Warners lot. He was the most famous person I'd ever met up to that point (probably still is), and I was quite overwhelmed, being shy enough around non-celebrities. But he was a lot of fun, a good conversationalist with lots of stories to tell about racing and the movie biz and his new movie, and he ordered two beers at once, but drank only the two. Everyone there hung on his every word. The management had roped off the whole room, but people kept coming to the rope and snapping pictures. It must be tough to be that famous.
When it came time to leave … he just vanished. I still can't figure out how he did it, but John said his friend Paul knew every kitchen exit in every place he liked to eat, and when he was ready to go, he just left abruptly. It's a knack you develop when you're super-famous and don't travel with a big flashy entourage and/or bodyguards to clear the way for you. He tips generously and gets to know the managers, and they sneak him in and out. Last I saw of him he was pulling away—quite fast—in a battered Karmann Ghia that announced to the whole world, loud and clear: "This is not Paul Newman! Paul Newman would never drive a piece of shit like this! The driver might look like Paul Newman, but it could not be Paul Newman!" Better than sunglasses and a hat.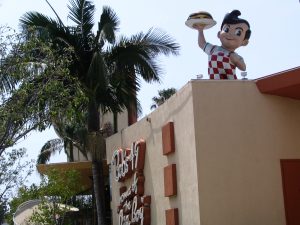 Across the street from Mo's was the oldest still-open-for-business Bob's Big Boy. (The original was in Glendale.) This one dates to 1949, and it's a California "Point of Historical Interest," Not quite an "Historic Landmark." Which gives you an idea of how new most of Southern California still is. Not that I'm complaining. I think stuff like that is worth noting and protecting. A hundred years from now, the mutant android cyborgs who inhabit Nova Kahleefornia will thank us for it.
And that's Toluca Lake. Next: Studio City.
June 1, 2007
© 2007 by John Varley; all rights reserved