A Hollyweird Day of the Dead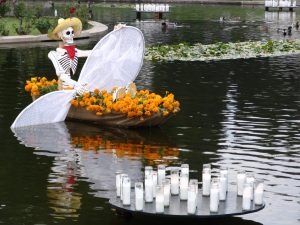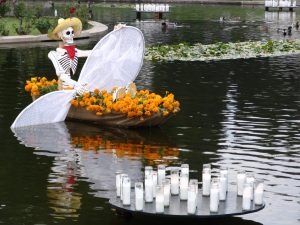 Dia de los Muertos is a very big deal in Mexico. People gather in graveyards to honor the dead and celebrate life, and also feast and dance and just generally have fun. The origins of the celebration date back to pre-colonial days, to the Aztecs and other tribes that were there before the white man arrived with his Christianity. The marigold is the traditional flower, and skulls made of sugar are offered on altars that people build on the graves, altars that range from simple to incredibly elaborate. The symbol of the DOTD is the calaca (skeleton), and you see them everywhere, but this really doesn't feel at all like Halloween, with its scary ghosts and rotting corpses and monsters of all sorts. These are benign calacas, engaged in normal activities like playing the guitar or eating dinner with their skeletal families.
The actual holiday, as practiced in Mexico, begins on November 1, All Saints' Day, and goes through the night to All Souls' Day. But Americans like to do things on the weekend, so Hollywood Forever, the coolest cemetery in the United States, maybe in the world, has been holding their own version of the DOTD on the Saturday closest to Halloween. It's grown quickly to become a major Hollywood event, rivaled only by the gigantic costume party on Santa Monica Boulevard on Halloween day in West Hollywood. Lee and I missed it last year, but we made it this time, and it was a lot of fun.
Note for next year: There is NO parking to be found on the street on this day anywhere near Hollywood Forever. But there is a parking structure just west of the Paramount Studios, which borders the cemetery to the south. They were charging $10, which seemed like a bargain after driving around the area for 30 minutes. Admission to the celebration was free, though we made a donation. Then we walked beside the long southern mausoleum (where Bugsy Siegel is interred), the one with the Star of David over the entrances, and among the Jewish headstones. Jews used to be segregated here, but now you can find them buried anywhere on the grounds. But what you mostly find these days at Hollywood Forever are the huge, black stone monuments of Russians, Armenians, Georgians, Iranians, and Turkmen, all those nations around the Caspian Sea. They prefer grand tombs, not little squares of granite set into the ground.
People were pouring in. I'm no good at estimating crowds, but there were many thousands. At least half of them were in costumes and/or make-up. Some were the usual Halloween things (pirate, bum, streetwalker, princess, vampire) but most were following the Mexican tradition of painting your face white and black, like a calaca. There were food booths and booths selling stuff, and three stages. Two of them were near the big tomb of Douglas Fairbanks, Jr. and Sr., and one was out in the lake where the black and the white swans swim. We watched some traditional Mexican dances, and then two groups of girls, the second group quite young, dancing a calaca dance. I was amazed at how much the cemetery staff had done, from building the stage out in the water to constructing a miniature Mexican village against the wall of the big tomb on the island. I had figured they'd just throw open the gates and let people wander around, but this was a real celebration and must have taken a week of preparation.
Soon we got to the main attraction of this festival, which is the altars. We strolled among the crowds as the sun went down, and were really impressed. Two in particular stood out. One was a shrine to dead musicians, mostly singers, with album covers where their faces were painted to be skeletal. The other was to Mel Blanc, who is buried here. His epitaph is "That's All, Folks!" Johnny Ramone's ashes are here, too, and he's got a great tombstone, where people were leaving offerings of food and beer and such. Near the gate was a group of Aztec dancers in the most fantastic feathered costumes.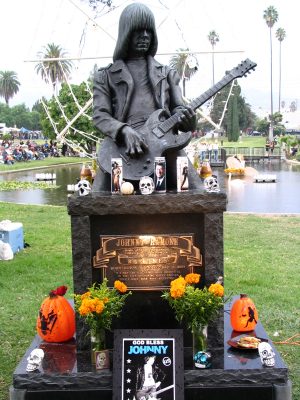 It was completely dark now, and crowded, so we got off the beaten trail and made our way back toward the lake. No one contemplates a lot of night visitors when they build a cemetery, so there are no street lights. We stumbled our way over the uneven ground where the likes of Fay Wray, Carl "Alfalfa" Switzer, Marion Davies, Tyrone Power, Jayne Mansfield, Cecil B. De Mille, John Huston, and Nelson Eddy are pushing up the daisies.
The most visited grave here is certainly that of Rudolph Valentino. Every year lots of people still come to celebrate his birthday, and a "Lady in Black" (the fourth one to hold the position, I think) puts a rose in the vase beside his crypt in the Hollywood Cathedral Mausoleum. Now there were two giant calacas at the entrance, and an exhibition of skeleton sculptures inside, all of them quite witty. There are four galleries branching off the main one. There are no lights back there, but people were going down them looking for Rudolph, Peter Lorre, and Eleanor Powell, who in my opinion was the best female tap dancer of all time. It was nicely spooky, with people holding up the cold candles of their cell phone screens to peer at inscriptions. I was amazed at how many of those there were, and surprised at how much light they gave off! Valentino's rather small monument had a lot of real candles around it.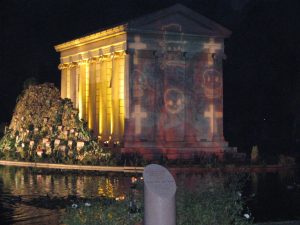 Back outside they were projecting spooky images on the back wall of the island mausoleum, and shows were going on at all three stages, and people were still coming in. Everyone seemed to be having a great time, and so were we, but a little tired out, so we groped our way back through the darkness to our car and went home. Next time I intend to get there at 4 PM, when there is a procession which we missed this time.
October 28, 2007
Hollyweird, CA