DreamWorks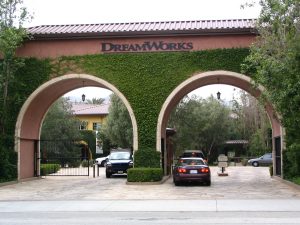 Onward we forge, north by northwest up the wide Missouri, St. Louis only a Memory now. Our Companions, Meriwether Lewis, William Clark, courageous Sacagawea, stout-hearted Toussaint Charbonneau, all the Army boys, and Semen (sorry, I mean Seaman), Lewis's faithful black Newfoundland. All for the glory of Manifest Destiny, our new Republick, and President Jefferson. The savage Indians are peaceful so far. Will they remain so as we approach the headwaters and find our way to the Columbia and thus to the Blue Pacific? Onward …
Wait a minute. Wrong river …
Kurtz is up there, somewhere. Out of control. Off the reservation. Our mission, "retire" him. With extreme prejudice. Charlie is in the bush. We breeze by in our swiftboat. John Kerry's at the helm stoned out of his mind. He's singing "Surfin' Bird" and toking on a monster spliff. I love the smell of napalm in the morning …
Damn. That's not right. Try again …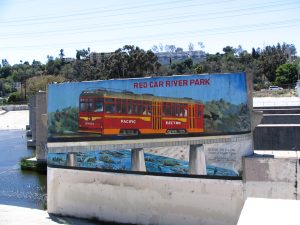 God willing, we should soon be in sight of the last place anyone saw Dr. Livingston. I presume he will be as glad to see us as we will be to see him. Now if only we can avoid the crocodiles and hippos …
Oh, screw it. This is the Los Angeles River we're talking about, and there's really no way to make it too dramatic. But if you're still willing we will forge ahead, out of the last outpost of civilization, Glendale, and into the savage wilderness of Burbank and beyond, into the dread Valley itself …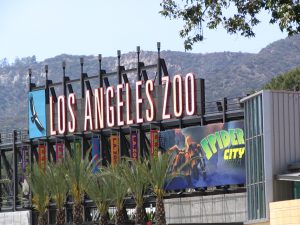 We parked in the zoo lot (hippos! crocodiles!) and crossed over to the Autry Museum. If you're visiting LA, by the way, the Autry is a great place to go. There are two, actually, this one for the cowboys, and another a few miles away for the Indians. This one is chock full of western lore, about both real and movie cowboys.
We circled the Autry on a horse trail and I spotted the big Ralph's warehouse across the river, so I knew we were about where we left off on the last walk. We were going to walk up the horse trails and then back the same way, but then I realized that what I'd thought was a freeway entrance was also a bridge across the freeway to a part of Zoo Drive I didn't even know was there. As we walked along it a CHP motorcycle cop exited the freeway and stopped traffic. A long limo went by. I was prepared to be incensed. I hate the perks that celebs and famous people and politicians get! We were once stopped for half an hour in Portland by Dick Cheney's motorcade. Dick fucking Cheney!! And he wasn't even vice-president yet, he was just a candidate, double-useless! I'd have the bastards ride around on bicycles and forbid them to wear helmets.
But it turned out it was just a funeral. Long funeral, dozens of cars. We stood there, and I reflected that I don't see funerals very often anymore. When I was young we saw them all the time, long lines of people driving with their headlights on. Aren't people still dying?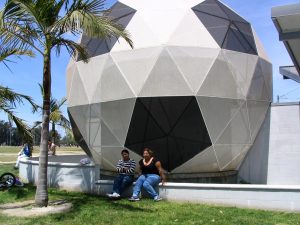 Soon we were on a well-maintained and well-used bike path, very different from the ones we'd seen in Frogtown and points north. Must be because it's in Griffith Park, which the city maintains reasonably well. There were even lights along this path, and emergency call boxes. (Lee had always wondered what was in those things, so she opened one and it started beeping at her and dialing 911 … we skedaddled.) To our right was the river, and to the left were athletic fields. Baseball, softball, soccer. There was a restroom building dominated by a giant geodesic soccer ball. A little further on was one of the few off-leash dog parks in town, surrounded by high fences, filled with cavorting canines, mostly of the larger varieties.
On our scouting expedition the day before we had followed each street on the other side of the river, hoping to find a way to the river over there and avoid the very thing we were doing, which was walking on a clean and populated but fairly boring bike path. There was no way to do it, but we did accidentally stumble on something surprising: DreamWorks Studios! It has an attractive gate and what looks like a well-kept campus. I don't think they do any actual filming there as I didn't see anything that looked like a sound stage … but more to the point, what was it doing here, in an obscure corner of very un-hip Glendale? We were still miles from Burbank, home of Universal, Disney, Warners, NBC, and many, many more media corporations. Where did these people go for lunch? It was a far piece to anything trendy. I mean, I assume Steve Spielberg and Jeff Katzenberg and Dave Geffen have their own personal chefs on call, but what about the vice-presidents? It must feel like they're working in Idaho or some awful place like that.
Funny thing … if I hadn't known what I was looking at I'd never had guessed this was a studio, seeing it from across the river. From the back DreamWorks looks a bit like a modern Federal Penitentiary.
Nothing else too remarkable about this day's walk. We crossed back over the river at Riverside Drive and got on the horse trails. There were a fair number of nags trotting along, but nothing like we'd see on the next day's walk … but that's for next time.
May 23, 2007
© 2007 by John Varley; all rights reserved