Rodeo Drive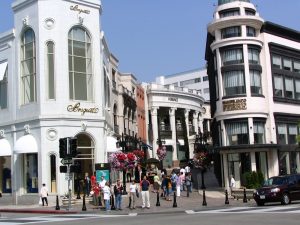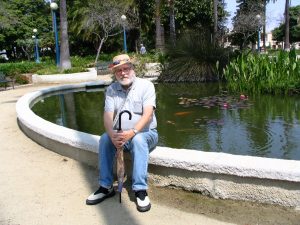 We've already driven the next mile of Sunset, and we know that, except for the Beverly Hills Hotel, it's more of the same: endless hedges and fences with the super-rich slumbering peacefully in their mansions. Boring.
So we decided to take a side trip down the world-famous Rodeo Drive. It's less than a mile long, and consists of four very long residential blocks, then four short commercial blocks before it runs into Wilshire Boulevard at the Regent Beverly Wilshire Hotel. It's those last four blocks that everybody talks about.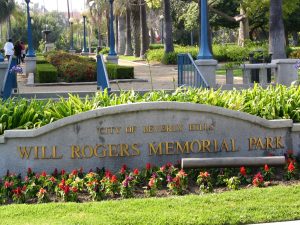 We parked by Will Rogers Memorial Park, which is a little triangle with so many different species of plant that it could qualify as a mini botanical garden. (Will Rogers was once honorary mayor of BH.) There is a pool with gigantic koi in it, and a little gurgling fountain. There were two guys catching some rays, and a couple other walkers. Other than that, it seemed unused. And why wouldn't it be? Unless you drive in here from somewhere else, you've almost certainly got better gardens on your own grounds, no need to go to the park and mix with the proles.
One of the best things about the flatlands of Beverly Hills (which is the less desirable real estate; the really pricey stuff is north of Sunset) is the way the streets gently curve. They are very wide streets, and if they were straight you could see for miles and I think it might get a little oppressive. Curving the grid like that means you are always gradually discovering new vistas.
Unlike the places on Sunset, most of these houses are not walled off from the street. Most of them are fenced and gated, naturally, but some are not, and the fences tend to be wrought iron, surrounded with plants intended to please the eye rather than block the view, and lower shrubs. We gawked at some of the homes … and shook our heads at a few. Location, right? There are a fair number of places that would go for no more than 2, maybe 3 hundred grand somewhere else. But there is no house here that would sell for less than a million, many a lot more than that. Some are just awful, and some are delightful, warm and welcoming. There is a good percentage of California Mission style structures, with red tile roof and faux adobe. Those tend to be my favorites. Somehow and Olde English half-timbered dwelling just doesn't look right with hibiscus and banana and palm trees surrounding it. Don't care for the Tara/White House/Federal look, either.
There was one house that would have been attention-getting anywhere, except maybe Barcelona. It was certainly inspired by the wonderful madman Antonio Gaudi, whose buildings often seem to be made of melting wax. He was the maniac behind the still-unfinished Sagrada Familia basilica which I hope to visit before I die.
At Santa Monica we passed the All Saints Episcopal Church, where the wedding scene in Blake Edwards' 10 was filmed.
Then we were in the heart of conspicuous consumption. Lamborghinis, Bentleys, Maseratis on the street (I'd never seen two red Ferraris parked on the same block), mostly tourists on the sidewalks. The shops are mostly glass, but don't seem inviting. Inside, there will be a dozen blouses on a rack, a small stack of folded pants, a dozen handbags … and that's it. Most of them look half empty. Don't want that crowded Wal-Mart look, do we? Jewelers with huge rocks and Movados and Rolexes in the windows. No prices; like they say, if you have to ask …
It was all strangely unimpressive. There was nothing there I wanted to buy, even if I had the money. Most of it was sterile and white, with too much glass. You walk down it once, and unless you're really into ogling super-expensive crap, unless you're actually in the market for $1000 sneakers or $5000 jeans, you don't feel the urge to walk back.
The only store we entered was Bang & Olufsen. I've been in love with their wildly overpriced but always visually stunning gadgets for a long time now, and at least electronics is something I know a little bit about, unlike jewels and fashion.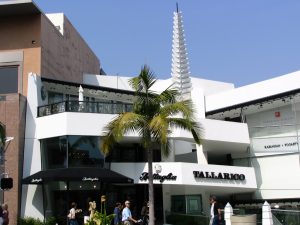 One of Frank Lloyd Wright's least impressive buildings is there, too. It is a winding ramp with a few shops and offices, with a spire that is vaguely reminiscent of his Marin County Civic Center in San Rafael. I understand that considerable changes were made to the building by a previous tenant, so maybe the original was better … but I tend to believe that even a genius has off days. I almost banged my head on one Wright trademark, though. He made the doorways in his houses about 6′ 4″ high, because he was a short little prick. Since I'm 6′ 5″, you can imagine my opinion of him dropped considerably when I learned that. Since then I've read that he was a miserable human being … not that it matters. Genius is genius. The work lives, long after the bastard is dead.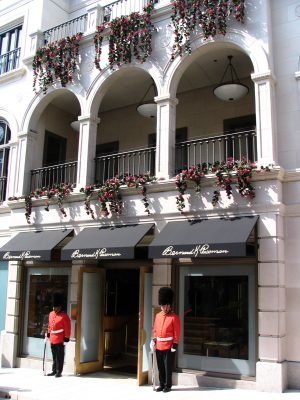 There's a little side street called Rodeo Place that I don't remember from my earlier visits. It's tricked out to look like a European alleyway, with false storefronts. One has two guards in red suits like the ones at Buckingham Palace or the Tower of London, unmoving, so at first you're not sure they're real. What a crappy job! Ornaments for rich nabobs and gawking tourists, and you aren't permitted to speak or move or smile. I hope they get paid well, but I suspect they don't.
I checked the posted menu at the sidewalk cafe. You could get a "regular" hamburger for $28. If you wanted it with truffles it was $38. Bring on the truffles, my man, and don't spare the caviar!
Then at the end of the street, the Regent Beverly Wilshire. Of all the fancy hotels I stayed at during my Hollywood nightmare, I liked the BW the best. At the time it was run by someone called Hernando Courtright, and I had one of the best and most expensive meals of my life in the restaurant. The tab was over $150 for two. All on the studio's tab, naturally. I have to admit, there were some good things about working down here.
Everybody remembers it as the hotel in Pretty Woman. Lots of people want to stay in that suite, which doesn't exist; it was built on a sound stage. Right now the BW is undergoing a facelift. The high-end restaurant, the merely outrageously expensive restaurant, and the underground bar are all being renovated. I used to go down to the bar many nights. They had a good piano player and a local crowd, no tourists, maybe because it's not easy to find. Martin Balsam was in there almost every night, knocking them back, not talking to anybody but the bartender. At first I thought he was looking to pick somebody up—gay? I don't know—but he just sat there.
When it was built it was the tallest structure in Los Angeles, if you can believe that. And it was a long way from anywhere anyone wanted to be. All the nightclubs were up on Sunset. But Douglas Fairbanks and Mary Pickford started hanging around, and soon it was hot, and it's stayed that way to this day. There are many legends and weird stories associated with the BW, none so weird to me as that of Warren Beatty, who apparently stayed in one suite for 11 years.
Come to think of it, if I had the money to afford it, I wouldn't mind living in a luxury hotel. No cooking, no cleaning, no laundry … why not?
We decided to go over a block and return on Beverly Drive. It's a bit more down-to-earth over there, with upscale chain stores and some restaurants that are quite reasonable. We ate a gigantic plate of nachos at Sharky's, a Cahleefornia Mexican franchise. Cheap, and good, and more than we could eat.
Beverly was more of the same when it came to houses, though a few of them were in desperate need of a coat of paint. I imagine there are people living in million-dollar houses who are out of work, or inherited them without a lot of money, and have a hard time just paying the property taxes. Of course, if it's paid for, the lot alone will bring in a cool million …
May 10, 2006
© 2006 by John Varley; all rights reserved