From Johnny Carson to Warner Bros.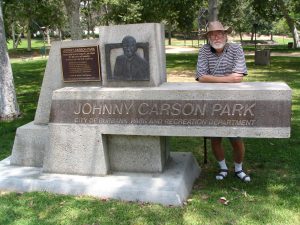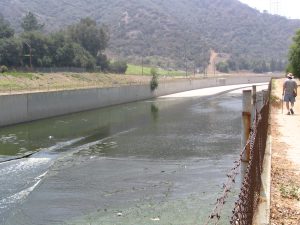 The only question when we began the day was how far along the river we'd be able to walk. I knew the paths stopped somewhere ahead, but I didn't know how far. The ground rule we've established is that when the river can't be reached, we'll walk along side streets as close as we can. (I think we may violate that one when we start down the river, beginning near downtown. I'd rather walk through Chinatown, the Fashion District, the Toy District, or the Flower District than through a bunch of warehouses.)
But it started well. We parked by NBC, with Ellen DeGeneres's studio on our right and Johnny Carson Park on our left. JC is a nice little park, and it's got something unusual in it: Something called a Parcourse. It's a series of places to exercise various muscle groups, maybe a couple dozen stations scattered along a path. You can do chin-ups and hand walking and healthy stuff like that. It begins with a series of things to stretch on. I tried my hand at one and almost canceled the walk right there. Lord, that muscle on top of your thigh, what do you call that one? It was agonizing, from years of walking in a semi-crouch because my knees won't extend anymore. I held it long enough for Lee to get a picture—I hope you folks realize the sacrifices I go through for you!—and then half-heartedly tried a little hand-walking on the parallel bars. Not even one step. So I monkeyed my way to the end of the bars and called it a day.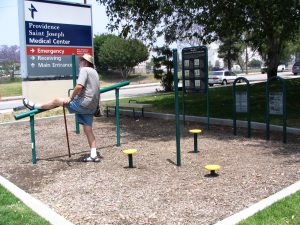 There's hospital construction going on at that corner, and a guy out in the street directing the truck traffic. He went into a giggling fit when he saw me. For one thing, it may be the first time in all his days standing there he's actually seen anyone use this crazy stuff. For another … well, just look at the picture. Speaks for itself, doesn't it? Have you ever seen anything so awkward? Oh, well.
There's a little rock-lined stream running through the park. It's not exactly babbling, in fact right now it's damn near dry. It struck me the stream needs a name. How about the Ed McMahon Brook?
At the end of Bob Hope Drive we came upon the river again. Directly across it is the fabled Forest Lawn Cemetery … or one of them, anyway. The main one is in Glendale, and there's one out east on the freeway. To the east of this one, on the north edge of Griffith Park, is Mount Sinai, where the Jews are segregated. Or were, anyway; now anybody with the dough can be planted in Forest Lawn. But lots of people, including Jews, probably don't want to be. In the past, though, such celebrities as Bette Davis, Lucille Ball, Buster Keaton, Liberace, Stan Laurel, Steve Allen, Gene Autry, and Ricky Nelson chose it for their eternal rest. It's one of those with mostly flat markers buried in the ground, so of little interest to graveyard-buff Lee (and me, too, recently), but there are some monumental statues and mausoleums. Mausolea? Next door, those of the Hebrew faith include Phil Silver, Lee J. Cobb, and Mama Cass. We really need to go there. I understand there is a giant mosaic mural of the history of Jews in America.
We walked along the dirt path by the river for a while. There was a squirrel down there on the concrete flats. I wondered how he got down there, why, and how he'd get out. I suppose he could scrabble up the vertical concrete wall as easily as he climbed trees. But there was nothing down there to eat that I could see. Maybe he was walking the river, like us.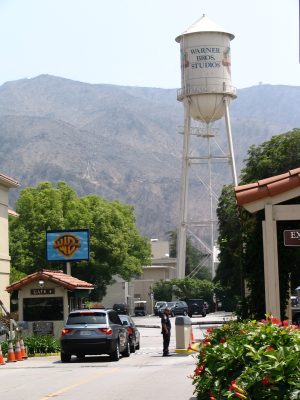 We came to a dead end where the Warner's Studio began. Chain link, padlock, the whole deal. Meanwhile, across the river, a hearse was arriving. Odd … in a previous post I mentioned that I had seen very few funeral processions in recent years when we were stopped for one on Zoo Drive in Griffith Park. But that very morning, driving over there, we'd seen another one. And here was a third … or possibly the same one. They might have come through the Cahuenga Pass and had a short service in one of the Forest Lawn chapels. Anyway, a lot of people came down the hill, and the pallbearers brought the white coffin down and a priest in white robes began doing his thing. I've only been to one funeral in my life and don't plan to attend any more; I don't see the point. This was about the right distance. We climbed up a hill and through a hole in a hedge and found ourselves on Valleyheart Drive, then California Street, still in Burbank. We walked along a long, long ivy-covered wall with Warner's on the other side. There were camera all along the fence, to the point there was no place at all where you weren't being observed. Creepy, but I guess we might as well get used to it, being watched.
We turned on Warner Boulevard and suddenly were surrounded by Warner's on all sides. Like the other studios we've seen, this one is a mix of old stuff that vaguely resembles military housing, from the era when studios economized when they could, to lavish palaces for the new baby execs who won't tolerate anything old. We could just glimpse the back sides of some phony buildings that, I think, made up the old New York Street. When I visited the studio back in the '80s I strolled around this backlot for a while, seeing the movie theater on the corner that has featured in so many movies, such as Spielberg's 1941, where Dumbo was playing. All fake, nothing behind the doors. I sat on the porch of the Walton's house. Nothing inside it, not even a floor.
There's a little enclave of small houses and apartments right smack in the middle of the publicly-accessible streets of the Warner empire. Handy place to live if you're a grip or a gaffer. Wonder what the rents are?
Back home by way of Alameda Avenue, past the line of people who gather there every weekday for the Jay Leno show. We talked to the guys who were first in line, wondering how you get tickets. In the morning, they said, then you come back and they let you in at 3 PM for the taping. They'd been in line since 6 in the morning!
May 30, 2007
© 2007 by John Varley; all rights reserved