We meet Ronald Reagan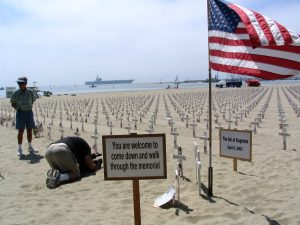 We needed a break, and saw that the USS Ronald Reagan (CVN-76) was paying a call at Santa Barbara this weekend. The RR is the newest of the Nimitz-class nucular aircraft carriers. (Sorry, we have to call them nucular until that asshole in the White House is gone.) And Sunday is the day they set up Arlington West on the beach. So I thought it would be an interesting tension, all those crosses (more than 1800 now, more than double the number when we first visited) and the mightiest engine of destruction and/or defense, take your pick, that humans have ever created.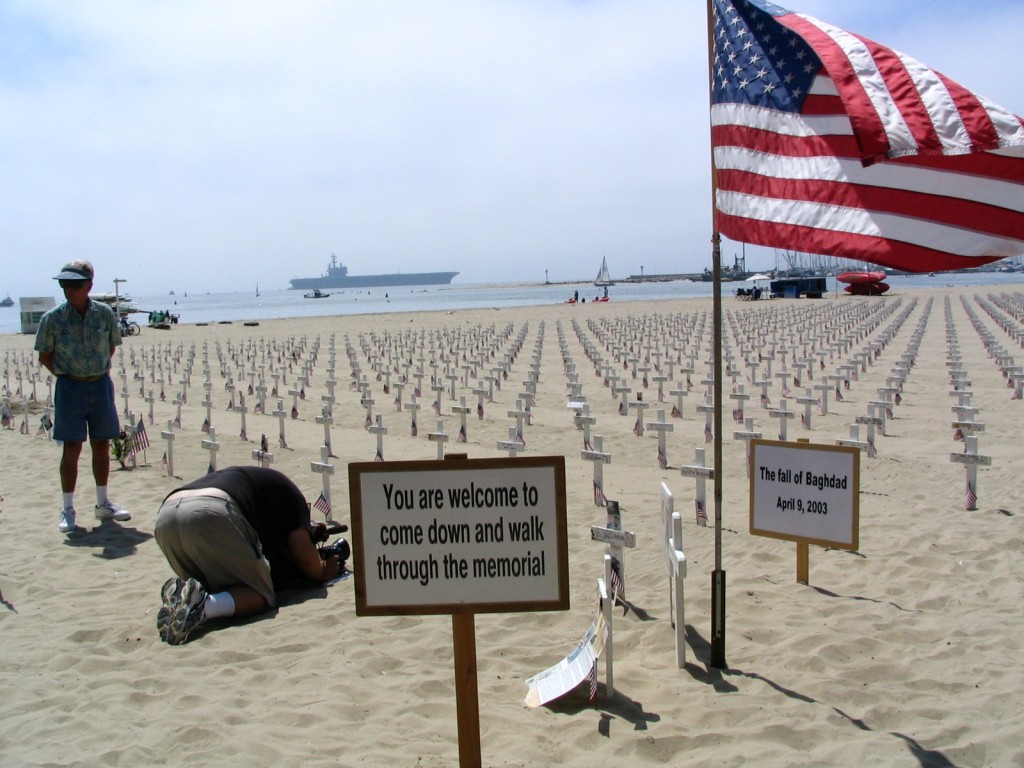 There had been some sort of flap about dockage fees, and who should pay them, a matter of about $30,000. I didn't follow it, but saw that awful woman Dr. Laura the radio ranter had picked up the tab. She had raised a "warrior" and she was so proud of him. Let's hope she never has to experience the downside of warriorhood, namely, a white cross on a Santa Barbara beach.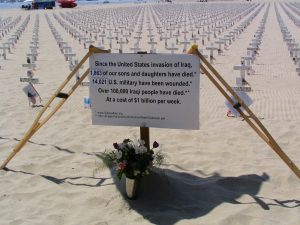 It was as moving as it always is. I talked to one of the Vets for Peace volunteers to find out if many sailors had dropped by, because I didn't see any. He said there had been quite a few, some in uniform and some in civvies. There had been no anger, no negativism, he said. Most of the swabbies had thanked them for what they were doing. Some had confided that they didn't know why the hell we were in Iraq in the first place. Not that they were likely to vote Democratic in the next election, but still …
I had wondered if liberal Santa Barbara would be happy to see the ship. Apparently so. Many of the businesses on State Street had big signs welcoming the crew, and some restaurants were offering 20% off to sailors in uniform. But all day long I only saw four uniformed sailors, and three of them were Shore Patrol. Did they think they'd be spat upon? Or was it just they thought they'd have a tougher time picking up girls?
Santa Barbara is an incredibly beautiful city, and a horribly expensive place to live. Don't even ask about rents. But it seems to have more than its share of people walking around in filthy clothes muttering to themselves, and quite a few simply homeless.
* * *
We'd never been to the art museum there so we decided to check out the admission price. Maybe we'd go, maybe we wouldn't. Turns out that Sunday was the free day, a price you can't hardly beat. We toured the whole place. For a smaller city, they have some pretty great stuff. They are particularly strong on impressionists. Three wonderful Monets, Pissaros, a Degas, a couple Morisots, Sisley … Also works by Miro, Picasso, Dali, a small Rodin, and a Van Gogh. There's also the usual hodge-podge of abstract impressionism, some interesting, some mind-numbingly dull. You know what? Even the better stuff shouldn't be displayed in the same room with people like Monet and Van Gogh. Maybe not even on the same floor. The contrast is just too achingly obvious between true art and pretentious bullshit. Send that stuff off to MOMA. Now, I assure you, I love MOMA, but when I'm there I can walk quickly past about half the stuff in there. Not worth my time, or anyone else's.
There were two special exhibits, one of them having just opened last week, the other just closing that Sunday. The new one was "Faces of the World," which was photos taken from about 1850 to 1870 by anthropological and photographic pioneers of just about every conceivable human culture. None of them were bigger than a postcard, which made for a bit of eyestrain, but it was awesome to think of the difficulties these people had to undergo to lug their huge equipment around. The results were usually sharp and well-observed, though of course there's a sameness to people sitting for long, long exposures. (I wonder how long it was before someone first successfully photographed a dog? Many of the pics had dogs in them, but they were, without exception that I could see, blurred.)
The second temporary exhibit was even better. It was in four rooms, and was called "Garbo's Garbos."
Greta Garbo was hounded by paparazzi until the day she died, and didn't like to be photographed when she wasn't ready for it. She didn't like the whole Hollywood publicity machine, for that matter. But contractually she had to allow portraits to be taken for each of her movies. She was shot by some of the best portrait photographers in the world at that time, including Ruth Harriet Louise, Arnold Genthe, Edward Steichen, George Hurrell and Clarence Bull. She kept copies of every photo taken of her, and this collection had just recently become available. There are 90 of them, they are all in black and white, this is the first time they have been shown publicly, and they are stunning.
Seeing shot after shot of her, some things quickly became apparent to me and Lee. Garbo seldom smiled. Lee said it was because smiling gives you lines in the face. I thought it was because it added to her air of mystery. Jean Harlow smiled, Betty Grable and Marilyn Monroe and Jean Arthur smiled. June Allyson smiled. None of them were women of mystery. We were into the third room before we even saw Garbo's teeth. (They were okay; she wasn't hiding bad orthodonture.) 90% of the pictures showed the face we all know so well, then there would be a few that we would have hardly recognized.
The exhibit also pointed out that Garbo never really retired into obscurity, as legend has it. She was trying to make pictures well into 1949, but they kept falling through. She was retired by lack of demand as much as anything else. But then she backed away from all that mess and led a very private life, which appeals to me.
* * *
Santa Barbara downtown is full of arcades, paseos, alleys, mews, most of them lined with fairly expensive shops, some of them independent and some the more upscale chains. Lee is wild about a particular tiled staircase there, and for once we were there when the light was right.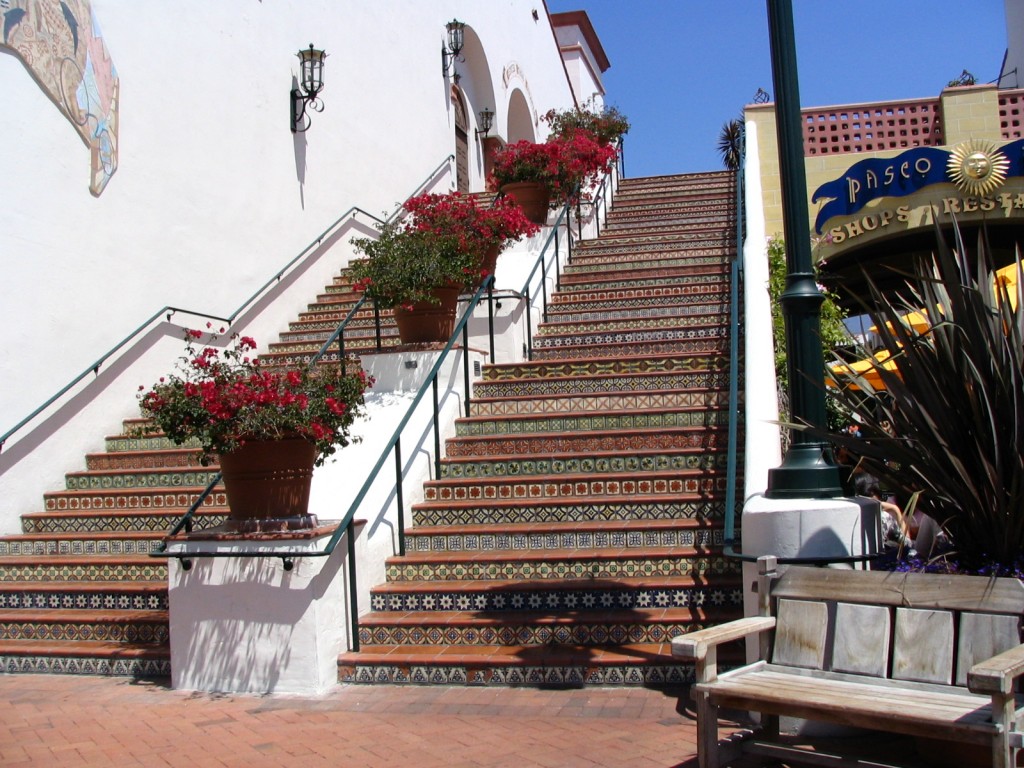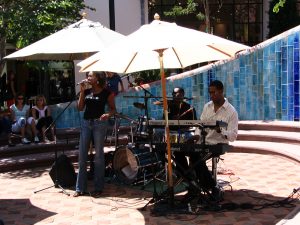 One of these places, the Paseo Nuevo, had a jazz trio performing for free. I wish I knew their name, and if they have a CD, and who the lead singer is, because she was outrageously good. We heard her do one of the best versions of "Summertime" I've ever heard, and then she did Tracy Chapman's "Give Me One Reason." Outstanding!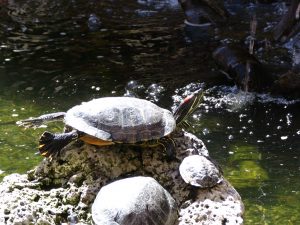 We went for a late lunch to a place called Acapulco, whose chief attraction was a fountain in the middle of the outdoor plaza that was simply crawling with turtles. Most of them were red-eared sliders, which I've seen for sale in pet stores for $50 and up, depending on the size. A friend and I once drove from Nederland to Corsicana, Texas, stopping to pick up every live turtle we saw. We got there with several dozen on the floor in back, most of them sliders. They were fun to watch while eating an excellent barbecued shrimp tostada. One show-off clambered up onto a rock and posed there like a hood ornament or something, legs splayed out, head up. Lee got a good picture of him.
August 22, 2005
Oceano, California