George Harrison Gets a STAR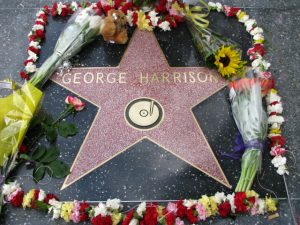 When: Tuesday, April 14, 2009 at 11:30 a.m.
Location: In front of Capital Records on Vine
The biggest break in my career was getting into the Beatles in 1962. The second biggest break since then is getting out of them. ~George Harrison
We figured the crowds might be rather large for this one, so we resolved to get an early start. We set out at about 10:40 for a ceremony scheduled to start, like all of them, at 11:30. Lee walked, I took the subway, since we knew there would be no easy parking within half a mile. I just missed a train, so Lee got there ahead of me. And we might as well have waited. Officer Hancock of the LAPD, who Lee got into a conversation with later, told her that people started arriving at 9:00 to get a spot close to the rails. (Hancock, by the way, has been doing these shindigs for years, he told Lee, as well as the Oscars and other celebrity events. He says it's a great gig. He's been at it so long he's got his own reserved parking spot at the Oscars!) The crowd was very big, probably the largest we've seen, though it's hard to judge the ones that happened around the Kodak, where there are always large crowds anyway. As I was arriving the police were blocking off Vine Street between Hollywood and Yucca, something they've never done at any other ceremony. They moved the barriers back to the double yellow line in the middle of the road, which gave a lot more space, but it still wasn't enough. We were packed in. Lee couldn't see a thing, so she gave me the camera and went off the make the acquaintance of Officer Hancock.
They ran a little late. A few people showed up on the other side of the ropes and got some applause from the crowd, but I didn't recognize any of them. Later, I learned that one of them was Jeff Lynne, who I don't know much about. Seems he was a founding member of the Traveling Wilburys, the group that George Harrison recorded with in the '80s and included Bob Dylan, Tom Petty, and Roy Orbison. Tom Petty was also there in the crowd of friends and family, but I never spotted him.
Speculation had been running wild in the crowd. Will he be here? Do you think he's coming? I heard he's not coming. I heard he is coming! I'm not talking about George, of course. Maybe you can guess …
Finally, at about 11:45, the doors of the Capital Records Building opened, and the Big Name Celebs started to file out. Suddenly there was shouting. He's here!
It's Paul!!!!!
Paul! Paul! Paul! Look over here, Paul!
Tell you the truth, it got a little frightening. A thousand camera were raised as high as they would go, in hopes of getting a picture. Of course, what you mostly get a picture of is the backs of other people's cameras … Shouting, jostling, calling out … what must it be like to get that sort of reaction every time you step out in public?
… of course, my camera was high in the air, too. But I wasn't shouting …
The nice thing about being 6'6" is that my camera was higher than almost everybody else's. I got some okay shots.
The ceremony commenced with Leron Gubler, who's taken over for the late, great Johnny Grant, "Mayor of Hollywood." (Hollywood doesn't have a mayor, we're a neighborhood, not a town. We have a Chamber of Commerce, and that's Leron.)
First he introduced Eric Idle. As you might expect, Eric had the best lines of the day:
"Sir Paul is here in California for Coachella. Until recently I thought that was a vaginal infection."

"George actually died at Paul's house. Which is why I never visit John Cleese."
Next, Tom Hanks, who as usual was the most moving, working without notes, having memorized his lines like he did in his two Oscar acceptance speeches. Funny, it's hard to get a picture of him where his face doesn't look goofy. Well, there is a natural goofiness to him, I guess, but when he's speaking his face contorts in odd ways, and a snapshot is likely to look odd.
Finally, George's widow Olivia and son Dhani. Olivia spoke movingly about her late husband. Dhani, when invited by his mom to say a few words, just leaned toward the mike, flashed the peace sign, and said "Hare Krishna." George was always called the "Quiet Beatle." Dhani, who really resembles his father, must have inherited that, too.
There was the unveiling of the star, the posing of various groupings of people. I got one decent shot of that, in profile.
Then it was just about all over but the clean-up. The disappointment was palpable that McCartney didn't come to the mike and say a few words. The chanting and shouting resumed, until finally he stepped up on the podium and favored the crowd with about ten seconds of face time, giving us the thumbs-up. Then the building swallowed up all the VIPs, who left by the back entrance in their limos.
Just another day in our home town.
April 16, 2009
Hollywood, CA