Beverly Hills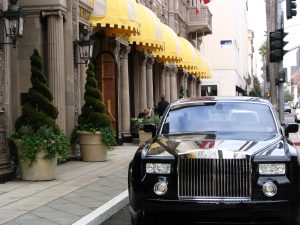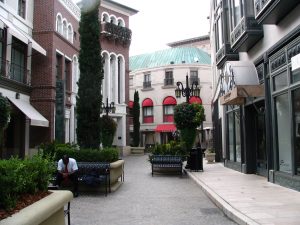 With the exception of Palm Beach in Florida, I don't think there's another town in America that says "money" quite so loudly or quite so universally as Beverly Hills. Sure, there are plenty of rich neighborhoods, but they're mostly known by the locals. You can say "Beverly Hills" to anybody with a pulse, pretty much anywhere in the world, and they immediately form the same image: Swimming pools, movie stars, palm trees, mansions. Money. More money. Still more money. But it's the movie stars that finally gives Beverly Hills the edge over Palm Beach as the undisputed capital of glamour. Never mind that not many of them actually live there anymore, they mostly live in surrounding communities if they live in LA at all. Beverly Hills sits liposuctioned ass-cheek to thong-bikinied ass-cheek beside Hollywood—which is no longer the glamour spot most tourists expect, either, and hasn't been for a long time. But never mind. Perception is all. That, and location. And location. Did I mention location? 90210 is still the realtor's magic number.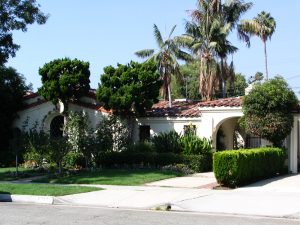 And here's a surprise. The eastern part of BH, and the part south of Wilshire, are really quite ordinary neighborhoods, filled with the little bungalows you will find all over the Southland, built in the '20s and '30s, mostly, with a few newer interlopers here and there. Just little 3- and 4-bedroom homes that sell for only one or two million dollars. You only start to get into the serious money north of Santa Monica Boulevard, and the insane money begins north of Sunset, in the actual hills. Down there on Wilshire, there is nothing hilly about Beverly Hills.
Which is not to say it ain't rich.
You notice it first in the car dealerships. BMW, Lexus, Ferrari/Maserati, Lotus. BMW alone has almost two block of Wilshire. Here, Lexus is a downscale brand. Lexus is the Ford of Beverly Hills. Then there are the talent agencies, and the offices of independent film producers and distributors: Crown International (proudly carrying on the tradition of the B-movie), ICM moved to Studio City, but left their logo behind. Soon you are walking by the oddly anonymous building of the Academy of Motion Picture Arts and Sciences (AMPAS), the dudes who give out the Oscars every year. Jon and Marion recently informed us that not only is there a changing exhibition in there, open to the public, but that there are regular public screenings for only $5, and—wonder of wonders!—these include the year's nominees for short films, something it's almost impossible to see anywhere else. We intend to be there for the next one, though apparently you have to be quick, since they sell out in about an hour. (Sadly, we were too early today; they weren't open yet. We'll have to go back.)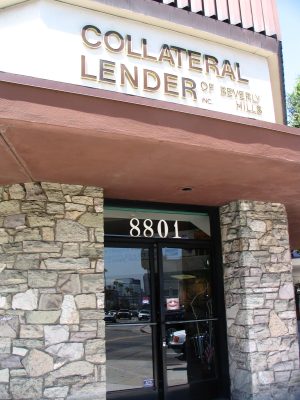 Soon you are in serious Wilshire Boulevard. You can tell this by two things: What the stores are selling, and how many institutions you see whose sole purpose is to take money from the very, very rich and turn it into lots more money for the very, very rich, and their financial gurus. Not banks, of course, but brokerages, hedge funds, and places whose function is a total mystery to me but which positively stink of money, even from the sidewalk.
Soon you are passing the Rolex Building. That's right, a whole 5-story building devoted to the sales of tiny machines that go tick-tick-tick and don't give you the correct time any better than a Casio, and cost far, far more than any car I've ever driven. Then you pass a large jewelry store that is open "By Invitation Only." I assume they will send one car to pick you up for your shopping spree, and another with extra-heavy shocks to carry your money and a driver with a pitchfork to unload it.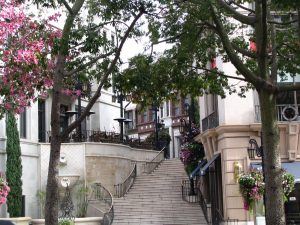 Next stop, Rodeo Drive. (Don't ever say ROH-de-o. People will stare at you. It's Ro-DAY-o.) Lee and I have always found this a big let-down. It's about three blocks long, and about the only thing we can afford here is the parking meters. But it's pretty dull, unless you are really, really into fashion. Most of the fashion, to my eyes, is unoriginal and lacks personality, and the same with the buildings. You come here for the labels, and the price tags, and because you are desperate to get rid of some of the bags of filthy lucre cluttering up the rec room. The most visually interesting part of the Drive is Two Rodeo, a fairly new shopping arcade that resembles a European street. Sort of Disneyland for the extremely wealthy. Today it was deserted, no one was up and about yet but the window washers. Later it would be jammed with lunching, face-lifted matrons smiling like skeletons, paying $40 for a salad.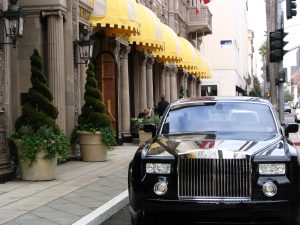 Across the street is the only part of this area I really like, and that is the Beverly Wilshire Hotel. It fronts on Wilshire, and is made of Tuscan stone and Carrara marble. This is the Pretty Woman hotel, or the lobby is, anyway. The suite Julia Roberts and Richard Gere stayed in was a set. I'm not opposed to a bit of pampering, especially if somebody else is paying for it. Back in my screenwriting days I stayed here a few times and it was by far my favorite hotel—and believe me, I stayed in some nice ones. When I was there it was owned and run by a man named Hernando Courtright, who also owned the flashier Beverly Hills Hotel, the "Pink Palace." The BW is a little more sedate, but you know you're in a class place the moment the doorman welcomes you. Little corridors wander around inside, with discrete display cases for the stuff on sale in the modest little shops inside. Don't ask about price.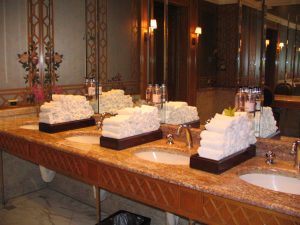 The reason we were wandering around inside was that I had been needing a pit stop, and there aren't a lot of hotels in the area. So you now will get a picture or two of the Beverly Wilshire public crappers, with their bottles of soap and lotion, the stacks of rolled hand towels, and the real orchids perched on the stacks. Really, you should stay there the next time you're in Beverly Hills. Rooms start at a low, low $525/night.
Proceeding west, you come down from the ionosphere of shopping to the still-rarified air of the stratosphere: the big department stores on Wilshire. Saks Fifth Avenue has a block and a half of frontage. Neiman-Marcus has a building that somewhat resembles the LBJ Library on the campus of the University of Texas in Austin. Once, when I was staying at the BW, I walked down to Neiman's and bought a sport coat, because I hadn't brought one with me from Oregon. I winced at the price, but it was the cheapest place on the street.
I have fond memories of Neiman's. Not this one, the original, the one in Dallas. My grandparents lived in Corsicana, Texas, about an hour's drive from Dallas. My grandmother (who everyone called Nina—pronounced NIGH-nah, not NEE-nah—though her real name was Mae Van) thought Neiman's was quite simply the finest place in the known world. Not that she knew a lot about the world, having seldom left Texas until she was much older and my father took her on trips to various other states. But from time to time she would make a pilgrimage—not unlike a Muslim's Hajj to Mecca, though more frequent—to Big D, and Neiman-Marcus. These were not shopping trips, you understand. Granddaddy made a good living managing a Duke & Ayres 5&10-cent store in Corsicana, but they knew the value of a dollar, and Nina knew there were no bargains to be had at Neiman's. But she liked to look. I wouldn't be surprised to learn that she never spent so much as a penny in those hallowed aisles, but it was fun to go with her and watch her eyes light up as she wandered around, hobnobbing with the upper crust of Texas's most snooty city.
* * *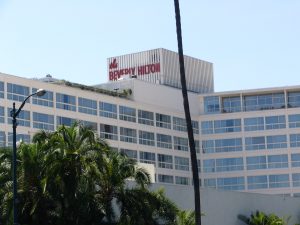 Answer: Merv Griffin's Beverly Hilton.
Question: What hotel is at the corner of Wilshire and Santa Monica Boulevard?
Of course old Merv has recently moved on to that great game show in the sky, where St. Peter himself turns the letters until Vanna arrives to give him a break. And this is where our walk ends for the day, as it is the last express bus stop before the Los Angeles Country Club and Condo Row in Westwood. See you then!
September 14, 2007
© 2007 by John Varley; all rights reserved