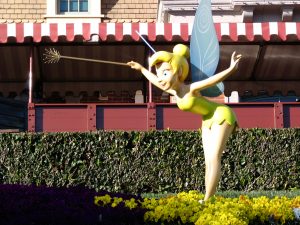 (Visit #8: Savings to date: $1,198.00!!!)
A perfect day at the parks is probably impossible, because it will involve some trade-offs. A perfect day would be 72 degrees, windless, cloudless. But if the weather is that perfect, the crowds increase. Bad weather keeps the crowds down, but the reason is it's not as much fun in the rain or cold. And though Walt and succeeding architects of Disneyland never made much provision for cold weather—the majority of restaurant seating is outdoors—it can get rather chilly in Southern California in December, January, and February. There are some days it never quite reaches 60 degrees. (Go ahead and sneer, Easterners and Midwesterners, but even 55 degrees in a high wind is chilly, okay?)
But Valentine's Day, 2008, was as near to perfect as we're likely to achieve.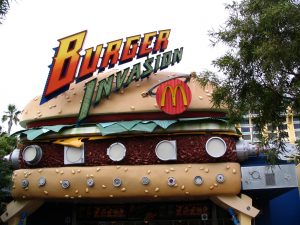 A cool Santa Ana was blowing pretty hard when we got there, after driving through patches of scattered rain showers. Pretty skimpy rain, actually, and the sky behind us was blue, so we weren't too worried. But I wore my jacket, and Lee her beloved pea coat, newly restored by a Chinese cleaners around the corner. Still, we headed for Burger Invasion, Hosted by McDonald's, for a cup of hot chocolate.
The reason we were in California Adventure first was that I'd wanted to see the movie, Golden Dreams, because it will soon be shut down and replaced by a new attraction themed to The Little Mermaid. I forget exactly what. Ariel's Squishy Saltwater Adventure, or something like that. Hate to let an attraction bite the dust without seeing it. When we reached the lovely replica of the rotunda from the San Francisco Palace of Fine Arts (a place I visited often in the past, home of the Exploratorium, the first big hands-on science museum) where the movie is shown, we saw that the show had just started and there was a 25 minute wait for the next one. I decided to ride on Mulholland Madness, the "mad mouse" roller coaster. I'd seen a photo of the interior of the cars, and I felt I could get into them without too much trauma to my knees. Lee wouldn't go with me, playing it safe, not wanting to get a crick in her neck.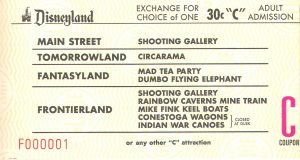 (C TICKET) Mulholland Madness. There was no line. (For reviewing purposes, "No line" herein will mean the wait was less than 5 minutes. If you've ever waited an hour to get on a ride, you'll know that's a fair description. In this case, the actual wait time was about 2 minutes.) I hate to keep ragging on California Adventure, but this ride is a good example of what's wrong with it. The idea is that you're traveling on winding Mulholland Drive. The entrance area is full of street signs, and most of the coaster is concealed behind cartoon maps of the area until you get up real close. I had expected that the ride would take you through some sort of Disney whimsy, something to look at while you're hanging on. But no. It's very bleak inside. The color scheme is battleship gray and … battleship gray. It looks like it might have been assembled in 24 hours in a shopping mall parking lot by a bunch of beefy, sweating carnies. All it needs for the proper atmosphere is big clumps of sticky cotton candy on the ground. Well, all right, be that way, I thought, as I strapped in. At least it should be thrilling. No such luck. The first mad mouse I rode was at the State Fair in Dallas, Texas, and it was called … the Mad Mouse! That later became a generic name, but the one in Dallas was one of the first. No one had seen a ride quite like it before. It didn't look that scary. But you got on it, and it went fast up the hill, then … jeezus christ!!! … it looked like you were going to tumble off into space, and then the car turned at the last possible second, with you hanging your precious hide over the edge, then another turn, just as bad. Then another, and another, and a series of hard, fast bumps. We loved it! I rode it a dozen times.
Well, somehow the geniuses who managed to make all the old midway rides in the Paradise Pier area (except California Screamin' and—maybe, I haven't ridden it yet—the Maliboomer) into beautiful but real tame imitations of the originals, have somehow managed to castrate the mad mouse. It goes up fast, but the turns are not thrilling, and it goes slowly over the bumps. I don't know how they do it, bubble gum on the rails, maybe, but it's slow. And it's not … what's the word I'm looking for? It's not rickety. Part of the thrill of a mad mouse is that it's sort of shaky. You feel like it just might collapse under you. I never felt that way on Mulholland Madness. A real bummer of a ride. Get rid of it, Imagineers! Trash the whole northwest side of Paradise Pier while you're at it. And now, on to …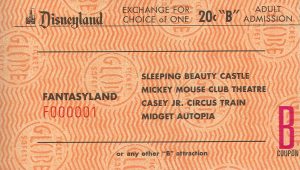 (B TICKET) Golden Dreams. I actually counted: 17 other people entered with us when the doors opened. And I multiplied once we got inside: 12 rows of 35 seats = 420 seats. On each side of the screen was a 30-foot (I'm estimating) statue of Whoopi Goldberg. As the show starts one of the faces comes alive and introduces herself to us as Califia, the Queen of California. (If the real Whoopi had been there I'm sure she would have looked down on her pitiful audience and said "I'm outta here!") Then followed a pretty good 20-minute movie about California history. It emphasized multi-culturalism, and didn't try to gloss over the ugliness, telling of the Spanish enslavement of the Indians and the diseases they brought with them, the exploitation of Chinese laborers building the railroad, the racism of anti-Japanese immigration laws and the hatred the Issei found when they got here. But it also showed the good things about the state, particularly the film industry. A nice little film, but it's played long enough. Bring on the Voyage of the Little Mermaid.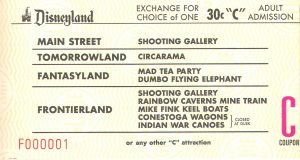 (C TICKET) Monsters, Inc. Mike & Sully to the Rescue! This was a literal walk-on. No line at all. The ride has just reopened after a few weeks of downtime for refurbishment. This is the ride that replaced the Superstar Limo, one of the most controversial rides Disney ever quietly abandoned after less than a year. Most visitors hated it. They didn't come to Disneyland for satire and audioanimatrons of Cher, Drew Carey, Jackie Chan, Cindy Crawford, Melanie Griffith, Regis Philbin, and some asshole agent stereotype that kept calling you up on your picturephone. It was snide and cynical. Funny, probably (I wouldn't have minded seeing it) but really out of place. The Monsters, Inc. ride opened in 2005. The idea is that you're in a taxi going through Monstropolis. A news bulletin announces that a human child has entered the city. We follow the efforts to track her down. It apparently follows the plot of the movie, the premise of which is that monsters are scared of humans. That's fine, and I remember liking the movie … but I only saw it once, and I don't remember much of the plot. Maybe kids today have seen it multiple times, like I saw Peter Pan, and have the plot down cold. But some of it was puzzling to me. There were rooms full of doors hanging from tracks and moving around real fast, and I remember something about that, but only vaguely. Just a so-so ride, in my opinion. What I liked the best were the posters in the waiting area (no waiting, today!) for things like Harryhausen's Restaurant. Most of you probably know that Ray Harryhausen was the king of all stop-motion monster movies. Nice to see him acknowledged.
Between the Monsters ride and the Muppet*Vision 3D movie is a plain building I've wondered about. (This is in the ghostliest part of the Hollywood Pictures Backlot, where the coyotes prowl unmolested, and cobwebs grow on the tumbleweeds that bounce down the street.) I researched it, and found out it was the site of something called Who Wants to be a Millionaire?—Play it! from the opening of the park until August of 2004. It's been empty since then. A great big theater building like that, sitting empty. How awful! It was an audience participation version of that horribly over-hyped quiz show, and you could win anything from a Disney pin to a vacation cruise.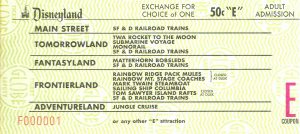 (E TICKET) The Twilight Zone Tower of Terror. One of the wildest rides I've ever been on! And a literal walk-on today! Most days it's a Fastpass attraction, with horrible lines winding all over the place. I walked up to the check-in deck and the solemn desk clerk (all the cast members here are solemn, it's in the script), and was directed right into the library. (Lee wasn't with me. Wimp.) There we were shown a short intro on an old TV with Rod Serling welcoming us to … The Twilight Zone. This was an ingenious film, using actual footage of Rod from one of the episodes. The idea is that the old hotel was struck by lightning in 1939 and an elevator load of people vanished. Then we were informed that a power outage means we'll have to take a freight elevator to our rooms. We go into the basement, full of dusty boilers and electrical and plumbing equipment. We sit in rows in the elevator (which apparently has two level, but I couldn't tell which one we were on). The doors close and the elevator moves backwards. We see an infinite starfield …and from then on things get confused. We went up and the doors opened and we saw ourselves in a mirror. Lightning flashed and we turned into ghostly shadows, and then vanished. We went to other scenes. And at some point the doors opened and we were looking out over the parks. I saw the Matterhorn, and Sleeping Beauty's Castle … and then we dropped! We rose and dropped several times, and the doors opened and closed on various levels. I've seldom been quite so disoriented, but in a good way. In reading about it, I learned that the elevator cars don't just free-fall, they are pulled down, so you literally rise out of your seat. Not zero-gee, negative gee. Hang onto your hats and glasses!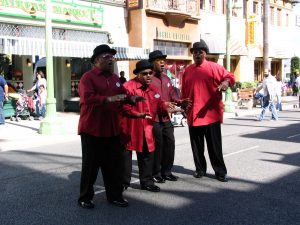 We passed a very good doo-wop quartet on the way down Hollywood Boulevard. Snow White was outside her cottage at the Disney Animation building.
Now across the plaza and into Disneyland. It was a bit after lunch time, our preferred time to get a bite since the crowds are thinned out. My cousin Janice said her family likes to eat at the Mexican place in Frontierland, so we headed over there to try it. On the way we passed a little place on Main Street where Mickey was honoring Chinese New Year, "The Year of the Mouse" (which I've heard is a much bigger deal in the Hong Kong Disneyland) in a little meet-and-greet area, dressed in red and gold Chinese attire. Later, on our way out, Minnie was there, also in a red Chinese dress.
The Mexican place was the Rancho del Zocalo, and once more, we pretty much walked right up to the counter and ordered our beef soft tacos. It was one of the smaller items on the menu, and it was still too much for Lee, as usual. A good amount of food, and it was all very tasty and not too expensive. Thanks, Janice!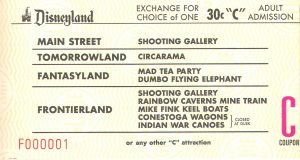 (C TICKET) Pirate's Lair at Tom Sawyer Island. Would you believe it, in all the times I've been to Disneyland, I've never boarded the rafts to cross the Rivers of America to Tom Sawyer Island? I guess it's because I was too old the first time I visited. That is, I looked across the waters and figured I wasn't really into playing cowboys and Indians anymore, and there were always more interesting things to do. Lee remembers it as one of the best places in the park, but she was still a kid the first time she went.
A while back they re-themed the place into a Pirate's Lair. Well, I can play pirate! Avast, ye lubbers! Aargh! Ahoy! Hard aport, astarboard, abeam, astern, and amidships! Raise the jolly roger, weigh the fo'c's'le, keelhaul the mainsprit, and abandon the marlinespikes! And aargh again, for good measure!
So, with a bellyful of tacos and beans (oops! Sorry about that, my fellow pirates!), we boarded one of the rafts and pootled across the raging waters, barely avoiding squashing three mallards and a coot against the landing as we docked, about 45 seconds later.
First thing you find upon debarking there is a small stage in front of Lafitte's Tavern, which is a shack that must have hidden wonders inside. I mean, from the first steps on the island, I was looking for evidence of where they keep all the vast machinery that must be unearthed to put on the fantastic Fantasmic! show, most of which happens right here. There is very little sign of it. I found some hatches that probably opened up for the light and smoke and pyrotechnic towers to rise from, but that's about it. Where do they keep the 40-foot, fire-breathing dragon? Either under my feet, or inside the tavern, I figure. But I really want to see the show again and try to figure it all out.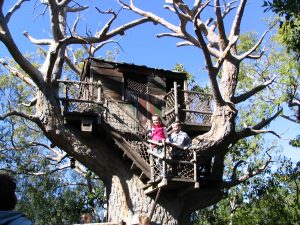 There's a little split personality down here on the southern tip of the island. After the tavern we went past a grist mill with a water wheel, and a fishing pier, and frontier-style stuff that didn't seem to have much to do with pirates. Then up a hill to a "dead tree" that had a great treehouse in it. Lee went up, but the openings and passages were too child-sized for me, even if my legs were up to it. Again, not very pirate-like, more of a low-budget Swiss Family Robinson (and I don't mean that in a bad way, it's a great place for kids). No less than three rushing streams sprout from the roots of this tree (and I couldn't figure what that was about, but never mind), and one winds down the hill and into my favorite part of the island, which is Smuggler's Cove. Here kids can work a couple of pumps, or turn a big capstan to raise a treasure chest from the water … only when it comes up there's a pirate skeleton still clinging to it! There's a replica of the giant ball they were all trapped inside in one of the Pirates of the Caribbean movies, Dead Man's Chest, I think. Aargh! There is a barrel bridge which is a lot harder to cross than it appears, and a suspension bridge. We found the exit to Dead Man's Grotto, which used to be Injun Joe's Cave back in the Tom Sawyer days. It said it was the exit, and that we had been warned, but avast, mateys, we's pirates, ain't we? We don't need no stinkin' traffic cops! Aargh! So we groped our way through it. Here and there were niches with scenes of pirate treasure. One of them had a little ingot of gold sitting right out there on the ledge, as if somebody forgot to put it in with the rest of the trove. Lee tried to pick it up and a pirate yelled at her, "Keep your ruddy 'ands to yourself!" She jumped. Busted!
Then there was a grounded ship to climb on, weathering away and strangling in tree roots, and lots more caves to wander through, most of them too small for me. Did you know they considered two other names for this place before it opened? Aye, they did: Mickey Mouse Island, and Treasure Island. What goes around, comes around, huh?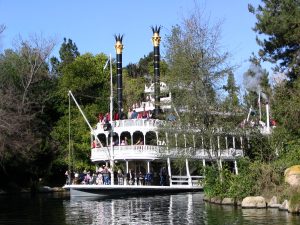 At the far end of the island we saw the old Mark Twain steamin' 'round the bend. There's no more iconic sight in Disneyland, in my opinion. (I remember the first time I saw it, it brought tears to my eyes. I was really in Disneyland, finally!) Across the river was a remnant of the old mine train, and a Mike Fink Keelboat, and the new, politically improved Indian Village (no war dances, now it's an old man telling stories, no doubt ecologically correct). And last, Fort Wilderness. It closed in 2003 when they discovered the only reason it was still standing is the termites were holding hands. It's been used as a costuming area for Fantasmic! performers, and there's construction going on inside, but I haven't been able to determine at any of the Disney websites I've bookmarked if anyone knows when it will reopen, or what it will be like.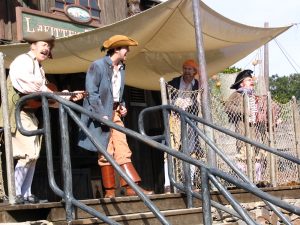 There was a musical show by The Bootstrappers (who sounded like Aussies to me) happening as we waited for the raft back to the mainland. There is a pirate stunt show—aargh!—that happens here some days, but not today. Lee asked the captain of the barge if Disney provided his costume or he had to buy it himself. All provided, he said, from hat to boots. You know, the show I'd really like to see is backstage at Disneyland. (I know tours of the park are available, but so far as I know they don't do that, and probably never will. Don't want to spoil the fantasy.) But hundreds of thousands of people have worked at the park in 53 years, none of it's exactly a state secret. Wouldn't you be interested? Think about just the costuming. Some "cast members" wear fairly normal stuff they can take home with them and clean themselves, but the captain's pirate uniform was fairly elaborate. (The cast at the Tower of Terror are outfitted in outfits that cost $1000 a pop!) Each member who wears a costume like that has to have at least two of them, so one can be cleaned while the other is worn. That's a lot of costumes. They have to be tailored and fitted (the captain was a large man). And that's just one practical aspect. I'd also love to go behind the scenes at one of the elaborate rides, like …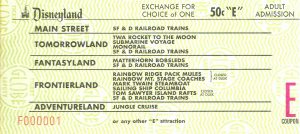 (E TICKET) Indiana Jones Adventure: The Temple of the Forbidden Eye. We got fastpasses for this before going to the island. We had to make it back by 2:40, and we did, with ten minutes to spare. Even with the passes, this one was not quite a walk-on, the first one so far today. Of course, at Indy, it's five minutes from the entrance to the ride even if there's nobody in line. You start out at a massive Mercedes-Benz truck, which is the actual truck used in the first movie! Then you just keep going on, and on, and on, with flickering lights overhead and plastic bamboo holding up the roof and separating the lines … and on and on and on … It is, in fact, 1/3 mile of queue!
I've never had to shuffle through this place when it's jammed. It seems there are 12 telegrams posted at various places which you can read while waiting, introducing you to the plot of the ride. There are even coded messages, written in "Mara-glyphics." There are also booby traps, ropes you can pull to trigger avalanche sounds, etc. I'd prefer just to walk in, thank you very much. In the final waiting area there are newsreels showing that will fill you in on all the plot you need. When we got there it was about ten minutes before we boarded one of the "troop transports." These are amazing vehicles. Riding in them, you feel like you're on the world's bumpiest road, but it's actually the car that's doing all the shaking. It's so dark you can't tell. The car can tilt sideways, and rear up in the front or the back, or any combination of moves.
Then the fun begins. I had been told that there are three different rides here, and the first thing that happens is that you stop before three doors, one of which lights up and then opens. These are the Fountain of Eternal Youth, the Chamber of Earthly Riches, and the Observatory of the Future. Well, blow me down, shiver me timbers, and aargh! We've been hornswoggled, me hearties! There is only one ride. It's the room you're in that moves, positioning either the left, right, or center door so that it leads to the only corridor on the other side. Here's how the article at Wiki describes what happens next:
"If guests have entered the Fountain of Eternal Youth, the tunnel is filled with blue and green light and scrims along the walls, lit from the front, depict people drinking magical water and becoming young and beautiful. Running water can be heard, and the walls appear to be illuminated by light that is reflecting off of the unseen water.

"If the riders enter Chamber of Earthly Riches, the tunnel is filled with yellow light. The same scrims are lit from behind; making large amounts of gold and other treasures visible, while rendering the paintings seen in Fountain of Eternal Youth virtually invisible.

"If riders enter the Observatory of the Future, the tunnel is dimly lit with purple light, and the ceiling above is filled with 5,000 fiber optic stars. The ride vehicles tilt upward, directing passengers' eyes away from the unlit scrims, and towards the dazzling star field."
Is that amazing, or what? After that, the horrors ahead of you are: The Tunnel of Torment, the Gates of Doom, the Cavern of Bubbling Death, the Mummy Chamber, the Bug Room, the Bridge, the Mud Slide, the Rat Cave, the Dart Corridor, and the Rolling Boulder. Whew! Getting off, I can't help but wonder how they pack all that even into the enormous building you can see from outside the park: 57,000 square feet and half a mile of track!
The wind has died to a gentle breeze, the sun is out, not a cloud in the sky, temperature about 65, I'd guess. For god's sake, don't tell anybody! They'll storm the gates! Crowds are still very sparse, even over here in Disneyland. We're starting to tire out, but I ask Lee if she's ever been in …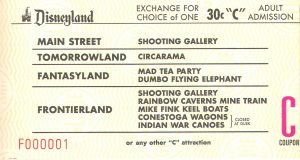 (C TICKET) The Enchanted Tiki Room, Presented by Dole, and she says she hasn't! Well, we can't let that situation stand, can we? I've heard this was one of Walt's favorites, mostly because it was the very first audio-animatronic attraction, primitive by today's standards, but with robotic lip-synching … er, beak-synching, I guess. Also petal-synching, as the flowers in here sing, too. It opened in 1963 and was a big hit. Since it was computer-controlled, and since computers in those days put out massive amounts of heat, the building had to be air-conditioned, which sure didn't hurt its popularity. It was the first building in the park that was fully air-cooled.
It must have been mind-boggling in 1963. So what is it like today? Well, it got a total make-over in 2005, because the birds were molting and the roof was leaking. They re-did it exactly as it was before, but with newer, more elaborate movements. I think it still works pretty well. It follows a great formula: Give 'em something nice, then something nicer, then something spectacular, and then top that, and then top that again. By the end you realize that literally everything in this room is coming alive, birds, flowers, tiki gods along the walls, and the walls themselves in the form of totem poles. They perform "The Tiki Tiki Tiki Room," and "Let's All Sing Like the Birdies Sing," with a grand and rousing finale of the "Hawaiian War Chant." I like the last one best. Lots of drums!
Heading for the exit now, but there's time for one more ride …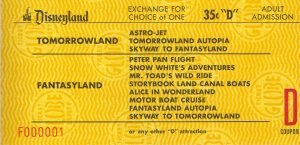 (D TICKET) Buzz Lightyear Astro Blasters. Another one that usually has long, long lines. We walked in, maybe five minutes before we boarded. On the way in you are given your instructions on a huge etch-a-sketch by a huge Buzz Lightyear. The waiting line gives you the impression that you've shrunk to the size of a toy and are in a big toy box. The plot: The Evil Emperor Zurg is up to some nefarious shenanigans. That's all you really need to know unless you plan to become a real student of this ride/game, because the targets you're shooting at are easy to find. Your ride car has two laser guns and a joystick. We started out both shooting and with me steering the joystick, which turns the car through a full 360 degrees. Pretty soon Lee decided she wanted to drive, and she spent the rest of the ride trying to spoil my aim. Or so it seemed. You rack up points according to a complicated system. I thought I was doing pretty good, getting off with a score of 43,000. Then I saw the Status Board, and found I was only a lowly Planetary Pilot, just two steps up from the bottom! There are all sorts of other frills in this ride for members of the ultra-plugged-in generation, including ways to play it at home with a partner … none of which interest me. But I'd like to ride it again, and for an odd reason. Holding the gun and looking for targets to hit, I got off the ride and realized I hadn't really seen most of it! Next time I'll let Lee do the shooting.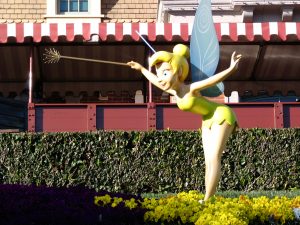 We lingered a little on Main Street on the way out. (No matter how tired I am, I always find it tough to actually leave Disneyland.) Many of the shops on the east side of the street sell some pretty expensive stuff. Art, crystal, limited editions, things like that, with some pretty hefty price tags. Bought some fudge. One place had everything you'd ever need if you wanted to turn your kitchen into a Mickey Mouse theme park. I'm a Disney fan, but I don't think I'd want to go that far. I content myself with buying another refrigerator magnet every time we visit. Four to six dollars, usually. This time I got one from the Tower of Terror, showing Donald and Goofy so frightened their hats are blown into the air on tiny springs.
Returning to the car, I realized I'd done something that semi-frequent visitors to the park can seldom achieve: I'd visited 6 new attractions that were new to me in one day! They were: Mulholland Madness, Golden Dreams, Monsters, Inc. Mike & Sully to the Rescue!, The Twilight Zone Tower of Terror, Pirate's Lair at Tom Sawyer Island, and Buzz Lightyear Astro Blasters.
A double hat trick! I realized that I might just be able to do that again … or even better! Here's what I haven't ridden yet: Maliboomer, Orange Stinger, Jumpin' Jellyfish, Golden Zephyr, Sunwheel, King Triton's Carousel, Grizzly River Run, Flik's Flyers, Tuck and Roll, Drive 'Em Buggies (I'm too big), Gadget's Go-Coaster (too big), Francis's Ladybug Boogie, Main Street: Fire Engine, Carriage, Omnibus, Davy Crockett Explorer Canoes, Astro Orbiter, Autopia, Dumbo the Flying Elephant, King Arthur Carousel, and Mad Tea Party.
And I haven't visited: Hollywood Backlot Stage, Disney Animation: Turtle Talk With Crush, Animation Academy, Character Close-up, Sorcerer's Workshop, Redwood Creek Challenge Trail, Mission Tortilla Factory, The Bakery Tour, Disneyland: The First 50 Magical Years, Tarzan's Treehouse, Innoventions and Disney Princess Fantasy Faire.
And I'm not even going to count the restaurants we haven't tried. Shoot! I was beginning to think I'd just about seen it all, and that future visits will be doing things I've already done until they open something new. But I've only just started out! Still lots to do!
March 4, 2008
© 2008 by John Varley; all rights reserved