Hollywood Diary – Part 2
"Another day" turned out to be only two days later. When Lee read about all the places I'd gone and the things I'd seen, nothing would do but we re-trace my steps so she could snap a lot of pics to go with this diary entry.
The Metro: Part Two
So … back to the Hollywood & Highland Center and on to Universal City. Again, it seemed pretty dead. Off season, of course, but then we realized that most of the clubs such as BB King's and the Rumba Room didn't even open until 6, and stayed open until 2 AM. And people had begun to arrive to party into the wee hours. We ate at a nice Mexican place and Lee took lots of pictures. She is finally adjusting to the idea that you can take almost unlimited pix with a digital camera, so there's no need to worry about wasting film or taking a bad one. She took 125 pics that day, and that only took up ¼ of the 256MB chip in the camera. We met and talked to a sidewalk artist who was doing some interesting things, and waiting for the tram back to the Black Monolith we met a man from the north of England—way north, about equidistant from Glasgow and Edinburgh, he said. He was a farmer, just back from Australia and New Zealand with a few days to kill in the Southland and New York. He was staying in Hermosa Beach, of all places, and hadn't realized just how far away that was from Hollywood. It took him forever to get there on the bus. He wanted to see the famous Hollywood sign, and said he'd gotten off the "tube" at Hollywood and Vine and couldn't see it. I told him he was on the wrong side of the hills there at Universal, and he should stop at Hollywood/Highland to see it.
We got a late start and it was getting dark and chilly, so we went home and continued the next day …or was it the day after? I swear, things begin to seem like a giddy blur of activity down here in the golden south … just kidding. Mostly we stay home and work. But not long after we completed the trip by going downtown and getting off at the Civic Center, where we hiked up the hill to the Disney Concert Hall. It is a weird marvel from the outside, though the Sydney Opera House still takes the honors in my book. Tours of the interior cost $10; some other day, perhaps. I understand the LA Philharmonic was in love with it from Day One. The acoustics are unmatched. I'd love to attend a concert—they're doing all 9 Beethoven Symphonies this year, and I've never seen the Ninth live—but the prices! Yikes! Well, maybe one of these days, up in the nosebleed seats, or as the French call it, The Gods.
LA culture (and no, that's not an oxymoron) is concentrated on that hilltop. We strolled the grounds of the Dorothy Chandler Pavilion, the Mark Taper Forum, and the Ahmanson Theater, which surround a lovely fountain dedicated to World Peace. Lynn Redgrave is currently starring in "The Importance of Being Earnest." Love to see that.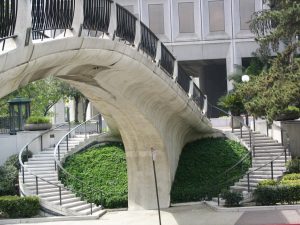 Down the hill to the east is a series of small parks surrounded by city, county, state, and federal edifices from the 30s, and one hideous court building that had to be from the '60s. Then you're at City Hall … where three of four entrances are for employees only. We followed the arrows around, stopping at something called the "Los Angeles Mall," which looked like nothing more than a small park with a colorful sculpture and a lot of transients. But across a curving pedestrian bridge we could look down and see that the mall was underground. It looked like mostly restaurants and snack shops for all the bureaucrats. It was Sunday, and the place was closed and deserted.
So was City Hall. When we finally found the right entrance, the one reserved for "the public" (read "potential terrorists")—not the grand one in front, facing the plaza, nor the ones on the sides, slightly less grand, but the one way in back, hidden under a pedestrian overpass—we went in to a distinctly unimposing space with two (count 'em, 2) metal detectors. That was plenty for today, since there was just me and Lee, but I wondered how long a wait there'd be on a weekday when we potential terrorists might actually have some business we had to transact here? No sweat, though; nobody was manning them. I mean, nobody. I was about to walk through when a voice boomed out "Can I help you?" in a tone of voice that clearly meant the guy didn't want to help us at all. Lee jumped a foot in the air. And hidden in the corner behind the security desk was a big guy in uniform.
"Can we see anything in here?"
"Not on Sunday." He was clearly aghast at the very idea. Something suspicious about people with nothing better to do than try to see the most historic building in downtown Los Angeles on a Sunday. Probably trying to figure out where to put the nerve gas canisters. We beat a hasty retreat before he called for reinforcements. Thank you, Homeland Security, for keeping us safe.
For a long time the City Hall was as tall as buildings were allowed to be in LA: 32 floors. Back then they didn't know if that building, or anything taller, would ride out an earthquake. When you saw a picture of downtown LA, that was the building that dominated. (The Martians destroyed it in George Pal's The War of the Worlds in 1953.) Then in the '60s they decided they knew how to make skyscrapers that would stand up to an 8 pointer, and up they went, infesting Bunker Hill like a glass plague. Now the Library Tower (also known at the US Bank Building, and "George Bush's Most Recent Plan to Scare the Living Shit Out Of Us") tops out at 73 stories. And now we wait for the 8 pointer to shake all the glass out of those windows, at the very least …
I had supposed there would be something grand inside such a public edifice, like the City Hall in San Francisco. When we manage to get inside, we will report if that's true or not.
Next stop, the Bradbury Building … but along the way we encountered a film shoot. I'm not exaggerating here when I say that everywhere we go in LA we've been running into film shoots. Just today there was another at the old Ivar Theatre right next door to the Goldwyn Branch of the library, where we were walking to return some books. (The Ivar used to be a striptease theater in the '60s when I was here. Ultra sleazy. Now it's been restored, and does small, intimate productions where people—mostly—keep their clothes on.) On that Sunday's location shoot cops were stopping traffic, there were trailers for the stars, caterers, camera trucks, the whole traveling circus. Since we've been here there have been two film shoots within sight of our apartment, one at the little motel around the corner, another at the Sabor y Cultura coffeehouse right down on the corner. It's always the same thing, too. Lots of people, and nothing happening.
Actually, we did hear someone shout "action!" downtown, then instantly "Cut! What the hell is that car doing there?"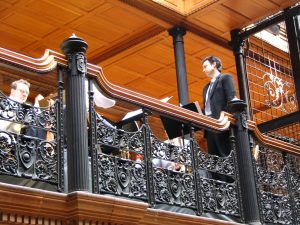 The Bradbury was closed to the public for a concert! But we sneaked in, anyway, and were allowed to hang around the ground floor and the first landing for a bit. It was a brass quintet, they were rehearsing, and they filled that old beauty with glorious sound! There's not much I like more than a brass quintet, and these guys were good. I didn't recognize the piece, but it was dissonant, modern, and very tough. I wish I could have hung around for the whole thing.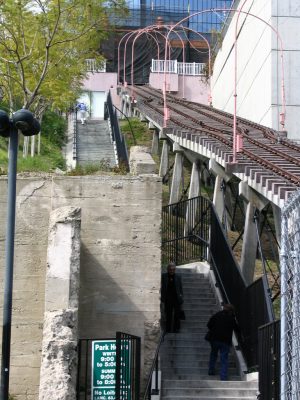 Lunch at the Grand Central Market again, middle eastern food this time. We shared a plate of two kinds of mystery meat. No, not Spam, it was mysterious because I didn't ask what it was, just pointed at the picture and said I'll have a #3. One was almost certainly lamb, and I think the other was beef, though it might have been goat. Quite good, whatever it was. We ate while sitting outside looking at Angels Flight, then Lee crossed the street to photograph it. Hope it reopens soon.
Down Broadway, snapping pics of the grand old movie marquees, some of them still with a light or two to flash. Broadway today reminds me of 42nd Street in New York, before they cleaned it up. I haven't actually seen it since the cleanup, and don't think I'm eager to. Sure, it was sleazy, but New York didn't really need a Disneyland in the heart of mid-town, in my humble opinion. It won't feel the same to walk down the Deuce and not hear the voices of the friendly vendors: "I got crack, I got H, I got grass, I got X …"
The day was still young, and though I was exhausted I suggested we try the Blue Line, the oldest of the new surface rail transit in the city. So we boarded a train at 7th street and soon emerged on the surface. It's light rail, three articulated cars on each train, and at first it travels down the city streets, stopping at red lights, which seems stupid to me. The lights ought to stop cross traffic, trains should have priority. But soon we were on dedicated right-of-way as we barreled through some of the less desirable neighborhoods of the flatlands. Compton, Watts (you can see the Towers from the 103rd Street station), places like that. We shared the route with freight trains, and from such a vantage point you see the ass-end of a lot of things. There was some stunning graffiti. I make a distinction between graffiti and tagging. The latter is just vandalism with no artistic impulse. But the guys who do the actual wall paintings are amazing, and they mostly do it in the dark.
Before we knew it we'd gone all the way to Long Beach, where the tracks went to the city streets again. The train makes a loop at the end, almost in sight of the water. So we got off and ambled down beside the convention center, across the highway, and far enough so we could see the stacks of the old Queen Mary. We knew that the new one, the QMII, had called only a few days ago because an old friend of Lee's had been on the ship. She is on her way to Hawaii at the moment, will return on March 8, and I'd like to go down and see her, and maybe the Aquarium of the Pacific, which is right there on The Pike. After that, the Queen will sail around Cape Horn (too big for the Panama Canal). I'd love to be aboard.
The Pike has been gentrified. There is still a Ferris wheel and a roller coaster, but not like it used to be. It all looks like Universal City Walk now. We had a slice of key lime pie at a California Pizza Kitchen and got back on the train.
A word about cell phones. Sure, we saw a lot of people using them on the Central Coast, while walking, while driving, while dining in restaurants. I imagine you see a lot of people doing that all over the country, from Klamath Falls to Keokuk to Key West. But nothing like down here in the Southland. It often seems that, for every two pedestrians you see, one is talking on a cell phone. Lots of people use headsets, like they were air traffic controllers or something. You see people dialing with one thumb while weaving through traffic with the other. I get the impression that most people in Hollywood, offered the choice of losing their cell phones or their left leg, would have to think it over. On the trip back from Long Beach there was a young woman whose phone was constantly ringing. She never had it clipped to her jeans for more than 60 seconds; she'd take it off and fiddle with it. And then it would buzz, very loudly, and she'd use it as a walkie-talkie. I frankly don't even understand how that works. I frankly don't even understand why anyone would use a cell phone as a two-way radio, except that now everyone in earshot is forced to listen to both sides of your vapid, inane conversation … but then, I don't understand why anyone would send a text message, either. Sure, we have a cell phone (who doesn't?) and I know they can be very handy in some situations. But increasingly, people are living their lives on the phone. It is very strange.
Last stop: MacArthur Park. I'd heard a rumor that someone left a cake out in the rain, and that it took a long time to bake it, and he might never have that recipe again. I didn't see a wet cake, and if I never hear that stupid song again I'll die happy.
Rumor also was that not long ago not even cops liked to go in there after dark, but that it had been cleaned up since then. It sure didn't look menacing that day, with its green grass, lake, and fountain. We were almost the only Anglo faces on the street, though, and everybody was speaking Spanish. I was by far the tallest person for blocks in any direction. We looked around for a short while, then got back on the train, which went under the lake (was that really wise?) and took us back home.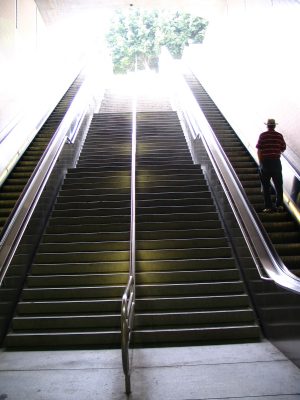 March 1, 2006
Hollywood, CA