The Doo-Dah Parade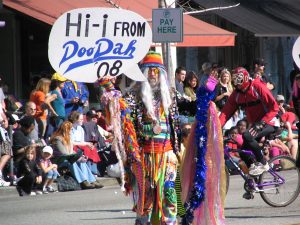 As if to recover from an excess of pomp and pageantry, some crazy people in Pasadena and the rest of the Southland get together for what might be called the Anti-Tournament of Roses Parade. And on Sunday we attended it: The 31st Occasional Doo-Dah Parade.
Just about everything about the two parades is different:
The TofR is about five miles long. The Doo-Dah is a little over five blocks.
The TofR began with a flyover of five F-18A jet fighters from the California National Guard. The Doo-Dah had two WWII prop trainer planes I couldn't identify.
Getting into the TofR is hard; you have to go through a rigorous selection process. Getting into the Doo-Dah is easy. Just show up.
The TofR moves right along, at a brisk pace. The Doo-Dah ambles, and nobody much cares if it stalls in the same spot for a while as the Men of Leisure Synchronized Nap Team stretches out on the pavement to catch a few zees.
The TofR begins at the ungodly hour of 8AM, so it can be televised in the middle of the day Back East. The Doo-Dah begins at the reasonable hour of 11:30 … or whenever.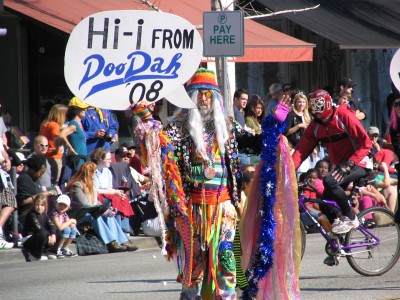 We took the Gold Line train to Memorial Park Station right in the heart of Old Town Pasadena, and the assembly point for all the parade entries. We didn't linger, however, as we were a little later than we'd planned to be, and wanted to see if we could still find a good spot. We did, just a few storefronts down from the intersection of Route 66 and Route 66; i.e., Colorado and Fair Oaks. I had my lawn chair and Lee had her stepladder. It was about 11:15. The parade began to straggle by at about 11:45. At first it was just a lot of people in costumes on odd bicycles. But soon a group of bagpipers squealed into view. These were odd bagpipes. None of them were tartan. One looked like a goose, one looked like a sheep. One was being played by a gorilla. That's how it was to be, all day long.
Then the first of quite a few rock bands on flatbed trucks, mostly playing golden oldies. This was Snotty Scotty and the Hankies.
And who should come along next, perched regally on the back of a 1963 (or thereabouts) Chevy Corvair, but His Holiness, Pope Benedict XVI! How kind of the blessed father to take a little time from his no-doubt frantic schedule to grace us with his presence.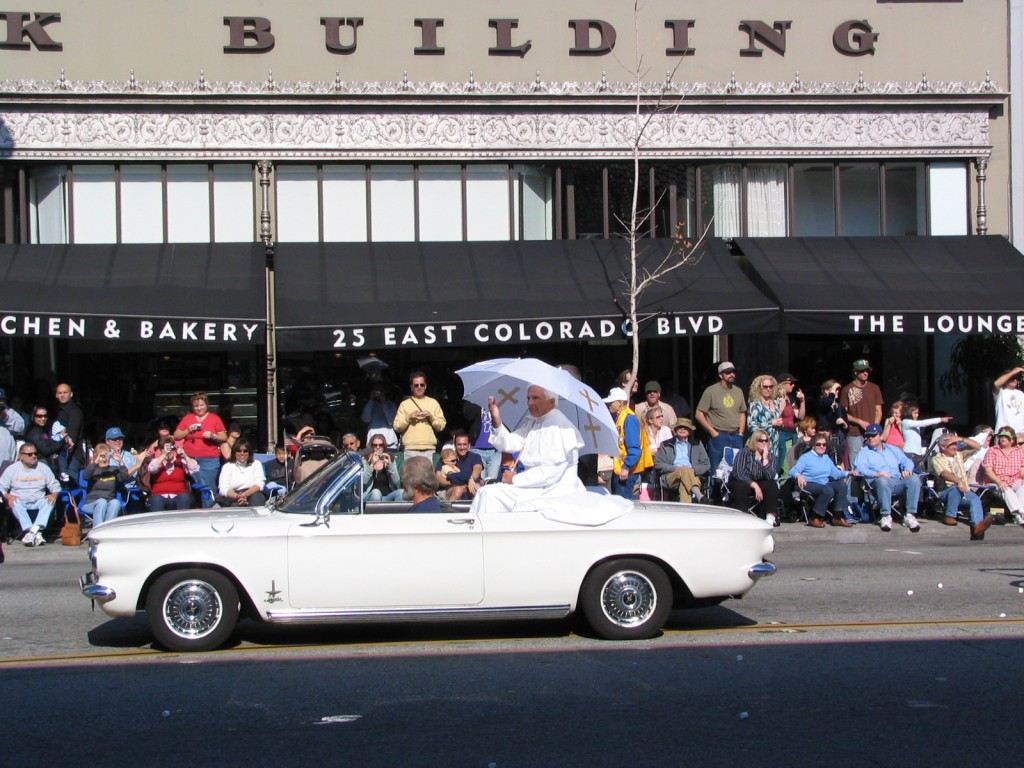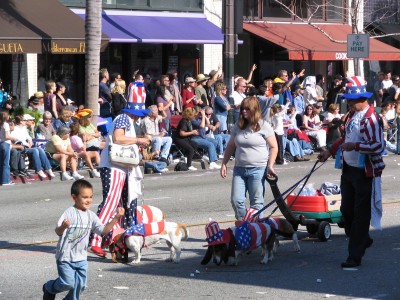 Along about now we began to be aware of a Doo-Dah Tradition. That is, if you approve of an entry, the proper way to express that approval is by throwing marshmallows. If you really approve, you throw tortillas. You'd be surprised how far you can sail a tortilla. In between entries children would run out into the street and gather up some of the marshmallows to re-use. After a while, all the motorized entries had lots of gooey white stuff in the treads of their tires. And then along came about a dozen dogs from the Bassett Hound Rescue Society, who couldn't believe their luck, walking over all this delicious food. I saw one long-eared hound gobble up five or six marshmallows in quick succession, then try to eat a crust left behind by the Los Angeles French Quarter Synchronized Baguette Brigade. I suspect some of those bassetts had really sick tummies that night, and some owners were kept busy mopping up disgusting tortilla-and-marshmallow goo.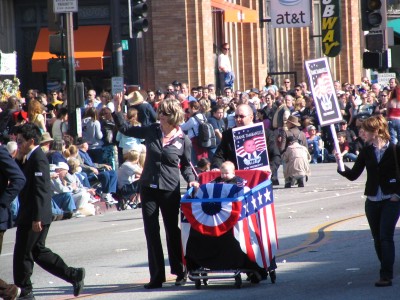 Then there was the Frank Tambanelli For President float, complete with Secret Service escort, which was a grocery cart with the candidate himself riding inside. He hadn't yet reached his first birthday, Frank hadn't, but why not? We've elected an idiot twice; why not a baby?
There is no official motto or theme for the Doo-Dah parade, no one wants to be regimented like that, but there certainly was an unofficial one, and it was Impeachment. Several groups were in favor of it, and it always got a big cheer from the crowd. One float offered Free Waterboarding Lessons. We declined.
Next: The Parrotheads, each carrying a blender full of that frozen concoction that helps Jimmy Buffet hang on.
The Fabulous Sons of Ed Wood.
The Synchronized Nap Team.
Uncle Fester, with a bubble machine.
The Disco Drill Team, who were actually pretty good, though their clothes were awful. But that was the point of disco, wasn't it?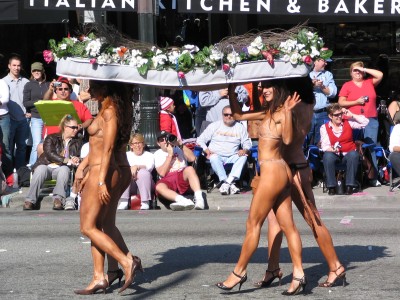 Four nearly naked ladies carrying a bed of roses on their heads. What was that all about?
Belly dancers. Motorcycles. Betty's Bodacious Bangin' Bucket Brigade. The Benzedrine Monks. Caesar's Circus, who kept killing each other (and squirting blood), and getting up to be killed again. The Grubersnort Wedding Shower. A few serious, well-rehearsed entries, like the Loma Alta Park Divine Diamondettes Drill Team and Drum Squad, the Renaissance Pleasure Faire, or the John Muir Alumni Drums Association, who ended the parade.
Two of my favorites: The Dead Robert Palmer Girls, and the Bastard Sons of Lee Marvin (White-haired Demigod of the Cinema!).
A flying saucer. Mutant skittles.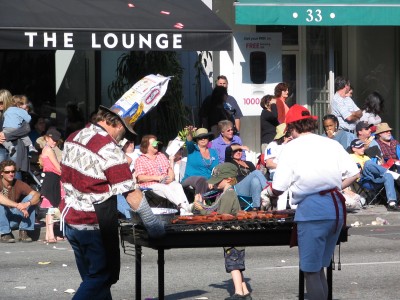 The Barbeque and Hibachi Marching Drill Team, who were actually grilling hot dogs as they marched down the road, and giving them away to the crowd … or launching them into air with several kinds of catapult. (The "rules" of the parade, such as they are spelled out at the website, prohibit entries from throwing anything into the crowd, but it was widely ignored, with lots of people tossing Mardi Gras beads and other gewgaws. I assume that rule was there to cover their asses legally.)
The most elaborate float was actually one that would have done the TofR proud, though it wasn't quite as massive as those floral behemoths. It was a small pickup truck fixed up to look like a cat. The head swiveled, the mouth opened and closed, the paws could grab people, and the tail moved up and down. It took four people to operate it, and one to drive. Somebody put a lot of work into that one.
All in all, a very pleasant way to spend a late morning and early afternoon. We were saddened that the lawn mower and briefcase drill teams didn't show up, but you can't have everything. We adjourned to a little Indian restaurant nearby and had excellent tandoori chicken and lamb curry for lunch.
January 24, 2008
© 2008 by John Varley; all rights reserved