Angela Bassett Gets a STAR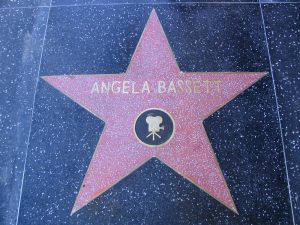 When: Thursday, March 20, 2008 at 11:30 a.m.
Location: 7000 Hollywood Boulevard, near Orange
Do you ever have one of those days? I woke up and the sun wasn't really shining but then it burst through the clouds and it was glorious. Hallelujah! ~Angela Bassett
I didn't know if it was worth our time to attend the Walk of Fame star ceremony for Angela Bassett. After all, we'd seen her at the ceremony for Forest Whitaker. He was also scheduled to appear at her ceremony … payback! But for that one we were perched up on a balcony at the Kodak Theater with an excellent view but very poor acoustics. We couldn't hear a word she was saying. And Laurence Fishburne was going to be there. We hadn't bagged him yet. (You go to enough of these things and you realize that's what you're doing: Big game hunting. Okay, so sue us. We're not paparazzi, we don't get in anyone's face. You're supposed to take pictures at these deals.)
I dropped Lee off and found a parking spot only two blocks away. When I got there it was clear that Lee was not going to be able to take any good pictures. It was a pretty big crowd. (See the last picture, of the back of that woman with the purple hat? Imagine a knife sticking out of her back. That's what Lee wanted to do.) So she handed the camera over to me and, with my superior altitude, I managed to capture enough moments that weren't too bad, mostly by clicking the shutter almost continuously. All hail the near-limitless capacity of a 4GB chip in a digital camera! Snap 500, snap 1000, and you're bound to get a few good ones.
In the end we were glad we came. Ms. Bassett was one of those who was clearly moved by this whole, gaudy, silly, phony, but ultimately touching (if you're the one who's being honored) hoopla. I imagined her as a little girl, wanting to act, wanting to be famous, wanting to be somebody, and walking down this street with her brand-new diploma from the Yale School of Drama in her purse, wondering what it would be like to have her name in that sidewalk. And she communicated all of that to us; she was a fine public speaker, no stammering, no tripping over the tongue like some recipients I could mention but won't. As were Forest Whitaker and Laurence Fishburne, who she called "Fish," and I'll bet everybody in high school did, too. The other dude, Rick Fox, was unknown to me. Turns out he was quite the NBA star, but he always wanted to get into … Show Biz! And now he was, as the second lead in Angela's new film. He was boyish and enthusiastic, and you could tell he loved this.
March 20, 2008
Hollywood, CA