The Dead – Pierce Brothers Westwood Village Memorial Park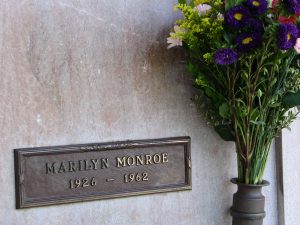 As Sunset gets harder and harder to walk on, and less and less interesting, we've taken to doing more side trips. Westwood Village is no more than a mile from the Boulevard, and hidden away where I guarantee you'd never find it unless you were walking, and probably not even then, is a place with more stars per square foot than anywhere in Hollywood, maybe anywhere in the world. Sadly, they're all dead …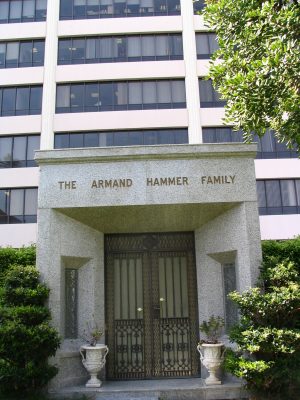 It is literally surrounded by skyscrapers. There is nowhere on the street where you can see even a hint of the park, there is only a small sign on Glendon Avenue, where you turn into an alley. If you keep going straight you'll end up in the Avco multiplex theater parking structure. But if you bear to your right, you will find a little patch of green with some big trees. Maybe two acres? I'm never sure just how big that is, but I'd be amazed if the place was any bigger than that, and it might be smaller. There is nothing fancy about it. The largest mausoleum belongs to the Armand Hammer family, and I've seen much bigger ones in small Texas towns.
All of it is wide open to the public, except for one small room with niches for ashes, and one small corner where Fanny Brice is buried. It is the only LA cemetery that you could actually go to without a map, just wander, and have a good chance of finding the graves of the famous … though you'd have to look carefully for some of them, as they have only a one-foot-square tablet set in the ground, such as Burt Lancaster. Many more are hardly more imposing.
If Hollywood Forever gives top billing to Rudolph Valentino, the headliner here in Westwood has to be Marilyn Monroe. Just a simple crypt, simple plaque, but there are always fresh flowers. Legend was that Joe DiMaggio used to have them delivered there, but now he's pushing up daisies, too. And would you believe, the empty slot right next to her has been bought by … Hugh Hefner. Makes you wonder. You figure, once his wasted old carcass is finally put to rest, you might come by at midnight and hear the sound of … chiseling? Hef's ghost, clad in translucent maroon silk PJs and robe and slippers, pipe clutched in his ghastly teeth, trying to break through to, so to speak, jump her bones?
I'm not going to mention all the names. It would take Lee forever to link them all, and they're there on the map. Just a few highlights … or, actually, below-ground lights …
There is a row of three stones near the visitors building: a hat trick! Jack Lemmon, Carroll O'Connor, and Billy Wilder ("I'm a writer, but nobody's perfect!" The last three words are the last lines of Some Like It Hot). Nearer the road is Rodney Dangerfield ("There goes the neighborhood") and Walter Matthau. George C Scott is on the map, but his stone is unmarked. Roy Orbison is unmarked, too, as is Frank Zappa.
Elizabeth Taylor's parents are here.
Dorothy Stratten is the Playboy playmate who was murdered by her crazy boyfriend, and played by Mariel Hemingway in Star 80.
Minnie Riperton, Maya Rudolph's mother, was a Motown singer with incredible range, who died young.
Carl Wilson was a Beach Boy.
Dominique Dunne is the daughter of Dominick, the novelist who later became a trashy TV show host.
Elizabeth Montgomery, Janis Joplin, and Gene Kelly were cremated here and either buried or scattered elsewhere.
In short, if you are interested in visiting the graves of the famous, this is the place to go!
May 28, 2006
© 2006 by John Varley; all rights reserved