"There ain't no hill or mountain we can't climb …… babe!"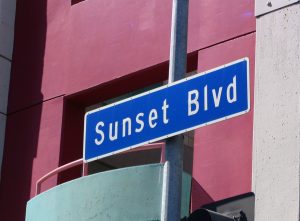 Well, actually there are a lot of hills and pretty much all the mountains that are way beyond me now. I was never much of a mountain climber even in my youth, but I used to be an enthusiastic walker. Diabetic peripheral neuropathy in my feet, osteoarthritis in my knees, and some undiagnosed nastiness in my hips has made it an ordeal now; I can't go more than a few blocks before I start feeling like I'm walking on red-hot gravel, and if I stand for more than ten minutes, my knees freeze solid.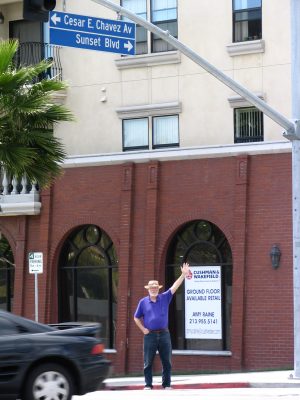 But if you don't keep moving, you die, like a shark. So we set ourselves projects. It's more fun that way. Lee had a great idea. "Why don't we walk Sunset Boulevard?" she said. From downtown to the sea. Sounded good to me.
In the 1960s I lived on the streets of Los Angeles, living the life of a hippie. It was fun, most of the time, not so fun every once in a while. There was free food available at several places, free dope, plenty of people willing to pick up hitchhikers, and even places where you could find lists of people who were willing to have scruffy folks crash on the floor. You could panhandle or sell copies of the hippie newspaper, the Los Angeles Free Press (The Freep) for a little spare change. We knew all the all-night places like Canter's and Bob's Big Boy where you could buy a cup of coffee and sit in a booth all night. Still, there were times when everybody ignored your lifted thumb and you had to walk. My friend Chris and I walked all over the Hollywood and surrounding neighborhoods. Many's the time we walked from the Sunset Strip all the way to downtown, usually at three or four in the morning. We thought nothing of it.
Not today. Now, a mile out and a mile back is about all I can do. Okay, so do what you can do, right?
Lee and I drove Sunset, and it's 24.8 miles by my odometer. And the bad news is, there are parts of it where there are no sidewalks. It winds, the traffic moves much too fast, and the ivied walls of the super-rich in Beverly Hills, Bel-Air, and Brentwood push right out to the edge of the pavement. No way were we going to be walking along those parts of the road. We modified our plan, and now we expect to walk from downtown to where the sidewalk ends, doing about a mile a day, and taking side trips if there's something interesting not too far off the boulevard.
I recently read a great book, A Walk in the Woods, by Bill Bryson. In it he describes his adventures when he set out to walk the Appalachian Trail, which stretches from Georgia to Maine, 2100 miles through some pretty rugged country. He didn't make it (only about 100 people do every year, out of thousands who try), in fact he only covered about a third of it, but I had a great deal of fun reading about his delights and his hardships. He spent most of the trip obsessing about bears.
So I'm going to write about our adventures. You're invited to come along with us, without even wearing out any shoe leather. Think of it as 1/84th of the Appalachian Trail, only done just a mile at a time, and we get to eat hot meals every day and sleep in our own beds at night and not hike when it's raining or otherwise unpleasant, and it's in an urban setting instead of the woods …
Okay, don't think of it as the Appalachian Trail, if you're going to be that picky about it!
We're pretty sure bears won't be a problem.
Lee will, of course, be bringing her camera, so this will be an illustrated journey. Expect a lot of pictures of stairs and murals.
Sunset Boulevard begins at the corner of Figueroa Street, a block east of the interchange between the Hollywood Freeway (US 101) and the Pasadena Freeway (California 110). The Arroyo Seco Parkway (as the 110 was called in 1940, when it opened), was one of the first modern freeways in the country and was the pattern for the bowl of concrete spaghetti that Los Angeles is today. It's been widened since, but it has some pretty sharp curves and it's still graded for 45 mph, and nobody travels that slow on it today. I avoid it completely. In fact, we avoid all the freeways unless we're going more than 30 miles.
We began with lunch at BBQ King, a converted gas station on the edge of Chinatown. I had a tri-tip sandwich and Lee went with the pork. They have several big smokers made from oil drums, the proper way to make BBQ in Texas. It was great stuff, a lot of meat swimming in sauce. So much sauce, in fact, that you'd be well-advised not to wear white, as Lee was doing that day. In fact, wearing a raincoat wouldn't be a bad idea. You lick your fingers a lot and then spend a lot of time in the tiny bathroom trying to get the stickiness off. If you like it hot (like I do), try their special sauce. It made the sweat pour off the back of my neck, where I keep my pepper-meter.
Also at the corner of Sunset and Figueroa is a massive block of condos called The Orsini, and a gigantic hole in the ground where Orsini, Part Two is being constructed. We started up the hill. "Ain't no hill or mountain …" (We try to start uphill, so the return trip to the car, the toughest part, is downhill. Smart, huh?)
Sunset transforms itself many times in its almost 25-mile length. The first part, like several others, is old, and heavily Hispanic, and hilly. It looks like they did a lot of digging in the early days. Sheer sandstone walls rise all around you, with greenery spilling down. And as everywhere in L.A., there are flowers. Tons of flowers, year round. Every available surface down here in the low numbers seems to have a bright mural spray-painted on it. Some of them are further defaced with gang tags, but many are left alone. We love murals. They can cheer up even the dreariest neighborhood.
There are also a lot of examples of the type of Los Angeles apartments we love, and would like to have found when we were looking around. It's a series of bungalows around a central courtyard, each unit separate from the others, like a '40s motel. There are dozens of those on this part of Sunset, though they are too steep for me to want to live there, as instead of a courtyard they face into long, long concrete stairways.
You'd never know it, but just over the ridge to the north is Chavez Ravine and Dodger Stadium, and Elysian Park, which we haven't visited yet.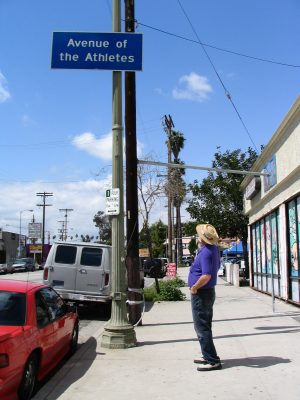 And here we encountered something new, or at least something I hadn't heard about. It's called the Avenue of the Athletes. I believe it was started in 1984, when the Olympics were here. They set brass plaques into the concrete with the name of some sporting superstar and a symbol of the sport he or she excelled in. I'm not sure why L.A. is so fond of doing things like that, but you see it all over the place. This one never really seems to have gotten off the ground. The plaques are few and widely separated. You'll be walking along and there's a plaque that says Babe Ruth, and you remember: "Oh! I'm on the Avenue of the Athletes. I'd forgotten." All told, I doubt there are more than 30 or 40 of them, stretching out at least a mile. They ought to talk to the folks in Hollywood to find out how this sort of thing is done.
And thus back to the car, me hobbling and much in need of a lie-down with a fan blowing on my feet. It's the only thing that seems to work after a walk … and that's all you'll be hearing about my feet and knees in this journal. Complain, complain, complain …
April 25, 2006
© 2006 by John Varley; all rights reserved