Paul and Me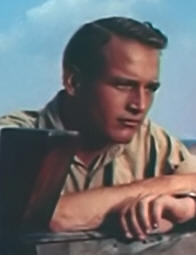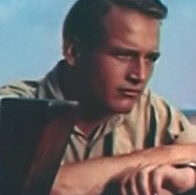 A few days ago we lost a great American. Entrepreneur—seller of salad dressing, pasta sauce, lemonade, popcorn, salsa, and wine among many other things—philanthropist, devoted husband, father, and grandfather, race car driver, owner, and sponsor, founder of a dozen camps for severely ill children … and, oh yes, he acted a bit.
I'm speaking, of course, of Paul Newman. His Newman's Own brands have thus far donated over a quarter of a billion dollars to charity. (I was surprised to learn the company is not a non-profit. All profits went to Newman, and he donated 100% to charity. Maybe some sort of tax advantage, I dunno.) His original Hole in the Wall Camp in Connecticut was so successful that there are now a dozen of them, in Florida, California, New York, North Carolina, Italy, Hungary, England, France, Ireland, Africa, and Israel. (Newman is the son of a Jewish man and a Christian mother; when asked his religion he has replied that he considers himself Jewish, because "It's more of a challenge.") When his son Scott died of a drug overdose, he created the Scott Newman Center for drug abuse prevention.
He was #19 on Dick Nixon's enemies list! Not the later, long list of up to 30,000 people; Newman was in the Original Top Twenty! (Which he boasted about as one of his greatest accomplishments.) That was about the highest honor anyone could get back then.
For that reason, and for all the reasons listed above, Lee and I have lowered our website flag to half-staff in his honor, something we've only done once before, for Molly Ivins.
And guess what? During my decade-long and frustrating career as a Hollywood screenwriter, our paths crossed, not once, but twice.
There's nothing to brag about here (though I admit, it's a great name to drop, if you're into dropping names!). I would be surprised if, a year after either encounter, he would have remembered me. But I thought that, as a sort of eulogy, I would post the stories here for your consideration.
* * *
The main producer of my one and only film, Millennium, was John Foreman. He was the one who stuck with it, through travails too numerous and tedious to detail, a project that spanned my whole Hollywood Decade. John pretty much got his start in the business in a partnership with Paul: Newman-Foreman Productions. They made 9 films together: The Effect of Gamma Rays on Man-in-the-Moon Marigolds (1972), The Life and Times of Judge Roy Bean (1972), Pocket Money (1972), They Might Be Giants (1971), Sometimes a Great Notion (1971), Puzzle of a Downfall Child (1970), WUSA (1970), Butch Cassidy and the Sundance Kid (1969), and Winning (1969). It was during the training for Winning that Newman discovered his love of auto racing, which he kept up for an amazingly long time, winning a race at age 70 and competing in the Baja 1000 in 2004 and the 24 Hours of Daytona in 2005. He was good enough to come in second (with teammates Rolf Stommelen and Dick Barbour) at the 24 Hours of Le Mans in 1979.
I don't know what caused the breakup of that company, but John and Paul remained friends, and in the early days of blue-sky casting, John kept suggesting Paul Newman and Jane Fonda for the starring roles. He tried to convince Paul to take the part, but didn't have any luck. But as part of that process, several of us were invited to a screening of a first cut of The Shadow Box in 1980 at the Warner Studios, which Paul had directed from a Tony- and Pulitzer-winning drama by Michael Cristofer. (He won a Golden Globe for it.) It's not available on VHS or DVD, which is a shame, as I can't recall a thing about it. I was probably too absorbed in thinking "I'm a guest of Paul Newman!"
Later we left in separate cars for a fancy hamburger joint not far from the lot, in Burbank. (It's not there anymore, but one day in our travels we went to a restaurant and I realized this was the place, under new ownership.) When we got there, Paul appeared out of nowhere. I mean, he just appeared. We were all seated in a roped-off area with half a dozen tables and booths, the only ones in that part of the restaurant. There were eight or nine of us. And I got my first glimpse of what a terrible curse great fame is, if you're not the type to lap it up and ask for more. (If you're not Britney Spears.) Because though the owners stationed two husky waiters at the rope, the whole time we were there people kept craning their necks to see Paul. The waiters discouraged photography, but every once in a while there would be a camera flash.
Paul ignored it totally, but he seemed somehow a bit weary. Later Julie Foreman, John's daughter who had grown up with the Newman children, told me that Paul couldn't go to Disneyland with them when the Newmans were in town making a movie. He would be mobbed everywhere he went. There was just no way to disguise that face, those blue eyes. They always went with Joanne Woodward, who could put on a baggy dress, a floppy hat, and sunglasses, and never be recognized.
I wish I could tell you something he said, or something anybody said, but again, I was too nervous and starstruck. I know he talked about The Shadow Box and his enthusiasm for it. I got the impression that his real love was the live theater.
(And actually, our paths crossed three times, though the first is hardly noteworthy. When a friend and I drove to New York for the World's Fair we were determined to see a show on Broadway … but they were far too expensive. So we found the cheapest seat in the cheapest off-Broadway theater we could find, which turned out to be the Actor's Studio, an old, run-down place where we took our seats in the nosebleed balcony to watch a three-person, two-act play called Baby Want a Kiss, with Paul Newman and Joanne Woodward, the third actor also being the author.)
When dinner was done he vanished again, going out through the kitchen. We met him outside, said our good-byes, and he tootled off in a beat-up old VW Bug, which was a pretty good way to disguise himself.
* * *
Much later, when actual production had begun on Millennium in Toronto, Joanne Woodward was appearing in a production of Cat on a Hot Tin Roof at the Royal Alexandra Theater, which claims to be the oldest continually-operating theater in North America, opening in 1907. Charles Durning was playing Big Daddy. Joanne comped the production crew (and the writer!) about a dozen seats in the third and fourth rows. It was a grand night at the theater.
Afterwards, we all went back to the Four Seasons Hotel for drinks. We were shown to a room off the lobby and sat around on elegant chairs in front of a roaring fire and were soon joined by Joanne and Paul. She was high as a kite on post-opening adrenaline, and he was fairly quiet at first. We were treated to half a dozen bottle of some—from the fuss the waiters made over it—very expensive wine, which was pretty much wasted on me, as I know nothing about wine. It tasted like wine, all right.
You couldn't be around her for very long without concluding that she was one of the brightest, bubbliest, most decent-seeming people you've ever met. She put me and all the rest of us at ease, and finally got Paul talking. The whole thing lasted about an hour, and then they were swept away and up to their suite, with hotel personnel running interference from all the fans who had gathered just outside the reception room.
Yessir, a grand night at the theater.
And that's my Paul Newman stories.
September 29, 2008
Hollywood, California