La Brea to Fairfax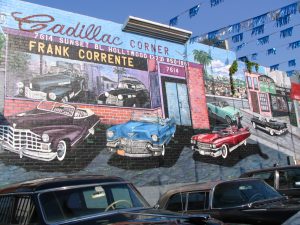 This is another stretch that I don't have a lot to say about. Not that it's not interesting to look at (which is why I'll ask Lee to put in a larger number of pictures than she did in her previous photo essays), but there's nothing really spectacular. However, don't despair! The next two or three walks should be amazing, as we approach the Sunset Strip.
Three things: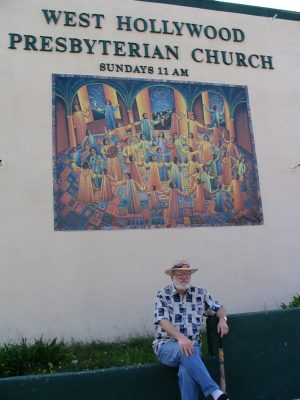 I previously mentioned that the Presbyterian Church where Chris and I ate a lot of free lunches was no longer there. Imagine my delight to find out I was wrong! I was looking in the wrong place. And this is why you should walk through your communities, boys and girls. You will find a lot of little corners, things you will never see even if you drive by them a hundred times. I guarantee it. It's happened to us dozens of times already, and we're not even halfway to the sea yet. The church is an uninteresting, unassuming building, smaller than I remembered it, but aside from an iron fence around the little courtyard (and every place has that sort of thing now, unlike in the '60s, I'm sad to say), it is unchanged. Even walking I might have missed it except for a colorful folk-art banner pinned to the side. Then realization dawned, and I was swept off down memory lane. What a joy! What a wonderful congregation that was! I hope they still are.
Second: A most unusual Cadillac dealership. This lot must have two dozen or more caddies, and not a one of them newer than 1960. Some are a lot older. Most are pretty much cherry, some need a little work. Many are convertibles. There are a lot of Coupe de Villes. Yes, a most unusual Cadillac dealership. Sigh. They don't make cars like that anymore, and that's a good thing, but that doesn't prevent me from coveting the ones that are still around. Not the '50s tail-fin deals, but the '40s
and '30s … Sigh.
Lastly, the Guitar Center. We'd driven by it a hundred times. It looks like a giant barn, a Big Box retail store. There are several of them in the area. But this time we were walking, and what do you know! They have their own little Walk of Fame there, for legendary musicians, most of them guitar pickers. And it's handprints, no feet. And on the wall are 3-D brass images of the superstars who have passed. Very nice.
Inside, it's divided into a series of smaller rooms, with a million guitars. Okay, not that many, but it seems like it. A friendly salesman directed me to the "rare and collectible" room, where hundreds of axes went for $5000 and up. Way up. One instrument, a Gibson, was in a glass case with a price of $28,000 on it. It was a really happening place, with people picking and strumming, trying them out. Visit it when in LA, if you love fine instruments.
The rest of the street was chock-a-block with other guitar and music stores, some trendy shops, all very colorful. I'll let Lee show it to you.
NEXT: THE STRIP!!
May 5, 2006
© 2006 by John Varley; all rights reserved