Seven Weddings and a Funeral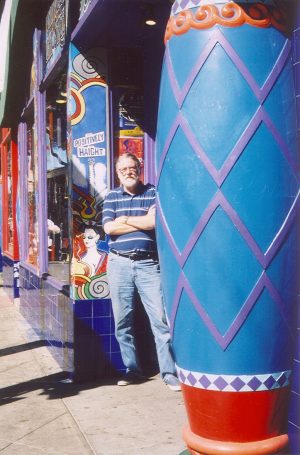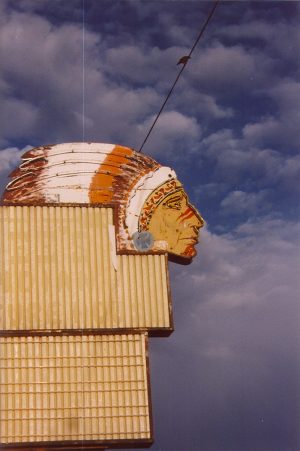 The old Indian stood on a gravel lane between two parking lots, looking at the liquor store. It was dusk in Holbrook, Arizona. It was getting hard to see. He seemed to have shrunk in his clothes, and he hardly moved. He was wearing a battered old hat. You couldn't really tell how old he was, but he wasn't young.
We had stopped in Holbrook a few hours before after another 800-mile day of driving. Holbrook is bisected by Interstate-40. To the west is the old part of town, which pushes heavily on the theme that it is on Old Route 66. The businesses are in old buildings, including something called the Wig-Wam Motel. This is a collection of a dozen big conical cabins, freshly painted and renovated and with a collection of cars from the '50s and '60s parked out front. Some of the cars were junkers, others looked pretty good. Like we'd driven through a time warp.
Unfortunately, we'd driven into this time warp from the east, dead-tired, and pulled into the Motel 6 by the freeway. I was so buzzed from driving I seemed to vibrate as I stood at the check-in desk, and walking was tough. It was only when we left to find something to eat that we even realized there was more than this spread-out eastern strip that was home to all the chain motels and fast food franchises. We went under I-40 and suddenly it was all Indian trading posts and motels with big neon, just the kind of places we like to stay, capped off with the glory of the Wig-Wam. We stopped and talked to the owner, vowed we'd stay there next time through. He directed us to the best Mexican food in town. The owner of the restaurant had a picture of his daughter in a cap and gown standing beside President Clinton on the wall behind the counter. She had graduated valedictorian at Stanford a while back, and he was proud as could be. Damn straight! We were impressed.
On the way back to the 6, I pulled into the liquor store to see if they had some bottled Lipton unsweetened tea, and there was the old Indian. While I was there half a dozen younger Indians came in to buy booze. When I came out the old Indian was still standing there, and Lee said he had barely moved.
I don't know what tribe he was. There are 21 tribes in Arizona: Apache, Havasupai, Hopi, Zuni, Hualapai, various Pueblos. But by far the most numerous are the Navajo, which is the largest tribe in the US: 150,000 strong, in spite of the genocidal efforts of Kit Carson and others last century. Holbrook is just a few miles south of the gigantic Navajo rez, bigger than many Eastern states, so I'm going to assume he was Navajo. No reason for doing so—I certainly can't distinguish one tribe from another—other than having read all Tony Hillerman's books and feeling a certain kinship with them.
We pulled out, went back to the motel, and got some much-needed sleep. The next day we pulled out early …
But that was on the way back. I'd better start at the beginning.
* * *
The first thing that happened was that Lee's son, Tom, told her he was getting married on his birthday, September 10th. They were going to tie the knot in Las Vegas, at one of those little chapels for people in a hurry. Hot dog! My mother and both my sisters live in Vegas, so we stay free when we visit, and Vegas is a great place to take a cheap vacation if you don't have a gambling problem, which we don't. (Okay, we play video poker, but after we've lost about $100 we stop. We consider it like a tariff.) We planned to be there for the wedding, and a few days after.
Then we got the news that Lee's 90-year-old mom, Helen, had suffered a stroke. It wasn't too bad, as these things go, but she was in a nursing home, having to re-learn walking. Lee's brother Tim lives in the same house with her and takes care of her … but he was going to have to go to Colorado to be with his daughter while she had an operation. That pretty much knocked our Vegas vacation in the head. We'd have time to go to the wedding, then we'd have to drive to Oregon right after to stay with Helen for a week.
Things apparently weren't bad enough. On Sunday of Labor Day weekend we got an email from my niece, Daphne, in Big Spring, Texas, telling us that my father was very sick, circling the drain, had only days, maybe hours to live, according to his doctor. His bowel was blocked, everything was backing up his digestive tract, his belly was swollen like a ripe watermelon and his organs were shutting down. He didn't recognize anybody most of the time, was moving in and out of delirium. If I wanted to see him again before he died, they told us, we'd better get moving now.
At first we didn't see how we could do it. I wasn't even sure I wanted to go. I vowed a long time ago that I would attend no funerals, I despise them, don't believe in them, and it looked like the only reason to go to Texas was to watch him die, then go to a funeral. But I found that I wanted to go, needed to go, whether to be with other members of the family, to see him again, or simply from a sense of guilt, I wasn't sure which. Lee suggested that I go to Texas and she'd go to Oregon on the bus; we'd have to miss the wedding. We got a little heated, arguing about it. I finally convinced her that it was just possible to do all three things. So we planned to set out the next day, stay the night in Las Vegas, and join my mother and my sister Kerry to drive to Texas. Daphne's mother, my sister Francine, and her father, Jerry, were already on their way.
So that's what we did. By the time we got to Barstow we had decided to change our plans. Instead of jogging up to Vegas we'd keep right on going through Needles and see how close we could get to Texas that night. We called Mom and told her, and she said okay, she and Kerry would set out early the next morning and we'd meet in Big Spring.
We made it as far as Gallup, NM, and pulled off the freeway at the first exit. There were two motels very close to the freeway. The closest of all was a Red Roof Inn so we checked in there. The clerk gave us a coupon good for a discount at a place down the street, The Ranch Kitchen. We both had something called a chili cheese pie, a sort of Mexican quiche, and it was very good. Try it if you get to Gallup.
Up and away early the next morning, we got to Santa Rosa, NM, where we left I-40 to head down into TX. We decided to call my mom on the cell phone, find out how far behind us they were.
They were just getting to Fort Sumner, about 30 miles ahead of us! Wha tha fu …? Yeah, we decided to leave that afternoon, not too long after you called, sez she. Well, where did you stay? Gallup. Gallup? Where in Gallup? Oh, the Red Roof Inn …
They were on the other side of the motel from us. They got in a lot later than we did, and since Gallup isn't an all-night sort of place, all the restaurants were closed. They ended up eating dinner at a Burger King. All I can say is, that Red Roof Inn was perfectly positioned to ensnare people coming off the freeway desperately tired and looking for a place to sleep. But that's what they specialize in, isn't it. You go there if you've been driving all day, expect to get up early and drive all day tomorrow, and don't need a view, a sitting room, or a mint on the pillow, just a bed and a bathtub and a TV that gets CNN and HBO and The Weather Channel. (They never have bathtub plugs, by the way. We've taken to packing our own. Gotta have that long soak without having to stick my toe in the drain.)
Anyway, they waited for us and I followed Kerry's big pick-up all the way to Big Spring. This was no problem when Kerry was driving, but when my mom took the wheel … look out! Mom's got a heavy foot; there were times when I was going 90, trying to keep up. Those lonely Texas roads, you just sort of have to speed.
So we got to Daphne's house. Daphne is a rock. She and her family have been looking after Dad and Doris, helping them from one medical crisis to another, for many years now. She took over the burden voluntarily, suggesting they move from Warren when it was clear they couldn't handle things without a lot of help. She manages that while raising three very bright, very active children with lots of extra-curricular activities. Her lifestyle would kill me in a week.
They have a great home, on what I guess is about an acre on the edge of town. Maybe more; I've never been too clear on just what an acre is. They've got a big fish pond at the far end, full of catfish, koi, and goldfish. Jennifer, the middle child, drove some of us out there on her electric golf cart, and she drives it like A.J. Foyt. Then we cast pellets upon the waters and pretty soon the pond was boiling.
Julia, the youngest child, is learning cheerleading, which in Texas is to girls as football is to boys. She taught me a yell:
B-I-G!
R-E-D!
GO!
BIG!
RED!
Yaaaaaaaaaay!
Then I tried the ending of the yell, which is to hold your hand out before you and kick it. Probably a foolish move, considering the state of my knees, but it worked out okay. To my great surprise and everybody else's nervous horror, I was able to ace it. For a while there I was kicking my hand every chance I got, until a warning twinge from my hip settled me down again.
There's a big pre-fab workshop building for Lyle's many hobbies and interests, which include radio-controlled airplanes and guns and bow hunting. He showed us the skull of a wild boar he had shot, which had the remains of an arrow in its snout. Apparently the critter had survived the shot, because bone had grown back around it. Must have hurt like a bastard. Their property is decorated with life-sized models of different sorts of game, all of them bullet-riddled.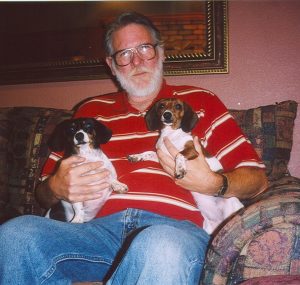 Daphne's sister, Denise (my niece, Denise), was there, too, having driven from coastal Georgia non-stop with her fat hyperactive dachshunds, Gypsy and Honey Ridge Little Turd. She had been running just ahead of one of the Hurricane Quartet that God has been hurling at Florida as punishment for the 2000 election, I can't remember which one. So between us we had spanned the country, from the Atlantic to Oceano, Cahleefornia. Gypsy and Turd were affectionate enough, just too busy to sit still for long. When I held them they squirmed like living water balloons. I don't know Denise as well as I'd like to, we live very far apart, but she loves horses, used to have about a dozen of them. My impression was she didn't get all that much time to ride, she was too busy shoveling horseshit. She recently shed herself of 11 horses and one boyfriend and seemed happier and more talkative than I'd ever seen her. Hope everything works out.
Daphne and Lyle's house is big, but with all the people in residence it got crowded in the mornings, especially when it came to bathrooms. The three kids shared one, and the other was in the master suite. One morning I found myself in the big bathroom, which is larger than some bedrooms I've had. There were way too many mirrors in there, pretty much covering two walls. Got into the big shower stall … and couldn't find a bar of soap. There were a dozen squeeze bottles of various stuff in designer colors, but without my glasses I couldn't read a one of them. Not wanting to put the wrong stuff in the wrong places, I got out and put on my glasses and was confronted with an appalling sight, one I don't see too often living in the RV: A lot more of myself than I really wanted to see. Good lord, when did I get hair on my shoulders? Is that skin or crepe paper on my arms? Why do my muscles hang down under my arms, like a silly cartoon? And who knew you could get wrinkles there? Living on planet Earth in a one-gee gravity field for fifty-mumble years has wreaked more ravages on my poor old frame than I had ever expected. It's relentless, gravity. Everything goes south. Add the deadly radiation of a G-type star 12 hours per revolution, the scouring of wind and rain, expansion and contraction from heat and cold, and the inevitable breakdown of molecules within my never-impressive but once-youthful body and I realize I'm weathering like a piece of soft sandstone, only faster. They ought to build a fence around me and declare me a National Park, like Bryce Canyon. Only who would go? Not me.
These depressing thoughts could only get worse later that day as I looked down on the ravaged body of my father, lying in the hospital bed too weak to sit up. He's not all that old, pushing 80, hard, but the years haven't been kind. Quite a while ago the surgeons cut off most of his feet. Not from his diabetes, but because of botched surgery from previous sawbones. Lately his blood sugar has fluctuated much more than it should. The right side of his face is scarred and bald from the surgery and radiation. His arms are thin and he no longer has the strength to get up on his own. A lot has happened in the previous year, since the last time I saw him. I look at him and hope I'm not seeing myself in ten years. I look at him and hope the end can come peacefully for him, and soon.
* * *
The old Indian is still standing out there, in the parking lot in the soulless, Interstate strip part of Holbrook. He's standing there much of the night, I feel sure, and I'll tell you why later. I'll get back to him.
* * *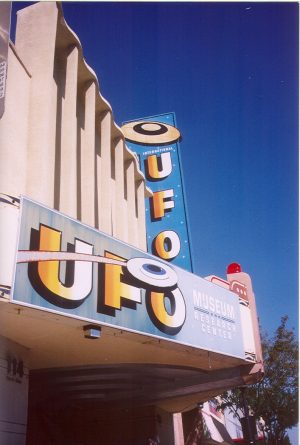 We got an early start on our way to Las Vegas. The sun was coming up in our eyes as we headed east. We stopped briefly at Roswell, looking for aliens. All we found was an elaborate museum dedicated to the non-event that put Roswell on the map. Since admission was free and we needed to stretch our legs, we took a quick run through it. It was full of hokey stuff: models of flying saucers and Close Encounters-type aliens, even a bit of a movie set that showed an alien dissection. We bought a flying saucer refrigerator magnet and hit the road again.
I was pissed off that we missed seeing Meteor Crater in Arizona the last time we were through this way, almost two years ago. It was Xmas time, and the roads were icy, so we went south. But the crater is only about 7 miles off I-40, so we decided to take a tiny detour. On the way there we learned we were just in time for the morning's opening. Maybe I was in luck. 'Fraid not, though. Turns out there's a $12 admission fee. Since we were in such a goddam hurry and had intended to spend half an hour there, tops, we passed on by. Hell, I had thought you could just park on the edge and look down, but it's surrounded by a barbed-wire fence.
Later in Arizona somebody at a gas station advised us to go through Laughlin to get to Vegas instead of the Hoover Dam road. Lots of construction, he said. Expect delays. Since we were still pretty early we decided to chance it. Either we got there on a slow day, or everybody else was so worried about the traffic that they went the longer southern route. No traffic at all. We could see where they were building a four-lane and a big, swooping bridge. By 2008 you'll be able to zip right through there and probably never even see the dam. That's good, it means only tourists will take the side road.
We got into Vegas with plenty of time to spare for the wedding. We drove down Las Vegas Boulevard near downtown, looking for a motel. We had thought of looking for a deal at one of the large casinos, but when we travel in the car we throw a lot of stuff in higgledy-piggledy. Not the sort of stuff you want to be schlepping through a hotel lobby. We like to be able to park at our front door. So we found a motel with big neon, right at the foot of that big tower. What's it called …? Ah, yes, the Stratosphere. There's a big advantage in staying at or near the Stratosphere in a town where you don't know your way around. It's like a giant pushpin in the LV map: You Are Here! It's absolutely impossible to be unable to find your way home if you're staying near the Stratosphere. You can see it from anywhere. You can probably see it from space. I can see a saucer-load of Roswell aliens looking down at it. What were the Earthlings thinking?
Lee called Tom and he told us to meet him and his fiancé, Gina, at a place called Red, White, and Blue, at the Manderley. That's what Lee said, anyway. The what? The Manderley. I guess that's the one where Laurence Olivier is at the front desk and Joan Fontaine puts the mints on your pillow and the big attraction in the theater is endless showings of Hitchcock's Rebecca.
Actually it was the Mandalay Bay. As you come in from the self park the RW&B is just around the corner from Red Square, which has a giant, headless statue of Lenin, covered with fake pigeon shit, standing outside. Inside there are rumored to be 1000 different kinds of vodka, which seems pointless to me since vodka is nothing but grain alcohol of various strengths, unless you put some raspberry or lemon flavoring in it. RW&B was near a bar with lots of tropical fish, an easy chip's throw from the slots. We met Tom and Gina and some of their friends who had come for the wedding: Rob and September. That's right. I've heard of women named April, May, June, Augusta, even July and March, and, I think, maybe a January, but she was my first September. Lee had already hit it off well with Gina over the phone, and liked her even more in person. I liked her, too, and their friends seemed nice. I was the only smoker so, though Vegas is looser than probably any place in the country except maybe New Orleans, I left the table a few times to stroll the vast resort and puff. I made it down to Shark Reef, where they say they have hammerheads in tanks. Too expensive, though, like so much in Vegas these days. But outside they had four young women handling parrots, I guess to entertain the throngs waiting in line to see Shark Reef. There were no throngs, but there was a decent crowd watching the young women. Maybe because they were all gorgeous and dressed in cork platform high heels and very small leopard-skin bikinis. Okay, the parrots were pretty smart, too. Each of them had a large vocabulary, and usually spoke when asked to, which has not been my experience with parrots. Ornery critters. But you gotta love Vegas, don't you? Where else would the want ads for a parrot handler go something like "must love animals and have big boob implants." Every one of them could have hidden a parrot in her cleavage.
The sandwiches at RW&B were gigantic, almost as big as the ones at the Carnegie Deli in New York. If we'd known it Lee and I could have easily split one and probably not even finished it. Not my kind of place, really. Vegas is full of cheap, good food, and this place wasn't cheap. But Tom and Gina were celebrating, so what the heck?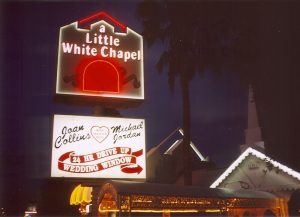 Lee and I lost a little at video poker, and that was all the gambling we did. Then we were at the Little White Chapel, which wasn't far down the Strip from our motel. Their sign advertised that Michael Jordan and Joan Collins were married there. Hell, I didn't even know they were a couple. The wedding was scheduled for 7 PM. Apparently a lot of weddings were scheduled for 7 PM. Way too many of them, at least six. We waited for about an hour for Tom and Gina's ceremony to begin, and couples came and went in the very small waiting area, which was basically on the sidewalk behind a little iron fence. The brides and grooms were all in their best, and some of the members of the wedding parties, too, but by no means all. Neither Lee nor I were in fancy clothes, me because I don't have any, Lee because she didn't want to wear the dress she brought. There's a Jeff Foxworthy joke: "If you've ever gone to a wedding in a tank top … you might be a redneck!" I was thinking, "If you've ever gone to a wedding in flip-flops (Lee) and/or blue jeans (both of us), you might be …" But we were far from the worst-dressed there. [I was wearing BEADED flip flops.]
Gina had set up the wedding over the internet. She could choose between the chapel and the gazebo. I'm sure the gazebo sounded great. You just picture a garden, rose bushes, grass, don't you? Well, it was a concrete area 20 feet from the Strip. I paced it off. Buses and trucks and cars whizzed by constantly. There wasn't much light under the gazebo. Behind it was the drive-thru wedding window, the "Tunnel of Burnin' Love." You know, the place you go when you just have to get married, right now! The Little White Chapel also offered a "Pink Cadillac Elvis Wedding." Tom and Gina didn't opt for that. Darn it! Remember Marryin' Sam, from the L'il Abner comic strip? He married people for $2, but rich folks in Dogpatch asked for the Ultra deluxe 8-dollah weddin': "Fust ah strips to th' waist and rubs my body wiff bear grease! Then ah rassles th' five biggest membah's o' th' congregation …"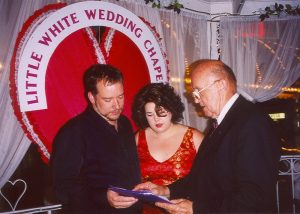 It was an interesting wedding. Tom was holding a cell phone between them the whole time, so Gina's parents back in Washington could hear the ceremony, and one of his friends was using one of those picture phones to send instant snapshots to them. So, oddly, Gina's family heard a lot more of the ceremony than I did. I didn't catch a word, what with the traffic on the strip. Gina later said the minister was wonderful, very sincere and moving, which is quite an accomplishment, considering how many people he marries every day.
If this sounds like I'm putting it down, I'm giving the wrong impression. I thought it was great, except the waiting part, which sucked. I'd definitely have complained about that, if it was me getting hitched. But a good time was had by all, and Tom and Gina looked really happy, and that's the important part. Later that evening we all gathered at the Paris, and sat out on a terrace under the Eiffel Tower, across from the Opera House (didn't see the Phantom) with the Bellagio Fountain doing its thing every fifteen minutes. I had raw oysters and enjoyed the passing throngs and the warm night air. Only in Las Vegas.
* * *
We met Gina and Tom for breakfast at the IHOP and hit the road. I had meant to go through Reno and Susanville to Oregon, but we had forgotten some things in Cahleefornia, so we had to go back to Oceano. Very dull drive from Vegas to Oceano. So dull that I became inattentive only about 45 miles from home and the next thing I knew there was a CHP cruiser, right ahead of me, coming at me, then behind me … then turning around. Shit. 80 in a 55 mph zone. I still don't know how much that will cost me, but it won't be cheap. Luckily, I haven't had a speeding ticket in a long time, it shouldn't affect my insurance. At home, our trip meter read 2999.6.
Oceano to North Bend is pretty dull, too. We made it in one day, our third 800-mile day in a week. I like to drive, but this was ridiculous. I pretty much collapsed for two days at Helen's house.
Lee spent much of her day at the nursing home, being there for all meals and to try to get her mom into a walker twice a day. I held the wheelchair and walked along behind them, ready to catch her if she fell. She showed daily improvement, then a small setback as she tried to get out of bed one night to go to the bathroom and fell down. Her mind seems just fine, but her days of driving a car are probably over. Likewise skiing, surfing, and mountain biking.
The home was much more depressing than the hospital in Big Spring. My dad had a private room, near the elevator, so there wasn't a lot of human wreckage on view. Not so at Helen's place. They sat around the halls, mouths hanging open, inched their wheelchairs along at .000001 mph, stared into space. Except for one Alzheimer's guy, who was constantly bent on escape. I'm sure he had no idea where he was, but he knew he didn't want to be there. He was constantly wheeling his chair toward the door, or working futilely at the strings that tied a pad across his legs so he wouldn't try to stand and fall down. The people working there seemed hard-working, competent, and sympathetic, but they were too hard-working; they were understaffed, like all those places are except those for the very, very rich. It was clean, it didn't smell bad. But you noticed workers tended to talk to the inmates like they were children, even if they were perfectly mentally competent. That must be awful. Don't get me wrong, I'm not putting them down. Talking to them at all, caring for them, cleaning them up, you're bound to get a little hardened, a little brusque. Patronization may be the only way to get through the day. Depersonalizing and assembly-line routine is probably the only thing that works, and whatever it is, it's miles better than my own way of dealing with the situation, which is to flee for the door in five minutes. Ten minutes, tops. So here's to elderly-care workers. May you never have to spoon-feed me or wipe my ass.
Call me a coward, but I just couldn't hack being around the nursing home for very long. I'm not Florence Nightingale. Hell, I'm not even Joe Buck, tending Ratso Rizzo on the bus to Miami. Sickness make me sick. Death and dying frighten me. I spent the week cowering in Helen's house, watching videos, trying to write, full of hypochondriacal symptoms, wishing I had a doctor standing by me full-time, ready to pump some really great, really deadly drugs into me at the first sign of a debilitating stroke. This was Oregon, after all. Assisted suicide is legal.
At last Tim got back. I'm so grateful for relatives like Tim and Daphne who take on burdens like this and allow me to go home and pretend I won't die.
By the time we left both Lee and I were so weary of traveling that we almost went directly home, but decided we were entitled to a little bit of fun, so we spent the night in Fairfield and then crossed San Pablo Bay into Marin County, through Sausalito, over the Golden Gate and into the City by the Bay. It was an absolutely perfect, glorious day. We strolled Haight Street, which is being torn up by PG&E, saw the places I used to live. The Haight is looking a bit down on its luck again, after a gentrification in the '80s. Nothing like it was when I lived there, but all the antique shops seem to be gone.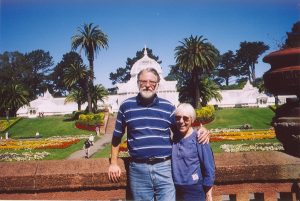 Then into the park. The area around the bandshell is a mess, with the new De Young about a year away from completion and the old Natural History Museum and Aquarium not yet torn down. In about 5 years it ought to be a real pearl; I've seen the architectural models. So we went to the 125-year-old Conservatory of Flowers, a sprawling Victorian wedding cake of white glass which recently re-opened after a long refurbishment due to age and wind damage. They didn't "improve" anything; it looks just as it did when I used to visit it in the '60s and '70s. I never saw so many exotic orchids in my life. Some of them were scary, they looked like they'd eat you alive. Some of the plants in there would eat you, if you were an inch tall.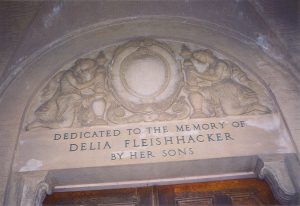 We went to Stow Lake and thought about renting a paddle boat, but didn't. There is a new (to me) Chinese pagoda on the island, gift of sister city Taipei. Then off to the zoo, which neither of us had visited in many, many years. It used to be called the Fleishhacker Zoo, but the only place we saw that name this time was on the Delia Fleishhacker Mother's Building, one of the last of the structures left from the old zoo I remember visiting many times when I lived there. It was built in 1925 as a place for mothers to go with their exhausted kids. No males over 6 were allowed inside. Now it is sadly damaged by quakes, weather, and vandals, and you can't get inside to see the murals.
Like most zoos, this one is re-making itself, one sector at a time. They've got most of it transformed now. This is good: I recall a lot of animals in cramped cages, and now they're roaming large areas. The drawback, of course, is that often the animals are on the far side of these vast enclosures, staying away from the silly humans, and often you can't see the animals at all. I thought the chimp enclosure took this idea a little too far. There were three islands, and all of them were surrounded by a real swamp of bamboo—outside the moats. You could barely see the animals at all, no matter where you stood, though they weren't far away. While we were there they were putting on quite a show, too, shrieking and hooting and doing some dominance thing, chasing each other all around the monkey bars.
The other two buildings left over from the past are "Pachyderms" and "Big Cats." There used to be a baboon in the cat building infamous for luring you close to his cage with his antics and then throwing his shit at you. Old timers like me would hang safely back and watch the unwary approach … Pow! Right in the kisser! Disgusting!
The Big Bad Baboon was gone, probably to meet his hominid maker, but they had 4 lions and 3 tigers. Feeding time was 3 PM, so we timed our visit to get there for the spectacle. Apparently everybody else at the zoo did, too, but fortunately that wasn't too many people. The cats have outdoor habitats, but are let inside to small cages for feeding. The lions came right in and nuzzled the bars and the keepers petted them. The tigers had to be coaxed in. There was a collective gasp when one huge tiger came through his tunnel and just stood there, looking us all over, sizing us up. He was incredible. The keepers wisely kept their distance. After a while they had all the big cats in separate cages, to avoid food fights, I guess. Then they brought out the meat. Five pounds of hamburger for each, and a gutted white bunny rabbit. Gasps! Moans! They're feeding Thumper to Shere Khan? How icky! A few turned away, but most of us watched in fascination. The tigers carefully pulled off the fur and set it aside; the lions crunched down the whole hare, bones, fur and all. If you get a chance, go see it.
* * *
So now we return to Holbrook, Arizona, the next morning. As the sun was rising we pulled out of the 6 and headed down the road to I-40. Across the road were three Holbrook police cars parked randomly around something on the ground. It was the old Indian, lying in exactly the same spot where we had last seen him. He wasn't moving, and the cops were just standing around by their cars.
Drunk and passed out? I don't think so. Three cars was probably the entire fleet of the Holbrook force; it's a small town. Would they all gather for one drunk Indian? Maybe. There's probably not a lot to do in Holbrook. But that's logic. I feel deeply that he wasn't passed out, I feel certain he was dead. I have seen enough drunks passed out in doorways, paused to watch for a moment, seen that small inhale that is the only sign of life, and this didn't feel like that. Call it ESP, which I don't believe in, but somehow I knew I was in the presence of death.
We drove on, we didn't stop to ask. What business was it of ours?
You didn't think the funeral I was talking about was my father's, did you? I said up front that I don't go to them.
I was really dreading going to the hospital. And when we got there we were informed that … Dad was lots better. They had ruled out an operation to clear out his bowels, they were certain he wouldn't survive it. So they tried an enema. Bingo! Cleared him right out. Well, duuuuuuuh! They had to go to medical school 8 years for that? A $2 Fleet's Enema from the Rite-Aid might have done the trick. We've got two of them in our medicine chest right now.
My father, in fact, was sent home two days after we left Texas. He is in a hospital bed there, and most of the time the bed confuses him. He keeps asking Doris when they can go home. Like that guy in the nursing home in North Bend, Oregon, like all the age-ravaged people I've ever heard of in the best and worst facilities, he just wants to go home. And he already is home. This is no way to live. He has to be in the hospital bed because otherwise he tries to get up, forgetting he can't stand alone anymore, so the steel bed rails are necessary. Doris told me he hurts himself against them. He may need restraints soon. I spoke to him a few days ago. He was okay when we talked about the weather, then he forgot who he was talking to, started talking gibberish, and Doris took the phone back. I could hear him in the background, asking where he was, asking if he could go home now.
Lee's mother is back home, too. She's got a walker, and Tim to look after her. We're hoping she can regain her strength gradually, get somewhere near where she was before the stroke. Maybe one day she'll even be able to go back to the local Indian casino, The Mill, just down the hill from her house. I've seen old ladies in worse shape in there, pulling at the slot handles. She seems to enjoy it.
* * *
Navajos are like Jews, they like to get the body into the ground as soon as possible, preferably within the first 24 hours. In the old days, if a person died in a hogan, that hogan would be abandoned with all its contents and never lived in again. A hole would be knocked in the north wall to encourage the spirit to escape, move on to the next world, which is nothing like heaven but a lot like the here and now, just in another place. If the hogan was made of logs, it would be burned.
These days, most Navajos die in hospitals, just like everybody else. They don't burn down the hospital, they've adapted.
Like most Arizona Indians, they object to autopsies and embalming. I read that a new law was recently passed to give greater accommodation to tribal beliefs like that. Autopsies are sometimes legally necessary, but when they are done the organs will not be disposed of anymore. After all, the deceased will need them in the next world. And they don't have to be embalmed, which I'm sure pisses off the mortuary industry. So maybe this old Indian will move on, intact.
Somewhere in Arizona a funeral was held recently. Who knows if anybody attended? Maybe he had a lot of friends and family; maybe his probable alcoholism had driven them all away long ago. But I was there, in spirit, glad that he hadn't wasted away like my father was doing, happy that he was at least able to stand on his own two feet in his last hours.
I wish him luck in the next world. Maybe there will be no white men and no booze there. Maybe the hunting will be good.
November 1, 2004
Oceano, California