Santa 'Nita Ladies Sing Dis Song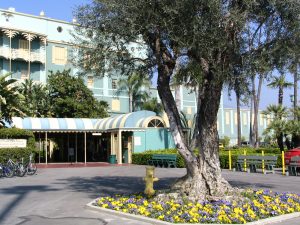 We're not what you'd call horse people, Lee and I. Both of us can each count on one hand the times we've ridden on a horse. We like going to the county fair and looking at them, but not getting too close. They're big, and dumb, and apt to hurt you. Every once in a while we used to go to Portland Meadows or the Oregon State Fairgrounds in Salem and place a few bets. But those are the only race tracks we had ever visited until we moved to Southern California. So I don't really know how Santa Anita measures up to places like Churchill Downs or Saratoga or Hialeah (before they shut it down), but by all accounts it's one of the nation's most lovely tracks. It was built in 1934 and, aside from a shameful interlude when it was turned into a concentration camp for innocent American citizens of Japanese descent, it's always been a showplace. We've been there three or four times before and you couldn't ask for more pleasant surroundings to spend a day at the races. All in all, a grand way to end our Route 66 walk.
And when you go to the track, you have to bet. Really, it's rude not to. And a $2 bet is rude, too. Go on, splurge! Bet a fiver! (Never bet more than $5 on a horse unless you have personally put amphetamines in his oats.)
We paid our $4 to park in the vast lot, and $5 each for general admission (you can pay up to $20 to get into the Turf Club, but why bother?), and entered the grounds near the statue of Seabiscuit.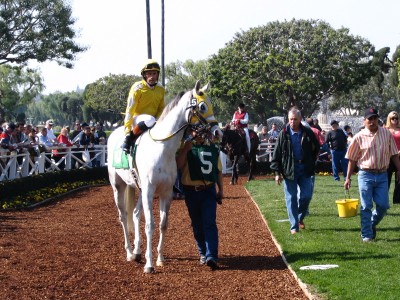 There were busts of Willie Shoemaker and Laffit Pincay, and two other jockeys, and one of Charlie Whittingham, the winningest trainer at Santa Anita, and his dog, Toby. The horses for the third race were being led around the show circle. We'd missed the first and second races. Lee was eager to get a bet down, so she hastily studied the form and settled on Spinning Yarns, 4 to 1 in the morning line. I should have advised her against it. You gotta bet, but you should never bet in haste. Spinning Yarns tanked, way back in the field won by Gambler's Justice. So we were $5 down.
Fourth Race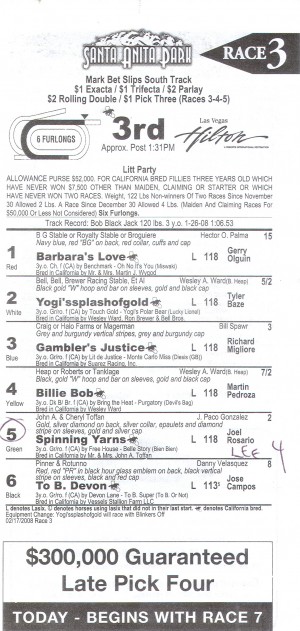 Lee has some sort of system where she studies the data in the Handicappers' Helper, on the page facing the standard racing info. It looks like this:
All the way over to the left is the horse's lifetime record. Number of starts, wins, places, and shows. Then the record for the last 5 starts. Then stuff that only a veteran horseplayer could understand, about turf vs. grass vs. synthetic surfaces, number of furlongs … who knows anything about that stuff? I have only the vaguest idea what a furlong is. And the info in the last column seems to have something to do with the jockey. At the very bottom is the predictions of two touts. Why should I trust them? But Lee digested it and decided the horse to back was Mrs. Rocha. Me, I have my own scientific system. First I spit in my hat, then I spin around three times and click the heels of my ruby slippers. Next, catch a bird (crows are best, but at Santa Anita it's seagulls), wring its neck, and examine the entrails. I was pretty sure I saw the number 2 in this one's gizzard, so I knew that Irish Express was going to win.
(That number 4 horse, by the way? Katispsublue? Where do they get these names? The track announcer pronounced it "Kat-is-pee-ess-you-blue." I'd never bet a horse with a name like that. How would you brag about winning if you did? "Oh, yeah, I won $100 on Katsup blue … er, on Katzenjammer … ah, that is … oh, hell, it was a brown horse.")
Then when I got to the window my tongue betrayed me: "Santa Anita, fourth race, five dollars to win on number three." Three? Three? Number two is going to win, you idiot! Number three is Lee's horse, Mrs. Rocha!
So there we were, backing the same horse. This is a guarantee of a loser, and sure enough, at the finish line it was Too Phar, with Mrs. Rocha hobbling along, taking time to smell the daisies. Now we are down $15.
Race 5
Okay, time to get serious. Forget about all that other stuff I told you. Here is how I actually bet:
Never bet the favorite. What's the fun of getting $6 back on a $5 bet?
Examine the horse carefully as it's being led around the ring out front. Pay special attention to its fetlocks, muzzle, girth, cannon, stifle, pastern, cornet, crest, and withers. Then ignore all that crap and pick your horse according to what you think of his name and your opinion of the colors the jockey is wearing. For instance, a hot pink jersey is easy to spot on the back stretch.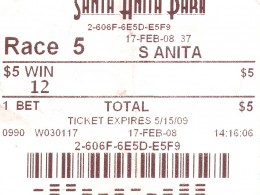 Lee put $5 on Polygraph, and I did $5 on Phantom Strike. The name just spoke to me. And sure enough, though he was fading coming down to the finish, Phantom Strike held out to win and paid 6 to 1! My $5 bet returned $38.50. We're $13.50 ahead!

I noticed something again that I'd noted before, which is that the most serious horse players at a place like this seldom, if ever, seem to see an actual horse. In fact, they seldom see sunshine. You can see them clustered in the dark around the television sets. They're not betting just the races here, you see, they've got money down on races all over the country, wherever the ponies are on the track. They study the racing forms and have papers covered with notes, and you can see them standing in line with fistfuls of Grants and Franklins. If the mint still printed them, they'd have McKinleys and Clevelands, too. (In case you didn't know, those are $500 and $1000 bills. I saw a $1000 bill once. They are still legal tender.) Who are these people who can throw around money like that? They aren't super rich, those folks are up in the Turf Club, you can see their expensive cars parked in the valet area. Do you suppose many of them are actually making a living at this? I've heard it's possible, but only if you treat it as a job and work real hard at it. I suspect most of these folks are broke most of the time. I can't imagine gambling like that. If I was there all day and lost all 10 races, I'd be out $50. A lot less then you pay for a ticket to a big musical these days, and I've had the fun of a day at the track. And, of course, there's always the possibility that you'll win a bit …
Race 6
Talk about mixed emotions! Lee bet on Five Gold Bars and I picked Let's Go Shopping (who can resist a name like that?). Both were long shots. So what happens? Five Gold Bars wins it, running first from the starting gate to the finish line, and Let's Go Shopping is right behind him. Lee picks up $31 … but wait, there's more. Let's Go Shopping was paying $41 to place! A real long-shot. Damn, I always bet to win, but I wish I hadn't this time. I'd have made about $100. But even better, if my horse had won … well, at post time he was listed at about 40 to 1. You do the math. Ouch! Oh, well, Lee had a win in her column now, so we're happy … and $34.50 ahead!
Race 7
They have two concentric tracks here, and lots of different places to put the starting gate for 5½ to 6½ furlongs (1 furlong = 660 feet), or a mile or a mile and 1/16, the longest race run today. This one was going to be on the inside track, on grass, what they call the "hillside" track. So we went through the tunnel to the infield, hoping to get a better, closer view, but it wasn't improved much. There's a big fountain and a playground for the kids to amuse themselves while Mom and Dad blow the rent money.
Lee picks My Manhattan, and I go for Swinger Doll. It's not the horse's name this time so much as the jockey's. He's being ridden by Iggy Puglisi. You just gotta go with a name like that … and sure enough, he squeezed out a victory by a photo finish, inches ahead of Christiana's Heat. Paid $18. We're ahead $42.50!
Race 8
Can't keep up the streak forever. I'll Pray For You didn't have a prayer, and Forest Danz must have got lost in the woods somewhere. Neither was at the finish line anywhere near Make Mine Vodka. So we're $32.50 ahead.
We decided to beat the crowd and leave before the ninth and tenth races. And by golly, we went out there with our pockets full of tin and didn't go back home with our hats caved in (doo-dah, doo-dah)!
Results
Wagered: $55 – Won: $87.50
That breaks down to:
Lee bet $30 and won $31 = $1 profit
John bet $25 and won $56.50 = $31.50 profit
$32.50 profit – $14 expenses = $18.50 profit for the day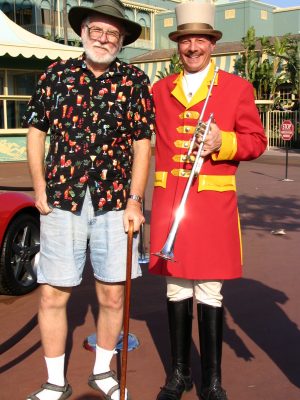 On the way out we talked for a while with the track trumpeter, who is very approachable, wandering around between races and playing songs for people. He said he's been doing this job for 21 years. I told him I used to play the trumpet and switched to French horn. He asked if I still played, and I admitted I hadn't in more than 40 years, and I had no lip at all. He said it would come back in three weeks to a month if I practiced. He said if he laid off for even a week, it took him a full day to get his chops back. Maybe I should take up the trumpet again. Wouldn't the neighborhood dogs love that!
© 2008 by John Varley; all rights reserved