St. Francis Dam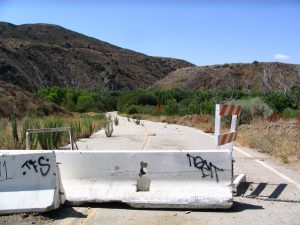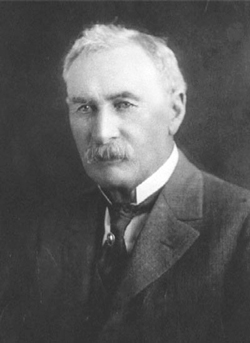 William Mulholland was a colorful character. He was responsible for the Los Angeles Aqueduct, opened in 1913, which stole water from the Owens Valley, 233 miles to the north. It flows downhill all the way so it takes no power to operate. It's a giant siphon. It's very doubtful that the city of Los Angeles would exist today except as a mid-sized desert town without the Aqueduct. By 1928 LA had completely drained Owens Lake, just sucked that bastard dry, and the folks who lived up there began fighting back, once even dynamiting the pipes. They demanded more money for the water, and LA had to negotiate. Mulholland's reaction? "I half-regret the demise of so many of the valley's orchard trees, because now there are no longer enough trees to hang all the troublemakers who live there." At some point in his career people were asking him to run for mayor. He said "I'd rather give birth to a porcupine backward."
(Mulholland was the inspiration, though not the model, for the character of Hollis Mulwray, the engineer in Roman Polanski's masterpiece, Chinatown. Notice the similarity in names? At the beginning of the movie we see him testifying about a new dam they want him to build. He says it's just like the one that collapsed, and he just won't do it.)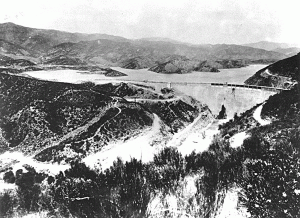 He wasn't so glib on March 12, 1928, when his St. Francis Dam collapsed about 12 hours after he had inspected it and declared it safe, sending a ten-story wall of water down the San Francisquito and then the Santa Clarita Valleys, and all the way to the sea at Ventura, 54 miles distant, killing at least 450 people (maybe as many as 600) along the way. The town of Santa Paula was buried 20 feet deep in mud and debris. Mulholland said "The only people I envy in this thing are the dead." And "Don't blame anyone else, you just fasten it on me. If there was an error in human judgment, I was the human, and I won't try to fasten it on anyone else." It was the end of his career, and he died seven years later in voluntary isolation.
(By the way, the investigation more or less exonerated him, and modern engineers and geologists mostly agree. It was a case of the technology of the time being unable to detect that the underlying strata were not suited to bearing that much weight. There was no way anyone could have known that back then … but would that make you feel better?)
It was the city's darkest day and will probably remain so until the Big One shakes us all off into the Pacific. Lee felt that, since we're trying to see just about anything important about our new hometown, we should try to find the remains of the dam. I was dubious, I wondered if there was anything left at all. But what the hell? Maybe we'd have another dose of the famous luck that has taken us to exotic, seldom-seen places like Toluca Lake. And so, armed with nothing but a Google map that showed the way to get to San Francisquito Canyon, we set out on a pleasant morning, the day before Labor Day.
After a few false starts, we found the right exit off I-5, about 35 miles north of us, right beside the insane multicolored steel spaghetti bowl that is Magic Mountain. The last time I went there, probably 20 years ago, it had about six or seven roller coasters. Today it has 17, plus a water park next door. Seems I was born a little too early to experience the golden age of coasters. There are a few I could ride, since they don't stress the knees, but most of them would just about kill me. Sigh.
We wound around the twisting byways of Valencia and Santa Clarita, Rye Canyon Road and Copper Hill Drive, until we came to the two-lane road that went up into the canyon. Soon we had lost all trace of the hive-like developments of identical apartment and condo buildings that now reach far up into the mountains. I thought that, if another dam were to be built in this canyon, and if it were to fail, it would kill a lot more than 600 people. It would kill tens of thousands. The area has become quite built up.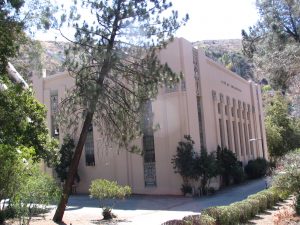 After about five miles we came to a big square building, thirty feet high, with a bit of a WPA look to it. There are three massive penstocks behind it, like giant drinking straws lying on the hillside, delivering water to turn the turbines inside. It looks well-maintained. I don't know if it's in operation. Looking at the countryside all around, dry as a Republican convention, it's hard to imagine that there's a lot of water in those pipes. But the ways of civil engineers are mysterious to me. That water could be coming from 300 miles away, for all I know. (Back home, I discovered that the water is coming from the Bouquet Reservoir, higher up in the hills to the east.)
It is sobering to look at this building and realize that the floodwaters from the dam collapse were twice as high as this building. Everything was swept away but the turbines and the penstocks. The building was rebuilt a few years later, so maybe it was the WPA.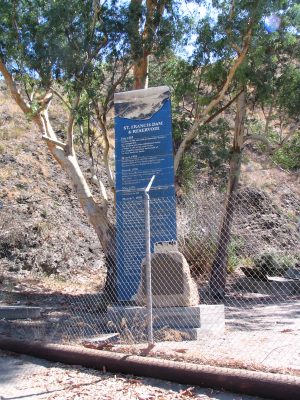 There was a fire camp next to it, seemingly deserted, and an information board that said to drive 1.5 miles up the canyon, park on Old Fran Road, and walk back about 1/8 mile to see the remains of the dam. We did that, and found an old concrete road with barriers in front of it. On the satellite images, this road winds down into the canyon and then rejoins the new road by the power plant, where it is also blocked off. There were two guys there with motorcycles in a pickup truck, and they told us that road didn't go anywhere near anything that looked like a dam, and they thought it was a lot farther down the canyon. So we went back and read the informational material next to a stone marker commemorating the disaster. Again, it seemed we needed to go down that road. So we drove back up, parked, and started down the gentle slope.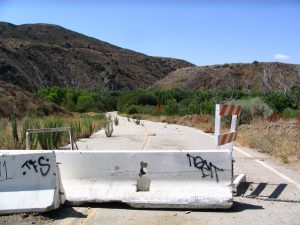 It was a pleasant day, if a little warm. Soon we were wrapped in a silence you seldom hear in the city, with only our footsteps to keep us company. Weeds were growing up through cracks in the concrete. We saw dozens and dozens of empty shotgun shells lying on the ground, and some sort of animal scat. Coyote? Deer? Bear? I'm no kind of outdoorsman, it was all a mystery to me. Soon we went around a curve and the low trees met overhead. We came out of the green tunnel to see … more of the same. Rocks, scrub, road. Mostly rocks, with greenery at the very bottom of the canyon.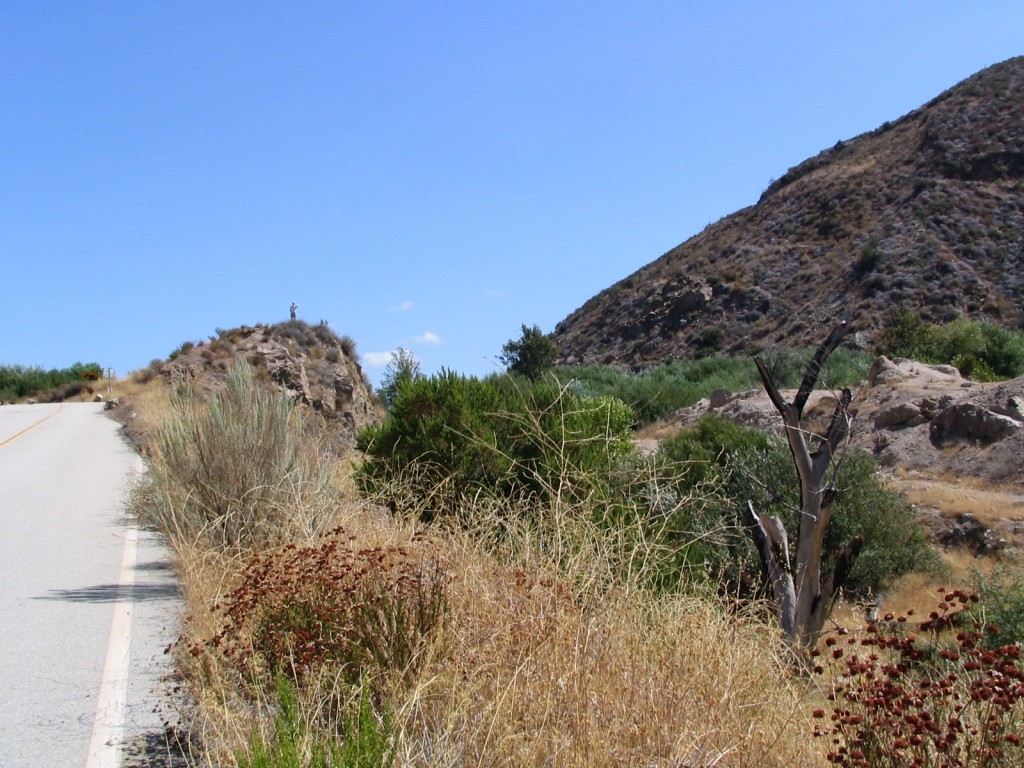 We passed a parked motorcycle and went a little ways beyond it. I didn't see anything dam-like. But we looked back and saw a man standing on top of a rocky outcropping. He waved at us. We joined him, and he pointed out what he said were the remains of the dam. Turns out he works for the Los Angeles Department of Power and Water (our famous luck again!), so I assumed he knew what he was talking about. Right over there, and down there, he said. You can see some iron rebar sticking out here and there. The St. Francis had been a concrete dam, and I could see some slabs that looked like poured concrete.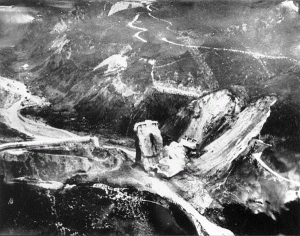 But I still couldn't figure it. In the pictures of the aftermath you can see two wing dykes and a center section still standing, which they called "The Tombstone." It proved to be irresistible to climbers and one, an 18year-old boy, fell to his death, so they dynamited it. They also broke up everything they could to discourage rubberneckers and souvenir hunters. For years the LAFD used the remaining concrete to practice blowing things up. So it was deliberately made hard to find. Easy to understand why.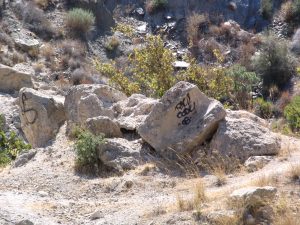 We walked back up the road and took the long way home, up around Elizabeth Lake, Lake Hughes, and Lake Castaic, which was very busy this Labor Day Weekend with powerboats all over the blue water. Very pretty country up there.
Back home, I did what I should have done before we left (only then, it would take some of the adventure out of it), which was to look on Wikimapia. If you've never used it, it's an open-source thing, like Wikipedia, consisting of maps of the world that people can mark sites on. It's getting a little barnacle-encrusted; if you go to a major metro area like LA you'll see thousands of boxes, overlapping, boxes within boxes. Slide your cursor over them and they'll tell you what is at that location. If you find Lake Castaic on this map, go to the east and slightly north of the lake and you'll see a box that says St. Francis Dam Site. Zoom in and you'll see smaller boxes. To the southwest is the powerhouse; you can easily see the penstocks. Within the dam site are a debris field and the location of the house of the damkeeper, Tony Harnischfeger. (He, his wife and six-year-old son were the first to die.) Then you'll see boxes labeled "wing dyke remains," "standing section," and "eastern abutment remains." You can see the road we walked down to get there. And, in fact, I can pick out the little hill where we first saw the DPW guy, the one we climbed to look out over the ravine. It turns out we were standing right on the remains of the dam, looking for it! If those satellite images were fresh, you could have seen the three of us standing there.
William Mulholland is memorialized by a lovely fountain at the foot of Griffith Park, down by the river near Glendale. It's a favorite of wedding parties, most of them Hispanic. We seldom drive by there without seeing at least one bride and her attendants, sometimes three or more, getting photographed by the fountain. Lee snapped this one out the car window on our way to the dam.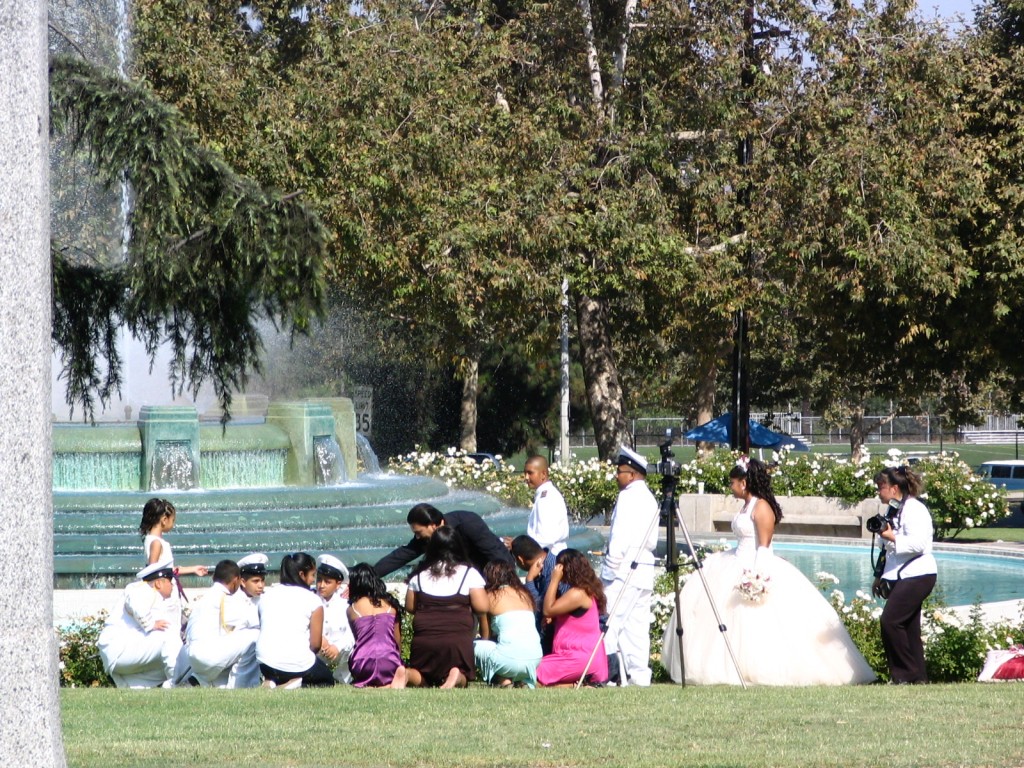 So, now we can put one more Los Angeles landmark (or the remains of one) into our Southern California scrapbook.
September 6, 2008
Hollywood, California