Five Towns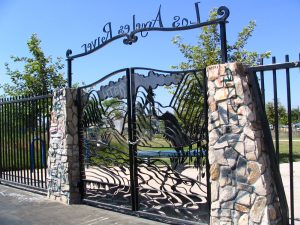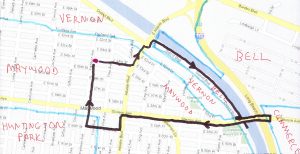 I learned early on in our urban adventure to go to Google Maps and study the terrain, like any good general should, and map out the day's campaign. With the satellite pictures I am sometimes able to tell if it will be possible to actually walk along the river … at least I can tell if there's a walking or bike path, though it's impossible to see if there's a gate and, since the pictures are months or even years old, whether it's padlocked or not. Then I print out a map so I can mark our route, and avoid cul-de-sacs and know where to turn. Most of the time, anyway. I also compare the Google Map with the Thomas Guide to LA, which shows city boundaries better. It was while I was doing this that I noticed that, due to some really weird gerrymandering, it would be possible for us to walk through five separate towns today, with only two small jogs out of our way. If you look at the map over there on the side you'll see what I'm talking about. A little finger of Vernon is copulating with a little hole in the city of Bell, which responds by sticking one of its own fingers into Vernon's rectum. The technical, mapmaker's term for this is "geographical clusterfuck." And it's even worse than I can convey on this little map. It looks like, on the Thomas map, there are places where Maywood owns one side of the street and Vernon owns the other, and even places where Vernon owns the street itself, but not the sidewalk on the other side, or the street and the sidewalk, but not anything beyond that. The city line between Bell and the City of Commerce runs along the railroad track. The little bit of Huntington Park you can see is really just an isolated enclave apart from the real body of the town, farther to the southwest. The part of Bell you can see is the same deal. Most of Bell is south of this map.
So! Five cities in one day! What a coup! … okay, I know, it's really not that big a deal, but you take your victories where you can find them.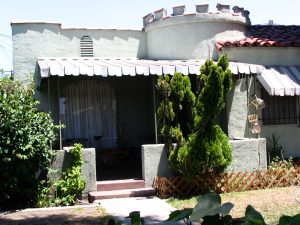 We drove around a little until we found a nice place to park in the shade of a big tree, as we hate coming back to a sweltering car when we're already sweltering ourselves. We were in the little community of Maywood. Like all five of these towns, it is around 95% Hispanic. (At least one of them is 98%.) It was not always thus. The Latinization of this area seems to have really accelerated in the 1960s. Maywood is one of the places upwardly mobile Latinos fled to from East LA and Boyle Heights, while the white residents of Maywood were fleeing to … hell, I don't know, to the Simi Valley, or the Inland Empire? If so, the whites got the worst of the deal. The Simi Valley sucks, and the Inland Empire is even worse. Maywood, on the other hand, is a solidly middle-class area of neat little bungalows whose owners obviously take pride in their homes and yards. The only thing I'd add to the neighborhood would be more big trees.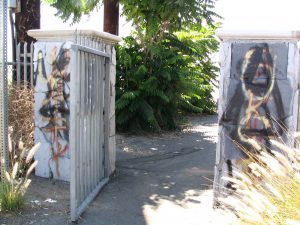 Soon we were crossing Atlantic Boulevard and that little stinky finger of Vernon (town #2!). And to our astonishment, there was a bike path just before the bridge! And the gate was open! I can hardly remember the last time we were actually able to walk along the concrete banks of the river itself. Must have been back around Studio City. I had expected we'd have to walk all the way to Bandini Boulevard, though more endless warehouses, but here it was, a wide, paved, and virtually deserted path.
The river is very wide here. The sides are raked gravel in most places, a difficult surface for taggers, but they make up for it under the bridges. Many of the flood outflows were occupied with people camping. These outlets make nice campsites, as you can stretch a tarp over them for some privacy and shelter from the sun. But I hope they keep an eye on the weather forecast, as they are subject to flash flooding.
We were in Bell now (town #3!), and stayed in it until we reached the Slauson Bridge. We walked under it, and to our right was pretty little Maywood Riverfront Park, with a fence and a nice wrought-iron gate announcing the Los Angeles River, backwards from our perspective … which was padlocked. There was no way to get up to the street from that side. Grumbling, we went back under the bridge and scrambled up a dirt slope beside a guy in a little vehicle with a jackhammer in front, who was tearing up concrete.
Here we made our first detour. By crossing the bridge, the 710 freeway, and the railroad tracks, we were in the City of Commerce (town #4!). We stayed all of 30 seconds, long enough to cross the road and head back. On the other side of the bridge we found that the riverside park was entirely surrounded by chainlink fence! What was the point of a park, we wondered, if you couldn't get in? Then I saw they were still pouring the concrete in there for curbs and the like. Apparently the park was either in the process of being built or refurbished, and I confirmed this when I got home, looking at the Google pictures, which shows torn up ground. They've made a lot of progress, and I'd reckon they'll be ready to open the place in a week or two. Maybe we'll go back, on our way further down the river.
Slauson Avenue in Maywood is largely devoted to little 3-bay auto repair shops. Not really a lot to see. We were getting near the car and feeling pretty overheated as we passed a Yum-Yum Donut shop, and were tempted inside by a picture of an icy-looking concoction. This seems to be a sno-cone served in a clear plastic cup, only instead of gooey syrup they mix in real fruit. Or preserves, anyway. And here we were almost brought up short by the language barrier. The guy behind the counter spoke English, but wasn't familiar with all the nouns, which were displayed in Spanish on the jars of flavorings. We tried ordering a lime (which was labeled limón—lemon—though it was green), and was told "We no got that." Okay, how about vanilla (vainilla)," I asked, pointing at the poster. "We no got that flavor." The alternatives seemed to be tamarindo or coco (tamarind or coconut), neither of which enthused me. Then he pointed to the jars and struggled to translate what was in each of them. One of them said fresa and looked like strawberry jam, so we pointed and he said "Si, si, strawberry!" They were good, but you had to chip them out of the cup with a plastic spoon, and soon my mouth was almost numb from the cold. But numb is good, when you're that hot.
We passed the Heliotrope School. When I see a school with an odd name, I always wonder what the football team is named. In this case, how about the Blossoms? I can see the cheerleaders on the sidelines:
Gimme an H!
Gimme an E!
Gimme an L!
Gimme an I!
Gimme an O
Gimme … oh, the hell with it.
WHAT'S THAT SMELL??? (Heliotrope!)
WHAT'S THAT SMELL??? (Heliotrope!)
WHAT'S THAT SMELL??? (Heliotrope!)
Stink 'em up, stink 'em up, stink 'em up! Go Blossoms!!!!!
Then the ref blows the whistle and they get their asses kicked by the Vernon Warehousemen, the Commerce Commercials, or the Bell Tacos.
My lips still numb from the icy treat, we then made a last little jog and were in Huntington Park for about 100 yards (town #5!). We will not be seeing HP again, as it is not on the river. But we did it! Five towns in one day!
EXTRA BONUS MATERIAL!!!
This was another challenging day for Lee in terms of pretty pictures to put up here. Of course, she finds plenty to things to take pictures of, she's as interested in squalor as in beauty, and there are always interesting street people and buildings and signs of interest. But I thought this would be a good place to add a report on a place second only to the Flower District in terms of color:
The Fashion District
In New York they call it the Garment District, from Fifth to Ninth Avenues between 34th and 42nd street. It's full of guys manhandling huge racks of clothes through the street, but so far as I recall, there's not much trade on the street. Big name fashion designers have their factories here, as well as cheap sweatshops … which are sometimes one and the same.
In LA it's a lot different. You can see, up on the second and third floors of the more mall-like buildings, some big names, but we've never gone up there. Most of them seem to sell only to "the trade." Down on street level, though, it's a different story. It is a riot of color and humanity, wares spilling out onto the sidewalks, stacked high, every inch of space utilized. There is cheap stuff available everywhere—sometimes very cheap—as well as quality merchandise. There are stores devoted entirely to tuxedos, to wedding gowns, to little suits for tiny Hispanic boys, to buttons, bracelets, hats, lingerie … you name it, and if you can wear it, you can find it here, at a deep discount.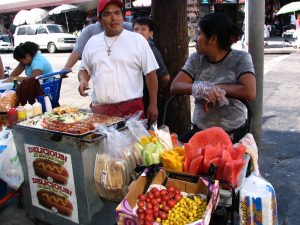 Like so much of LA, it's heavily Hispanic. You hear a lot more Spanish than English. Every block has several three-wheel fruit vendors, hot dogs wrapped in bacon being grilled on tiny portable stoves. People set up cardboard boxes and spread out a selection of wallets, toys, sunglasses. Whatever they have. Kids are underfoot.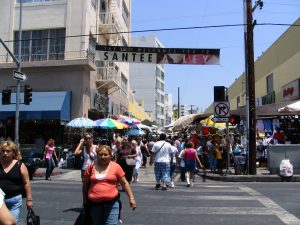 All the streets for blocks around are like that, but the heart of the Fashion District is sometime called Fashion Alley, also known as Santee Alley. Not Santee Street, which parallels it. It is so narrow I have a hard time turning around in it, and so jammed with people that I'm glad I'm a foot taller than 99.99% of them. It feels like Hong Kong, except the short, black-haired people here are Latino, not Chinese. We've been here three or four times, and this last time it was so crowded the best we could do was shuffle along. If you're claustrophobic don't go on a Saturday.
Idle thought, strolling along: Who wears these pants? There are stores with dozens of half-mannequins—waist down—with 12-inch waists and 36-inch butts displaying snazzy low-rider designer jeans, and not one in a hundred of these women you see walking around has a butt smaller than 44 inches or so. One assumes there are stacks and stacks and stacks of "plus" sizes in the back.
July 23, 2007
© 2007 by John Varley; all rights reserved