21 Missions – Part 2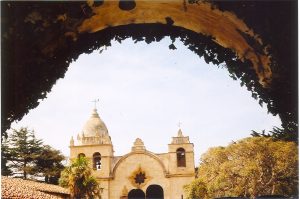 8) SAN JUAN BAUTISTA. (John the Baptist) Another great one. We have visited it twice. The town itself is pretty nice, much of it quite old (for California), and preserving what they claim is the only authentic Spanish plaza in California. This is one of two missions made famous by Alfred Hitchcock in Vertigo. If you watch the movie and then visit it today, you will see almost no changes in the buildings surrounding the plaza, with one startling exception. The screenwriter had Jimmy Stewart and Kim Novak driving down to San Juan, then climbing up into the tall bell tower. Trouble was, when they got there … no bell tower. I don't think there ever was one. So they used an extremely fakey-looking glass shot looking down from a crane suspended over the mission roof, and created the rest of it in the studio.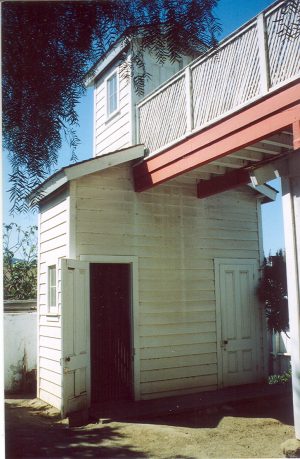 Around the plaza are three or four buildings unchanged since the 1800s, now turned into museums. There is a great livery stable with a fine collection of horse-drawn wagons. There is a hotel, and the mansion of the richest man in town. All worth seeing. The hotel had what may be the world's tallest outhouse, reached by a catwalk from the second floor. Bombs away!
The mission itself is on the San Andreas Fault. I mean, right on it. You can stand in the graveyard and look out over a 20-foot cliff … and that cliff marks the faultline. Naturally it has been damaged repeatedly by quakes. Some retrofitting has been done, but there's more work needed to protect it, like at San Miguel.
The church is one of the largest, with four aisles, very nice frescoes and paintings. A working church, with a convent and a school attached. Possibly the best garden we've yet seen, of the lush, crowded variety, not the pruned and well-behaved kind like Santa Barbara. The attached museum is one of the best, too. Don't miss this one.
8.5) SAN JUAN BAUTISTA DE SUD. (John the Southern Baptist) An offshoot cult of the Franciscans who founded the other missions. Priests in their trademark vestments, called "juego del poliester" conducted services in the Templo del Pelo Grande (Temple of the Big Hair) and venerated Santa Tammy Faye … okay, I made it up, but wouldn't it be fun?
9) SANTA CRUZ. As the park ranger in the tiny gift shop pointed out, building something in Santa Cruz out of adobe was not the brightest idea the Franciscans ever had. It rains a lot in Santa Cruz, and adobe is mud, straw, and cowshit. It melts. It seems it melted a LOT in the early days. Then a place called the Branciforte Pueblo was built right across the river. It specialized in gambling and smuggling, which the resident Indians found a lot more interesting than praying and making churches out of cowshit. In 1818 the Dread Pirate Bouchard threatened to invade. The Brancifortians volunteered to help protect the mission … and looted it to the bare walls. (Serves the Franciscans right, trusting a bunch of lowlife gamblers.) Anyway, all that's left today is a row of "neophyte" (Indian) housing, about seven rooms of it. There is a half-scale replica of the old church. That's it. Very disappointing.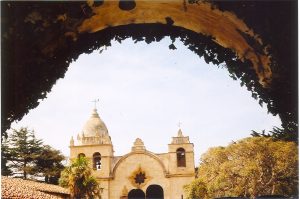 10) SAN CARLOS BORROMEO DE CARMELO. Second mission to be established. I don't like Carmel (actually Carmel-by-the-Sea, lah-ti-dah). What is there for me to like? I mean, plenty of cities have 17-mile scenic drives (or 36-mile, or 49-mile), but Crapola-by-the-Sea is the only place I know of that charges you to drive on it! And what do you get for your 8 or 9 dollars? Why, you get to drive by a lot of golf courses, of which Carmel has seventy or eighty. (Well, almost.) I view golf courses as a blight upon the land, a staggering waste of space and fertilizer. So stick that up your Pebble Beach, Carmel. However, the Carmel Mission was our best experience so far. It is at least as fancy and well-maintained as Santa Barbara. Everywhere you turn there is a new treasure to explore, far too many things for me to describe here. But when we arrived there was a wedding in progress in the church. We couldn't go in during the service, so we peered around the corner with the other tourists. And when the padre pronounced them man and wife … the place simply exploded with sound! Placed at the back of the church where I couldn't see it was a massive pipe organ, and this friar was playing it with real verve, something by Handel, I think. He was accompanied by a man playing a piccolo trumpet. The piccolo trumpet is a magical instrument, and absolutely perfectly suited to that venue. It plays only the high, brilliant, sparkling notes of a trumpet's upper register, the ones you usually have to struggle to reach, and it plays them effortlessly. They segued into the "Ode to Joy" as the couple and about a dozen bridesmaids hurried out into the courtyard, and I hurried in to catch every last note of the music. The organ really thundered! And while this was going on some unseen friar was whaling the hell out of all the bells in the tower. I get goose bumps just remembering it.
Just before we left we discovered the grave of Junipero Serra himself, laid to rest in the floor before the golden altar. What a day!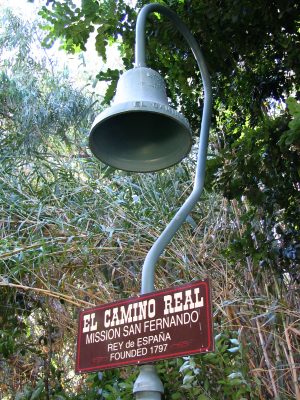 11) MISSION SAN FERNANDO, REY DE ESPANA. This one is located in a totally undistinguished neighborhood in the San Fernando Valley not far off the I-5 freeway … though I guess "totally undistinguished" pretty much sums up the whole valley, doesn't it? Odd to think that this out-of-the-way building used to be the center of the whole region. Inside, everything was immaculate, freshly plastered and painted. We have learned that usually means it was recently "renovated," which often means the place was nothing but a few crumbling adobe walls before 1930 or so. And sure enough, this one was hit not just once, in 1812 when most of the missions south of Soledad were pretty much destroyed (and what a shake that must have been!), but again, in 1971, the Sylmar quake, which wasn't a Big One but did plenty of damage if you were only a few miles from the epicenter, which Mission San Fernando was. There were a lot of photos of the damage in the museum, and it was heartbreaking. But there was money to restore it, and retro-fit so maybe the next one won't be so cruel.
The museum was organized much better than most, the buildings were clean, the grounds and central garden primped carefully. San Fernando is one of the richer missions; being located in the giant LA metroplex doesn't hurt when you need to raise money. We couldn't get a real good look at the church itself because … there was a funeral going on. The mission grounds is backed up by a very big cemetery; you could easily roll the stiff right out the side door and straight to the hole in the ground if you wanted to save on hearse rental. I'll bet they do a pretty good business in funerals. All in all, quite a nice mission, but not one with anything that made it particularly stand out in our minds.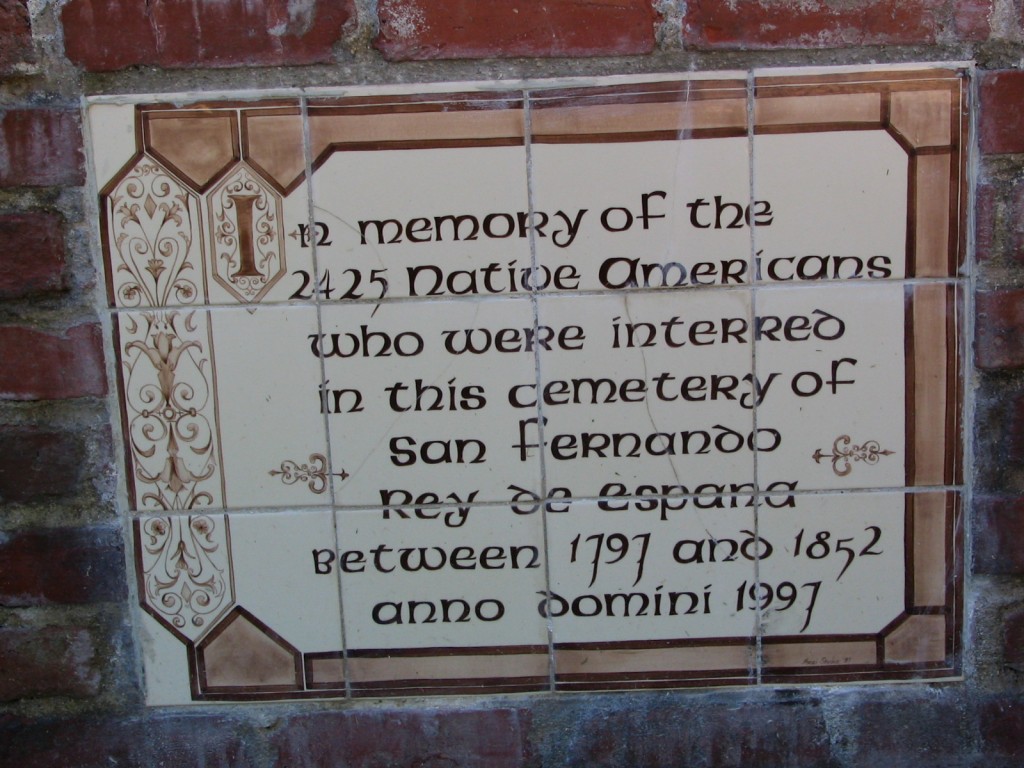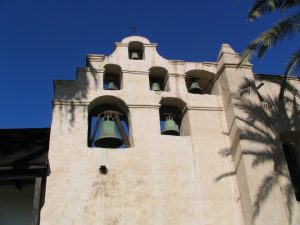 12) MISSION SAN GABRIEL, ARCANGEL. San Gabriel is one of those towns you drive through on your way to or from Las Vegas, completely anonymous from the freeway. But most of these places were at one point, before being swallowed by LA, little towns, with a commercial area and dirt streets and everything. Streetcars ran through the orange groves that grew between them. The town of San Gabriel has integrated the mission into a charming little park/civic center, sidewalks inlaid with tiles made by school children. Some of them are very nice.
Lee fell in love with this one as soon as we paid our $3 and left the gift shop, because just beyond it was a combination of two of her favorite things: A garden, and a graveyard. We spent a lot of time there. My chief memory: 100-year-old, massive grape vines clinging to overhead arbors. A lot of San Gabriel is original walls, doors, rooms, and it hasn't been restored to look brand new, which we both like. We have given this one the Best Graveyard award until a better one comes along. (San Juan Bautista retains the title of Best Garden.)
13) MISSION BASILICA SAN DIEGO DE ALCALA. We made good time through the desert and mountains east of San Diego, arrived at the mission in the afternoon. Traffic seemed heavy, and blimps were circling overhead. We had noticed signs for a stadium (Qualcomm?) at the same freeway exit, and I figured there was a bowl game going on. (I was right, I think it was the Fiesta Bowl.)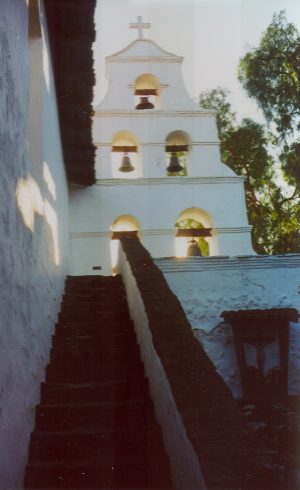 San Diego was the first Alta California mission, The Mother of the Missions, built in 1769, relocated in 1774 to be nearer a source of fresh water, sacked and burned by Indians the very next year, and re-built by Padre Serra in 1776 out of fireproof adobe and tile, which was used in all succeeding missions. Then it was damaged by a quake in 1803, re-built again with buttressing that saw it through the 1812 Big One. In 1976 JP2 visited from the Vatican and named it a "minor basilica," which my dictionary says is a place where certain rituals can be performed.
Frankly, there was not much about it to really set it apart from half a dozen other missions. Though I can honestly say that we've had a good and interesting visit at every mission we've been to, some are a lot more interesting than others. That, or something happens to make our experience unique, like the wedding and music at Carmel (which would have been a special one even without the ceremony). San Diego is beautiful and well-maintained, and would be a fine place to start an exploration of the mission chain, being the first, and all … but I don't have a lot more to say about it.
Leaving, we encountered a huge traffic jam … going the other way, toward the Big Game, where we just came from. We realized we had dodged a bullet, and headed up the coast toward Oceanside.
14) MISSION SAN LUIS, REY DE FRANCIA. King of the Missions. We drove by this one at night, after checking into a little motel in Oceanside. They had strung bright Christmas lights all along the edges of the church, bell tower, and quadrangle. It was pretty enough … but since everything in that part of California tries for that "mission" look, what they had done was to make the mission look exactly like an office building, or strip mall. Not a great beginning.
Back the next morning … For some reason the gift shop opened earlier than the museum, and thus the rest of the buildings. But there were extensive grounds outside the part you paid to see, including a huge area planted in cactus, with the brick remains of lavanderias, where the Indians did the laundry, and best of all, an extensive cemetery. One third of the boneyard seemed to have only people who died before 1940 or so, and the rest was clearly more modern, as everyone there was recently deceased—or sometimes not dead at all, just a name on a stone and a birthdate. I find that to be a very creepy practice. I don't ever want to see my name on a tombstone. In fact, I don't even want a tombstone. In fact, I'd rather not die at all.
So we whiled away the time until opening by browsing the stories written on the rocks. It's always fascinating. One stone had an outline of what I think was an F-102, and the guy was the founder of "Delta Wing for Supersonic Flight." But the stunner was this one:
Simon Gomez
Jan. 5, 1891 – Oct. 31, 1918
Died in France
With A.E.F. Co. K 383 Inf.
I realized this was less than two weeks before the armistice, 11/11/18. So this guy wasn't the last doughboy to have his life wasted in maybe the most pointless and bloody war ever fought, but he was close. I wondered if he died in combat, or from the flu. Did you know more American soldiers died of the flu pandemic than from enemy action?
Finally inside, we thought this was quite a beautiful mission. The museum was well organized and interesting. The grounds were spotless, and the church itself was spectacular. San Luis Rey was spared the more dramatic forms of destruction, and survived relatively intact right through secularization, when it was supposed to be given over to the Indians. I'll bet it will surprise no one that the administrators in charge of this managed to keep it all to themselves, while the Indians, the Luisenos, got diddly-squat. The US Army ran it for a while, and such famous men as Stephen Kearny and Kit Carson were stationed there. Finally it was deeded back to the church in 1865 by Abe Lincoln; the signed document is on display. What the church got back was a pretty decrepit but basically intact structure. Restoration has been in progress since 1892, and they still have a ways to go.
May 1, 2004
Oceano, California