More Sherman Oaks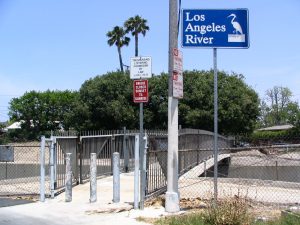 Some days are more interesting than others. This was one of the least interesting. That happens, when you're an intrepid urban explorer. As some Indian tribe used to say, some days you get the bear, some days the bear gets you … and some days you're so bored you wish for a bear. So this will be brief.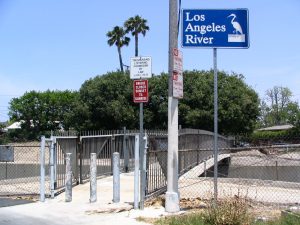 Once more the river was blocked off, but we saw a footbridge and thought it might get us there. No such luck. We crossed over to Valleyheart and walked through an ordinary neighborhood. The date in the sidewalks was 1946. We figure these little homes were put up for returning GIs. From Woodman to Hazeltine we were able to walk the river, but after Hazeltine the river ducked under the 101 freeway and we were back on the streets. Once again, post-war housing. Beyond the fence to the north was nicely landscaped state land, gobbled up by eminent domain when the Ventura Freeway came off the drawing boards. I imagined what it had been like in 1947, the year I was born, with houses on both sides of the street. Then the freeway and noisy traffic, and in the last 20 years or so a program of noise abatement with concrete walls and plantings absorbing most of the hurly-burly just a few yards away.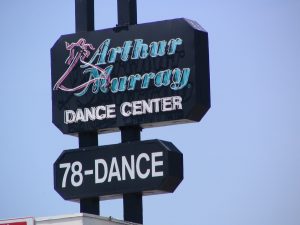 Up Van Nuys Boulevard, which is pretty bleak. Only thing of note: an Arthur Murray dance studio. I thought it might be one of the last ones left, but Google informs me that it's still a thriving institution. We always used to watch the Arthur Murray show on television at my grandparents' house, back when TV was new (we didn't have one yet) and there was only one station and it signed off at 11:30.
Then it was back to our old friend, Riverside Drive. Nothing doing there, either. The biggest thing we passed was something called Westfield Fashion Square … and it looked like it was shut down. We tried to go into Bloomingdales but the door was locked. It was only gradually that we realized we were walking along the ass end of the shopping center. Which was weird. There was no way to get inside it from this big, main street, where the bus stops were! On the other side, we presumed, were the vast parking structures and the entrances. I mean, that really sucked. The whole huge retail establishment had turned its back on foot traffic. But it's the goddam Valley; what can you do? This is the most car-dependent place on Earth, and one of the least pleasant. We have at least one more day of this crap before we get to anything interesting: The Sepulveda Dam and recreation areas. So bear with us. Tomorrow will likely be a replay of today … unless we run into a happy accident, which is much more likely on foot, at least.
Still More Sherman Oaks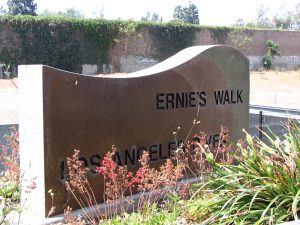 You never know what you're going to get, as Forrest Gump said (irritatingly, to us) about life and/or a box of chocolates. Our previous walk was pretty dull and we hardly saw the river. Today we almost immediately came to something called Ernie's Walk, a nicely landscaped quarter mile. There was a pretty marble stone. I thought it was memorializing someone, but I've been able to discover that it's named for Ernie LaMere, who seems to be a gardener. There's a videotape of it from our old friend Huell Howser. (We don't really know him, though I saw him in the bar at Musso & Frank's one time, but we've seen about 100 of his programs from KCET: "California's Gold," "Visiting," a few other shows. The man has covered the whole state and we've enjoyed going with him.) Unfortunately the library doesn't have the tape, so that's all I know about him.
The jacarandas were covering the walk with purple blooms, the mallards were feeding on the bright green algae, there was a guy way, way, way up in a palm tree trimming the dead fronds … it was a lovely day. We saw somebody's campsite, with sleeping bag all rolled out and clean pillows. The dude had good luggage!
We reached Sepulveda and saw that our next walk was going to have to start out a little down the line. The river isn't accessible, and for a while there are no streets that will get us anywhere close to it, because we're about to enter the Sepulveda Dam Recreation Area, which is about half the size of Griffith Park, and about a third of it is taken up by that pox upon the land, golf courses. But the rest looks interesting, and from the satellite pictures it looks like the river gets "wild," or as wild as it ever gets, and there seem to be a lot of walking paths. Onward to Van Nuys, Lake Balboa, Reseda, Encino, and … Winnetka! Places where the hand of civilized man has never set foot … Or not recently, anyway, since the White Man arrived.
But that's for the next walk. Today, we turned south instead, soon arriving at the fanciest part of Sherman Oaks and Ventura Boulevard. Across the street was the Sherman Oaks Galleria. Down the Boulevard were more trendy restaurants and shops. It is sort of the Valley equivalent of Melrose Avenue in West Hollywood. They call it The Village at Sherman Oaks. There was the National Lampoon Laughter Store. What's that all about? I was too tired to cross the street and find out; maybe we'll visit it next time.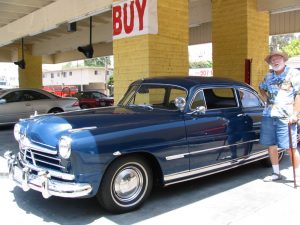 But the prize of the day was a lot that specialized in upscale used cars, including some classics from the 1960s, fully restored and very pricey. And there it was! A cherry-condition deep blue 1950 Hudson Ambassador! My heart soared like a hawk. Or, actually, like a Hudson Wasp or a Hudson Hornet, as those were the models my family owned when I was growing up. My father was a Hudson enthusiast, and we owned three in sequence when I lived with my family. I learned to drive in a baby-blue 1951 (or was it '53?) Hudson with a stick shift that had a loose screw so the stick sometimes fell out of the steering column and onto the floor. When it did that I'd hand it to my little sister, Kerry, and tell her to give it to me—quick!—when I needed to shift. She told me later that it scared the hell out of her. I had visions of Laurel and Hardy or some of those other brilliant silent-era and black and white comedians in their flivvers, handing the steering wheel to the person riding shotgun, and the panic that ensued.
In the summer of 1965, right after graduation, me and my friend Phil Richie drove that old blue Hudson from Nederland, Texas, to the Big Apple, New Yawk City, for the World's Fair. We saw every pavilion, surviving on cheap Belgian waffles, went to an off-off-off-Broadway play (the cheapest seats in the house; all we could afford), the Statue of Liberty, a couple museums, the Rockettes at Rockefeller Center … we did the whole damn town, staying with Phil's uncle in the wilds of New Jersey, driving in every day and taking the PATH tubes to Manhattan, where they were digging the huge hole that would soon become the World Trade Center …
Ah, nostalgia. I was seventeen. I'll be eternally grateful to Dad for trusting me and Phil with his car, which burned about a case of cheap oil that we brought along in the trunk, but hummed along like a Rolls-Royce, never gave us a bit of trouble except for a broken vacuum hose for the wipers. Cost: 70 cents. Gas was about 30 cents/gallon …
By the way, my dad's faith in the Hudson automobile was not misplaced. It was the hottest car on the NASCAR circuit for a few years. No kidding! It left Fords and Chevys and Dodges in the dust. See Cars, where Paul Newman plays a Hudson. Steve McQueen owned a dozen of them, including one we saw in Grover Beach being restored by another Hudson fanatic. Dad said a guy came up to him once in a parking lot and offered him $1000 for his last Hudson, so they were already becoming collectible. The price for this one in Sherman Oaks? $25,000. Yikes!
June 11, 2007
© 2007 by John Varley; all rights reserved