Where the Sidewalk Ends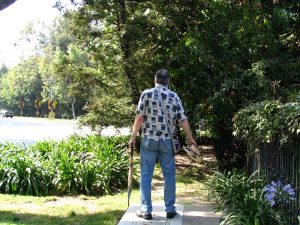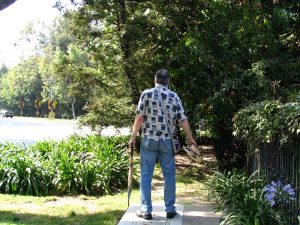 It was bad—we knew it was going to be—but there was the Beverly Hills Hotel to mitigate some of the boredom, at least at first.
What I'm talking about, of course, is the Great Walls of BH, described earlier. Today's walk was more of the same, squared. More walls and towering hedges, to the point that Lee remarked that even the flowers seemed unfriendly to us. Snapdragons, perhaps, or barking, snarling dogwoods. The hedges loomed over the sidewalks, carelessly trimmed, as if to deliberately discourage the pedestrian. There was one bus stop in a mile, and this one lacked not only a shelter but a bench as well. Stand while you wait, peons!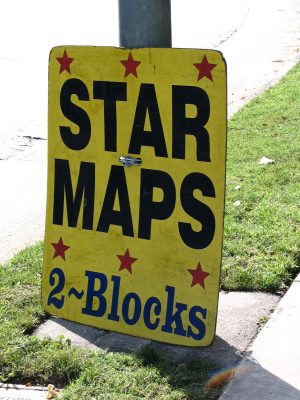 I had only one hope, and that was we'd get to find the address 10086 Sunset Boulevard, which was where Norma Desmond's mansion was in the movie. (It was actually on Wilshire, and it's gone now.) No such luck. The sidewalk petered out on the south side at Greenway Drive, and on the north at the BH city limits, Ladera Street. It resumed again on the north across the street, but then came to quite an emphatic end: A thick, towering hedge that actually leaned out over the curb and roadway. Somebody must have torn down the sign: DO NOT PROCEED: ULTRA RICH PEOPLE AHEAD.
I take back what I said earlier. I do hate rich people.
Across the street was 10000 Sunset, one of the larger mansions, from what we could see of it. The owner has a setback before his walls, and cavorting around it are a dozen statues of ordinary people, life-sized. The postman, a jogger, a gardener, a man painting the wall. A naked man diving, children playing. They appeared to have been done by the same guy who made the much more numerous children scattered around the grounds of Neverland, which we were not allowed to photograph when we visited there. Lee got some pictures of them, so now you can have an idea of what that palace of pedophilia is like. Just add a pool full of flamingos.
Ahead, when we drove it later, there are a few sidewalks, all of them on the south side, none of them going more than a hundred yards or so. There are some dirt paths scattered with twisted roots. A good place to twist your ankle. It goes on that way for about 3 miles, all the way to the northeast corner of UCLA. Even there, the jogging paths along the campus look treacherous, and I see little point in walking along them. We may have to resume our quest as far west as the 405 freeway. We'll see.
Other than that, I have absolutely nothing more to say about that stretch of road. Maybe Lee got some good pictures she can post.
* * *
But returning to the beginning of this sad day …
The Beverly Hills Hotel, the Pink Palace, is worth a look. They don't provide much of an access for walkers, unless you want to toddle up a busy driveway (walkers? at a hotel? Gee, we never thought of that!), but we did find a cleverly hidden sidewalk and made it to the busy front entrance past shoals of Rolls-Royces and Bentleys and limos. I must say this for the staff: they are invariably cheerful and welcoming, no matter how you're dressed. Naturally, they know that many millionaire dress down. Way down, in some cases, like rock stars and Internet nerds. There were plenty of people around dressed no better than me. They may have paid $500 for their old crappy jeans, where I paid $18, but unless you examine the label who can tell?
Well, maybe they can. But screw 'em.
The hotel is one hell of a maze. Up, down, around, through an arcade of shops that had almost nothing in the windows. Oozing tastefulness. I stopped at the Polo Lounge, where I had my first Hollywood meeting on Millennium with John Foreman, David Begelman, Freddie Fields, and Doug Trumbull. Wasn't even tempted to drop in for a sandwich, though it's a very nice place. Down to the pool, which had only a few people lounging around it.
I was getting a feeling I'd had often when I was working down here, staying in places like this. It's simple. If somebody dropped $100,000,000 on me tomorrow, I'd get a nice car. [Lee would get an MG-TD and a big dog.] I'd get a nice house. I'd probably buy some better clothes, though I wouldn't go overboard because clothes don't mean anything to me. I'd travel. But I'd never feel like I fit in with these people. These young women in their little black dresses that probably cost more than my car, their open shoes that certainly cost more than my entire wardrobe. They're different. I'd feel more comfortable knowing I could sit down in the Polo Lounge, buy a $30 sandwich, and not have to count the cost, but I'd never feel really comfortable.
Later, we had lunch at Barney's Beanery. It's another Hollywood tradition, been there since 1920. It has a newspaper for a menu, brags of 1000 food items on it and 60 or 70 beers, it's overpriced, and the funky decor is carefully assembled to look funky, sort of like Applebee's … but it's comfortable. Had a good BBQ beef sandwich and onion rings. $11. My kind of place.
NEXT: Bel-Air.
May 12, 2006
© 2006 by John Varley; all rights reserved