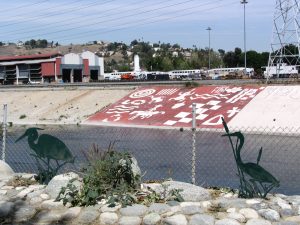 Riverside Drive runs parallel to I-5 on the west from Griffith Park for a while, passes beneath the 2 (Glendale Freeway), then ducks under the 5 where it passes Elysian Park, which contains Dodger Stadium. After that there is a series of little side streets that go into an obscure little neighborhood formed by curves of the river, two little bumps of land never more than 3 blocks wide, and usually narrower than that. It's squeezed between the ritzy hills of Silverlake on the west, and the more plebeian streets of Glassell Park on the other side of the river. Also across the river are the yards for the Gold Line and Metrolink trains. I have it on dubious authority that this area is called Frogtown. I've been unable to verify this, but screw it. I like the name.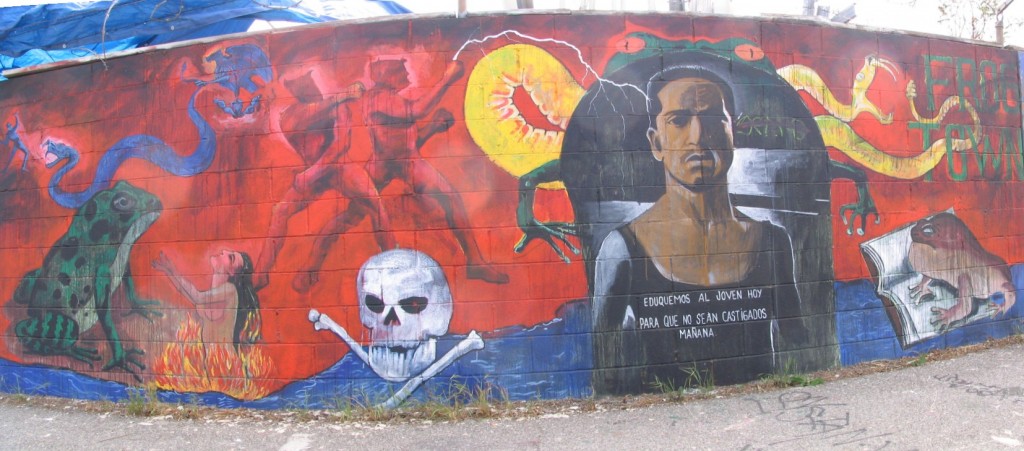 I don't think anyone ever visited Frogtown without meaning to. Riverside Drive whizzes by, with I-5 just beyond it, and one block away is a neighborly silence. Most people probably don't even know Frogtown is there. The southern half is all residential, racially mixed, while up north, by the intersection of the freeways, it's a combination of homes and warehouses. There are no fancy houses here, but there are some quite nice ones. No traffic to speak of. Looks like a good place to raise a family to me.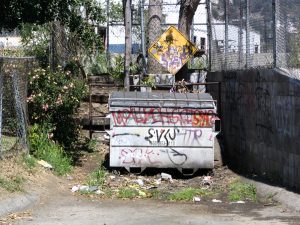 Its attraction for us is that it is right up against the river. The first couple of streets we tried ended in cyclone fencing with the river visible beyond. Then we found one with a gap in the fence. I wasn't sure if it was intentional or if someone had cut it, but it was the first chance we'd had to get through, so we parked the car and took it.
Beyond was an asphalt walkway about ten feet wide, big enough for bicycles and joggers and walkers in either direction, and the concrete sloping down to the trickle of water in the channel. There are many trees along the fences, and their roots have buckled the path quite a bit in some places.
We basically didn't have a rainy season in LA this year, and are unlikely to have any more rain until around December. The river is quite low. Sometimes it is in a deeper channel in the middle (and I'm talking just a few feet deep), and sometimes it spreads out and is just a few inches of murky water. Nowhere does it look too deep to wade across.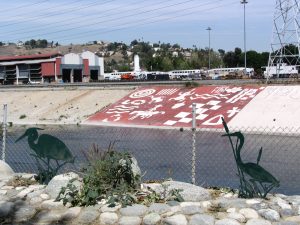 But here's a surprise. There are a lot of shrubs and grasses and even trees down there. There are rocks, there is soil, and there are an amazing number of waterfowl. We saw cormorants, coots, mallards, geese, killdeer, sandpipers, herons, cranes, and stilts. I wouldn't be at all surprised if there were frogs in Frogtown, too. They probably have six legs because of all the pollution …
So what's the story on the water down there? We saw a guy fishing, and he says the stuff he catches is edible. We saw people with their dogs playing in the water, and at least one child wading. Are they taking their lives in their hands, or what?
From what I'm able to determine, you wouldn't want to drink that water, but it's not as bad as you'd think. True, some of it is sewage, but it's tertiary-treated sewage, and odds are the water that flows through the river where you live has a lot of that, too. It's clean. The major source of contamination of the LA River is that it is fed primarily by runoff from the city streets, so there's a lot of oil and stuff in it. But it doesn't bother the birds or the fish, and it doesn't smell. The concrete where the water flows is covered with thick moss and algae.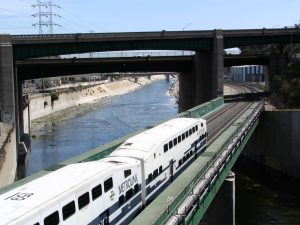 We walked for two or three days along the Frogtown path. We started going north from our entry point, and soon saw several places to enter from the streets. Most were wide enough to get a bike through. My policy is to walk until my knees tell me I can't possibly take another step, then take a rest and walk back in spite of what my knees are telling me. We don't like to retrace our steps unless we have to, so we'd find a good place to get through the fence and walk back on the residential streets. The next day we'd park there and forge on.
So we got to see the neighborhood as well as the river that defines it. Small houses, mostly, one- and two-bedroom, some with a second story. A very few small apartment complexes, mostly looking rather seedy. Looks like it would be low-rent … but this is LA. There's a real estate site we visit when we find the address of a house and would like to see what it sells for: Zillow.com. Visit it, type in Los Angeles, and Blake Avenue, and you'll get a picture. Most places in Frogtown go for $400-700,000! Bungalows! Cottages!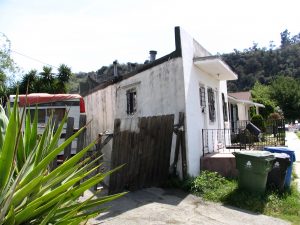 One house in particular fascinated us. It was at the very end of Oros Street, number 2230, on the south side. The lot is tiny, just a little triangle wedged in at the end of the street as an afterthought. There is a tiny triangular house on the property that fills just about the entire lot except for a driveway beside it that holds a lot of junk and a battered RV that probably doesn't run anymore. By the sort of amazing coincidence that happens frequently to people who walk instead of drive, a man sitting in his car noticed Lee's interest photographing this hovel, and he turned out to be a real estate agent waiting to show the decrepit pile of crap to somebody. He seemed almost apologetic about it, and offered to show us the interior. 299 square feet on .12 acres. Built in 1963, three rooms including the bath. Inside, it was a wreck. A tiny triangular kitchen, a bathroom the same size, and a teensy square living room/bedroom. According to Zillow, this postage stamp with a prison cell sitting on it is worth … are you sitting down? …
$395,700. Of course I realize that before the ink is even dry the new owner will bring in the bulldozers, though they would hardly be needed. A kindergarten class could bring the house down in an afternoon, and rats could carry away the debris in a night. But what would you build on such a tiny space? A five story, five room house? Two basements? You're too close to the river; they'd flood.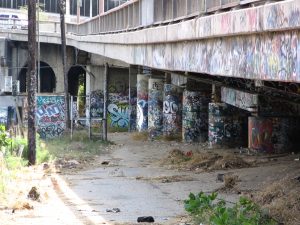 We went south, down a lazy concrete river, for one day, until we reached the old Figueroa Street bridge, near the intersection of the I-5 and the Pasadena Freeway, the very first of the LA freeways, originally called the Arroyo Seco Parkway. The path dead-ends there. We walked out on the bridge and saw a Gold Line train pass beneath us, and could see that from there, railroad yards blocked off the river on both sides. Back home I looked at Google Earth and saw that those yards continued for many miles, through downtown and beyond. If and when we continue on the river to the south, it will have to be on parallel streets for quite some time. So we resumed our trek north.
Frogtown peters out on Ripple Street where it crosses Fletcher, at the old bridge.
I say "old" bridge, because some of them have dates on them. You can tell they are old by the filigrees and other useless decoration people used to be fond of in public works (and Lee and I still are), and some have bronze plaques telling the date of construction and who was the engineer, the mayor, and all the other long-forgotten mucky-mucks. When we started I hadn't known anything at all about the history of the river, when it was encased in concrete … anything at all. Now I know these old bridges came first, and spanned a normal dirt-and-rock-and-water river. Then came the concrete, and last of all the gigantic freeways.
We went north along a bike path and back along the other side, which wasn't as well developed. Under the freeway was a homeless encampment, just some people who didn't look very threatening except for one guy with a pit bull. There were chairs and tables, and 40-ounce bottles of malt liquor sitting on them. Alcoholics, unfortunates, and one little Hispanic woman who allowed Lee to take her picture. Very sad. On the way back we could see some actual tents back in the bushes. The homeowners of Glassell Park had board fences to back up the wire ones, and lots and lots of plantings that cut them off entirely from the river. I'm sure I'd do the same if I lived there.
Next: Los Feliz.
May 18, 2007
© 2007 by John Varley; all rights reserved