A Hollyweird Day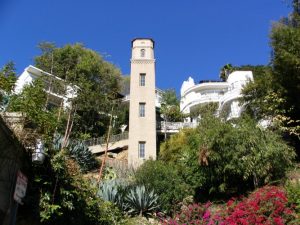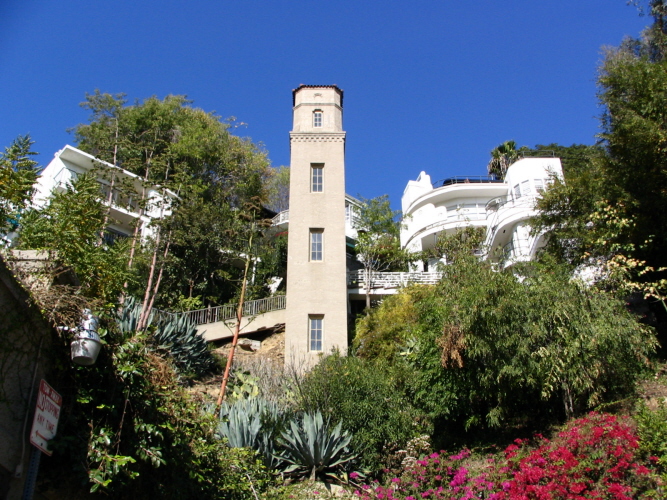 I'd finished my day's work early, so we decided to go out to San Gabriel and see the mission again. Last time we were there Lee was still shooting film, and she could take some pictures of one of the more picturesque missions with her new camera. But first there was this place in Hollywood I wanted to see if I could find …
Wait a minute, I'd better back up a bit.
A few days before we'd seen Robert Altman's The Long Goodbye, with Elliot Gould as Philip Marlowe. There were two key locations in the film: A beach house in the Malibu Colony (which was actually Altman's home at the time!) and Gould's apartment. It was an apartment to die for. It was way up on a hillside at the head of a small canyon. To reach it, you traveled up in a small elevator in a high square tower. At the top, there was a suspended concrete walkway that led to the units themselves. A real eagle's nest, and in some shots you could see the view was spectacular. It seemed to be downtown LA, and I guessed it might be in Echo Park or Silverlake, but the camera's eye can be deceiving. It could have been a lot farther away than that. I wanted to find the place. The IMDb often lists shooting locations for films, but it's spotty. No address was given for the place. Didn't know where else to look, so there it sat.
Then, the previous night, I started reading Michael Connelly's new book, Echo Park. Connelly's recurring character is one Hieronymous "Harry" Bosch, a detective with the LAPD, and the books are very good.
Harry described finding a car that had belonged to a murdered woman. It was parked in a tiny, narrow garage on a street called High Tower. He described going up in an elevator to get to the apartment that went with the garage, walking over a concrete bridge … wait a minute! This sounds a lot like The Long Goodbye location!
Thank god for Google. I called up a map. The place was supposed to be behind the Hollywood Bowl. Bosch said he'd lived nearby as a child, and could hear the orchestras rehearsing. Sure enough, there was a High Tower Drive. West on Franklin, north on Highland, first left on Camrose, first street to the left is High Tower. So we drove over there, down the street … nothing. A cul-de-sac. Real nice houses, but no high tower. Lee got out to take some pics of stairs and such. I turned around (with great difficulty; very narrow street!), came around a slight bend … and there it was! High Tower also went a short distance on the other, uphill side of Camrose, something I hadn't noticed on the map. Exactly as Harry Bosch described it, exactly as it appeared in the film. We drove across Camrose and Lee leaped from the car. This was right up her alley.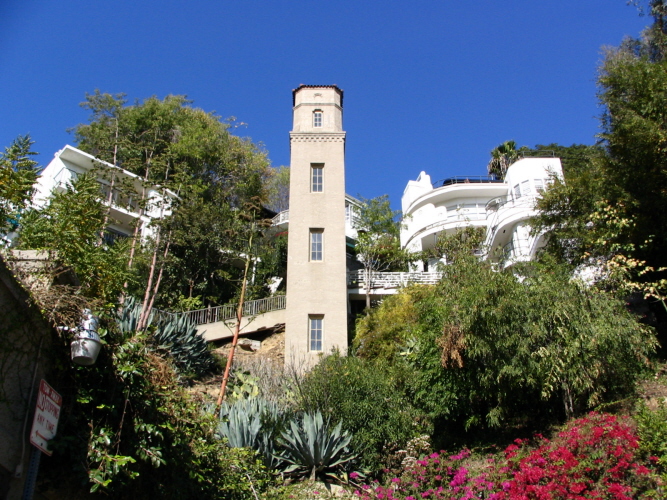 So she's snapping away and a woman comes out of the gate that leads to the tunnel that leads to the elevator. She's a stunning lady, of a certain age, and she's kept her figure and her looks. Lee and the woman start talking. Turns out she is the daughter of the architect who designed and built the High Tower Apartments!
Well, this is just too good. We talked for a while. She knew all about The Long Goodbye, of course. There have been many movies filmed there, but none featured it as well as that one did. Lee mentioned that I was a science fiction writer, and the woman said, "Then you probably know that Michael Connelly lives up there …" Not in those particular apartments, apparently, but very close by. I told her that was the reason we were there, that I had just started the new novel.
Ever have a series of events tie together so perfectly you almost believe in …what? Fate? Synchronicity? I don't know what to call it, but it just makes me grin to think about it.
So, later …
We keep a list of books I'm reading on the website, and Lee, as is her wont, linked Connelly's name with his website. I went there this morning, and had a look around. One of the links was to something called "Watch the ECHO PARK video." A video, for a book? What be that? I wondered.
What it is, is a YouTube thing, ten minutes long, that dramatizes the first chapter of Echo Park. You can see it here.
You'll probably agree the pace is slow, the acting fairly wooden, that it would be edited drastically if this book were ever made into a real film … but its very existence stunned me. I mean, who paid for this? The publisher? Connelly himself? It was not cheap to do. There are at least twelve people in the crew, plus a composer and editor. Seven actors (including one playing someone called Officer Krupke). Narration by Len Cariou, a big-time Broadway actor (Sweeney Todd). You have to get permits to film in LA, you need a police presence even for a small production, security if you're going to rope off a street, as was done here. The actors are professional. It had to take a day to make this, maybe two. It takes a long time to set up a shot, even in a cheap production. Was the apartment they visit coincidentally empty? I doubt it. They don't stay empty very long in that building, believe me. (If I could afford it, I'd rent it in a heartbeat.) That means paying the tenant, moving out furniture, maybe painting. The book mentions Bosch spotting a red-tailed hawk, and one is seen flying over the street. How long do you wait to get that shot?
Sure, some of it may have been Connelly calling in favors, friends donating their talents on a weekend, and he's certainly got a lot of money, but still … this wasn't cheap.
But all that aside … is this the coming thing? Remember, way back in the Cretaceous Era, when something called MTV was just getting started? Most of it was pretty primitive, and only a few of the very biggest hits had videos attached. Lots of people in the industry thought it was a novelty, it wouldn't last. Well, we know how that turned out. Now the video sells the music, not the other way around. Will we be seeing videos for other best-selling authors soon? It's mind-boggling.
Just another day in Hollyweird.
December 11, 2006