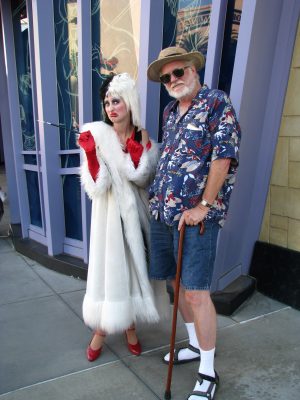 We decided to make one more visit to Disneyland before our passes expired. It will probably be our last one until some of the changes are made at California Adventure.
I made a list of the things we hadn't seen or ridden on since we bought our passes. I'm not counting restaurants.
Things I can't ride on because of my knees, or being too big:
Matterhorn
Space Mountain
Big Thunder Railroad
Tuck and Roll Drive 'Em Buggies
Gadget's Go-Coaster
Davy Crockett Explorer Canoes (Seasonal, we've never seen them in use. But I couldn't kneel in them, anyway.)
… so those don't count. I've been on the Matterhorn, Space Mountain, and Big Thunder Railroad in the past.
And because it goes too quickly in a circle and might make me sick:
Orange Stinger (I'm no fool. Motion sickness is not a part of a fun day at the park.)
So here's what's left that we haven't experienced this year:
RIDES:
Francis's Ladybug Boogie
Flik's Flyers
Main Street: Fire Engine, Horseless Carriage, Omnibus
Star Tours
Astro Orbiter
Dumbo the Flying Elephant
Tarzan's Treehouse
SHOWS:
Hollywood Backlot Stage
Disney Animation:
Turtle Talk With Crush
Animation Academy
Character Close-up
Sorcerer's Workshop
Disney Princess Fantasy Faire
We had resolved to see the tree house early so I'd be fresh for all those stairs. But since we only had a few things to do at California Adventure and they were all close to each other, we ambled over there first. Like last year, the giant As in CALIFORNIA have been replaced with giant candy corns, and Sunshine Plaza has been transformed into Candy Corn Acres, where candy corn is grown on corn stalks and grape vines, picked, and packaged. A giant candy corn is inhabited by Heimlich the Teutonic Caterpillar from A Bug's Life. Every few minutes he pops out of a hole he has chewed and rhapsodizes about how much he loves to eat candy. Mickey and Minnie were there, posing for pictures, and as usual some of the kids dug it, and some of the smaller ones were dubious about the whole proposition.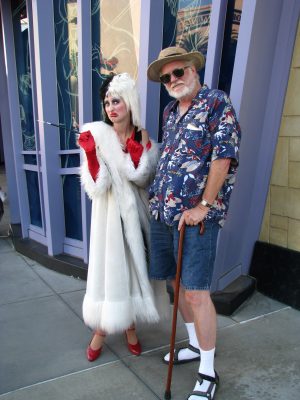 As we approached the large Disney Animation building, which houses four attractions, we encountered my kind of Disney character: It was Cruella de Vil, in all her evil loveliness! I watched for a while as she posed with visitors. It's a delicate tightrope she walks, to stay in character and yet not frighten the children too much. She has a repertoire of dozens of sneers, and insults for all occasions. She'll deign to pose for a while, then tell the person she's with to "Beat it!" I just had to have my picture taken with her. I told her she was my favorite Disney animated character. She said "I'm my favorite Disney animated character, too. Now, get lost!" I was on Cloud Nine! I've just been insulted by the fabulous Cruella!
We went into the animation building. In the center is a large room with dozens of hi-def giant screens continuously showing scenes from all the animated features. Off this main room were the other things. The Animation Academy seems to be a hands-on thing where animators teach you how it's done. It wasn't in operation. But they were announcing it was time for …
Turtle Talk With Crush. (D TICKET) This is quite amazing. We're seated in a small theater. Children are invited to sit up close, on the floor. We're facing a really huge hi-def TV screen showing an undersea scene. Our host tells us we'll soon be talking to Crush, the turtle from Finding Nemo. We can ask him questions, like how many children does he have. And sure enough, the surfer dude turtle comes swimming up and talks to us. He looks at the people asking him questions, and he describes them, so we know the guy operating this thing can see us. The lips sync with the words. I don't know how they do that, but it's part of a very fast real-time computer program. The operator is very funny, even though every third word out of his mouth is dude. He obviously has prepared answers for the most common questions, but he's good at ad libbing, too. One woman said she was from Utah, and he made a lot of jokes about that. And sure enough, one of the kids asks how many children he has, as she was primed to do. (He's got about 70 or so, and can name them all and it's very funny.)
So when that was over (about 25 minutes) we went across the big room to …
Character Close-up. (C TICKET) I'd give it an A TICKET, because there's not much here but some paintings of characters on the walls and a big circular thing in the middle … but that thing is mind-blowing. They call it a zoetrope, which is something I'm familiar with and you've probably seen one, too. The classical zoetrope is a cylinder with slits in it and pictures on the inside, each slightly different, as motion picture film is different in every frame. You spin it, look through the slits, and there is the illusion of motion, though it's short and repetitive.
It amazed people of the 19th century, until the invention of film movies.
But this zoetrope is three-dimensional. It's a carousel, and there are several levels to it. On the carousel are models of characters from Toy Story, each slightly different, though you don't notice that at first. You stare at it, puzzled. And then it begins to spin. Soon it's a blur, and then a strobe light starts to flash. And suddenly the little characters are animated. Toy soldier paratroopers descend near the middle, the cowgirl twirls her rope as her horse rears up, the little three-eyed saucer people pop into existence and bounce off a teeterboard, then vanish. There's a dozen things going on. I stared at it for quite a while. It was so delightful!
There was some sort of show beginning in the Sorcerer's Workshop, but I noticed it was almost time for the …
Toy Story Play Parade. I won't give a ticket rating to this, as even when the park was using ticket books the parades were free to all. But if I was rating, it is definitely an E. We saw it in preview, as I described in an earlier post. We'd stationed ourselves near the end, and that was a good place as the crowds were thin. Now here we were at the hub, Sunshine Plaza. I wondered if we could find a good spot.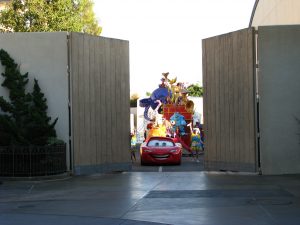 We sure did, and I'll pass it along as a tip. Go to the east side of Sunshine Plaza, where a path leads from the edge of the fountain to a pair of tall wooden gates. That's where the parade will emerge. Look off to your left and you'll see that's where the crowds start to form … but there was hardly anyone there by the fountain! Lee was able to get unobstructed views of everything she wanted to shoot. Plus, as an added bonus, you will be able to see into the parade assembly area, where all the floats are scrunched up into a fairly small space, waiting to be cued in, just before they all start performing.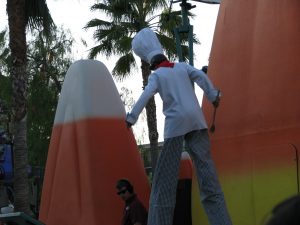 It was just as much fun as last time. And this time we get to see two minor glitches. One of the plastic soldiers from Toy Story must have arrived late, because he came running out after his float had already started, and had to hurry to catch up. Then there was another latecomer. I'd already noticed that the first time we saw the parade there had been five chefs on stilts, and this time there were only four. Cutting back? No, another latecomer. About the time the Finding Nemo float was coming out, here comes the tardy chef. He has to walk right past us—and high above us!—cutting across the Plaza to the other side, where he re-joined his comrades. I always worry about those guys. If they tripped, say if a little kid ran out in front of them, it's a long fall …
Then Heimlich the caterpillar came out. He's cleverly composed of a head and a tail section, and three separate segments. Sometimes they stay together, and sometimes they move apart and perform some close-order drill. Lee observed that it would have been funny if one of those middle guys had been late, and had to run to catch up.
So then across to Disneyland, where we just missed a performance by the Dapper Dans, an excellent Barbershop quartet. And on to Tarzan's Treehouse, which is actually the old Swiss Family Robinson Treehouse, renovated, strengthened, and re-themed to tell the story of Tarzan of the apes. Lots of stairs, lots of swinging bridges that, naturally, were set swaying by all the children stomping back and forth on them. Kids! Why do they let them in? They just smear cotton candy over everything, and get underfoot!
The Haunted Mansion has once more been transformed into The Nightmare Before Christmas, so we rode that. Always fun, one of those rides I never get tired of.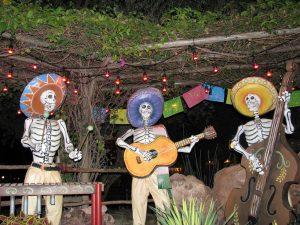 The plaza in Frontierland was now inhabited by some Mexican calacas (skeletons) for the Dia de los Muertos, which I discussed in a previous post.
It was getting dark as we approached Fantasyland. I had hoped to ride the Dumbo Flying Elephants, one of the rides on the to-do list, but the lines were long. We thought of going on the Storybook Land Canal Boats, but they were shut down for the night. When did they start doing that? This is one of the original attractions, and I recall riding it at night, when the little towns and castles looked much better than they do in the daylight. So then we took a shot at Peter Pan's Flight, going in the exit as we disabled people are allowed to, and were told to wait … and then that the operator couldn't accommodate us. No other reason was given. We left, disconsolate, along with two people in wheelchairs.
The Parade of Dreams was about to begin and the crowds in the circle in front of Sleeping Beauty's Castle were dense. We slipped along Main Street behind the throngs, pausing only to watch as a large open-top vehicle went by carrying tonight's Honorary Grand Marshall, Carrie Poziewsz, and her family.
Then it was off through Downtown Disney to the far end, where we once more dined at the Rainforest Café.
So we checked off a few more items from the list. Here's what's left that we didn't do this year, not counting attractions I've experienced before and the few that we're too big to ride:
Davy Crockett Explorer Canoes
Francis's Ladybug Boogie
Flik's Flyers
Orange Stinger
Main Street:
Fire Engine
Horseless Carriage
Omnibus
Astro Orbiter
Star Tours
Dumbo the Flying Elephant
Hollywood Backlot Stage
Sorcerer's Workshop
Disney Princess Fantasy Faire
Not bad for two yearly passports, huh? We did everything but those baker's dozen things (again, not counting coasters and things we can't fit into) (and Lee didn't ride the Maliboomer or the Twilight Zone Tower of Terror … but I did!), some of it more than once!
And so … we bid a fond farewell to Disneyland, probably for a year or so. Hope you've enjoyed these reports!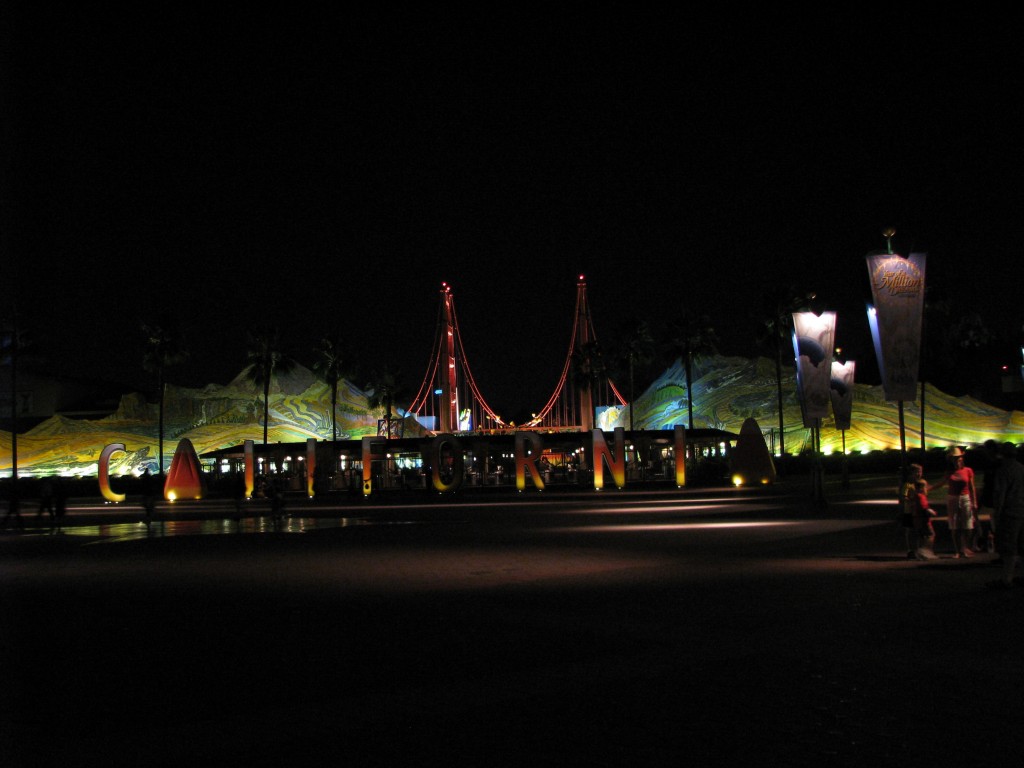 December 23, 2008
Hollywood, California
© 2008 by John Varley; all rights reserved