Travels with Steinbeck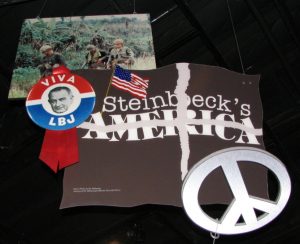 With Red Lightning finished and off to the editors, Lee and I decided to take a little day trip up to Salinas. We'd been through it before and not been much impressed, but what can you tell from the freeway? We knew there was something called the Steinbeck Center there, and we'd been meaning to visit.
The weather in the valley north of us had been over 100 degrees the last few days and we expected some real heat. And it was hot, through Paso Robles and Soledad, but it cooled off a lot by the time we got to the Salinas Valley. Looking at the map, we realized it was a lot closer to the Pacific than we had thought. There's a pass where fog rolls through in the evening, like it does in San Francisco, and the people we talked to said temperatures in the 70s were the norm.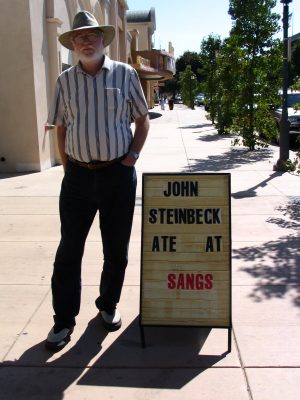 Salinas Old Town is cleverly hidden off the 101 freeway and Highway 68, the road to Monterey. Not that it's hard to find, if you follow the signs, but before we were always just passing through. Old Town turns out to be four or five blocks of almost perfectly-preserved buildings, many of which can be seen in photos from the '20s and '30s in the museum. It seems to be thriving, most storefronts in business, lots of restaurants all up and down the economic scale, from $11 hamburgers to $5 Mexican combination plates. A guy who obviously had pegged us for tourists told us the best value for our money was a place called Sang's, a block away. We decided to try it. Traveler Tip: If you go to Salinas, eat at Sang's! Large portions, good prices, HUGE menu (50 omelets and about that many sandwiches, a dozen daily specials) and everything was very good. Lee had roast lamb, and I had some BBQ beef brisket to die for, tender and red and juicy. More than either of us could eat.
We'd been hearing jets and knew there was an air show in town. I figured it was a flyover by the National Guard, or something. Didn't think the Thunderbirds or Blue Angels would be in a small town like this. Wrong! The T-Birds began flying over our heads, sometimes almost close enough to touch. We could see them doing their aerobatics all over the place. We asked, and found out the air show was a very big deal here, that this was just their rehearsal, with the regular shows on Saturday and Sunday. Later, on the way out of town, we could see the smaller planes doing their rehearsals.
So it was on to the Steinbeck, which is at the end of the street of Old Town. It's a large building, not particularly distinguished, sort of campus modern. Some nice little ladies inside gave us an orientation lecture. One of them grew up in Colorado and had memories of the Dust Bowl, of stuffing towels under the doors to keep the stuff out.
It's a great museum. Most of it is hands-on, with things like shacks with doors you can open to see a huddled family of okies inside. The main part is organized into a series of walk-in dioramas of scenes from Steinbeck's books. There's a Steinbeck story about a couple who live in an old water tank, or something. The woman decorates it with curtains, even though they have no windows. You can enter that tank and sit in a broke-down armchair. I did, and Lee took my picture. Unfortunately, not long after that I discovered my fly was open so we can't use the picture, since this is a PG-Rated site, except for language. Plus I don't much like looking like an idiot. Lee took off on a laughing jag when she saw them. I may have to kill her.
A great many of Steinbeck's books were made into movies, and he also wrote original screenplays, and just about all of them were playing, continuously, somewhere or other. But the star of the show was the original Rocinante, the old Chevy pickup with the great man's self-designed camper shell on the back, which figured so prominently in Travels With Charley. We got some pretty good pictures of it.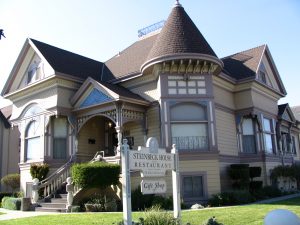 We drove by the old Steinbeck house, where he grew up. It is the home of a prosperous middle-class family, lovingly preserved. It's a restaurant now. I wonder if they serve Steinburgers? Don't laugh, this is a town that lives and breathes Steinbeck, even more than Cannery Row in Monterey. We saw a Steinbeck Insurance and a Steinbeck Mortgage Company. (Foreclosing on widows and orphans; I'm sure John would have got a kick out of that.)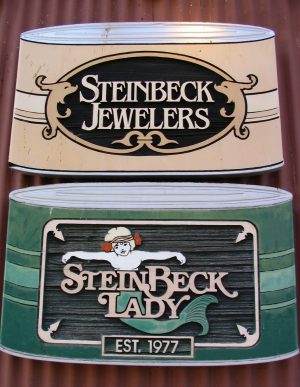 It was still early, so we decided to take a jog over to Monterey Bay. It was a glorious day, though there was a little traffic getting there. Makes me feel old. I remember when the roads we were traveling on were two lanes all the way, and they still moved better than they do now. The Bay Area is one giant, dysfunctional traffic jam from Sonoma to Carmel, from Concord to the sea. People from 1965, dropped down on the roads today, would wonder how these people stand for it. That's how you get into these situations, I guess, one day at a time. Today's kids don't know a time when the roads were relatively open, and actually moved most of the time. But one wonders how much worse it can get before we have actual permanent gridlock. One day we may all be bicycling through endless concrete seas of rusting cars, all of them unable to move. My only question is, will those cars be full of moldering skeletons?
We both love Cannery Row. Sure it's commercialized and hokey, and Steinbeck would be either bemused or horrified at how it all turned out, not to mention all those smelly, overworked laborers in the canneries. Most of the canneries are gone, and those that remain have been hollowed out and filled with shops selling stuff you don't need and probably can't afford, but here and there you can see the old timbers and a hint of what they used to be. We found an old stairway that was supposed to be artists' workshops but was largely empty, and you could imagine what it used to look like. Probably couldn't imagine the smell, though.
I proposed that we go home through Big Sur, but there were powerful reasons not to. Lee doesn't like driving south through there because it puts the car on the outside lane, nearer the drop-off, and she hates that. Plus, it was getting late, the fog was rolling in, and the radio said there was an accident near Carmel that had Highway 1 backed up for miles. So we went back to Salinas and got caught in a traffic jam of people heading to the opening night of the air show, which would feature a fireworks display. It was only about 15 minutes, though (only! see how we adapt?), and soon we were on the road home.
October 31, 2005
Oceano, California