Return to L.A. – Little Moscow – The Theater District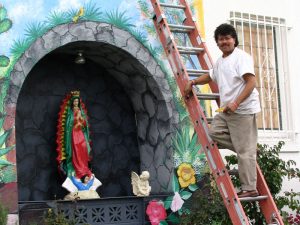 UPDATE TO LAST WALK
We knew we had missed some of the emblems on the light posts commemorating Route 66 just east of Century City, and that kind of thing always bothers me. I knew I'd seen Abraham Lincoln, for instance; how did I miss him while we were walking? And I was pretty sure we'd missed at least a few others, as it seemed most of the eight Route 66 states had two little sculptures. And who was that silver woman?
So we went back. Our friend Mike Stamm suggested the woman might be Josephine Baker, which never would have occurred to me because I associate her with Paris, not Missouri. But sure enough, she was born and raised in St. Louis. One mystery solved. And we soon spotted old Abe, right out there in the open. The thing is, we were mostly walking on the main street, and some of the light posts were tucked away a little bit on the new parallel side streets … but that's still no excuse for missing the president. We keep saying you have to get out of your car to really see the street, and here we were in the car finding the emblems we'd missed. Embarrassing. But at least we completed the list. The missing ones are in red in the following, complete list:
CALIFORNIA: EUREKA, A surfboard
ARIZONA: Saguaro cactus, Indian dancer
NEW MEXICO: IT GROWS AS IT GOES, The Indian sunburst from the flag of New Mexico
TEXAS: Armadillo, The Alamo
OKLAHOMA: Arrowhead, Sprig of mistletoe (State floral emblem of Oklahoma)
KANSAS: Ruby slippers, Wheat
MISSOURI: Josephine Baker, SHOW ME
ILLINOIS: Sears Tower, Abraham Lincoln
This may seem obsessive to you, and there's a simple reason: It is obsessive. I've been a collector for a long time. I used to collect, at various times or simultaneously, tropical fish, modern first editions, old paperbacks, toy robots, Hawaiian shirts, coffee mugs (I don't drink coffee), gimme hats (which I never wore), ties (I don't wear ties), United States stamps, and refrigerator magnets. I'm probably forgetting some other collections. You need a big house for this, particularly for seven large tanks of salt-water fish. Now that I live in a small apartment I'm glad to be shed of all that stuff. I've got it down now to stamps and magnets. (You should see our fridge!) (Actually, you can't see it, it's completely covered in magnets.) But as a recovering collector, I still have the urge, and tracking down stuff like this and taking a picture helps soothe the itch. Sort of like a one-time big game hunter who now stalks the critters with a camera. Saves on all those mounted heads. Just thought you might like to know. Or not. Whatever.
Back to: Return to L.A. – Little Moscow – The Theater District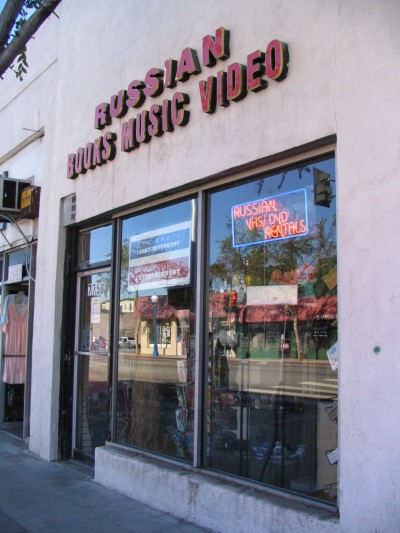 The eastern part of West Hollywood is thick with Russian businesses. Half the store signs you see are in the Cyrillic alphabet, which I can sometimes sound out phonetically. It was here that Lee and I went when our neighbor Mrs. Grigorian, an Armenian/Georgian woman who only speaks Russian, fell and broke her collarbone and we wanted to cheer her up with a get-well card. Mrs. G. knows four words of English: Good morning! señor, and señorita. I know what could not even be called a smattering of Russian: Da, nyet, khorosho (probably spelled wrong, means "good"), dos vedanya, wodka … which Mrs. G. recommends for a cold. (You snort a little out of your palm.) We went shopping for a card on Santa Monica, spotted a place that sold them and those little wooden nesting dolls that all the shops here sell, and Russian videos. Naturally, we had no idea what the cards said, so we asked the clerk, told him our story about our Russian neighbor with her arm in a sling. He immediately set all other business aside and devoted himself to the task of finding the perfect card for Mrs. G. When he finally settled on one, he refused to let us pay. I'm told that Russians have a sentimental streak as wide as the Volga. This guy from St. Petersburg certainly did. Wish I'd gotten his name. Спасибо, whoever you are! (Means thank you.)
I haven't actually heard of this neighborhood being called Little Moscow, but it's high time they made it official. LA has dozens of these little enclaves. We live in Thai Town, on the northern edge of Little Armenia. There's a Filipinotown, and a Little Ethiopia, and of course Little Tokyo and Chinatown. Many others. You want cultural diversity? Come to Los Angeles.
When I was here in the '60s this stretch of Santa Monica was a real dump. It was lined with prostitutes most hours of the day, the male hustlers a few blocks south on Melrose. (Or was it the other way around? Oh, well, who cares?) There are two remnants of those sleazy days still in operation now: The Pussycat Studs Theater, and the Paris House. The first showed movies and was just called the Pussycat, soft-core girls in those days, probably hard-core boys now. Paris House had live entertainment. No idea what goes on in there now. But the Pussycat Studs is interesting today. Everybody knows Grauman's patio, where the superstars come to immortalize their hands and feet, in concrete. It's always jammed. A lot fewer know of the Vista, on the corner of Hollywood and Sunset, which has a similar deal, only for B-movie stars. The Pussycat Studs goes down yet another level below that, to what I assume is the bottom of the celebrity barrel: porn stars. Here you will find the hand and shoe prints (or bare feet) of Linda Lovelace, Marilyn Chambers, and Georgina Spelvin, all big names from the early days of legal porn. There's also Harry Reems from Deep Throat, and Johnny "Wadd" Holmes, both guys famous for a part of their anatomy which they did not impress in the concrete. Too bad. That might have been a tourist attraction, don't you think? Plus, the women could have sat in the concrete … what a missed opportunity!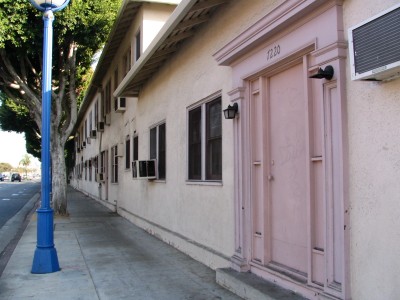 On the edge of West Hollywood is the old Warner Hollywood Studios. All you can see of it is the back wall, and I'm struck once again at how these old studios resemble military housing, or cheap public housing, or maybe a school in a poor neighborhood. I've spent time on the Warner lot in Burbank, and on the old MGM lot, and let me tell you, there's nothing glamorous about the architecture. Those old moguls weren't much interested in glitz unless it was up there on the screen. Today they spend tons of money on fancy exteriors, like the seven dwarfs holding up the roof at the Disney studios. And that's not a bad thing—it's delightful—but it certainly indicates the change in attitude. Those old guys like Mayer and Goldwyn were in the movie biz, and that was pretty much all they were. Moguls these days want you to know their names.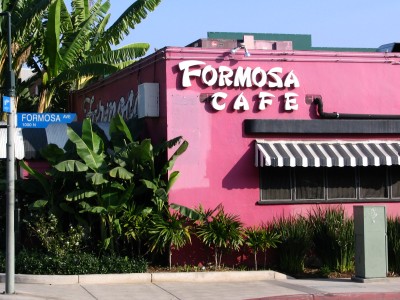 Just beyond the studio is the Formosa Café, which has been featured in dozens if not hundreds of period movies. It was one of the "watering holes" for the stars, back in the days when the stars didn't mind gathering in places like Barney's or Norm's, didn't mind mingling with the public a little bit. They'd actually walk across the street to places like the Formosa and have a burger or a sandwich. Nowadays a star wouldn't dream of walking anywhere in the neighborhood, their contracts call for a limo to deliver them to a chi-chi place for lunch. We've wanted to eat at the Formosa—I understand the food is reasonably priced, and not bad—but we've had a hard time finding it open. It's in business, but I can't determine when the business hours are.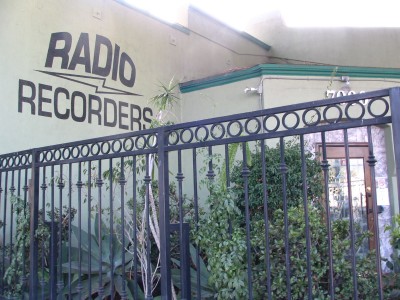 Crossing La Brea takes us back into the city of Los Angeles, where we will be for quite some time now as we amble down Route 66. We pass Radio Recorders, something we'd never noticed from the car. It dates back to 1928, and according to the sign has recorded stuff by Elvis, Bing Crosby, Nat "King" Cole, and the Beach Boys. Who knew?
And now we're into Theater Row. This is nothing so grand as the old movie district downtown—well, it was grand, with a lot of old movie palaces, but not a one of them is still in business. Theater Row is basically a neighborhood of small warehouses and storefronts that have been converted to venues for live theater, places where the millions of actors who flock to this city can find something to do while waiting to be discovered. There are dozens of them, and I imagine they range from a few hundred seats capacity, with lights and a large cast, right down to a dozen folding chairs, and the writer/director/producer/star's mother doing the costumes. We haven't sampled the fare here yet, but we understand you can get some good bargains and see some real talent, if you're prepared to see a few turkeys in the process. You never know what you're going to get at places like these. We've had a great time at a small theater like this, The Great American Melodrama and Vaudeville in Oceano, CA, sawdust on the floors, the cast serving hot dogs at intermission. Who knows what you'll find? We're going to start trying some of them.
Vine to Vermont
This stretch of 66 is dominated by small, mostly Hispanic businesses. They sell everything under the sun from small storefronts. It's a lively area, lots of people on the street, almost all of them brown. There's really not a lot I can say about the place, other than to note that it's got a lot of murals, and Lee took pictures of them all, as she always does. So I'm going to ask her to post a bunch of them here, for your enjoyment
The End of Santa Monica
Just a short stretch now and we'll be off Santa Monica Boulevard for good, having come about 14 miles from the sea. At Sunset Junction we'll be back on our favorite Los Angeles street, good old Sunset Boulevard.
Impressions:
More murals.
A big yard where they store the poles and fixtures for any of the dozens of types of streetlight that can be found in the city.
Still more murals.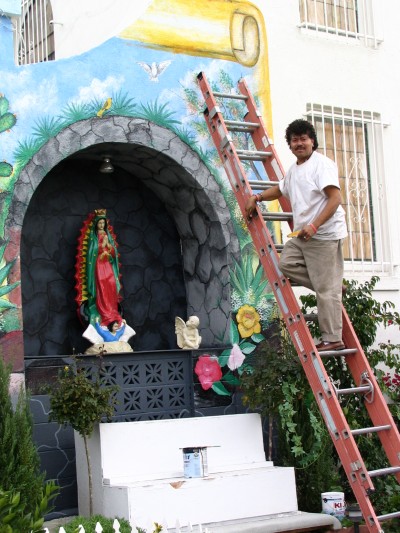 Then a few doors down on a side street, here is a guy actually painting a mural. Lee is in heaven! The artist's name is Emilio, and he's doing a corner of a small, neat little church with a nice garden out front, Guardian Angel Catholic. It's right next to a small business that sells stock footage, not something you'd find in most towns. My guess is that if you're making a documentary and want that shot of a Japanese kamikaze being riddled with bullets from an American cruiser, this is the place you'd go.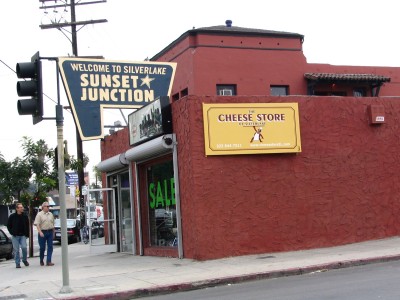 And then, Sunset Junction. We're in the Silverlake neighborhood now, and in the last few decades this place has improved a lot. It's now a desirable place to live, with a lot of small but hip restaurants and small but hip stores. I duck into a store called Giant Robot, thinking it might be the sort of toys I collected for a few years and am trying to sell now on eBay (not right now, but after the Christmas holidays). There's nothing of interest in there, just some weird Japanese stuff. I come out after a few minutes … and Lee's gone.
This is the first time this has happened. She often falls behind, taking pictures of this or that, and since she walks much faster than I, she easily catches up again. I'm pretty careful not to get out of her sight. This time she had stayed on the south side of the street to get a picture of something or other, and I waved at her from across the street, thought she saw me, and went into the store. Turns out she didn't see me, and she continued on, thinking I was ahead. This left me with a conundrum. I figured she was probably ahead, but I had no hope of catching up with her. Still, she might have gone back to the car, in which case, if I kept going down Sunset, I'd never catch up with her. What to do?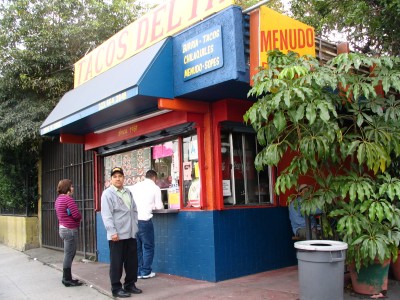 Well, there was a taco stand nearby, Tacos Delta, with a pretty large menu and a nice little patio in back. I ordered a couple of chili verde tacos and sat on a bus bench to wait for her. Time went by. Quite a bit of time.
I later realized what the problem was. This is absolute prime wall mural territory, one of Lee's favorite places in LA. These are some of the best murals we know about, a lot more sophisticated than the ones we passed the day before. She got so caught up in taking pictures of them that I'm surprised she didn't end up in Lake Michigan before she realized she hadn't caught up with me. So, eventually, I went back to the car …
… and was getting into it (no Lee), when I remembered she had the cell phone with her. Duuuuh. I still just don't think in terms of cell phones. I know, most people these days live a large part of their lives talking while driving, walking, shopping, showering, probably even while having sex ("How are you doing down there, is it good for you, too?" "Sorry, you're fading … hello? Hello?"). But I don't. I'm even less used to using a pay phone. There was one a few yards from where I was parked. Do they still take change, or only credit cards, and do I have … what is it, a quarter? Yes! I had one. Now … what was that cell phone number?
I dredged it up, dropped a quarter (for six minutes) and Lee answered. She'd just passed Sunset Junction and was walking west on Santa Monica. What a relief. Now I wouldn't have to post her picture on milk cartons, nail flyers to telephone poles ($100 REWARD! NO QUESTIONS ASKED!!). We were reunited, and spent the next little time figuring out how we'd messed up, whose fault it was, etc. ("I didn't see you wave! I'd have waved back!" "You know I never get out of your sight when I'm ahead of you!") The verdict isn't in yet.
So we should have an even better selection of mural pics with this posting than usual, as she didn't even have me to distract her from them.
December 5, 2007
© 2007 by John Varley; all rights reserved