Coda: The Getty Villa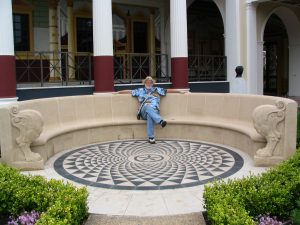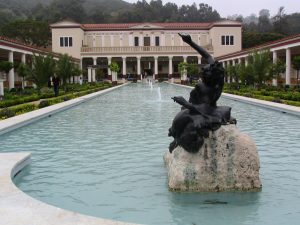 In 1945 J. Paul Getty bought 64 acres of hillside overlooking Malibu. He built a house and filled it with his stuff. When he had too much stuff for the house, he built a museum down the hill in 1954 and opened it to the public. When that filled up with more stuff, he re-created the Villa dei Papiri, in Herculaneum, which was buried by the eruption of Vesuvius in 79 AD, and opened that in 1974. Then he died.
By then he had so much stuff the trustees of his estate built the Getty Center, probably three times the size of the Villa, and moved most of the stuff over there, and began renovations on the Villa. That went on for nine years. The Villa reopened in January of this year, with only a small amount of Getty's stuff. Small compared to the Getty Center collection, anyway.
So it's all about having too much stuff. You and I, we get too much stuff, we rent a garage at Public Storage or U-Haul and fill it with old weedeaters and lawn furniture and boxes of Christmas decorations and busted-up chiffarobes and maybe a boat we seldom use. Getty's stuff was a bit different. His broken crockery was 2000 to 6000 years old. His lawn gnomes were made of marble and dated to 100 BC. Where we had pictures of old Aunt Betsey with no space to hang them, he had Rembrandts and Monets and Turners and Van Goghs. His unused furniture was Louis XIV, or one of them Roman numerals.
Having been closed for 9 years, the Getty Villa is now a must-see attraction in the LA area. And believe me, it's a tough see, too. Like the Getty Center, admission is free, but unlike the GC, it is small enough that they can't let just anyone arrive at just any time. You have to make reservations, not only for the day but for the hour. If you go to the Villa website right now, chances are excellent that you'll see there are no tickets available. When they open up a block of time, the tickets are snapped up in a day.
Shortly after we got here in January, I got lucky, found an open date in May, and was sent two tickets over the Internet, which I printed out. We'd been waiting eagerly ever since, and finally the day came around. They were for 2 PM. We went to Santa Monica quite early, had a nice Greek lunch on the Third Street Promenade (which I want to go back to, it looks quite nice), and then it was off to the Villa.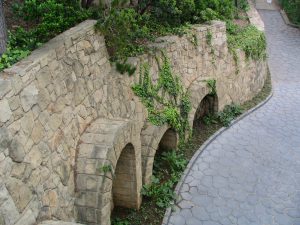 You drive up a replica Roman road and park in a big 3-level structure. Then you take a series of elevators and walks up to the Villa itself. This consists of a large 2-story building and a huge open courtyard called the outer peristyle. In the center is a long fountain with black metal statues here and there, all of them with white eyes and black irises. Lee found this creepy. I thought it was interesting, and apparently historically accurate, though these were modern replicas, as was the entire building. The walls of the peristyle were cleverly painted. Looked like a nice place to come and relax, which is exactly what it was for, in 78 AD. In 80 AD, it was entirely buried.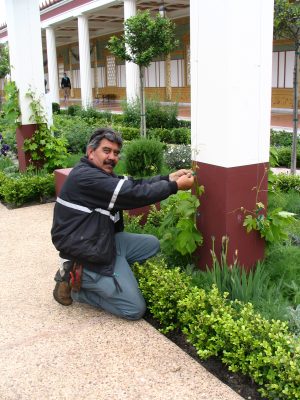 Since the place had only been open a few months, the plantings were quite young. There was a gardener training the grape vines, and he told Lee it would be two or three years before they covered the arbors. It was the same everywhere else. In time, the bare rock walls will be covered with ivy.
The inner peristyle and atrium contain the museum, in the rooms that would have been used for living space in the original villa. The decision was made to display only Etruscan, Greek, Roman, and some even earlier items from Getty's vast collection of stuff here at the Villa. Everything else went to the Center up on the hill. On the way out we talked to some local women who were making their first return visit to the Villa after the renovation. They didn't like it as well as they had the old one, because the rooms had formerly been filled with a broader mix, with furniture and paintings. I couldn't disagree with them, because I hadn't seen the original, but I myself am satisfied with the new arrangement. It doesn't really make sense to me to put 16th Century French antiques into a Roman villa, nor to hang 19th Century Impressionists. The bronze, iron, and marble items here fit in perfectly.
The stuff is arranged with some imagination. The very oldest stuff is together (and some of it is amazingly like Inca, Maya, Aztec, and even North American Indian pottery from much, much later). Then, instead of grouping the rest by period, much of it is themed. Mythological characters, the Trojan War, the Theater, Gods and Goddesses, Monsters and Deities, Greco-Roman Egypt, Women and Children in Antiquity, many others.
If you're planning a visit … we got through the whole thing in 2 hours, though obviously you could spend much, much more time there if you were inclined. For ourselves, we've found that between 2 and 4 hours is about right to see a museum. After that my eyes begin to glaze over and I know I'm not appreciating things as well as I might. With most places, you can always go back, but you can't count on that with the Villa, given how hard it is to get in. So see everything you can. You can save some time by eating there. They have what looks to be a fine restaurant, and if it's anything like the one at the Getty Center, the food will be good and not even that overpriced!
June 7, 2006
© 2006 by John Varley; all rights reserved