"If you come to a fork in the road … take it"
Yogi Berra said that … I think. One thing I'm sure he did say is "I didn't really say all the things I said." So who knows? Whatever, I never thought it was advice I'd actually take, but like someone said, it ain't over until it's over. Sometimes when you come to a fork in the road, you should take it. After all, if you don't know where you are going, you will wind up somewhere else. Here's the deal …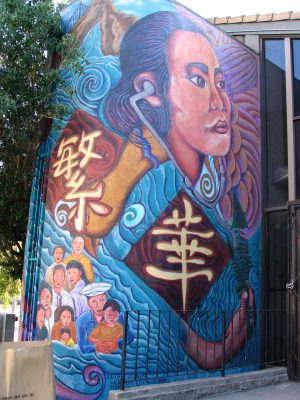 The original Route 66 came through the Arroyo Seco and joined Sunset Boulevard at either Figueroa or Broadway, I haven't been able to determine which. But then in 1940 the Arroyo Seco Parkway was built, following the old route. It was no longer possible to walk along it. Later, that was improved to become the Pasadena Freeway, also known as the 110. Then it began to get confusing. In the '90s there was a revival of interest in historic Route 66. Many communities along the old route began advertising themselves as such, putting up signs directing you to where the old road ran. Los Angeles was not to be outdone—after all, this is where the Mother Road ended—so we somehow ended up with two Route 66 alternates. Was this the result of rivalries between neighborhoods where the old road used to run? I don't know. But somewhere in the tangle of streets where 66 used to join Sunset, the road now forks in no less than three directions:
One starts in Cypress Park and follows Figueroa south of the Mount Washington area, through The Avenues in Highland Park and Garvanza, and all the way out to Eagle Rock, where Figueroa ends and the route becomes Colorado Boulevard, running south of the 135 freeway, the Rose Bowl, and right into downtown Pasadena.
The second fork goes down Broadway through Chinatown, crosses the river, runs between Lincoln Heights and Happy Valley, then becomes Huntington Drive as it goes through Montecito Heights, El Sereno, and Monterey Hills before skirting the edge of Alhambra and turning north along Fair Oaks Boulevard in the town of South Pasadena. Then it, too, joins Colorado Boulevard.
The third route is the Pasadena Freeway itself, which dead-ends almost a mile short of where it was intended to hook up with the 210 Freeway, one of the few times where the LA highway planners didn't get their way.
Fork Three is obviously out of the question. We intrepid urban explorers will brave much to achieve our goals, but walking on freeways is right out. So … which way should we proceed? I guess the answer is obvious. We've come to a fork in the road, and we're going to take it!
Route 66N – Mount Washington to Highland Park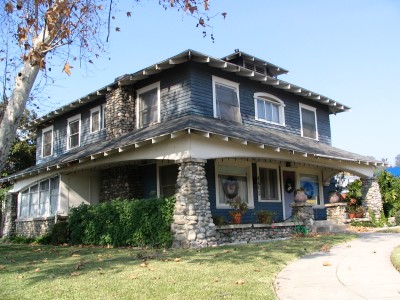 All along Figueroa Street you can see the remnants of what it used to be, in the form of magnificent old two-story Victorian homes, some of them almost qualifying as mansions, others quite decrepit. They are dotted here and there, but 90% of the area has been torn down and replaced with small shops, apartment buildings, what a developer would see as "more efficient" use of the land. It's too bad, but it's also true that not many people can afford houses like that anymore, nor do they need them with the smaller families we have these days. And, in fact, most of these grand old ladies have been converted to other uses. But a few of the survivors were moved just ahead of the bulldozer blades into a little cul-de-sac at the bottom of the Mount Washington neighborhood, called Heritage Square. We plan to visit there soon, and will report on it.
The first thing we passed that was worth noting was the Florence Nightingale Middle School, a sprawling old campus that looks like it might date from the '40s. Each of the buildings has its function written on the outside: Auditorium, Gymnasium, Cafeteria, Administration, Mathematics. I doubt there's a math department in that building. Schools aren't organized that way these days. In fact, the outside still announces itself as a Junior High School, which is what they were calling those grades, 7th through 9th, when I was going to school in Nederland, Texas.
North of Figueroa is Mount Washington, which is the most upscale neighborhood on the east side of LA. As everything else over here, it has been predominantly Mexican-American for a long time now, though the hill itself has gentrified a lot … again. Originally it was a very posh neighborhood, dating back to the days before the automobile. The streets were too steep for horse-drawn vehicles, so there was a funicular railway to get you to the top. Many old mansions still remain up there, and plenty of newer large homes. The views of LA and the San Gabriel Valley are spectacular.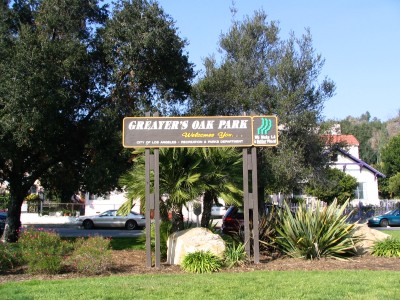 There's a little triangle of grass, a traffic island, called Greayer's Oak Park, one of many in the LA area, with no benches, amusements, water fountains … nothing but grass and a few trees. (A mighty cheap way of increasing the area of land you can point to and say "Park!" when the demographic people come calling.) Someone has put up an official-looking sign that declares it to be part of the Island of LA Nat'l Park. You gotta be kidding, right? But a website was listed, and we discovered that it's basically a sort of performance art project: "These spaces have been designated for artists and other individuals such as humanitarians and micro-entrepreneurs as places of everyday communication where private residents can come together and interchange about matters of life." Whatever that means. They will be participating in something called "The Hugely Tiny Festival" in February. Maybe we'll go. I'd like to see something hugely tiny. Getting bored with hugely gigantic.
As in most Hispanic neighborhoods, this one is full of murals and brightly painted Mexican restaurants, many of them little more than shacks with patios attached. Mexicans seem to really like yellow, sort of like the Chinese like red. Lee was in heaven, determined to take pictures of all of them. She'll be posting the cream of the crop along with this account.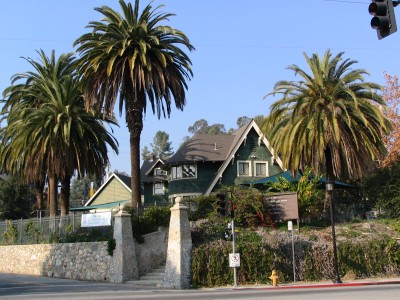 One of those surviving Victorians is now a day-care center: La Casita Verde (little green house), in the old Ziegler Estate, built in 1904 … and is actually, I discover, a blend of "Queen Anne with Craftsman and Shingle styles." God bless the Internet … though I still can't distinguish between a Victorian and a Queen Anne. Wikipedia also finally clarified something that had been bothering me, which is that there is the "Arts and Crafts" style," and the "Craftsman" style, and they are two different things. This area is really full of Craftsman houses, which Lee and I both adore, with their big porches, pillars, and huge eaves.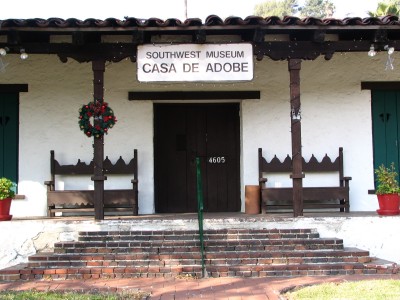 Next we walked past the Southwest Museum Casa de Adobe, which was locked up, this being Sunday. It's part of the Autry Center, which is divided into two parts: one museum for the cowboys, and one for the Indians. The cowboy part is a big, fairly new building (1988) in Griffith Park, right across from the zoo. The Indian part looms over the Mount Washington neighborhood, atop a high hill, and is one of the oldest museums in Los Angeles, built in 1914. The Southwest Museum is a little shabby, especially compared to the swanky one in the park. We've already visited it, which was lucky, as it is currently closed down undergoing massive renovation and earthquake retrofitting, due to open again in 2009. Across the street is Sycamore Grove Park, complete with band shell and community buildings. There are a lot of parks in the area, including Ernest E. Debs Regional Park and Rose Hills Park, across the freeway from where we were walking. We haven't been there. The map shows very few roads into it, but lots of trails. Sort of like Griffith Park, I'm guessing.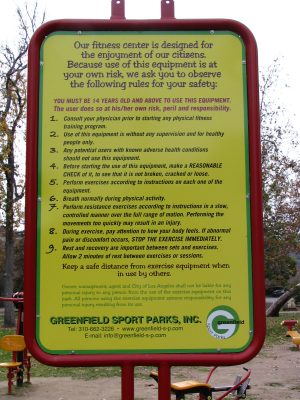 Something new in Sycamore Grove is an outdoor fitness center, built for the city by Greenfield Sports Parks. This is about a dozen sturdy, colorful bits of equipment that, at first glance, looks like a playground. And I guess it is, if your idea of play is to tone up and lose weight, and if you're over 14 years old, which is what they recommend. It's all well-designed and easy to use, though some looked like more fun than others. We tried out a few of them. Lee fell in love instantly. We're hoping the city will install one of these in our area. Lee swears she'd use it, and maybe I would, too, except the ones that are hard on my knees. The place is also built right next to a real playground, the sort for the ages who don't need any excuse to exercise, though they call it "play." It's situated so moms and dads can keep an eye on their kids as they work out. It was getting a fair amount of use while we were there, and we understand that sometimes there are lines of people waiting their turn. I'll be interested to see how it fares over the long run, in the grueling urban environment of gangs and taggers and people who just seem to be affronted by anything useful and pretty, and have to figure out a way to destroy it. You've seen the results of their depredations. Toilet smashers, graveyard vandals. You can't help thinking that if they channeled all the rage and ingenuity into something useful, they'd be rich.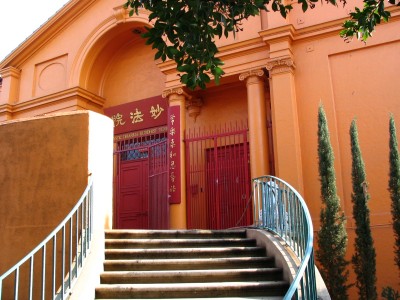 Soon we were out of the rather shady and sylvan area and back onto a bustling commercial street. We passed something called Builders of the Adytum, a total mystery to us until we got home and wikied it. Turns out to be a real woo-woo joint devoted to Tarot, Astrology, and Qabalah. (Isn't that what Madonna's practicing this week?) Down the street from it was a Buddhist temple that was about the same bright orange you see on monks strolling down the street.
Route 66S – Chinatown Again, and Lincoln Heights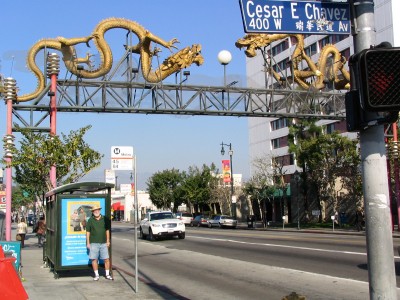 Once more under the Dragon Gate … we've been in Chinatown many times now, including on the river walk when we had to pass through it because there was no way to walk through the train yards that line both sides of the Los Angeles River at that point. So I won't have a whole lot to say about it. Lots of red, lots of buildings with pointy upturned corners to keep the dragons from roosting there. Lots and lots and lots of crowded shops selling the same ornate schlock, in red and gold, and those twisty bamboo things. Who buys this stuff? Much of it is way too big for souvenirs, and anyway, Los Angeles Chinatown is not nearly the tourist magnet that the San Francisco one is. I imagine stepping into the homes of any of the Chinese here and finding rooms so cluttered with this stuff that you can hardly move. Like the Victorian Age, only mostly red. The Chinese love red.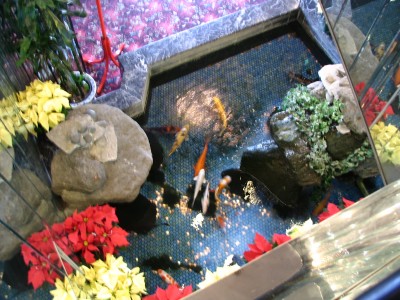 We found a great place for dim sum: The Ocean Seafood restaurant. Not a very imaginative name, as Chinese names go, but it had a very nice lobby, full of mirrors and koi, and the food was very, very good. We could have dined on the sweet shrimp and walnut dish alone, but sampled a few others as well.
We walked to just short of the Broadway Bridge over the river, and called it a day.
Just south of Broadway and across the Gold Line tracks is one of the most underused open spaces in the city, identified on the map as Los Angeles State Historic Park. We've entered it before, and found nothing but a parking lot, some long, low sculptures made out of glass in metal cages, and a lot of weeds. There's never anybody there. There's a few walking paths, but no other amusements. It's very close to Chinatown; you'd think people would use it more. Some trees would help.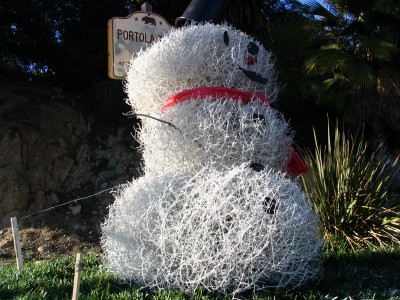 The Parks and Recreation Department has decorated all the entrances to Elysian Park with clever "snowmen" made out of tumbleweeds.
Over the 1911 Buena Vista Bridge and we were in Lincoln Heights, which is a bit better than Boyle Heights, but not much. It's one of the most densely populated areas in LA, and it used to be Italians, but now it's Hispanics, with some Vietnamese. It's an unremarkable commercial street, with a few remaining old Victorians, like in Mount Washington to the north, to remind us all of its glory days. As in that area, some few of those old homes were saved, moved to Heritage Square, and renovated as a public showcase of how the upper middle classes used to live.
Once again, an area rich in murals. We went as far as Abraham Lincoln High School, and the end of Broadway, before turning back. From here we will briefly walk on Mission Road before getting onto broad, tree-lined Huntington Drive, which will take us into South Pasadena. See you then!
January 4, 2008
© 2008 by John Varley; all rights reserved