Colorado Boulevard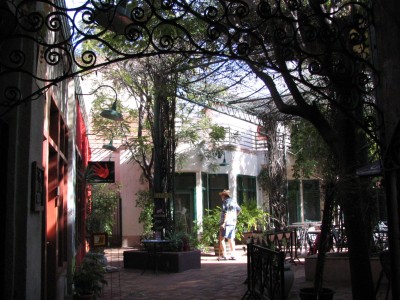 This will be the last leg of our Route 66 walk, a straight shot down Colorado Boulevard, which is sort of the main street of the northwestern San Gabriel Valley and runs a long ways until it curves south at Santa Anita race track. There Route 66 becomes Huntington Boulevard through Arcadia, Monrovia, and Duarte, then Foothill Boulevard in Azusa, and for a brief time in Glendora is actually called Route 66! Then it becomes Foothill again through San Dimas, La Verne, Pomona, Claremont, Upland, Rancho Cucamonga, Fontana, Rialto, and into San Bernardino. There it cuts north on Mount Vernon Avenue, becomes Cajon Boulevard paralleling I-215 through the little communities of Muscoy and Verdemont before joining I-15 in Devore, then through the Cajon Pass and on into the high desert and toward Las Vegas …
… but wait … back up a bit … did I hear the thunder of hoofbeats? A trumpet summoning all entrants to the starting gate? Do I smell horseshit? Hey, they're racing again at Santa Anita! Oh, hell, Lee, let's end the Route 66 walk back there, what do you say? Do we really need to seek out the wonders of Pomona and Muscoy? I feel like a day at the races …
But first we have those last few miles in Pasadena.
There's a lot of Indian restaurants in downtown Pasadena, and a lot of little alleyways full of nice shops and more restaurants. Many of the buildings are quite interesting, too, and of many and varied designs, but I can't find a lot to write about them. Lee will certainly show you a selection. After a few blocks of this I suggested we head north a bit, to where it looked like there was some really interesting stuff. We've said all along that we don't have to stick religiously to the route. Side trips are permitted.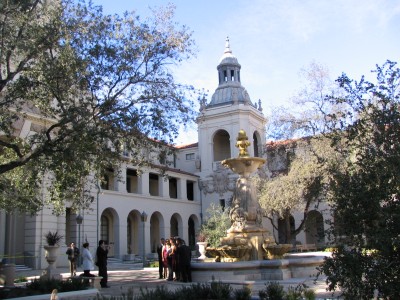 Pretty soon we came to the City Hall, which is a large and lovely building that is almost done with its mandatory earthquake retrofit, so it looks spanking new. It has a beautiful tower and a courtyard that is newly planted and needs a year or so before it fills in, but should be quite nice when it's done.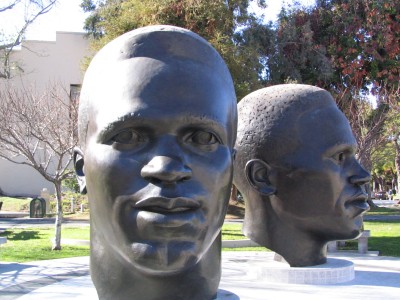 On the grounds is a truly massive monument to Jackie Robinson and his brother, Mack, who some say could have been a better athlete than his younger brother. You also can't help thinking that history might have been very different if their mother hadn't moved them from Georgia to Pasadena when Jackie was an infant. They encountered prejudice in California, sure, but nothing like he would have had to deal with in Georgia. In Pasadena he was able to attend school with white kids, and go to UCLA.
The monument is two massive heads, much bigger than me. It's a bit overwhelming standing near them. But that's when you see that, hidden in their hair, are scenes of their achievements in sports. It's sort of neat, finding them, like a treasure hunt.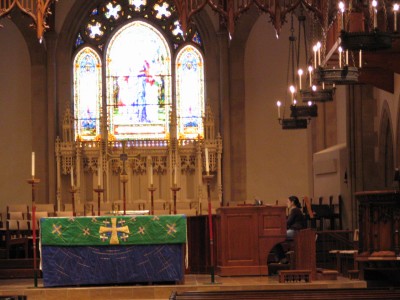 Across the street is the All Saints Episcopal Church, and—amazingly!—it's open almost all the time. On our walks we have tried the front doors of many, many churches, and they are almost all locked. It's sad, really. I suppose they have to do that, there are vandals everywhere, but I'm old enough to remember when most churches were open most of the day and into the night. You could walk right in and take a look around. I'm not a worshipper, but I'm a big fan of the architecture of grand old traditional churches. (You can have the modern ones, they mostly do nothing for me.) The Catholics usually have the best, but you never know until you step inside … which you can seldom do, unless you happen by when they're holding services. This one is great, with fabulous stained glass. And we happened to be there when the organist was practicing. They have a huge organ, with pipes on both sides of the nave and in the choir loft in the rear, and the sound really filled up and shook the place.
South of the church is the beginnings of the Plaza Las Fuentes, one of the more delightful public spaces we've seen on our walks. It's not overwhelming, and in fact you hardly realize just how extensive it is until you start walking through it. There are wonderful tiled walls (Lee was in heaven; she loves tiles), and the use of water is low-key and very fun. It seems to be meandering everywhere through low channels, with here and there a whimsical sculpture of a pond animal. At the south end are restaurants and other businesses, and to the north is the Westin Hotel.
We passed by the Asia-Pacific Museum, which we've visited, and which is currently embroiled with several other area museums, including the biggie, LACMA, in some sort of artifact-looting scandal. Seems they've been playing fast and loose with provenance, or at the very least not asking too many questions. It's a nice little museum. Rather small, but a good collection.
Back on Colorado Boulevard, we found ourselves in the "Playhouse District." So we detoured half a block south to visit this old landmark, the 1925 Pasadena Playhouse. It looks grand from the outside. We're considering going to a play there.
Once more back on the Boulevard … we passed an old, empty department store that was being used for "installation art." That means big assemblages of stuff in three dimensions. Mostly it's self-indulgent crap, but sometimes it can be fun.
Several days later.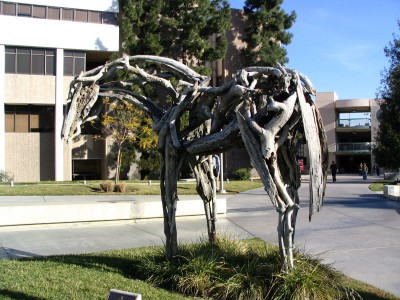 Pasadena City College fronts on Colorado Boulevard and doesn't look very big, but it goes back for a quite a ways. We wandered the campus for a while. The main building said Pasadena Junior College, 1936. I'd have to describe the architecture as "functional." Not a lot of frills, no ivy-covered walls. But it's California, and it almost can't help being pretty, with lots of flowers in beds. This is the home of the NPR station we listen to most, KPCC. Jackie and Mack Robinson both went to John Muir, one of the two schools that later merged to form PCC. Octavia Butler went here, and Clive Cussler, William Holden, Kenny Loggins, Nick Nolte, Kim Carnes, and David Lee Roth. Also, two they probably don't brag about much: Sirhan Sirhan and Fred "God Hates Fags" Phelps. They have a nice library, and behind it the map said there was a sculpture garden, like the one we visited at UCLA. Well … not quite. I counted three sculptures, but hey, it's new, and you gotta start somewhere, right? The horse made out of driftwood was very nice.
There was also an art exhibit with some very puzzling clay pieces. Wha ….?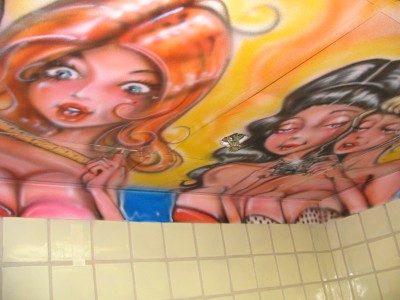 On the way back home we stopped at Fred's Mexican Restaurant downtown. It is fabulously decorated, every inch of it, and the food was very good. The men's room was pretty funny. On the wall and ceiling above the urinals there were paintings of women looking down at what was happening below. One had a camera, one had a ruler, and one had … a magnifying glass. I borrowed the camera from Lee and tried to get pictures of it, but it was hard to get good ones, as I wasn't willing to lie on the floor to get a good angle.
And at last, the end is in sight.
These last few miles of Colorado Boulevard are not the most interesting in the world. It's a mix of old and new motels, a few restaurants, and a lot of car dealerships. Neither Lee nor I are very interested in car dealerships. I did see an '02 PT Cruiser for $6,999 … but the old Intrepid is still purring along great, at about 99,750 miles … You know, they really do make cars better these days, even in Detroit. Used to be, reaching 100,000 miles was pretty awesome. My last car made it to 200,000 with only a transmission re-build at about 125,000.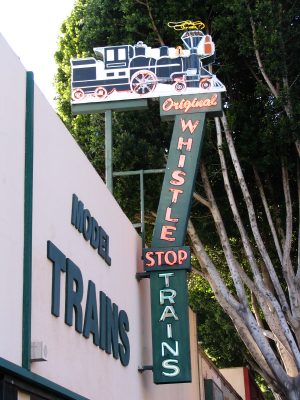 The most interesting shop along the way was Whistle Stop Model Trains. Amazing! They had stuff for all the serious gauges, but most of the best stuff was N gauge. There was an intensely detailed layout, not small, but nowhere as large as some displays I've seen, that wound through a series of bridges and tunnels, and passed through a mining camp. This was all surrounded in Lucite about 4 feet high, and where the mine was there was a button you could push to turn on some little lights within the mine, and then look through a window, "underground," and see the tunnels and carts and little men hacking away! Model railroad people are obsessive! I love 'em.
We goggled at some of the locomotives on sale … and at the prices. Most of them were over $1000. One engine, maybe 12 inches long and 2 inches high, was going for $3000. Not the sort of toy you let your children play with … in fact, most of the people in this store would be horrified by the very idea of children. These are not toys!
Eventually we came to Michillinda Street, the boundary between Pasadena and the town of Arcadia. Now Colorado Boulevard was hugging the southern lanes of the I-210, and about 100 yards ahead, just around a bend …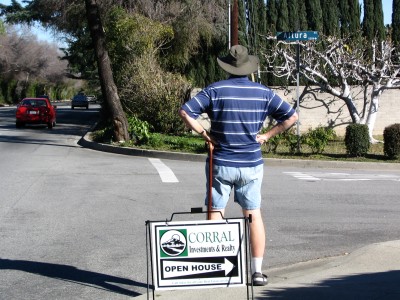 … the sidewalk ended. We hate that. We believe that any big main street ought—by law, if necessary, but by simple common courtesy, goddamit—to have a sidewalk on at least one side. Arcadia is far from the only guilty city or neighborhood. We've encountered many of them on our walks, most notably Bel-Air.
But the town of Arcadia adds to the unwelcome feeling by posting signs (like others we've encountered, such as South Pasadena), making it illegal for non-residents to park on any city street between midnight and 6 AM. It's as if they're still in a state of shock from the invasion of Okies and Arkies fleeing the Dust Bowl during the Great Depression. Except, of course, that a lot of the people who wrote that law, and probably laws regarding vagrancy, loitering, camping, and generally being a dirty, lazy, drug-addicted, possibly Mexican, homeless person, are Okies and Arkies, or their descendants. How quickly we forget!
Still, I guess they may be needing those laws again, and it might be sooner than Arcadians think. Only this time the homeless folks might be coming from the west, foreclosed on and kicked out of places like Santa Barbara, and Burbank, and the San Fernando Valley. Think of them as Barbies, Burbies, Fernies. Can you imagine it? Can you see the big yellow or black or silver Hummers, Escalades, Range Rovers, and Lexus LX-470s with the newly-scratched and unrepaired bumpers, 52-inch flat-screen plasma TVs strapped to the roofs, the backs packed with Cuisinarts and Bang & Olufsen stereos and Stairmasters and laptops and soccer uniforms and Mitzi, the Shar-pei? See the frazzled moms at the wheels, nails chipped, hair black at the roots, pulling over every two miles to fill the tanks again with their last, dwindling credit cards? Can you hear the kids crying piteously because their cell phones no longer work, and the charges on their iPods are running out? Can you smell the unemployed dads on the floor in the back surrounded by the last, empty bottles of Glenlivet and Stoli? Oh, the horror! Oh, the humanity! But don't let the sun set on your asses in Arcadia, you shiftless bitches! Keep it movin' and don't stop till you reach the county line or the Atlantic Ocean!
If bad times are coming, and it sure looks like they are, I guess I'm hoping they'll get here sooner rather than later so we can get it over with, and so the Republicans will have to try to blame it on a Democratic Congress instead of the new Democratic president. (Never on eight years of Republican cut-taxes-but-spend-anyway profligacy!)
It's a sort-of tradition at the end of these walks for me to throw my hat away. Not this time, though, as I just got this one and I spent $20 for it! That's a new high for hats, for me. Usually it's between $5 and $10. So I had Lee take my picture at the city limits and left it at that. Then we backtracked to The Original Tops (Since 1952) and had lunch. My cheeseburger was excellent, charbroiled and with crispy bacon. I'd recommend this place for burgers. Hit it before going to Santa Anita. It's cheaper.
© 2008 by John Varley; all rights reserved