The Strip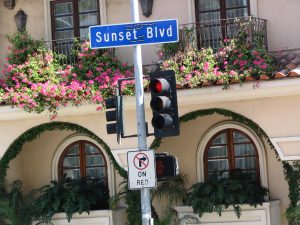 Today we plunge into West Hollywood. Which is just like Hollywood, only gay.
Not entirely, of course, any more than Castro Street in San Francisco, but you know what I mean. Drop down to Santa Monica Boulevard or Melrose and you often see more same-sex couples than hetero. I once stayed at a hotel on Santa Monica, and it happened to be Halloween. I heard a commotion from my 10th-floor room, went out on the balcony and saw more trick-or-treaters than I've ever seen anywhere. Wait a minute, these weren't kids, they were mostly beautiful women. … wait a minute again, they were mostly men dressed up as women. Imagine Mardi Gras and Key West Fantasy Fest and Chinese New Year all rolled into one. It was fun to watch. Never saw anything like it until the Gay Pride Parade down Market Street in SF.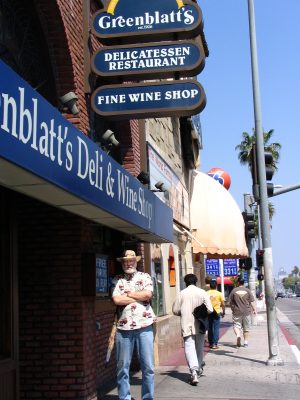 First thing, we stopped at Greenblatt's for a pastrami sandwich to go and ate it at the shopping center across the street. When Chris and I were living on the street, on Sunset, we made a friend, Peter Brocco, who had a place in Laurel Canyon just a few houses up from the Canyon Store. (He bought it for not much money in the '40s. I just looked it up, and it would sell now for $1,170,000.) He let us stay with him quite a few times and was always good for a free meal. The man could really cook, and he frequently shopped at Greenblatt's. Back then it had more than deli food, it had fruits and veggies that were the best in town. Many times I drove him down the hill to the deli and helped him shop. Pete was getting old enough that he didn't like to drive, especially backing out into the perpetual traffic coming down the canyon. Pete was an actor, a bit player mostly, who began his career in 1932. He was in such films as The Boy With Green Hair, Boston Blackie's Chinese Adventure, Miss Grant Takes Richmond, The Great Caruso, and Frances Goes to the Races (starring Donald O'Connor and Francis the talking mule!), but usually if you blinked you might miss him. He had a fairly large role in Jekyll and Hyde … Together Again. He was blacklisted in the '50s for some bullshit, but seems to have found plenty of work anyway. His credits include an incredible number of TV series from the early days right on into the '80s. I saw him quite a few times over the years, when I came to Hollywood to work. He was gradually going blind. We'd get together and I'd take him out to dinner. He was thrilled at my movie career, so I always took him to the best places. Peter died in 1992, a few weeks short of his 90th birthday. Ah, so many memories sparked by lunch at Greenblatt's …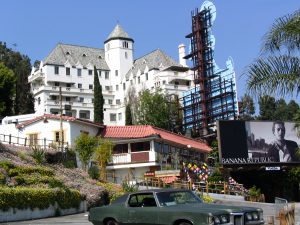 Next in line on memory lane is the Chateau Marmont. You're probably heard of it. It's a Hollywood legend, built in 1929. John Belushi and Helmut Newton both died there. Jim Morrison fell out a window and survived. Led Zeppelin once rode their motorcycles through the lobby. The other guests applauded. It's that kind of place. Expensive (starting at $335/night, these days), yet laid back. For some reason it's been a tradition for out-of-town screenwriters to stay there. I stayed there for a couple of weeks. The suites are nice, with antique rugs and furniture. It may have been the only hotel in LA with no air conditioning. (Don't know if it still doesn't have it, but most of the windows are open.) Rock stars seem to like it, too. Maybe because it provides a more interesting class of furniture to trash. It is sort of hidden away, off the strip, so it's been a place for illicit trysts, a place where stars go to not be seen. I spotted several during my short stay there.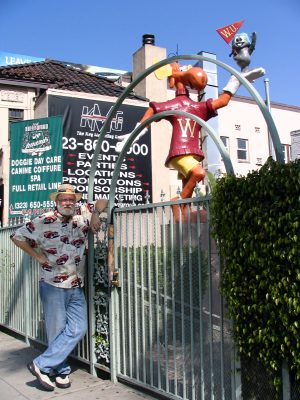 For many years there was a billboard between the Chateau and the strip, advertising Las Vegas, with a gigantic showgirl endlessly rotating. Gore Vidal wrote about her in Myra Breckenridge. Jay Ward Enterprises had the small building right across the street. One day, a giant statue of Bullwinkle appeared in his courtyard, holding Rocky the flying squirrel up in the air, in exactly the same pose as the showgirl. Bullwinkle is wearing a Wassamatta U. sweat shirt.
Jay Ward's building is now a dog grooming parlor, but moose and squirrel are still there.
A little farther down the road is the Cabo Cantina, which Lee believes is the site of Woody Allen's misadventures trying to drive a big car in Annie Hall. We really ought to see that again and find out for sure. (Later: I checked, and she's right. 8301 Sunset Boulevard.) This is the "mixed" part of the Sunset Strip. By that I mean there are some very expensive places, and some more down-to-earth. Pretty much all of it is expensive, though. We passed one hotel whose sign said parking was $5 for 20 minutes, up to a max of $25. So for that you get less than two hours. Registered guests: $23. Jeez, how generous!
Then there's Carney's, which bills itself as the best hot dogs in Los Angeles. Weinershit! The best dogs in LA, as everyone knows, are at Pink's, La Brea and Melrose. Try it someday, but be prepared to wait in line. Sometimes a long line. Try it at 3 AM; they're open 24 hours a day, and have been there for 75 years. The walls are totally covered with signed photos of famous people who have eaten there. And it's not just promotional hype. They really have created the perfect chili-dog.
Then there's the Saddle Ranch, a hot club which looks like it was pulled up out of Sam's Town in Las Vegas and dumped onto the strip. They have mechanical bull riding inside and plaster whores standing around outside. While we walked by we watched a gold Lamborghini pull in. The young woman who got out looked like she dressed at Out of the Closet … but had probably spent a grand on her faded jeans.
Then there's the House of Blues, a giant rusted sheet-metal shack with valet parking, the Comedy Store, the Trocadero .. all sorts of places to meet and be seen. Traffic is a nightmare on Saturday nights.
We discovered something called Hart House, just off the Boulevard. It used to belong to William S. Hart, the first movie cowboy. He was both a real cowboy and a trained actor, and came to Hollywood determined to do something about the wildly inaccurate portrayals of the wild west he'd been seeing in the Nickelodeons. He made a lot of films, and they were quite good, but eventually the public preferred guys in big silly hats like Tom Mix. Hart also owned a ranch in Santa Clarita, which is now just across the freeway from Magic Mountain. He donated both his homes to the county on the condition that they be used for the promotion of the arts, and they're now parks and museums. The one in West Hollywood is used by the Actor's Studio … and a lot of dogs. Part of the grounds is a "Trial off-leash dog area," in super-progressive West Hollywood, the only town in Cahleefornia that has outlawed the de-clawing of house cats. Don't get me wrong, I think city dogs need a place to run (and screw, if our brief time observing in the park was any indication), but I'm sure I'll always think of it now as Doggy-Doo Park.
Last stop, the complex intersection where Crescent Heights crosses Sunset and promptly gets tangled in an indecipherable mess as it tries to figure out when and where it becomes Laurel Canyon. There is a point where Laurel Canyon seems to run parallel to itself, and I know for a fact that if you make the wrong turn you can find yourself on your way to Santa Monica or heading west on Hollywood with no place to turn around for many blocks.
This place used to be quite different. There was, and still is, a triangle of no-man's land in this mess. In the '60s there was a tiny little building there. Just one room, abandoned, boarded up, and I have no idea what it used to be. But it was covered with peace signs and rock concert posters, and permeated with a distinctive smell that some folks describe as sweet, others as acrid. Smoke, in other words. Not tobacco smoke. Inside, you might stumble around in the darkness before finding a square foot of empty space to sit. Then you could partake of the endless joints being passed around … or just inhale. It was that thick. The roaches—yellow Zig-Zag roaches, not cockroaches—were thick on the ground outside the windows. Lookouts would announce approaching police (who we called pigs; sorry, I never really liked it that much, but I went along), and the roaches would come flying out. Nobody ever got busted there that I know of unless they passed out with a pocketful of dope. And nobody ever walked out un-stoned.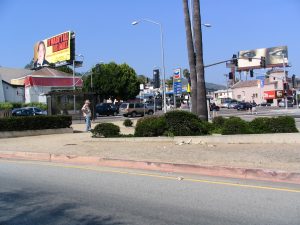 They've widened the road, put in a right-turn lane that almost obliterates the little triangle. Used to be, the traffic would back up here like crazy, and Chris and I could peddle our copies of the Los Angeles Free Press right in the road, and drivers would have plenty of time to dig out their money. When the papers were gone we'd go into the Old Dope House and breathe a little. Okay, maybe we toked a little, too. I suppose a lot of selling was going on in there, but there was plenty of free stuff going around.
Now it has been reduced to a mingy little gravel-covered nowhere-in-particular. A couple of shrubs. Would it be so hard to at least put down a little grass? The lawn kind? It's as if they had sowed the ground with salt and tried to cleanse even the memory of the old place and the now-aging hippies who used to groove there … and now only pass through with maybe a short pause to remember the way things used to be, and how we all thought society would have come to its senses by now and legalized marijuana. And sigh.
May 5, 2006
© 2006 by John Varley; all rights reserved