Silverlake, Again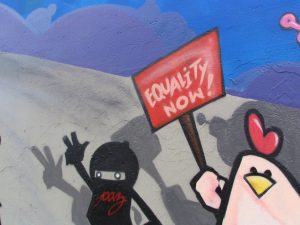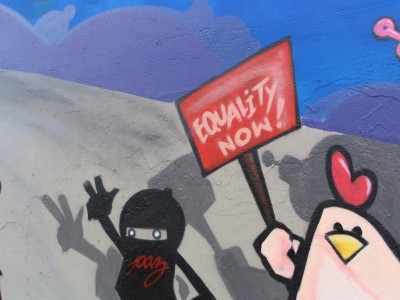 Well, it's now official. Lee has photographed every linear foot of Sunset Boulevard from Sunset Junction to Echo Park. This includes all murals, businesses, houses, stairways, hillsides, sleeping drunks, bus benches, light poles, garbage containers (and random heaps of garbage), and curbs for approximately two miles. You think Google Maps are extensive? You think that new Google Street Level feature shows you everything? Think again. They have nothing on Lee. In fact, it's getting damn hard to get any work done around here, what with Larry Page constantly ringing the doorbell and Sergey Brin calling up at all hours of the night, desperately seeking her permission to use her photos in place of theirs. But she's standing fast, insisting that she takes them only for your enjoyment, as a visitor to Varley Dot Net. Gotta admire that. Consider yourself lucky.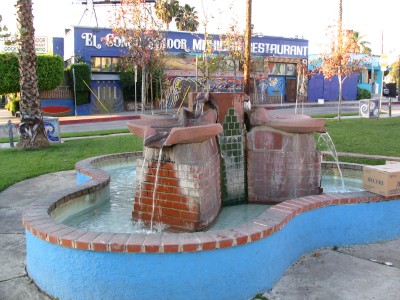 Since we've walked this stretch of road before, on our first epic urban exploration, I may not have a hell of a lot new to say about it. It's harder for me to find an area endlessly fascinating than it is for Lee, though I must say that if I could do so, Silverlake would be a good place for it. So I'll just park the car and let Lee take a lot of pictures, and then look at them and see what thoughts they inspire, okay?
I parked on the block where a slightly shabby and elderly little wiener dog named Bingo has been on patrol every time we come by here. He lives in a store called Pull My Daisy and he ambles up and down the block from the Kasbah Café to a coffee shop called Intelligentsia, making sure everything is okay in his territory and pissing on things. He's neither aggressive nor friendly; he just seems to think he has a job to do, and goes about it with a no-nonsense attitude. The street obviously offers no temptation to him, else he'd long ago have become a wiener schnitzel dog.
Before I could stop her, Lee leaped aboard a small Harley-Davidson and would have pulled out onto the Boulevard if she'd had a quarter in her pocket to turn it on.
Egad, even more murals! The artists seem to paint them even faster than the taggers can deface them.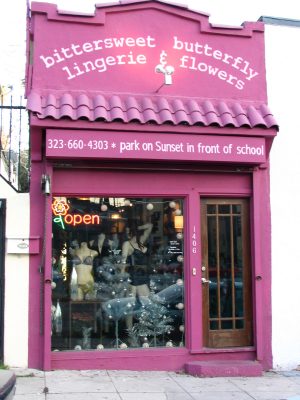 There are several shops along here that sell what strikes me as odd combinations of stuff. There's the Bittersweet Butterfly, lingerie and flowers. There's a shop that sells orchids, pots to put orchids in, and French bulldogs. Well, I guess technically the bulldogs aren't for sale. They bark and jump around like pogo sticks when you walk in the door.
LA is dense with Mexican restaurants, but to see two rather large ones literally side by side is unusual. El 7 Mares seafood and La Parilla share a building. This is the same people who run the La Parilla on Wilshire Boulevard, where I had cactus and want to try their big bowls of molcajete and ceviche. Excellent, probably the best Mex food we've had in Los Angeles.
We pass the Aroma Restaurant. This is a novel experiment, even for LA. It's for people who are on a diet, see, but who still want to enjoy great food. Dishes are brought to your table and you get to smell them and admire the artistic presentation, until they get cold, and then they are taken away. The head chef vigorously denies an accusation by a leading food critic that they have been serving the same dishes over and over, simply re-heating them in the microwave before setting them before the next guest. It boasts the best-smelling wine cellar in the city, too, for recovering alcoholics.
Funny the things you notice when you're walking. Until today I can't recall seeing a Blue Ice Vodka truck, but today I'll bet we passed eight or nine of them. It's as if FEMA suddenly noticed a critical vodka shortage in the Southland and dispatched a fleet of them to make sure no Harvey Wallbanger, appletini, black Russian, screwdriver, or Moscow mule goes unpoured. Or shaken, not stirred.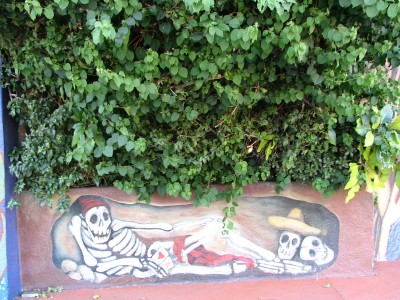 When we got back to the car it looked like it had been the epicenter of an earthquake in a cream pie shop. We looked up, and sure enough, there was a flock of smug-looking pigeons sitting on the power lines above us, trying not to laugh, pretending innocence. Yeah, right, must have been some other pigeons, man, we just got here. At least it washed off easier than the resin we got coated with that time we parked under a sycamore tree.
Echo Park, Again
Well, it's now official. Lee has photographed every linear foot of Sunset Boulevard from Silverlake to Figueroa. Those pleading calls from Sergey Brin are getting increasingly whiney. Suck it up, Serg, my man. You're a billionaire, how bad can it be?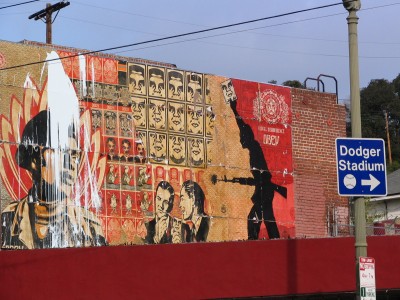 As in the last walk, I find that I've said most of what I had to say about Echo Park in my account of our first walk through here, the fabled Sunset Boulevard Walk. I can add that, in the entire time I lived here in the '60s, I was never aware that Dodger Stadium was only a Barry Bonds steroid-fueled home run away, over the next hill on Elysian Park Drive. That may be because I had absolutely no interest in baseball, and very little interest in discovering why the area would suddenly become jammed with impenetrable car traffic in the afternoon or evening, since I was mostly on foot. Or maybe it was because Barry Bonds was only three years old at the time and tearing up the T-ball diamonds of Riverside.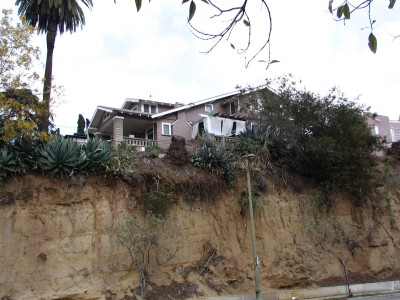 Large parts of Sunset through here look more than eager to collapse into the street, taking a lot of shubbery and palm trees and some very nice houses with them. Sunset mostly follows a valley between some serious hills here in Echo Park and in Silverlake, but here and there the road builders of long ago seem to have said "Screw this," and blasted their way through some sandstone you could bring down with a poke from a sharp stick. We were a bit relieved to get through this area, as mudslide, dirtslide, rockslide, sandstoneslide, and houseslide season is almost upon us, and heavy rain was forecast for the next day. Echo Park nail-biting season has arrived!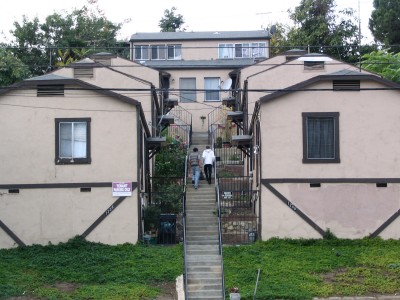 If it's not covered with mud by then, Echo Park is holding a Holiday Parade this Saturday from noon to three. We plan to attend, and we sure hope it is run better than this year's Hollywood Santa Claus parade, which had some great bands and some of your better third- and fourth-tier celebrities (and Shirley Jones and Bob Barker), but when the gaps between units stretched to fifteen minutes or so we bagged it, and beat the rush getting home. Parades should be run smartly, sharply, hup-two-three-foah! and you should at least be able to see the next unit coming around the corner of Hollywood and Vine while the current unit is passing you.
Antiques and big, colorful murals are the main industries in the western part of Echo Park. There's also a big business in concrete stairways. (You can tell long-time residents by their gigantic thigh muscles.) Lee loves murals, and she loves stairs. For once, I was making much faster progress than she was.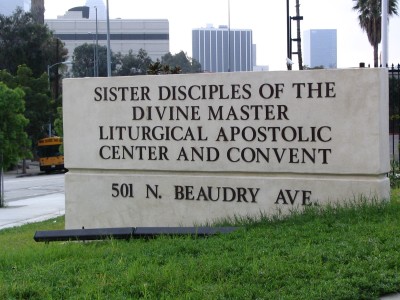 We went by a place that advertised itself as the Sister Disciples of the Divine Master Liturgical Apostolic Center and Convent. Whew! The sign didn't really tell me much, other than that it was probably full of nuns. But which "Divine Master" were they talking about? There have to be a million of them. Jehovah? Reverend Moon? Buddha? Jim Jones? Tom Cruise? Right across the street was a gigantic Korean church, covering a whole hillside. Two more properties taken off the tax rolls. Not far away is another tax-exempt property, the Our Lady of the Angels Cathedral, home to Cardinal Mahony, Archbishop of Los Angeles and recent winner of the Vatican Protect-a-Pedophile Award. I just figured out that if every Catholic in America paid an equal share of money the Archdiocese of Los Angeles has agreed to pay out, they'd each owe Cardinal Mahony $4.10. C'mon, guys! Dig deep!
And yet more murals. God, will the murals never end?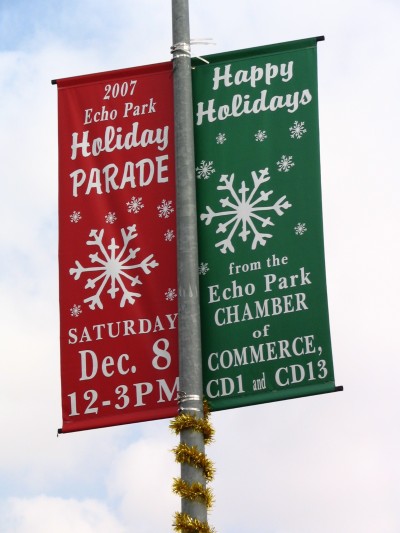 I mentioned that there was going to be a parade in Echo Park, and we'd probably attend. So on Saturday, with no trace of the deluge we'd been promised for the weekend, sunny skies but a little nippy at around 60 degrees, we drove down there and parked a few blocks off Sunset. We walked into the heart of Echo Park, not really knowing what to expect. The crowd wasn't large. We found a spot at Sunset and Echo Park Avenue where a sign had been draped over some plastic crowd barriers: HOLIDAY PARADE PERFORMANCE AREA. Sounded good to me. Across the street was a pickup with a lot of little trophies in the back. Most of them said PARTICIPANT, though a few had already been engraved with various prizes and awards. Seemed a bit strange to me—after all, the parade had only just started, down at Elysian Park, and we couldn't even see it yet. Looked like every group who marched was going to get a trophy. That's cool.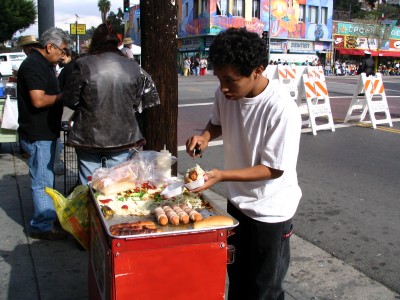 As I'd pretty much expected, the crowd was 95% Hispanic. There were lots of carts vending fruit and ices and those bacon-wrapped hot dogs I like. Bought a dog, and managed to get not a drop of mustard on my clothes. Maybe a first for me.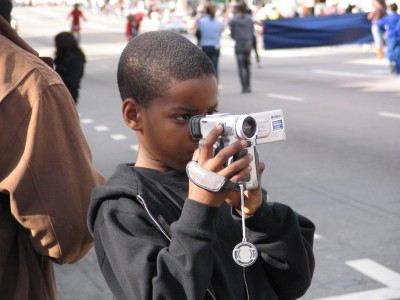 The parade must have started around noon, as scheduled, because the first units began passing us a little before one. First up was a group on strange bicycles. (What, no military color guard?) Then the first of maybe a dozen middle school all-girl drill teams. And that's how it went. I soon realized this was not going to be any Tournament of Roses … which I hadn't expected, and that's just fine. It reminded us of the Children's Parade down Sandy Boulevard in Portland during the Rose Festival; just a lot of people from the community having fun, showing their spirit. This wasn't even high school band level, like the Hollywood Santa Claus parade. All of the middle school bands were pretty bad … but that's what middle school bands are for, isn't it? A place to be bad, and learn stuff before getting into a good high school band? The people didn't seem to mind. This was a crowd of moms and dads: "Look, there's Maria, shaking her pom-pom! Doesn't she look great in her little skirt? Juan, are you getting this on the camera?"
The units came from as far away as … Beautiful Downtown Burbank! Grand Marshall was old-time Dodger Kenny Landreaux. The best groups, in our opinion, were the Allesandro Mini-Cheer Stars, near the beginning, who did some really good dancing to "Rockin' Around the Christmas Tree," and a group of grown women near the end, whose names I can't seem to find. (We were all given nicely-printed program booklets when we arrived that listed all the units and the order they were appearing in … but after the first few groups, they didn't match the reality very well.)
The LAFD truck sprayed water high over part of the crowd. Not over us, luckily enough, but that's always a kid-pleaser, even on a cold day.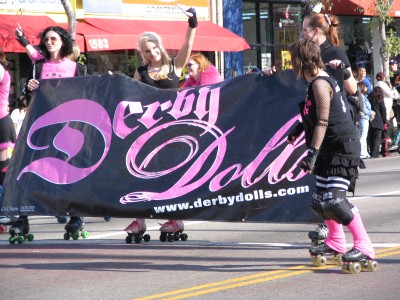 My personal award for most unexpected group: The Los Angeles Derby Dolls. Roller derby, if you can believe it! I didn't know that insanity was still going on. But they seemed to be having a lot of fun, and the crowd loved them. It's all for show, like the masked Mexican wrestlers near the end of the parade. The Dolls are organized into three teams, the Sirens ("We Have the Right to Remain Violent!"), the Tough Cookies, and the Flight Crew. They have names like Markie D. Sod, Ballbreaker, Haught Wheels, Kung POW Tina, Paris Killton, Broadzilla, Janis Choplin, and Apocalyptica. I find it hard to believe any of these Dolls make a living at this; I wonder what they do in their other lives. Librarian? Elementary school teacher? S&M mistress? Vampire?
This time, unlike the Santa Claus Parade (which we gave up on halfway through) there were no gaps, at least where we were. That's because whenever a group reached us, they stopped and did their thing, and then received their trophy. Which meant the parade backed up a lot on one end, and spread out after they'd passed the reviewing stand. The thing is, in front of Grauman's in Hollywood, or on Colorado Boulevard in Pasadena, the prime area is full of grandstands and you have to pay for a seat. (Probably already too late to get one in Pasadena.) Not here, so it was a lot more fun.
And at the end, a lot of great old cars, and Santa Claus. A nice way to spend a winter afternoon in the Southland.
Two parades down, two to go. Next, New Year's Day on Colorado Boulevard, and after that, the best one of all (I hope; we haven't been to one yet) … The Doo-Dah Parade, on the 20th, through Pasadena's Old Town!
December 11, 2007
© 2007 by John Varley; all rights reserved