The Alex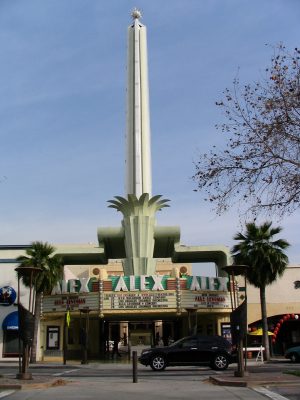 I seldom buy Los Angeles magazine. If you're seeking a place where you can pay $100 for a plate of sushi, this slick mag rag is where to start looking. Or if you're shopping for a $150,000 Patek Philippe wristwatch, you can't go wrong in the pages of LAMag. (I have a question for anybody who might know something about $150,000 wristwatches. How can people tell it's worth that much, and not just a cheap $50,000 Rolex? Do you wear it with the price tag still attached? Tattoo the price on the back of your hand, so people can see it when they ask you for the time? I can see no possible reason for wearing such a thing unless people know that's how much you paid for it. Help me out here, conspicuous consumers!)
But every once in a while the magazine offers suggestions to places to go and things to see in the LA area for those of us who wear cheap Seikos and know where to get a plate of sushi for $2. This issue was about movies (there's a novel subject!) and there was a page where Chris Nichols, a cinephile, listed his five favorite LA movie theaters. They were:
The Cinerama Dome. Lee hasn't been to this yet (it's expensive) but I saw Grand Prix there when it was new, and it's a great theater.
The Egyptian Theater. This is a work in progress. It's operated by the American Cinematheque now, and shows programs of classic and foreign films. We saw Eric Idle and the Rutles there a while ago. It's much improved from the late '70s, early '80s, when pigeons nested inside and rain dripped through holes in the roof. But the interior is still far from its old elegance. You go here for what's playing, not for the ambiance.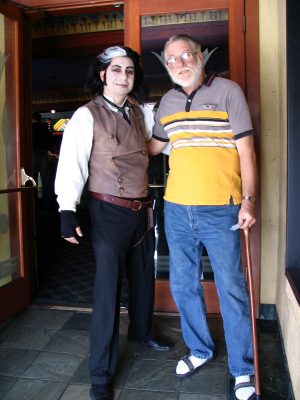 The Vista. This is one of our favorites, too. It's a neighborhood mini-Egyptian, and has a wonderful, tiny courtyard that apes Grauman's famous footprints in cement, only here the celebrities are folks like special effects wizard Ray Harryhausen, Vampirella, and Elizabeth Berkeley, the star of the disastrous Showgirls. The long-time manager will sometimes dress in costumes appropriate to the feature. When we saw Sweeney Todd there, he was the spitting image of the Demon Barber of Fleet Street. Plus, it has by far the most legroom of any public theater I've ever been in.
Grauman's Chinese. It's a multiplex now, but the original theater wasn't chopped up, and it's still splendid.
The Alex. … the … what?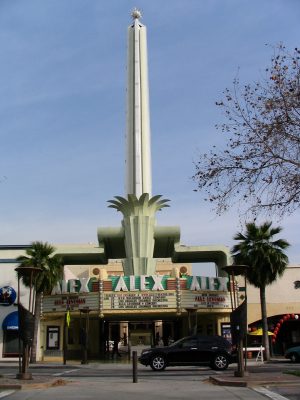 Why, the Alex Theater, in beautiful downtown Glendale. I thought I might know the place he was talking about, so I googled it, and sure enough, it's the old movie palace on Brand Street, the one with the big neon tower out front. I went to their site, and discovered that it's a community theater now, owned by the City of Glendale, and that they put on programs of dance, music, musical theater, and once a month or so, classic movies. I also noted that, four or five times a year, they offered free guided backstage tours, and the next one was happening in just a few days, on St. Valentine's Day, which also just happened to be the actual dawning of the Age of Aquarius. I sent in a reservation, and received a call back telling us to report to the lobby at 10 AM that Saturday. You couldn't keep us away with a ten-foot velvet rope!
* * *
The Alexander Theater opened in 1925, showing silent movies and vaudeville acts, affiliated with the Orpheum circuit, one of the better organizations. We all know what happened the following year. The Jazz Singer opened, and shortly after that no one wanted to see silent films. Vaudeville was already ailing, and by the early 1930s was pretty much dead. The Alexander stopped presenting live shows in the middle of the decade.
But the Alexander continued to thrive on sound movies. Though there were not many premieres here, there were a lot of previews of works in progress. Producers and creative people would hop on the Red Line cars and take their films to Pasadena, or Glendale, or even as far away as Long Beach, show the movie, and then question audiences afterwards. Changes were often made according to audience reaction. The Alexander was the closest to downtown and the Hollywood, Culver City, and Burbank studios, so it got a lot of business. Often the stars would be there, too.
In 1940 there was a fire that was confined mostly to the stage, and the theater was shut down for three weeks and remodeled, and the name was shortened to the Alex, which is what people had called it for a long time, anyway. It operated into the 1980s, in reduced circumstances, and then there was talk of tearing it down, or at least carving it up like so many single-screen downtown theaters in that era.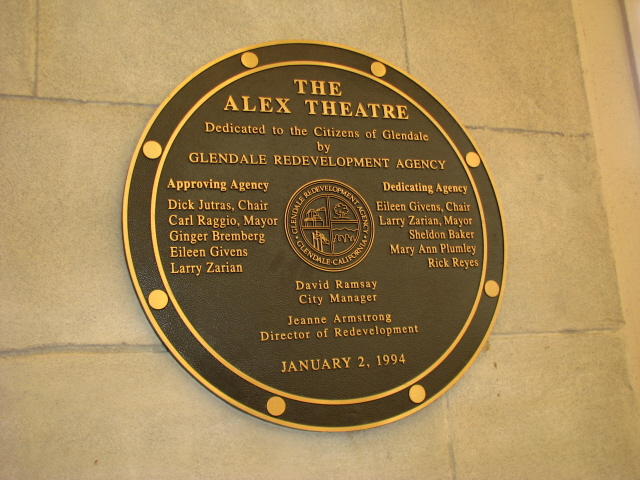 * * *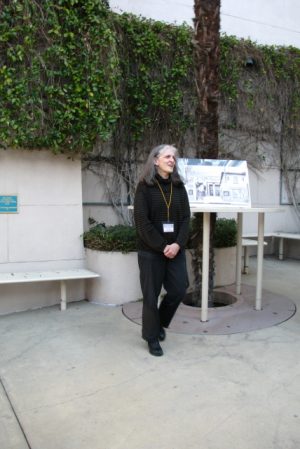 We learned all this, and much, much more, from Andrea Humberger, our guide, and one of the movers of the Save the Alex movement that sprang up around that time. She has been involved in historic preservation for over 20 years now, and if there's anything about the Alex that she doesn't know, it's because nobody knows it. There's a surprising amount of stuff like that … until you think about it. Not even a public place like that is photographed in its every detail, so there are areas where the preservationists had to play it by ear, because nobody knew what a particular chandelier looked like. And nobody has been able to track down what happened to Alexander, the architect's son who the theater was named after.
Andrea took us through every nook and cranny of this place, explaining what was done and why, from the addition of the signature tower out front, to the lovely Greco-moderne entrance which was inexplicably hidden from street view until recently. It's the usual sad tale of stripping away layer after layer of white paint to find unexpected treasures underneath.
Then it was backstage, and down to the dressing rooms beneath, which everyone admits are pretty inadequate for modern theater. But they get along. These areas are all starkly functional. Vaudevillians didn't expect luxury, so that's pretty accurate. The orchestra pit is mounted on a lift, and can be raised flush with the stage to provide more room when there are no musicians down there. It's big enough for a 25-piece ensemble, which is about what most Broadway musicals employ. We went up to the stage, where the technical people explained the system of ropes and pulleys that raise and lower scenery, and the computerized lighting system. Then up to the balcony to see the sound board, and then on to the very, very top, where we toured the spotlight and projection room. They still have the dual projectors up there, not the modern kind where the film is all on one strip that unwinds from the center on a giant plate.
The whole tour took two hours, and we recommend it. But they don't happen very often, so if you're interested, check the website for times.
* * *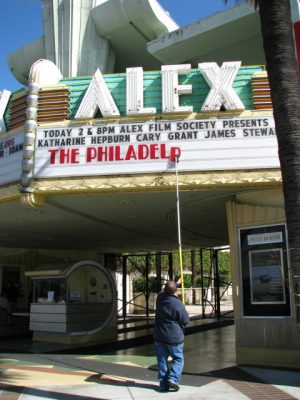 That day also happened to be one of the days they were showing a movie, The Philadelphia Story, with Katherine Hepburn, Cary Grant, and Jimmy Stewart. We decided to come back at 8 and see it.
The house was not full, but there weren't a lot of empty seats. Most of the audience, I sensed, were regulars. At 8 the projector started, and the Alex Theater became a time machine. The music was "Merrily We Roll Along," and the cartoon was "A Wild Hare," which is generally acknowledged to be the first appearance of Bugs Bunny. "Shhhh!" said Elmer Fudd. "Be vewy, vewy quiet. I'm hunting wabbits!" Why, oh why, did they stop showing cartoons with movies? Well, I guess you wouldn't want one with Schindler's List, for instance, but why not have one with regular, light-hearted fare? (Once again, Pixar is innovating … by going back into the past. Their features usually come with a short cartoon.)
Then it was Hearst Movietone News! We saw footage of Galloping Gertie, the Tacoma Narrows suspension bridge that tossed around like a jump rope before finally collapsing. President Roosevelt addressed us, promising that we would stand firm against totalitarianism. (Gee, I hope America doesn't get into that European war!) Next Mr. Wendell Wilkie gave a gracious concession, promising that, though he would remain the Loyal Opposition, that President Roosevelt was our president, his president, America's president. (I still don't regret not voting for him.) Then it was on to war news. More bombing in London. Those brave Brits are still fighting the Battle of Britain, but more civilians die every day. We saw some of the rescue work in what used to be a block of flats, and now was just a pile of rubble. Damn Nazis! Maybe we should get into the war, "over there." We beat the Huns in 1918, and we can do it again! In sports, the Minnesota Gophers upset the Mighty Michigan Wolverines on the gridiron, 7-6, and the Fighting Irish beat Navy, 13-6.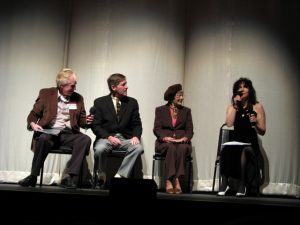 Then the curtains closed and two people from the film society came out on stage and introduced and interviewed a man whose name I can't recall, who was George Cukor's personal assistant for the last decade of his life, and Pauline Wagner McCourtney, who was a bit player and worked with most of the major stars at Metro. We saw footage of her in a film from 1929, so she's got to be at least 95, but she sure didn't look it. She told a lot of funny anecdotes from the early sound era, including how she just missed having a date with Cary Grant. She was the stunt double for Fay Wray in King Kong. She made a very nice $75 a week, which was enough to support her entire family during the Depression.
Then it was on to the feature film. I've seldom heard so much laughter from a movie audience. They were so into it that they applauded frequently. Upcoming movies are the musical The King and I, and George Pal's The Time Machine. I'm pretty sure we'll go back.
February 26, 2009
Hollywood, CA