The Miracle Mile!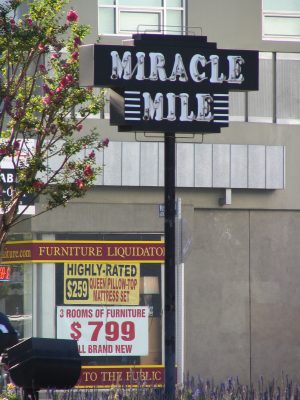 When I lived in Oregon I'd sometimes see a bumper sticker: Don't Californicate Oregon. I don't think anybody with that sticker was referring to San Francisco. No, we all knew it meant Los Angeles, and the urban sprawl, car culture, clogged freeways and smog that have been LA's trademark since the late '40s, or even earlier. And if I had to pick one example of what really got all that bad stuff started … I couldn't, but I could suggest two. One is the Arroyo Seco Parkway, later re-named the Pasadena Freeway. It's a contender for being the first freeway in the US, though other cities have claims, too. But no other city embraced the concept of a freeway as early and extensively as LA.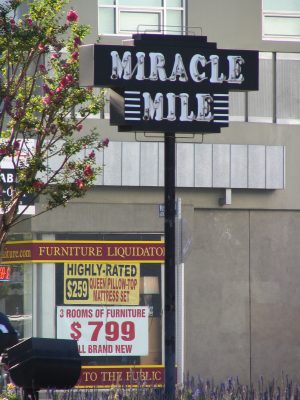 The other candidate would be the Miracle Mile: Wilshire Boulevard between Fairfax and La Brea streets. It's not immediately obvious to our 21st Century eyes why this should be, but step aboard the Wayback Machine with me for a short journey back to the early 1920s in the sunny Southland …
Commercial city streets used to be designed mainly for pedestrian traffic. Streetcars and delivery vehicles and the occasional private carriage went down the middle, and the sidewalks swarmed with pedestrians and the gutters were full of horseshit. Businesses were concentrated in a downtown area where everyone went to shop. In LA, Wilshire Boulevard was a dirt track through farmland. Then A.W. Ross came along. He saw the future, and it was full of private automobiles. Actually, the present was already full of private autos, but there was no place to park the goddam things, and not enough roads to put them on. He decided to develop what later became known as the Miracle Mile with the automobile in mind. The street would be wide, and have left-turn lanes, an innovation at the time. All store signs should be readable while traveling at 30mph. Ditto the architecture. No intricate filigrees, but broad sweeps of stone or concrete that would come to be known as the Streamline Moderne style, some of which can still be seen on the Mile. All stores had to have parking lots in the back. It was like downtown, but stretched out in a long line rather than a checkerboard of city blocks. It was an instant success. Other cities hated it so much they raced to copy it. Many now wish they hadn't. But the MM is still thriving.
A lot of those early buildings are still there, and many other, less interesting ones have been added over the years. The main change to the MM, however, is what is now called Museum Row, which begins around the La Brea Tar Pits … but I'm getting ahead of myself, which is easy to do, since I walk so slowly …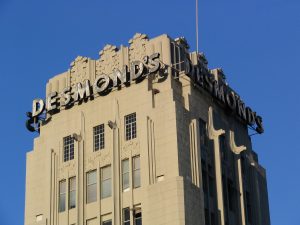 We parked on La Brea early on a Labor Day Weekend morning. The first structure of note is the Wilshire Tower, which still has a sign announcing the long-gone Desmond's Department Store on top. It's not much of a tower in today's terms, maybe 12 stories, but it's a lot prettier than most of the newer buildings.
Then there's one of the better new ones, an huge office complex where Variety, the must-read trade newspaper, has its offices. What makes it different and appealing is that it is stepped back from the sidewalk in a series of terraces, so that each floor has access to the outdoors. This also makes for a less imposing presence on the sidewalk, unlike downtown, where everything is pretty much vertical, any step-backs being 20 or so floors above the ground where they don't make any difference. The Variety building is right across the street from the most elegant Marie Callender's we've ever seen.
Cross the next street—pausing to admire the bust of A.W. Ross on the little pedestrian island in the middle—and you'll soon be stepping into the La Brea Tar Pits. I mean that literally. Right at the corner is a perpetual seep that no one seems able to stop. From time to time a city worker comes by and scatters kitty litter over it. This is the chief obstacle to expending the Metro Purple Line from its present terminus at Western Avenue and Wilshire all the way to Santa Monica. That, and the pockets of methane that have been known to explode from time to time. For twenty years they said it would be too dangerous to tunnel through the tar pit area, and in fact state law specifically prohibited it, but now engineers say they can do it safely. I hope so. It would be nice to have a subway line to the beach.
When I first visited the tar pits, many years ago, I was astonished at their location. I had known they were no longer comfortably on the outskirts of town, but I hadn't realized just how urban the setting really is. They are literally right in the middle of a big city. You could stand on the roof of the Japanese Pavilion of the Los Angeles County Museum of Art (LACMA) and almost spit into one of them. There are about half a dozen pits, most of them small and hidden away and almost dry, one of them still being worked for fossils. But the one everybody remembers is the one right at the side of Wilshire, maybe fifteen feet from the sidewalk. The treacherous tar is mostly hidden by a layer of water, just as it was 10,000 years ago. They've had to build a stout fence around it or it would quickly fill up with drunk teenagers. Me, I think we should take down the fence. We should be laying in a new store of fossils for future generations, and what could fascinate archaeologists more than a tar-covered herd of teens with baggy pants, tattoos, nipple rings, hip-huggers, cell phones, and walkmans?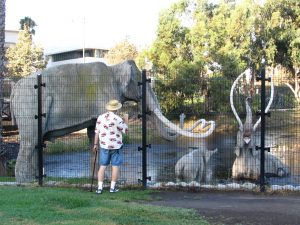 This is the pit with the famous Colombian mammoth tableau. Baby mammoth and daddy mammoth standing on the shore watching in pachydermian horror as mommy mammoth sinks deeper into the tar. So sad. The tusks on these critters are enormous, and historically accurate. The mammoths are showing a few signs of wear and tear. The big mammoth on shore has a crack on his back that should be looked into before it splits him in half, and the baby mammoth's tail is pretty much gone, with only a stump of steel rebar sticking out. This is also the setting for the battle between the police and a mammoth herd from the past in my book, Mammoth (Ace Science Fiction, 2005, and a real bargain at only $7.99, BUY ONE NOW! Hours of reading pleasure!)
Behind the pit is the George C. Page Museum. This is one of the nicest places in the city, full of awesome fossils recovered from the pits. It is located in Hancock Park, which has other prehistoric mammal statues in places where you can get up close to them. As you wander through it, as we did that morning, you can also gaze out on the tar pits and see them bubbling like a cauldron. It almost looks phony, like an outdoor museum exhibit, or maybe an adventure ride at Disneyland, but that's real methane, real swamp gas. When the wind is right you can smell the rotten eggs.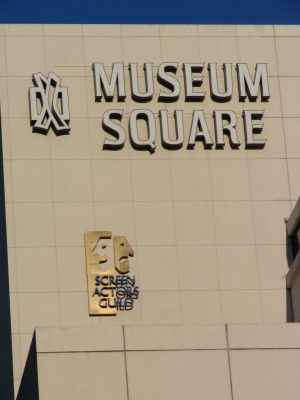 We wound around behind LACMA, which is undergoing a major expansion. It's already huge, with 6 buildings in the main complex, plus the old May Company building which is used for storage and special exhibitions like King Tut. Now two more large buildings are being added, fronting Wilshire, and something that A.W. Ross would have insisted they have in the first place: A gigantic underground parking lot. That has been sorely needed, I promise you. The parking lot is complete and the girders are going up on the buildings. The plans look marvelous, and they hope to open early next year.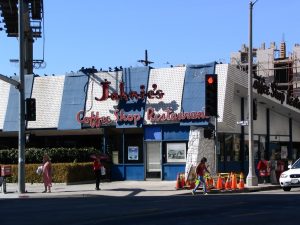 Back at the corner of Wilshire and Fairfax is another LA institution, though it's now a rather odd one: Johnie's Coffee Shop. I remember stopping in there a few times when I was here in the '60s. It's been closed for several years now, but with any luck it won't be torn down any time soon, in spite of the fact that the land it sits on is probably worth a gazillion dollars. That's because Johnie's makes its living now by being a film location. It was the main setting for the excellent little film Miracle Mile, and has been used in many other movies. You want a coffee shop location? Come to Johnie's!
There are other museums along the Row, of arts and crafts and such, plus the wonderful Peterson Automotive Museum across from the May Company. They've got some cars to die for in there.
On to San Vicente Street, and the edge of Beverly Hills. In the background you can see the black oval of the Flynt Publications Building, the House That Beaver Built, and I'm not talking about Beaver Cleaver. Actually, I assume Larry Flynt bought the place and put his name on it. If he'd built it he probably would have put up a giant dildo, or butt-plug. Not a real classy guy, Larry, though you gotta love him for his freedom of speech and anti-Republican stands. There's a statue of John Wayne on horseback out front, and maybe that came with the building, too.
We made it to La Cienega before boarding the 720 Express back to the car. Next time we will go to either Beverly Drive or Little Santa Monica, depending on how my feet are holding up.
September 10, 2007
© 2007 by John Varley; all rights reserved