"Poverty Row"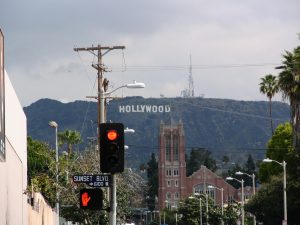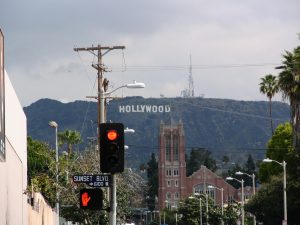 In most LA neighborhoods there's alternate side of the street cleaning, twice a week. You'd better move your car before 10 AM or you can get towed. The neighborhood we were planning to walk through today was a Wednesday cleaning day, and it was Wednesday … and with everybody parked on the other side of the street, there was no place to park anywhere close. We had to drive around for 30 minutes before we found a spot, almost a block off Sunset. Bummer. Have to take that into account next time.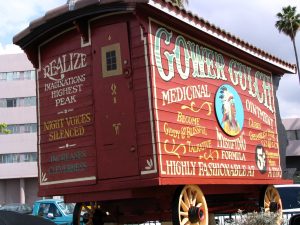 So we started near Gower Gulch. The place got its name because it used to be the home of what was called the "Poverty Row" studios back in the silent film days of Hollywood. Every day hundreds of real cowboys in from Texas and Arizona stood around on the streets, hoping to get parts as extras in a shoot-'em-up two-reeler.
These were the really interesting days of Hollywood, to me, anyway, as excellently chronicled in Peter Bogdanovich's Nickelodeon. It was a wild a woolly time, with fly-by-night film producers fleeing the movie capital of the world—New Jersey!—because of the Edison patent wars, coming out to sunny California where there were no private detectives ready to confiscate your camera. Anybody could form a "studio" and start making movies.
These films were made by companies with names like Republic, Monogram, First National, Reliable, Mascot, Chesterfield, Biograph, Grand National, World Wide, Tiffany, and Ambassador. Then there were Universal, which later became a "major," and Columbia, which never quite left Poverty Row.
These were the days before stars. The studios didn't want their actors to have names, feeling quite rightly that they'd ask for more money. But the public wouldn't have it. They began to ask distributors when the next picture starring the "Biograph Girl" would be playing at the local grind. That turned out to be Miss Florence Lawrence (who had a fascinating life), and who became the first star and paved the way for Charlie Chaplin and Rudolph Valentino and Mary Pickford and all the rest.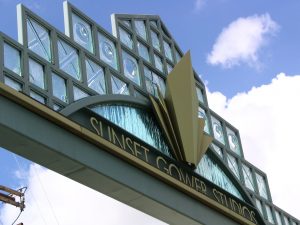 All that's left of those old barns is the Sunset-Gower Studios, which looks pretty new to me. Paramount is just a little to the south, and Tribune Entertainment Studios is further east on Sunset, but it looks new, too, despite trying to look like Tara. And the name Gower Gulch is preserved in a little shopping center that looks like it would be more at home in Las Vegas, far off the Strip, than LA. There's a medicine wagon and some footprints in concrete and paintings of Buffalo Bill and others, all built around a Rite-Aid. One of the plaques honors Hal Roach, of Little Rascals fame. (Darla Hood is interred a few blocks south of there, in Hollywood Forever Cemetery, which we plan to visit on the next sunny day. Lee loves cemeteries. I promise you some great pictures!) (Johnny and Dee Dee Ramone are there, and CB deMille, among many others.)
On the way back we passed by the Hollywood Home Depot. The usual number of short, stocky brown men were hanging around outside, looking to get picked up for casual labor, paid in cash, no need to fill out a W-2. (Wink, wink!) Dozens of them, all smiling and friendly as we walked by. There was an interviewer and cameraman for KCET there that day, asking them questions about (I presume; I don't speak Spanish) the current immigration debate. None of them seemed shy about being on camera, and they were speaking quite passionately. What a mess that all is.
April 30, 2006
© 2006 by John Varley; all rights reserved