The Miracles Get a STAR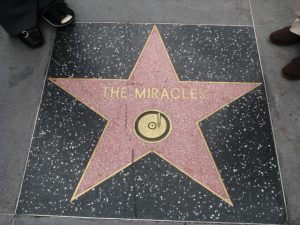 When: Friday, March 20, 2009 at 11:30 a.m.
Location: Corner of Hollywood Boulevard and El Cerrito Place
One thing I can say about the Motown acts is that we were a family. That's not a myth. ~Smokey Robinson
It was the 50th anniversary of Motown (actually it was founded on January 12, 1959, but let's not nitpick) and The Miracles were getting their collective star on Hollywood Boulevard. This one was almost to La Brea Avenue, far out of the prime real estate which, in recent years, has been in front of the Kodak Theater. It wasn't discrimination; sometimes inductees pick a spot to be near someone else's star, or for some other reason. (Suzanne Pleshette wanted hers in front of Frederick's of Hollywood!) This time it was to be near the star of Stevie Wonder and Gladys Knight. (Say, do The Pips have a star?)
Stevie was there, and gave a nice speech, with his trademark head roll when he laughed, which was often. Smokey Robinson was there, too, and Berry Gordy. All the surviving Miracles were present.
Not much else to say.
Next up: George Harrison. I doubt he'll be there personally, being scattered in the Ganges and elsewhere, but his wife and son will be. Also, speakers "TBA." So you can't help but wonder. Paul? Ringo? Yoko … oh, no, not Yoko!!!
We'll let you know.
Tuesday, April 14
Stop the presses! Hold the phone! Pause whatever you're playing on your iPod!!!
There's more!!!
Today we attended the star ceremony for George Harrison (more on that in another post). We are never able to get pictures of the actual star in the cement after these ceremonies, as it takes a few hours to take down the podium, press gallery, and crowd control barriers, and we hate waiting around when it's all over. So we come back the next day, or whenever, and Lee gets the shot.
But today we went out for other things a few hours after the festivities and decided to swing by the Capital Records building to see if it was accessible. It was, and Lee got her pictures. We remembered that we'd never gotten around to getting a picture of The Miracles' star. It's also near Stevie Wonder and some other Motown greats, which is why it was out in the remote hinterlands of La Brea and Hollywood Boulevard in the first place. So I drove there. As usual, there was no place to park, so I stopped in a red zone and let Lee out, told her I'd circle the block a few times until she was through. Which I did.
When I got back, Lee was bringing this woman, who looked vaguely familiar, to the car. She opened the door, and the lady looked in at me, smiled warmly, and said, "Hi, I'm Claudette Robinson."
Well, imagine my surprise. The first thing I tell people who visit us here in Hollywood is that you will not see any famous people walking around. Just doesn't happen. You might spot them for a few seconds at night arriving outside trendy clubs that you can't get into, if you're willing to hang around for hours and hours looking like a jackass. And you can get a longer look at some of them at these Walk of Fame ceremonies. But up close and personal? Never happens. Never.
So who does Lee run into and get into a warm and friendly conversation with? Nobody but the First Lady of Motown, the woman who the mega-hit song "My Girl" was written about, the woman who joined The Miracles in 1956 when her brother Emerson Rogers was drafted, back when the group was still called the Matadors. She stayed with them until 1972, and was married to Smokey Robinson until 1986.
She was there getting her picture taken near the Miracles' star, as a not-quite-original member. No entourage, no bodyguards. (Well, she's not that famous a face.) Now I ask you, how likely is that? How lucky is that? I mean, if we had come back the next day I could see it a little easier. But it's been almost a month, and we just happen by in the same hour as she did. It almost makes me believe there is a god, and he's smiling on us. But then, that's the sort of thing that seems to happen to us all the time!
April 15, 2009
Hollywood, California