St. Pat's Day at the Egyptian with the Rutles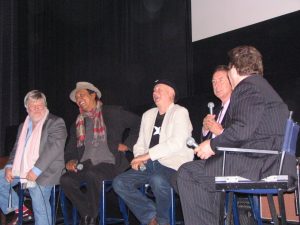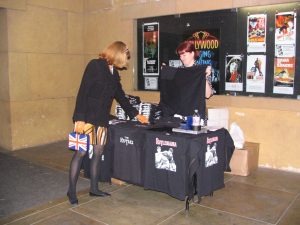 They had the 30th reunion of the Rutles at the Egyptian Theater on St. Patrick's Day. All four of the lads from Liverpool, together again for the first time. You remember the Rutles, don't you? The Pre-Fab Four? Dirk McQuickly, Barry Wom, Stig O'Hara, and Ron Nasty? Ring any bells? The legend that will last a lunchtime? You must have seen their great films A Hard Day's Rut, Ouch!, The Yellow Submarine Sandwich, Tragical History Tour, and of course everyone knows their seminal album, Sgt. Rutter's Only Darts Club Band.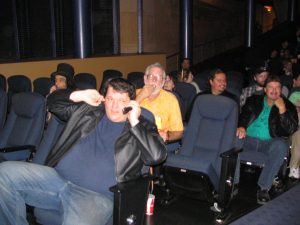 The show was sold out, so while I bought the popcorn Lee went in and found us some seats in the second row, right section. This is not prime seating for a movie but what the hell? We'd seen it before, and it was a great spot for taking pictures of the action happening in front of the screen. And, as it turned out, the angle wasn't all that bad for movie watching. I didn't hurt my neck.
First the lads themselves (no longer looking like lads) came out for a brief introduction to what we were going to see. The show began with some rarities, seldom- or never-seen stuff, including Lorne Michaels from Saturday Night Live explaining how the Rutles came to be on the show, their first known appearance. Remember when Michaels offered the astronomical sum of $3000 if the Beatles would reunite for a concert on SNL? Well, they turned him down, but some time later Eric Idle came to Michaels and said he could get them, if Michaels would give the check to him. He did, and nothing happened for a while. Then Eric said the Beatles were coming … but at the last minute the Rutles subbed for them.
The rest is history. Eric Idle made All You Need is Cash for about $500,000, and it came in a big 78th place in the ratings that week. It is a totally brilliant film, coming six years before the better-known This Is Spinal Tap. Every visual is absolutely perfect, capturing the look of all the Beatles stuff, and the music … it had been quite a while since I saw this movie, and I'd forgotten the music. It's mostly not parody. Especially the earlier stuff, from the Cavern and Hamburg days. The songs sound like they could have been Beatles songs, like maybe they were the first drafts. Songs like "Hold My Hand," "With a Girl Like You," and "I Must Be In Love." But then some are clearly satirical, like "Cheese and Onions" and "Piggy in the Middle." Every one of them is spot on, you'd think the Beatles were doing them.
Researching a little later … well, of course we know George Harrison approved of it, because there he is, playing an interviewer standing in front of the Rutle Corps building interviewing a man while looters carry off all the furniture. Ringo is said to have liked the early parts, the good times, but felt the parts covering the breakup hit a little too close to home. John Lennon liked it so much … one of the lads recounted a story of someone coming up to John in New York (not with a pistol, this time) and asking him what he thought of the Rutles, and John sang "Cheese and Onions." Paul McCartney was the only spoilsport, it seems. Lennon warned Eric Idle and Neil Innes that one song, "Get Up and Go," might be a little too close to "Get Back," and not to be surprised if Paul sued. Paul has always responded "No comment" when asked about the film. Jeez, Paul, get over yourself. He was also said to be not amused with Bianca Jagger playing his (Dirk's) wife, Martini McQuickly. If John can laugh about his wife, Yoko, being replaced by a woman named Chastity in a full Nazi SS uniform and with a trace of a mustache on her upper lip …
There are so many cameos here, you get dizzy trying to remember them all. Mick Jagger and Paul Simon reminisce about how terrible the Rutles were. Michael Palin, John Belushi, Dan Ackroyd, Gilda Radner, and Bill Murray (as Bill Murray the K!) all have parts. If you look real quick you might spot Al Franken (soon to be the junior senator from Minnesota, I hope). In the big "All You Need is Love / Love Life" number there were too many familiar faces for me to keep up with them all, and they're not credited at the IMDb. Richard Belzer comes to mind.
Then the lads came out again and answered questions from an interviewer. Sorry, I can't remember his name …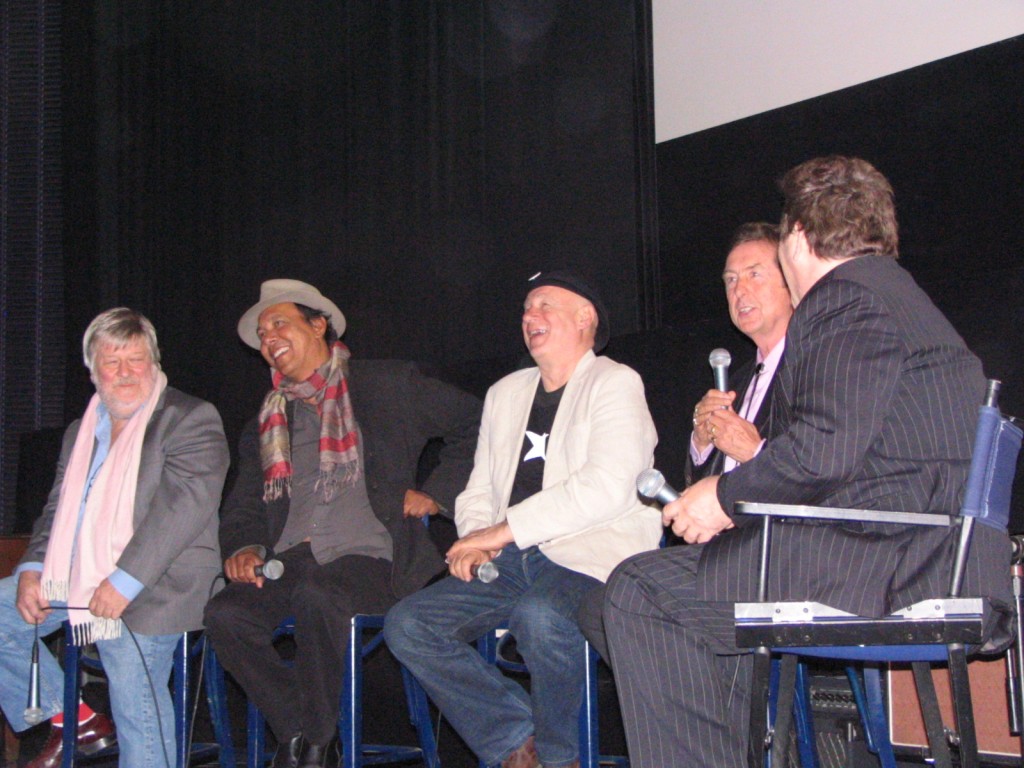 Aside: The Egyptian Theater was Sid Grauman's first Hollywood Boulevard themed theater, built several years before the Chinese. It is owned now by the American Cinematheque, a film preservation and appreciation society. It came within an inch of being torn down several times, and was in terrible shape before a recent restoration. It had been cut up into three screens, then abandoned. There were holes in the roof, and pigeon shit in the seats. I had never been inside before, and had been expecting a real palace, the old 1920s grandeur. But it's really rather modest, and still has a ways to go before it's completely restored. Doesn't matter. What counts is that it's been saved.
… anyway, this dude from the AC was a good interviewer. Eric Idle answered the most questions, with Neil Innes a close second. (In some of the "rarities" shown before the movie, Terry Jones, John Cleese, and Michael Palin all agreed that Innes was The Seventh Python.) It was hard to get the other two to talk at all, but he did manage to drag a few stories out of them. So, what are the lads up to now?
We all know what Eric Idle (Dirk/Paul) has been doing these last 30 years. Little things like the smash Broadway hit Spamalot. Neil Innes (Nasty/John), who wrote all the music and got the biggest hand of the night, is still writing music. Ricky Fataar (Stig/George) has worked as a drummer for many rock bands, and John Halsey (Barry/Ringo) runs a karaoke pub in Cambridge! In the course of the interview they realized that this actually was a case of "together again for the first time." The Rutles didn't tour like Spinal Tap. It was a one-off movie, and they never actually appeared together in public. So this was a first! Wow, what a privilege to be there!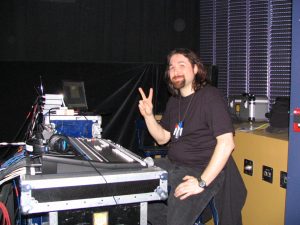 Then the surprise of the night. Eric has been developing a new show, Rutlemania, which is sort of trying out right now at the Ricardo Montalban Theater at 1615 Vine (which I think used to be the home of the Merv Griffin Show), and will play on the 19th through the 21st. So there is now a New Rutles band. These little lads came out (and Lee, who had stolen up to the very front row and was playing photojournalist, said they really were little, maybe even shorter than her) and played three of the songs from the show. It sounds like it's a multi-media thing, with a live band on stage and film clips. If I hadn't seen this performance, I might have considered going to the show … but I think we'll preserve the memory of this perfect night at the movies.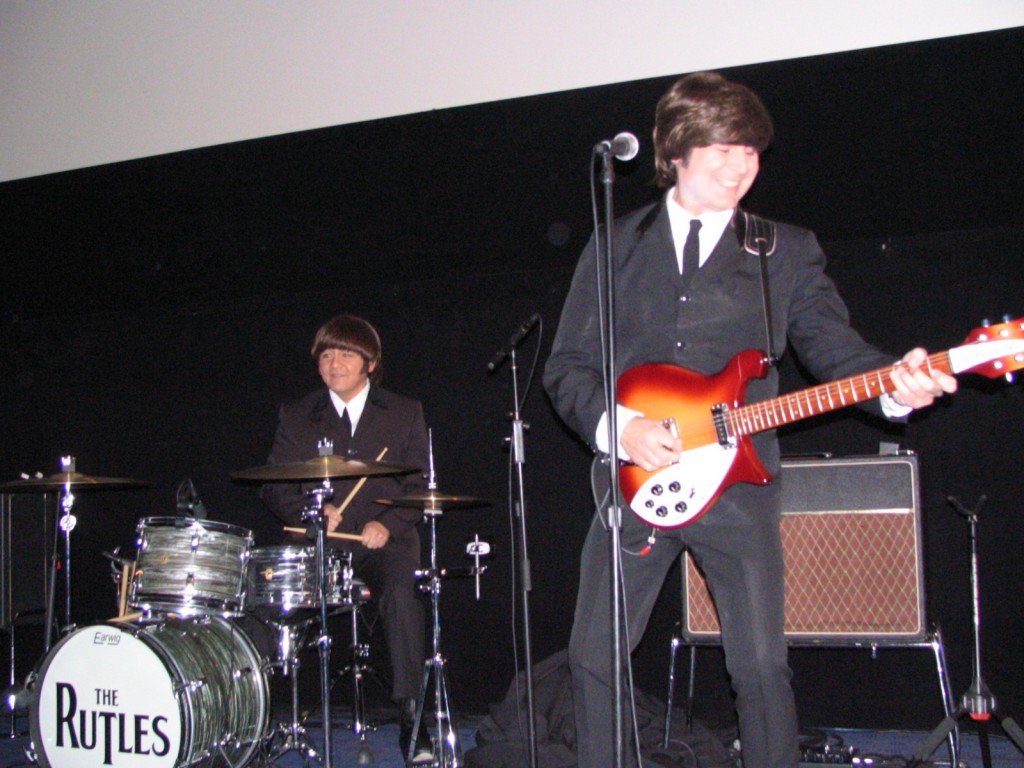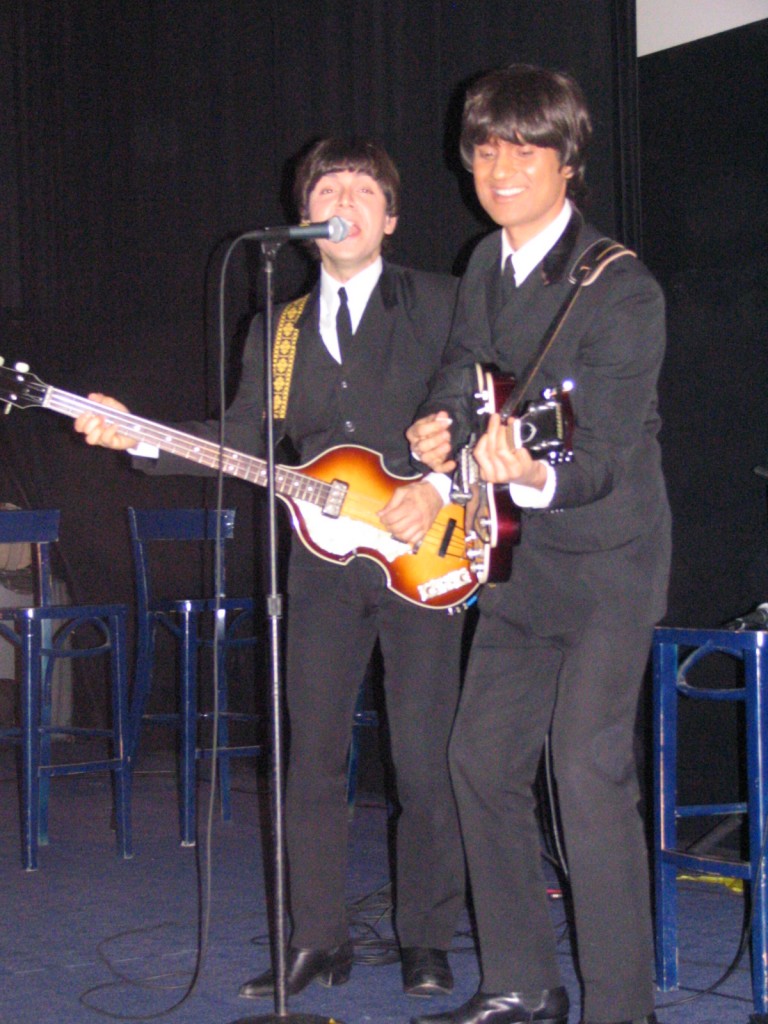 March 19, 2008
Hollywood, CA