Neverland – "Shame on him who thinks this evil"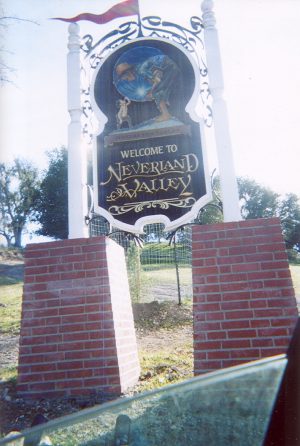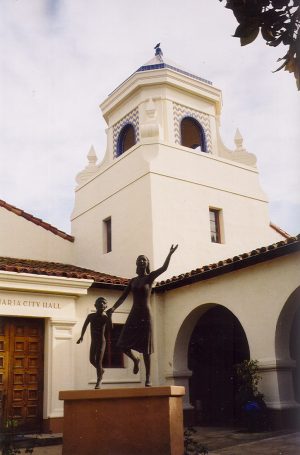 On December 5th I told you all that, since we live 15 miles north of Santa Maria, we planned to cover the Michael Jackson hullabaloo from gavel to gavel, to give you an insider's perspective that you can't get on CNN or Entertainment Tonight. To defray costs we reluctantly decided to offer this wonderful opportunity on a subscription basis, three easy payments of $19.95. We didn't expect to make a penny, honest! We figured we'd bring in just enough to cover our expenses: A tent to camp out in so we could get into the courtroom, an inexpensive videocam, limo rental, a stepladder to stand on so we could get some pics of Mikey's comings and goings, coffee, beer, Dr. Pepper, pretzels and Fritos. Maybe an entry-level Lexus or Infiniti for commuting.
A depressingly small percentage of you took us up on this generous offer, but we are undeterred! So on Friday the 16th we got up at seven in the morning, chowed down on McGriddles and filled our thermoses with iced tea for me and SLO Roasted coffee for Lee, and headed down US 101, wondering if we'd get jammed up in Caravan of Love traffic.
No problem. The courthouse buildings, which look like an adobe and tile-shingled community college, is next door to Santa Maria's only shopping mall, and there was plenty of parking. We walked across the street, around the corner, and into the circus. It was about 8:15 AM.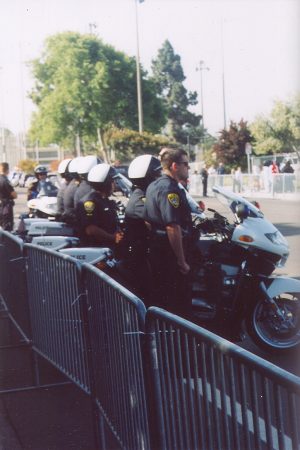 We figured that about 75% of the crowd was supporters, 20% was media (like us), and 5% were curious locals (also like us). We had scouted the territory a few weeks before, talked with a security guard who told us that the last time Mikey appeared there the hordes trampled all the plantings. Sure enough, all the flowers had been trodden into the dirt. Mikey's Main Mouthpiece, Mark Geragos, later told the media that the crowd was between 5 and 10 thousand. Bull puckey, Mark. The Santa Maria police chief estimated it at about 1500, and I agree. 2000, tops. I say that not to pooh-pooh the event but simply to scotch a shameless lawyerly lie. All things considered, it was enough of a madhouse with only 2000.
There were, by my actual count later, 38 satellite trucks. The roped-off front parking lot was jammed elbow to elbow with TV guys and gals doing stand-ups in front of live cameras. There were dozens of people selling t-shirts, and sometimes just flinging them into the crowd from the backs of trucks. There were people selling food and drink. I talked with a man from Australian television. The city was charging $250 for each parking space at the courthouse, and they sold 70 of them. That's $17,500. They could have easily sold 700 at that price, but 70 was all they had. It's a small town. My advice to the Santa Maria City Council, who hate Mikey: When the trial starts, charge $1000 a pop. They'll pay. And it'll just about cover the $75,000 in police overtime and added security costs they incurred. The Santa Maria Chamber of Commerce, of course, loves Mikey. When his circus comes to town every motel room is booked, every restaurant seat filled. One smart woman rented one of those $250 parking spots in the jungle of satellite dishes and sold muffins and sandwiches and coffee to the media and did very, very well.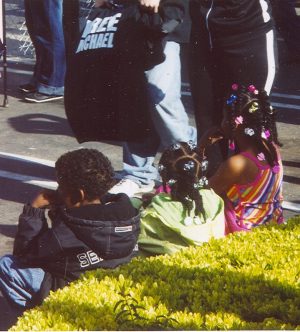 And wouldn't you know it? The Santa Marian who probably really cleaned up was a lawyer. Directly across the street from the courthouse is the one-story law offices of Michael B. Clayton & Assoc. It is the only building on that street with a flat roof. TV people prefer … no, the biggies demand a vantage point where they can stand with the camera looking down on the media circus they are a part of. If no such vantage exists, they will build one, and a desk for Tom Brokaw to sit behind. Since the Santa Maria police refused to shut down the street, the news folks were forced to rent Clayton's roof. ET built a ten-foot scaffold in his driveway. If I were the good counselor, I'd have informed the media that the roof was up for auction, and bidding started at $1,000/square foot. And I doubt that Michael B. Clayton, esq. is any less avaricious than me.
I could write lots of stuff here about the circus, but you can get all that on the TV. You've probably already seen a lot more of it than you wanted to if you watch any TV news at all. Limos arrived, were mobbed, departed. False alarm. People chanted their support. Solemn members of the Nation of Islam, seemingly a hundred of them, stood at attention and tried to hold back the crowds. Then a caravan of SUVs arrived, one window was rolled down slightly, and a ghostly white hand stuck out and started waving. That's all we could see. After that, all we saw was an umbrella moving slowly through the worshippers. We hung back, not wanting to get crushed. Then an Nation of Islam guy came around handing out invitations to Neverland.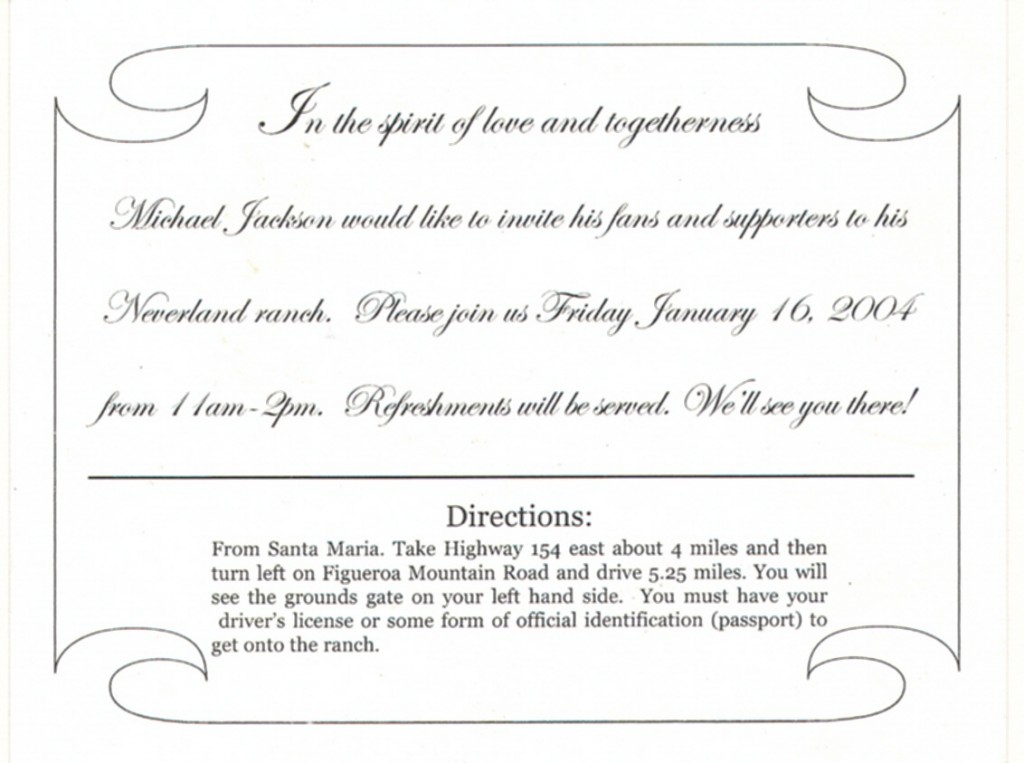 What, are they kidding? But the invitation gave directions and everything. Lee and I looked at it and talked it over, and I said our best bet was to leave now if we were to have any hope of getting in. So we hustled back to the car. Neverland is about 40 minutes south of Santa Maria.
When we got to the gate there wasn't much happening. Half a dozen satellite trucks, twice that many cars parked on the side of the country lane, a huddle of forlorn reporters who weren't being allowed in. The invitation said 11AM-2PM. It was 10:15, but we headed for the gate and were waved through. Not far away were security guards set up for three lanes of traffic which hadn't arrived yet. We drove up and a guard handed us a two-page agreement to sign: no cell phones, no purses, no cameras, and we agreed not to write and sell anything about our experiences. (Lee cried out in anguish. I had bought a disposable camera and she had six rolls of film. As the day wore on she began to develop a tic in her shutter finger. I think it's still twitching.) (And I was bummed, too. We specifically asked if we could write an account for my website, and they said that was okay. So consider this posting a freebie.)
Since there was no hurry, we had a chance to chat with the guard while we filled out the forms. He said his regular job was in the Neverland Fire Department. He was not just "The Neverland firefighter," you understand. He was part of the Neverland firefighting FORCE. Oooookay. He said it was a good gig. I'll bet.
We signed, and were given red plastic strips to snap around our wrists, like hospital patients: Neverland handcuffs. Then we were waved on. We drove along a winding road, up and over a hill. Every 100 feet were signs: "Caution: Children at Play." Down the hill and there it was.
We were in Neverland.
There was a big field, a big tent, and more security arrangements: Tables, roped off lines for a multitude, polite guys in suits and ties who ran magnetometers over us. We were the 10th car to park in the field. We were scanned, I emptied my pockets, and we were allowed to go to the gate.
The Neverland gate is huge and ornate, black iron with the gold Neverland coat of arms on it. The motto of Neverland is "Honi Soit Qui Mal y Pense." That's Latin for "Honey, If You Have Sleepovers With Children, Retain Good Lawyers." Actually, it's archaic French, the motto of the English Order of the Garter. It means, "Shame on him who thinks evil of it," or "Shame on him who thinks this evil." Wow! Ironic, or what? I also found two anagrams for the phrase: "Opinions quietly shame," and "A quote: no syphilis in me!" No comment from me.
Once inside the first thing you see is children. Children everywhere you look, scores of them. They're flying kites, tossing Frisbees, riding bicycles, swinging on swings, whitewashing fences, digging for worms, lying on rocks trailing their toes in the water and dipping fishing poles into the swimming hole, giggling and prancing in a follow-the-leader line across a fallen log on their way to the island in the middle of the lake, the island with two dozen live pink flamingos. Most of them are dressed as charming ragamuffins. Huck Finn and Tom Sawyer and Becky Thatcher are there, and the Lost Boys.
All life-size, all very realistic, all bronze. All looking like they'd been made by the same artist, one who had memorized the complete works of Norman Rockwell. Music wafted all around us from speakers high in the huge, lovely, incredibly twisted live oaks scattered all over the property. All that was just in the first quarter mile inside the gate. We realized this was going to be one special day. And looking around at the handful of people walking up the path with us, we realized something else: Basically, we had the place to ourselves. It was just us, and the 50 or 60 permanent staff, and the 50 or so others hired to cater the party. We had been set loose in a $28,000,000 candy store. Unbelievable.
We walked past the house with no real plan in mind. We visited the train station. Well, the MAIN train station. There are three trains in Neverland. There's the big one with a real steam engine, as big as the one in Disneyland. The engineer told us there is a mile and a half of track for that one. There's a smaller gas-powered one, like a zoo train, that pootles around all over the place. And there's a teeny battery-powered one for toddlers. We made our way the half mile to the amusement park. On the way there we met guys leading a camel, two llamas, and an elephant going the other way. Fleets of golf carts and pickups passed us in each direction, and all the employees in them smiled and waved.
There was a big tent with long tables groaning with food. It had been arranged in 6 buffet lines with 18 people behind the tables whose job was to hand us big plastic plates and replenish the food. They leaped to serve us; they didn't have anything else to do yet. We served ourselves with silver spoons and tongs. The food was good! There were huge bowls of six types of cold salad and fresh fruit, heaping platters of sandwiches and fried chicken and hot dogs. Scores of tables with checkered cloths and umbrellas were scattered over the vast lawn. There were tables with buckets of iced drinks and tottering stacks of cookies and other treats. Lee said even the coffee was first-rate, and she's mighty picky about her coffee.
There is no money in Neverland. There were guys at sno-cone machines, just go up and name your flavor. Same with cotton candy. There were helium balloon machines but no one was manning them while we were there. Too bad. You could have grabbed a free handful of them and played "Hit the Helicopter." There were never less than two of them hovering over the place. When we visited the two-story arcade building later we saw a candy vending machine. The little LED was flashing "NO MONEY REQUIRED." Not only was everything free, everything was first-class. The free ice cream freezers dotted around the park were crammed with Haagen-Daz bars and half-pint buckets. Cost you $3 a pop at the 7-11. And they didn't truck in blue plastic porta-potties at Neverland, either. There were luxurious wood-paneled trailers with marble sinks and black porcelain toilets.
The medium-sized train began arriving loaded with people every ten minutes or so as we ate our lunch, so we headed another half mile down the road to the Neverland Zoo, accompanied all the way by music. If it wasn't coming from the trees, it came from things at the side of the road we had thought were rocks. It was light classical, not Mikey's greatest hits. There was a petting zoo first. Then a dozen amazing macaws. Another elephant. On our way out, later, the first elephant was brought back and the two of them trumpeted and bellowed and flapped their ears at each other in what was either a threat display or a "glad-you're-back" display, I couldn't tell.
We spent some time with the four giraffes. Unlike a regular zoo, you could get right up close to these animals. Close enough that they could lean over the fence and you could pat them on the head. One took a shine to me, followed me around the enclosure, and bent over me whenever I stopped. I think he was deciding whether my hat was edible. There were male and female orangutans, HUGE animals, sitting with their faces pressed to the wire and looking depressed. But then, orangs always look depressed. We thought there might have been two gorillas in the other end of the monkey house, but they didn't come out to gawk at us. We visited the reptile house and saw some of the biggest scaly creatures I'd ever seen. Boas, pythons, crocs, gators, a snapping turtle the size of a Toyota. Cobras threatened us, and half a dozen rattlers were all coiled and poised to strike, shaking their rattles, which I'd never seen them do in a zoo. We soon found out why. The resident Neverland herpetologist would go by and pound on the glass from time to time, irritating them. Can't do that in a public zoo! We saw the biggest snake I have ever seen: A 19-foot, 400-pound anaconda. The herpetologist told me it took six husky guys to move her, and that was only when she had just eaten (probably a brace of full-grown hogs) and was in a good mood. When she was in a hissy fit, you didn't mess with her at all.
We later found out that Mikey and entourage arrived back at the house while we were at the zoo, so we missed that. And so what? I really couldn't care less about seeing him. By leaving Santa Maria early we also missed his now-infamous Moonwalk on the Montero, but you've seen that on TV anyway, right? We got the better end of the deal by arriving early in the Valley of 10,000 Photo Ops. (DAMN!!! We really wanted our cameras!)
Things were starting to buzz when we got back to the amusement park. All the rides were operating except the Zipper, and that was okay. The Zipper makes me sick. We rode on the Ferris wheel, Lee accusing me of rocking the car every time I dared to turn my head: "Stop rocking! I'm serious!" Lee is a weenie when it comes to heights. We rode on the merry-go-round as a very talented gospel group performed on the stage. My mount was a zebra.
Somewhere in there we visited the screening room. That's the wrong term, it's actually a full-blown theater. I've screened films in the basement of the Thalberg Building at MGM, and in David Begelman's home theater, and those were massively luxurious, but this put them to shame. The walls in the lobby were lined with moving dioramas of Disney films: Snow White, Sleeping Beauty, etc. There is a full-sized snack bar with two women working behind it. You point to the candy you want: "Gimme one of those and one of those and one of those," (I have packs of M&Ms and Reese's Pieces on the desk as I write this), and they fill buckets of popcorn and set them on the counter for you to grab. Inside it seats about 100, in separate loungers that swivel and rock, and there's a six-foot Oscar statue to one side of the screen. They were showing "Peter Pan," not the Disney but the new one in theaters right now. And in the back, on either side of the projection booth, are bedrooms behind glass. King-size beds with plush comforters and heaps of pillows, big speakers on the wall, hospital-type trays to hold your snacks. Major-league creepy, when you remember what he was in court for that morning.
I am a total sucker for free food, especially if it's good. Hell, even if it's bad. I filled a plate again. All the buffet lines were busy now, though there were no long waits. We sat down at a table with two women, Sandy and Emily, 50ish and 30ish. It turned out they were from England and had flown over just to be at the arraignment. Ponder that! They had been to Neverland many times before. They had met Jermaine and Katherine, Mikey's mum.
The whole time we were there we felt a bit like undercover agents. No way we were going to get into a discussion about Mikey, except to nod solemnly when people said nice things about him. These all appeared to be normal, everyday people, though most of them wore t-shirts singing the praises of the King. A popular one said, in fact, "Michael Jackson: The Living King!!!" Most people use that term for Jesus. Then there was "1000% Innocent Until Proven Guilty!" That was the moderate opinion, of course. Most of these people's minds simply could not contain the concept that he might have … well, done it. Lee pointed out that it was no wonder his fans were loyal. "Look around you. Look how he treats them." Most mega-celebrities spend most of their time avoiding contact with the unwashed masses of their fans. Mikey invites them in and spends hundreds of thousands of dollars giving them a good time.
Did we have a good time? You bet. We had a blast! We stayed about four hours, past 2 PM when it was supposed to be over, and it was really only getting started. I'd like to have seen it at night, there were lights everywhere, wrapped around trees, embedded in the paths, in the hundreds of topiary sculptures, but my knees simply could not take it anymore. We spent a little time at the main compound. I'd expected much of the place to be roped off, but there were no ropes anywhere. The few AUTHORIZED PERSONNEL ONLY signs were for safety purposes, like around the electrical transformers and gas station. We dropped in on the arcade building, dominated by a 20-foot Fiberglas blue glitter-covered genie from "Aladdin." The noise was incredible. I once owned an arcade pinball machine and "Missile Command" video game and thought that was pretty special. Mikey has got all the newest products, maybe a hundred of them, virtual reality, games you control by standing on skateboards, a flat-screen pinball machine the same size as an old-fashioned one. Mind-boggling. We went around the residence and peered in windows, feeling a little awkward to see part of the legal Dream Team sitting around a table totally ignoring us. The ground floor was a museum of Mikey's career and a collection of his art, mostly gaudy and huge. Clocks, naked statues (all adults), crystal, pottery. One room was dominated by a 20-foot castle that seemed to be made out of Legos. The actual residence was on the second floor, so we weren't actually invading anyone's privacy. It was more like a White House tour, the whole first floor was designed to be shown off.
So we left, snagging a couple of ice cream bars for the road on the way out. The vast grassy field was now full of cars and tour buses. And we finally succumbed to temptation. On the way out we used my little throwaway camera to snap a few shots, holding it just above the bottom of the car window and not looking through the viewfinder. We didn't dare use the good Canon with the zoom lens because we'd been told that any cameras that weren't in the trunk or the glove box would be confiscated, the film destroyed, and the shutterbug made to sit in the corner with a dunce cap on. If any of them come out we'll post them.
The only other bummer of the day, aside from the camera business, was that there were no Neverland souvenirs. Nothing with the Neverland name on it. No gimme hats, no pennants, no keychains, no balloons. It seems an odd oversight so there must be a reason for it. It's not that they would be rare collectors' items; thousands of people have been through the place. And I'm not complaining, that would be pretty ungrateful. I'd have been happy to buy some little trinket. I'd have been happy with a free 2-cent sticker or decal. Not that we're big souvenir hounds, but we like to get little refrigerator magnets from the places we've been. Oh, well, if we can't find one we like, we make one. This one should be interesting, because all the raw material we've got is a piece of potpourri I filched from the theater men's room, a teeny individually-wrapped "Silvers" breath mint that was on a plate held by the wax station agent in the train station, and the Reese's Pieces. (I plan to eat the M&Ms.)
On the way out we saw just how much of a bullet we had dodged by getting there so early. There were cars lined up all the way back to the road, about half a mile. No telling where they were going to park. And as we approached the gate we got just a glimpse of a Mikey's-eye view of the world. Buzzing and chattering just outside was the press corps, thrusting mikes into the faces of anyone willing to stop and talk about their Neverland experience. We drove by in dignified silence, and past the satellite farm which had multiplied like mushrooms in four hours.
Ah, what a day.
You may have noticed I haven't had much to say here about Mikey himself, other than to describe his incredible residence and possessions. Lee pointed out that we weren't raised to eat a man's food, gobble his Haagen-Daz (sounds like a Danish sex act, doesn't it?), ride his Ferris wheel, pet his giraffe, and peer into his living room and then turn right around and bad-mouth him, and she's right. After all, bizarre though it all is and damning as the stories are, he IS innocent until proven guilty. But you don't have to be proven weird beyond a reasonable doubt … and the dude is REALLY weird.
Don't worry, I'm not going all soft-hearted on you here, a day at Neverland hasn't converted me into a fan. Far from it. And once the trial starts, all bets are off.
January 19. 2004
Oceano, California