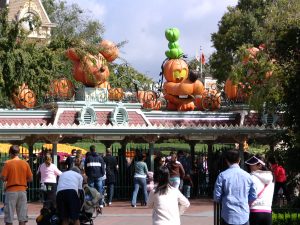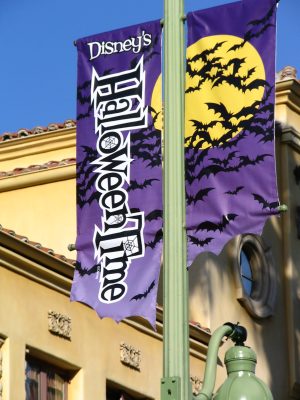 I don't know when they started doing this, but these days beginning somewhere in, I think, early October, the entrance plaza and Town Square and, to an extent, Main Street and the Central Hub are extensively redecorated for the holidays of Halloween, Thanksgiving, and Christmas. At first it's pumpkins. Lord, lord, you never saw so many pumpkins outside of an actual pumpkin patch, both real and fake. Over the entrance gates are elaborate images of Mickey and friends, rendered in pumpkins. It's so pretty you almost hate to think of them taking it all down … but they do, and then set up for Christmas. Naturally, they go all-out for Christmas, with a gigantic tree and trimmings up and down Main Street, and a special parade. (I'll get to that later.)
They don't decorate the park for Halloween, no spooks or goblins, no cobwebs over everything, no horrific images as they do at the Universal Studios theme park. But they do entirely re-work the Haunted Mansion ride with the theme of The Nightmare Before Christmas, that Tim Burton stop-motion animation from 1993 that has by now earned classic status. (It doesn't take as long as it used to; in fact, I've seen movies touted as classics these days before they've even been released.) Outside, it's jack-o-lanterns with flickering electric lights inside them, and cobwebs, and all the familiar Halloween furniture. Inside, it's been redone top to bottom. I don't know how long it takes them to do all that, but it must be a while. It's lovely, and lines are longer than ever during this time. Since the movie spans the time right through to Christmas, they can leave it that way a long time. And everywhere, you see as many Jack Skellington sweatshirts and other TNBC souvenirs as you see Mickey Mouse ears.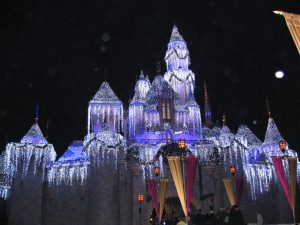 There are other things they do for Christmas. We haven't seen them all, but we plan to go back before it's all taken down again. I'll report on it all later. Sleeping Beauty's Castle is snow-covered, and at night it grows lighted icicles. At night, after the last parade … it snows from Main Street to the castle, and around It's a Small World. I've seen this before, but I'll wait until we see it again before writing about it.
I swore I'd never ride It's a Small World again, and I have an excellent reason for doing so. When I was a senior in high school a friend and I drove to New York City, to Queens, to Flushing Meadows, for the World's Fair of 1964-65. Walt Disney had four pavilions there, three of them later re-created at Disneyland: Great Moments With Mr. Lincoln at the Illinois exhibit; The Magic Skyway at the Ford Pavilion; The Carousel of Progress for General Electric, where we were seated in a revolving auditorium; and It's a Small World, for the Pepsi Pavilion. Then, as now, you sat in a small boat and meandered slowly among a million dolls dressed in all the costumes of the world as they sang that insipid little song. Only sometimes the ride was very slow indeed. We never found out what the problem was, but it came to a dead halt while Phil and I were somewhere in the middle, and we sat and sat, and sat … and gradually began to lose our minds. Just as I was about to wade to shore and begin kicking some serious dolly ass, it began moving again. How long? Twenty minutes? Thirty? The mind recoils from trying to remember.
However, I'm going to have to break my promise to myself. They've redecorated the exterior for Christmas, and it's quite pretty. There are a million lights, and a computerized music and light projection show that happens every half hour or so after dark. And inside, so the rumor goes, everything is spectacularly done up for the season. I guess I'll take a chance. Pray for me.
"A Christmas Fantasy" Parade
One of the better Disney parades, I thought, and that's saying something. They hit all the bases, from toy shop to gingerbread house, all on a large scale. There was a Ferris wheel made of Tinkertoys. All the Disney characters were integrated into the fun, from the big Blue Genie to Goofy, to Snow White, to Cinderella and the Evil Stepmother and Stepsisters, bickering all along Main Street. Roller skating snowflakes and ice skating Mickey and Minnie. Tubby snowmen, Beauty and the Beast, Chip 'n Dale, Buzz Lightyear, all Seven Dwarfs and all eight reindeer. The act that impressed this old brass player the most was the wooden soldiers. There were ten of them, eight trumpeters and two drummers, dressed awkwardly in boxy costumes and boots, with round heads. Each of them carried a long, lovely, silver herald trumpet, an unwieldy (and expensive!) instrument at the best of times. Anywhere else, there would have been recorded fanfares playing when these dudes marched by, but no, not here. These guys (or possibly girls) were all very good at their instruments, and they somehow had to fit those mouthpieces at the end of the long tubes into tiny holes over their mouths. Now that must have taken a lot of practice. The crowd was very much loving this parade, especially the children … a group in which I include myself when I'm there.
Santa's Reindeer Roundup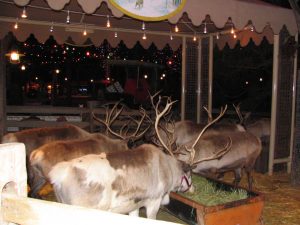 On the disputed borderline between Fantasyland and Frontierland is a flexible-use area called Big Thunder Ranch. From there you can hear the Big Thunder Mountain Railroad hurtlin' by, and the screams of the passengers. I've seen it with various themes over the years since the railroad was built. (At one time it was The Hunchback of Notre Dame Festival of Fools, but they changed it back.) This time of the year, it's punkins and corn, the usual eye-popping multiplicity of Christmas lights, and reindeer. Naturally there are eight of them, and they have major racks on them. You wouldn't want to fool with these critters, they could open you up like a can of sardines.
The Parade of Dreams
2007 is the Year of a Million Dreams, the most recent themed year for the park. To go along with that theme, they've made a new parade, and it's a good one. We watched it from the train platform overlooking Main Street, a good vantage point for Lee to get above the crowd and get some good shots. It was evening, though, and her camera is not a particularly fast one and she doesn't use a tripod, so there were a lot of shots she had to throw away. But not to worry; she takes so many that some are sure to come out, and many did.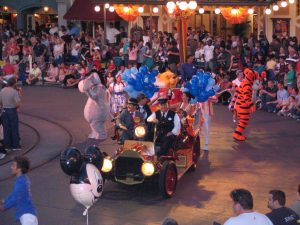 This one began with an Honorary Grand Marshall of the Day, who in this case turned out to be a girl, maybe ten or eleven years old. There was a banner announcing her name and home town, and she rode in an antique car with her parents. I have been unable to discover just how you get to be a Grand Marshall in Disneyland, whether it's a perk for spending a lot of money like the stuff you get in Vegas for heavy slot play, or a lottery-type deal, or if there is some sort of selection process. But I can guarantee you one thing: From the looks on the faces of the other girls around that age and younger, a lot of moms will be trying to find out how it's done. I mean, riding at the head of a parade through Disneyland, waving like Miss America, how cool is that?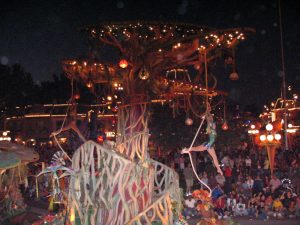 Then came Tinkerbell perched on the top of Casey Jr., and we were off to the moving spectacle. Beauty and the Beast, Pinocchio, The Little Mermaid, the giant caterpillar from Alice in Wonderland, The Lion King float with acrobats twirling all around and a giant tree that telescoped upwards … all the usual suspects were there, and at the end, Mickey and Minnie on top of Snow White's Castle. Usually a Disney parade keeps right on moving, but this one paused now and then and the various floats would perform some amazing mechanical action, and the dancers and tumblers and cast members in costume would put on a short show.
As I watch this incredible spectacle roll by, I'm struck by just what a wealth of fantasy characters and settings the Disney people have to exploit after all these years. These are all beloved images, as indeed is Disneyland itself. I guess that's why I like it so much.
© 2008 by John Varley; all rights reserved