Crosby, Stills, Nash and Watts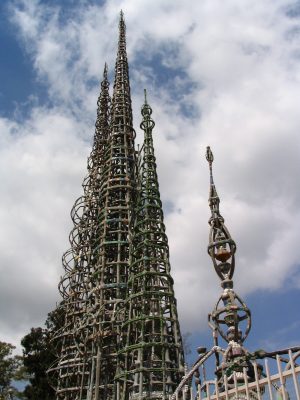 David Crosby kindly comped us to a couple tickets to the Crosby, Stills, & Nash concert at the Greek Theatre in Los Angeles, the fourth or fifth-to-last appearance on their 2005 American tour. So on September 10 we got up bright and early and motored on down 101 to Hollywood, where we'd booked a room at our old standby, the Motel 6. It was a little hard to find it; 99% of Motel 6s are visible from the freeway, but not this one. I thought the map said it was between the freeway and Vine Street, but it turns out it was about 4 blocks west of that. We pooted around in traffic for a while and finally located it, a block north of Hollywood Boulevard. This was the only Motel 6 we'd ever seen that was much more than bare bones, with a two-level lobby and decorating scheme featuring (what else?) the movie biz!
We are planning to move to the Los Angeles area in a month or two, so we thought we'd scout out possible locations, see just how outrageous the rents were. I was thinking probably the Valley, though I wasn't enthusiastic about it. Maybe Van Nuys, North Hollywood, maybe Culver City … who knows? We are fine with living in some places that a lot of middle-class whites wouldn't care for, but there are places you just don't want to go, and we don't really know where those are. We figured that a lot of gang graffiti would be a bad sign, and we didn't see much in any of the places we visited.
We wandered around north of the Boulevard, on the edge of the hills, and saw several places that had apartments for rent. We talked to a security guard at a high rise and he told us what the rent was there, and it was a little high for us, but the place was a lot fancier than we'd settle for. I began to think that living in Hollywood itself might be doable. I'd like that. I lived in Hollywood for a while back in the '60s, but I had no firm address. A couple of times I slept on somebody's star. Not actually on the star, I didn't want to get up with MILTON BERLE imprinted on my ass …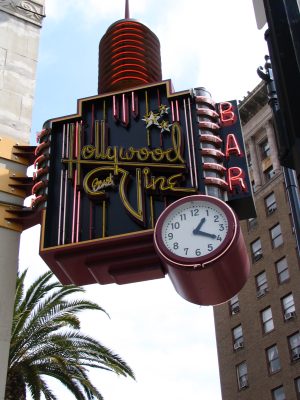 Hollywood Boulevard has changed a bit, but only on the western end, where there's been a lot of tourist development. The rest is pretty much the same, except instead of hippies lolling around high on marijuana, these days it's people with multiple body piercings, high on who-knows-what. Same shit, different year.
At Highland there is this huge urban mall, the Hollywood Highland Center, that contains the Kodak Theater where they give out the Oscars these days, and which seems to have been deliberately oriented to give a great view of the HOLLYWOOD sign in the hills. The pavement has quotations from people in the movie business instead of stars with names on them, and some of them are pretty funny. Whoever built this place has no trouble kidding show business, but also seems to have a healthy respect for what passes for "history" in LA. There are two gigantic, rearing elephants taken straight out of D.W. Griffith's Intolerance.
On the street itself are dozens of hustlers, just like always, selling maps to the stars homes, and more dozens of folks in costumes, mostly around the H&H Center and Grauman's Chinese (and I'm so glad they changed the name back from the horrible "Mann's Chinese"), posing with people for tips. Darth Vader was there, and Shrek, and Snow White, and of course, Elvis. I got my pitcher took with Elvis because he had a nice line of gab, and I appreciate that. Hey, he probably came out here from Mississippi or some other shithole like that, expecting to be the next James Dean. Cut him some slack.
* * *
We'd never been to the Greek Theatre. It's up above Hollywood, in Griffith Park, and to get to it you drive through a very tony neighborhood, homes worth many millions of dollars … and on a concert night, it is gridlocked. It's a 4-lane boulevard, trees down the center, and coming in there are three lanes in and only one out. If you lived there you'd have to plan your evenings carefully, if you didn't want to spend an hour getting back to your house. We wondered what the neighbors thought of the Greek? Probably be happy to see it fall into the San Andreas Fault.
This was my first experience of what they called "stack parking." It means that they line you up like on a ferryboat but in an open field, nose to tail, just enough room to open your doors. You can't move until the guy in front of you moves. The difference, obviously, is that when a ferry docks everyone is in his car, rarin' to go. At a concert people hang out, some take longer than others to get back to their cars. I was dubious.
Not to worry. When we got to WILL CALL, we were handed two tickets to excellent seats, about Row 13 Center, and two backstage passes for after the show. We'd be able to hang out until the traffic sorted itself out. Sorry about that, all y'all who were parked behind me …
The Greek is big, open air, and was almost full. Only the very, very worst seats weren't filled with butts. And I immediately noticed that there was a majority of young butts; at least a lot younger than mine. Not many teenagers, they all seemed to be lined up around several blocks on the Boulevard for the Kanye West concert. We passed them on the way in. (This was a few days after Kanye ripped George W a new asshole on live television over his criminal negligence concerning Hurricane Katrina, but nobody in the crowd seemed to be pissed off about it.) There were a lot of folks of my generation, but quite a few more in their 40s, 30s, even 20s. Good taste will out, don't you know.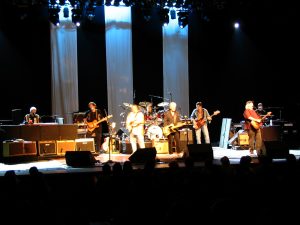 What can I say about the concert? They blew us away. They started out with their standards (oldies, now, no getting around it and might as well get used to it), and after the crowd was warmed up they did new stuff, including one written by David's long-lost son who was one of the keyboard players, and it was all great. Then back to more familiar numbers. David sent goosebumps up my spine with his rendition of "Almost Cut My Hair." I gotta say the highlight of the night was their rendition of "For What It's Worth," and they hardly sang at all. I know that sounds crazy … but what they did, they started it out, got to a shouted
STOP!
… and then let the audience sing "Hey, what's that sound, everybody look what's goin' down." After that, the audience did most of the singing. What a gas, to have 5, 10 thousand people (I don't know the capacity) who all knew all the lyrics! This group is one of the great voices of my generation … and they are still carryin' on.
Afterwards, we entered a nice little area with refreshments, partly inside and partly outside, along with maybe two hundred others, people who knew somebody or who knew somebody who knew somebody. Loaded my plate and noshed. And it was getting late, and we really wanted to say hi to David and meet Graham Nash and Steven Stills, but it was clear that in this crush of people there wouldn't be time for more than a handshake and I've met plenty of famous people that way and it's never satisfying except to brag about it afterward. And, frankly, I can't party all night anymore. I was getting tired and dreading the drive back to the 6. So we left, reluctantly. Maybe another time.
* * *
Next day we walked to Musso and Franks, a legendary restaurant on the Boulevard, sat down, looked at the prices on the menu, and walked back out. Ridiculous! We ate at Mel's, which is no longer on Sunset and no longer a drive-in. Food was good.
We spent a few more hours looking at buildings down in the Hollywood flatlands, and east of the freeway. Many more modest accommodations down that way, lots of them in neighborhoods that looked quite nice. We didn't quite get around to pricing them, but it's looking more and more possible. We both have loved living on the beach in the Five Cities, but it's been long enough, it's too rural, we've done everything there is to do here, from Neverland to San Simeon, and we both are hungry for a taste of the big city again.
Does anybody out there know of a good apartment [or bungalow] deal in the area? Write and let us know.
There was one more place we wanted to go before hitting the road again. I don't know how many times I've been in L.A. and told myself that this time I'm going to visit the Watts Towers. So far, the closest I'd come was driving down Century Boulevard on the way to LAX. Maybe a subconscious thing was going on; I remember watching Watts burn while I was living in Detroit before starting college. Looked pretty dangerous to me. And I know the average white Angeleno has never been within a mile of it, except on the freeway. But we're undaunted. We got lost a couple of times, and had the opportunity to see that much of it was no worse than poor neighborhoods we'd seen in Portland.
The Towers are not real easy to find in a car. Good thing they're so tall. I spotted the tips of them, and got lost a few more times because a train line cut through the neighborhood at an odd angle, making a lot of dead ends. (Don't know which railroad it was; I thought it was the Blue Line, but apparently not.) The Towers and the visitors center are on one of those cul-de-sacs.
We had no idea what to expect. Big crowds? Hard to find a place to park? No, we were just about alone. There was a Mexican couple waiting for the center to open. Turns out we were just a few minutes early. Given the obvious small budget of the operation, we were lucky the place was open at all on a Sunday. I mean, we could have seen it, the Towers themselves are surrounded by a chain-link fence, but we wanted to go inside.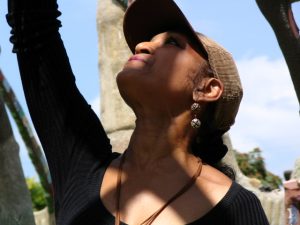 Did we ever get lucky. We paid our 4 or 5 dollars, I can't remember which, and were introduced to our tour guide, an energetic and enthusiastic young woman named Syni Patterson. We could not possibly have asked for a better experience. She knew every stone and rib and bit of broken glass in the place. Literally! She pointed out fragments of 7-Up bottles with the diving girl on them, things like that. It was clear she had a deep connection to the place, but we didn't realize just how deep until we got to the end of her 20-minute tour. She had us sit down and told us she was going to recite a poem she had written about the Towers. And she did … but recite is way too mild a word. It was more of an interpretive dance. It was a delightful experience.
We asked her if she had a copy, and she did, and then if it would be okay to post it on the website, and she said, sure. So here it is:
Simon Rodia's ------------- WATTS TOWERS
Being stirred by a compelling desire
That would not be denied,
Simon Rodia listened to his heart,
From where came a whisper;

"The dream is dreamed.
Come, fly with me.
The dream is dreamed,
high in the sky with me.
The dream is dreamed,
yours to implement or impede.
The dream is dreamed.
Embrace the wind indeed."
Without sketch or blueprint,
Without the architect's expert okay,
Giving rise to inspiration,
Rodia began his esteemed work, doing it his way.
Without the security of scaffolding,
Without tools fashioned for the task,
With materials cast off by others,
Working thirty-plus years … toil, birthing bask.
Built of broken glass, bits and pieces of tile and pottery,
Ceramic, rocks, seashells, wire mesh, steel and concrete,
The Watts Towers are mosaic monuments symbolizing the possibility,
Humble, yet grand structures, signaling the improbable victory to greet.
Like a lotus blossoming, the history of the Watts Towers unfolds,
With many seeking a myriad of details to comprehend,
But others touched by Rodia's innate artistry become manifest,
Upon hearing a whisper, are themselves inspired, to embrace the wind.
© 2003 by Syni Patterson; all rights reserved
When you visit the Watts Towers, ask for Syni.
October 6, 2005
Oceano, California