Jerry Stiller & Anne Meara Get a STAR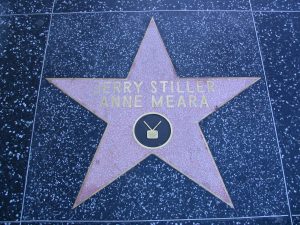 When: Friday, February 9, 2007 at 11:30 a.m.
Location: 7018 Hollywood Blvd, west of Orange Drive.
Stiller and Meara were the fourth married couple to receive a joint star on the Walk of Fame, after Sonny and Cher, television's Ozzie and Harriet Nelson, and radio's Fibber McGee and Molly (Jim and Marian Jordan), according to the Hollywood Chamber of Commerce, which oversees the Walk of Fame.
I didn't recognize Anne Meara until she was introduced. The years have not been kind. Jerry Stiller looked just like he always has; he's got one of those craggy faces that sets hard when he's thirty. He looked like an old man 40 years ago. Eventually it will catch up with him and everything will head south, but not yet. Jason Alexander was there, and their very successful son, Ben. There was a lot of repartee, a lot of kidding around. This is a kidding family, and though I don't know what they're like in private, you get the impression that when they're in public they're always on, always ready with the schtick.
February 9, 2007
Hollywood, CA