Farewell Compton, Hello Long Beach!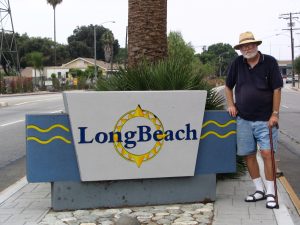 Today it came to me in a flash why I avoid public transit most of the time. Especially in Los Angeles, whose transit system, though probably doing the best it can, covers a vast area so that some trips can take two hours or more. Actually, it was a pretty long flash, stretching over almost five uncomfortable hours, a bit more than one hour of which we were able to devote to actual walking. Today, the Los Angeles Metro did not cover itself with glory.
We began in all innocence on the Red Line, and our trip to the Blue Line transfer station was routine. It was to be the last routine thing of the day. When we arrived at 7th Street/ Metro Center a train was just pulling out on Platform A. A Metro employee told us we needed to cross over to Platform B. Okay. Then we learned that there was construction going on at 119th Street, between the Imperial and Compton stations. Just our luck. We intended to go to Compton. Now we'd have to get off at Imperial and transfer to a bus for the trip to Compton, where we'd transfer to another bus …
Oh, well. We got to Compton, and started looking for the 127 bus, the one we'd ridden on our previous walk. Uh-uh. Doesn't run on Saturdays. Your best bet, take the 125 Rosecrans, which will take you north again and over to Atlantic, which is just short of the river but half a mile north of where we stopped last time! I hate going back over old ground. But I had noticed that the gates to the bike path on Rosecrans had been locked before, so we headed off down Atlantic, hoping to get onto the river walk when that street crossed it.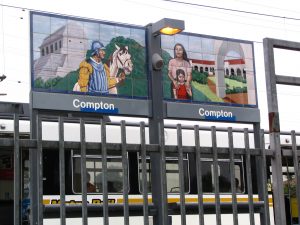 No such luck. There was no access to the bike path from Atlantic. So we kept on south and soon we were in … Long Beach! Huzzah! We will be in Long Beach for the rest of the walk to the sea. We went under the 91 freeway to the bus stop on Artesia. A bus came along soon … and she wouldn't take our day passes, because it was a Long Beach Transit bus. We could have paid (90 cents each), but the driver told us Metro stops there, too, so we waited another five minutes. Not so bad. The 260 bus took us right to the Artesia Blue Line Station … which took us to Compton Station, where we transferred to a shuttle bus for a rather roundabout trip back to Imperial Station, where we boarded yet another train …
This trip showed us why most Angelinos avoid the Blue Line whenever possible, and avoid the Metro entirely unless they can't help it. The trip itself was smooth enough, but there was a mother with a two-year-old who was cranky and had a shriek that could cut through sheet metal. A man came through giving out baggies with M&Ms, Canel's chewing gum, a marshmallow, and a Tinkerbell ballpoint pen … which had little notes in them: "Hello. Please Excuse Me, I Am Deaf. I Am Selling This Candy For $1.00 These Items Are To Support My Family. Thank You And God Bless You." Then he came back, harvesting guilt. I hadn't seen that for a while. (He did pretty good; more than half the passengers paid, including us.) Somewhere about three stations from the end of the line a young black man got on and began ranting about "East Coast niggers," to no one in particular. I didn't like the look of his backpack, but all he did was talk.
Very glad to see the back of him.
Back in the 7th/Metro and there were multiple crawl lines on the announcement boards overhead. The Purple Line stations were all out of service, due to a "power failure." Luckily, we didn't want the Purple Line. The Vermont/Sunset station was also suffering a power failure, and the train would not stop there. Close call; we wanted the next station beyond that. Lastly, the train would not stop at the next station down the line, Westlake/MacArthur Park, due to an "accident."
So off we went, at an unusually slow pace. In time we crawled through the MacArthur Park station. Over there on the other side some men were down on the tracks and others standing on the platform looking down. Accident? An oil spill, a loose connection? Or a passenger fried by the third rail, or dismembered by a train? No way to tell, and I haven't seen anything about it on the news.
Never had the Red Line train moved so slowly. Every once in a while we'd get up to full speed, then slow down, then jerk to a stop for a moment. The operator announced an "electronic problem." Oh, great. These trains are run by computers, the last thing you want is an electronic problem. We eventually reached Vermont/Sunset, and crawled through. It was eerie. Very dark down there, you could barely see the station. Across the platform was another train, lighted up, full of passengers, looking like lost souls. I suppose we looked the same way to them … and by then I was beginning to feel like a lost soul in mass transit Hell.
Shortly after leaving the haunted station we rounded the curve and stopped. Up there above us was Barnsdall Park, where, I happen to know, is where the whole kaboodle sprang a leak during construction back in 1995 and created an apparently bottomless pit forever after known as the Hollywood Sinkhole. It swallowed cars and parts of buildings, and took a long time to close up. It's one of the main reasons there hasn't been any more subway construction in Los Angeles, as various politicians and neighborhood groups point to it and say Not In My Back Yard.
What's next? An earthquake?
No, nothing so dramatic. Nothing about the day was really dramatic, just the slow chipping away of your patience, the gradual whittling down of your nerves. Imagine having to endure this every day. I have new respect for the poor and working class people I see emerging from these trains and buses every day.
Sorry to put you through all that. A bad day on the bus would come pretty far down my list of interesting topics I'd like to read about. However, since our motto is "We're doing it so you don't have to!" I figured you owed us just a few minutes of your time for me to vent, if you intend to continue to read these journals. Not that I'd blame you if you quit after this one.
So what about the walk? I'm sorry to report that, other than finally arriving in Long Beach, there was nothing very exciting to report. We began in East Rancho Dominguez, an unincorporated area of Los Angeles County. How all those land-hungry villages around it managed to overlook ERD during the incorporation frenzies of the '50s and '60s I'll never know. It's not what you'd call a fine town, but it's respectable enough. If you want your car repaired, cheap, it looks like the place to go. There were dozens of garages. The big tourist attraction is one of those giant Southern California landmarks the bulldozers seem to have missed: Dale's Donuts. It's still in operation. There was a very downscale horse stable, and a dog groomer in a small van. The transit stations had some interesting ceramic artwork, and some poignant bits, too, including letters from Compton schoolchildren, most of them pleading for an end to the violence.
That's about it.
Part 9b: More Long Beach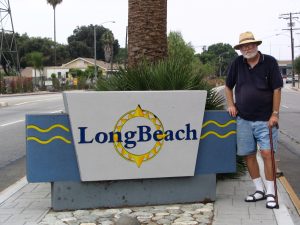 The Red Line to the Blue Line. The Blue Line to the 130 bus. Get off on Artesia, walk under the 91 freeway, then the 710. And there it is, stretching out before us, straight as the don't-ask-don't-tell US military: The river and the bike path.
Sigh. Onward. Sigh.
We began this odyssey for two reasons: We wanted to see the river, and we needed the exercise. Okay, we've seen the river, and though we still need the workout, such as it is (and it's a pretty severe one for my old knees), we could do it closer to home. So we're continuing for one reason, really, and that is that we like to finish what we begin. (Well, we've also promised ourselves a pretty nice reward at the end of the line, but I'll keep that a secret until we get there.) But it's no secret that I'm running out of things to say about the walks, and Lee is running out of new things to take pictures of. Today, for instance, about the only fun things we saw were two jackrabbits and a hummingbird, all of them far too quick to be photographed.
The trains make it easier. Not just because they get us to these far-flung regions of the LA Basin more quickly (about an hour at this point, as compared to at least 90 minutes in a car, more likely two hours each way), but because we can cover twice as much of the frankly uninteresting ground if we don't have to save my energy for the hike back to the car. Today we walked from the Artesia Station to the Del Amo Station, and the next time it will be Del Amo to Wardlow. These are the longest stretches between two stations on the whole Blue Line. After that the stations get much closer as we near the downtown areas of Long Beach. I figure three more days of walking before we sight the Queen Mary and can dip our toes into Queensway Bay.
I said we'd be in Long Beach for the rest of our walk. I was wrong. Today we clipped a little corner of the town of Carson, which I hadn't even known was there. It's one of those towns that, unless you live there, you probably didn't even know it was there, either. Well, it's only been there—as an independent town, that is—since 1968. If you travel through it on the 405, you'll probably remember it as an area of oil wells and refineries, though I understand that there are some nice neighborhoods farther to the north. The Goodyear Blimp has a base there. And that's about it for Carson.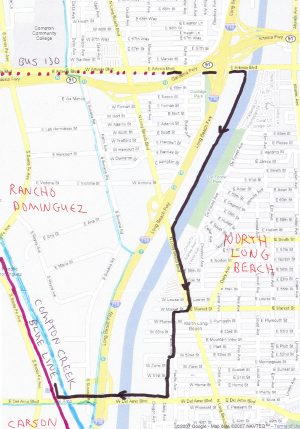 The main thing we saw today, as on many previous days, was the I-710, the Long Beach Freeway. That's because it parallels the river most of the way north to downtown. It's quite a sight, though one you quickly grow tired of. Literally every other vehicle is an 18-wheeler, 90% of those of the container variety. Since the ports of Long Beach and LA are, taken together, one of the busiest container ports in the world, this is easy to understand. You read the names of the shipping lines: Hanjin. K-Line. Maersk. Hanjin, Hanjin, China Line, Maersk, Hanjin. Okay, that's enough of that. Most of the freight from the ports is headed north, and the Long Beach Freeway is the logical route. But if you look at a map of the LA freeway system you will notice that, just north of Interstate 10, the 710 peters out impotently and spills its load on the unpromising ground of Alhambra, home of the unrepentant murderer Phil Spector. If you draw a line due north from that endpoint, you will eventually encounter a stub of freeway dangling like a Viagraless organ from the bottom of the I-210, and it's labeled 710 as well, though the green color of the sign reveals it to be a state route, not an interstate. Logic might lead you to believe that somebody, at some time, intended these routes to be connected, and logic would be right. But the communities it would have split—El Sereno, South Pasadena, and Pasadena—fought the freeway and won. This is entirely understandable, given the history of other neighborhoods. We have learned a bit about freeways and their social impacts here in SoCal. There is currently a proposal to put that last 4½-mile bit underground, but don't expect to see it soon.
Meanwhile, the 710 is getting a pounding it was never built for. All those trucks, not enough room for them, and a roadbed that is inadequate to the task. Patches and potholes all the way. Again, there are plans for expansion, including 4 lanes just for trucks. That would be nice. I can tell you that driving the 710 is a white-knuckle experience, like a mouse in an elephant stampede.
I had what may be a stupid question, watching the thundering herd go by us. All those trucks are taking containers from the ports to the railyards, which are in Vernon and East Los Angeles, Pomona, and San Bernardino. There are already rails along all these routes, but they seem to be largely unused, or at least underused. I suspect they need major refurbishment. But why not do that? And while you're at it, why not add rail lines parallel to the old ones? They don't take up any more room than freeway lanes. And furthermore, why not sink them into the ground, as has been done along Alameda Street? Then you can cover them, maybe even with a linear park. One engineer and maybe four electric engines could haul the same tonnage as a thousand trucks, and let me tell you, the area all around the 710 absolutely reeks of diesel fumes … what's that, Lee? You say a couple big gorillas from the Teamsters Union are at the door and want to see me?
Please ignore the previous paragraph.
We went through our first Long Beach residential neighborhood today, and it's pretty much like a lot of the Valley. Small one-story, detached homes on small lots, well tended in most cases. Next time we'll be getting into richer territory, as south of here is Bixby Knolls, quite pricey, right next to a country club. Can hardly wait. That's what we need, another golf course.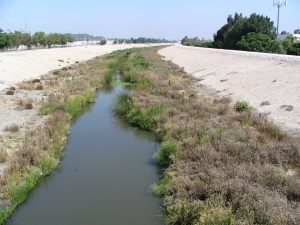 We crossed the last tributary of the LA River before it enters the sea, Compton Creek, which is a stagnant-looking ditch that would actually look something like a real creek if you ignored the concrete banks. But from the satellite photos I see it dead-ends about two miles north, or rather, emerges from the ground, where it is no doubt fed by the runoff storm drains.
Then it was back on the Blue Line at the Del Amo station, and home.
EXTRA BONUS MATERIAL!!!
Pow-Wow at the Autry
We had been to two pow-wows previously, the first held by the Grande Ronde tribe in Oregon, outside their swanky tribal center in the countryside, a few miles down the road from their swanky casino—which paid for the swanky tribal center—and the second hosted by the Chumash of the Santa Ynez Valley, held in a grove of towering live oaks some twenty miles down the road from their swanky new casino. We found them to be enjoyable affairs, so when we heard of one to be held at the Gene Autry Center in Griffith Park we decided to attend. An urban pow-wow … though even the rural ones are not exactly primitive camp-outs, in spite of the actual teepees. Pickup trucks are parked outside the tents, and portable generators power the television sets inside. I don't doubt that these days there is wireless internet access as well.
So we set off in the cool of a July evening along with our friends Jonathan Mersel and Marion Peters and their son, Jason, after first gorging ourselves with food at the Thai Patio, a few blocks from our apartment, including a dish called a Seafood Volcano, which I highly recommend. I also recommend attending pow-wows in the evening as opposed to the afternoon, our original plan, especially on days when the mercury is hitting the mid-nineties.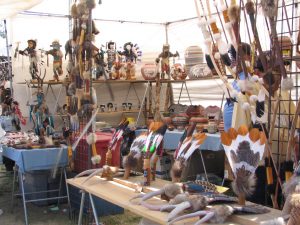 I don't know how long it has taken the modern pow-wow to evolve, but they are rather laid-back affairs. Anyone and everyone is welcome to attend and participate, you don't have to have a drop of Indian blood. There are booths selling crafts and such, there is food (mainly Navajo fry bread, which is very good, or Indian tacos, which is basically a tostada on a piece of fry bread), and there is much socializing among the people who are regulars on the pow-wow circuit, but the main attraction for everyone is the singing, drumming, and dancing. Singer-drummers are established groups, and people in the dance contests are people who work very hard on dance and costume, but in between these events there are what is called "intertribal" dance, where everyone is invited to join the slowly-moving circle and boogie to whatever beat moves you, no costume necessary. The drumming at first sounds pretty monotonous, but the more you listen the more subtleties you hear, and it's clear these people rehearse a lot. The songs are two- and three-note chants, in what Indian tongue I do not know, but they are complex, and contain flights of soprano yodeling that must hurt the throat.
But when the serious dancers take the floor … or rather, the grass, oh, my dear! I don't know one tribal costume from another, but I think a lot of these people pick and choose their habiliment from various sources, mainly tribes of the plains, divided into Northern and Southern divisions. There is something called the jingle dress, which Wiki tells me came to some women in a dream around 1900. Very nice.
Well, there is simply no describing these costumes. I will let Lee's pictures do the talking for me. And if a pow-wow happens in your neighborhood, do attend.
(If you're wondering why these pictures seem so bright … none of the pictures Lee took that night came out very well. So we went back the next day and spent an hour eating a Navajo taco and fry bread, and snapping these pics.)
August 3, 2007
© 2007 by John Varley; all rights reserved