Country Clubs and Condos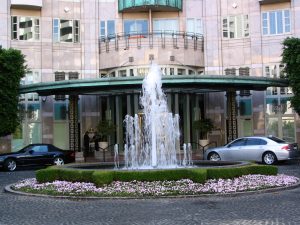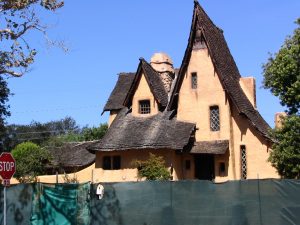 We parked just down the street from the Beverly Hills "Witch's House." The story is that it was built in Culver City in 1921 and used in a lot of silent movies, then moved to its present location. It looked awfully big to move, but I guess it's possible. I prefer to believe it was caught up in the same whirlwind that transported Dorothy Gale's house from Kansas to Oz, only this house belonged to the Wicked Witch of the Southwest, who rode it here in hopes of landing a job in the movies, but turned into a pumpkin instead. It's a theory. It seems to have been in a constant state of renovation for almost a decade now, since the realtor guy who bought it found out all the people who were interested in buying it from him intended to tear it down. What idiots! I wish some foundation or somebody like that would take it over. It is very weird, but very hard to see because it's surrounded by a construction fence.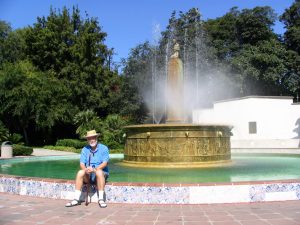 Back over to Wilshire, we stopped briefly at a nice little fountain that sort of welcomes you to Beverly Hills. I say sort of, because BH is not really that welcoming a place, enclosed as much of it is by high walls and privacy hedges. And when you read the dedication plaque from 1931, it says the fountain was built with funds from the people of Beverly Hills "north of Santa Monica Boulevard." North of the Boulevard, you will note. Well, naturally, south of the Boulevard are all those … sniff … tradesmen, don't you know? Peddling cars and clothes and jewelry and such. And the houses … well, my dear, there's not a carriage house nor a tennis court to be seen to the south …
Very shortly we were passing through the least interesting part of Wilshire, and you won't be surprised to learn that it's a golf course. The Los Angeles Country Club, no less, which has 36 holes, no less, to sink your little balls in, if you're into that sort of thing and have little [white] balls. It was built in 1911, back when Wilshire was a dirt track. Later, when they paved and widened it, it caused considerable consternation to the LACC membership. The damn street ran right through the golf course! The next thing you knew Model-Ts were rattling through a landscape that had never known the tire tracks of anything less regal than a Mercedes. In those days most of the members played from their cars, of course, so it was really galling to have to wait at a stoplight to get from the 9th green to the 10th tee. The only way to do it was to make a difficult dogleg on Comstock Avenue, whose ruts and bumps would often cause the gin to slosh out of your martini glass. And there was a treacherous sand trap between you and the tee, which bogged down many a heavy Rolls-Royce, Duesenberg, and Hispano-Suiza. Then it was a matter of having your driver tee you up, lean out the window, take a swing, take a drink, and be driven to where the ball had landed. Great sport, old thing! There were those, of course, who had their chauffeurs do the actual hitting of the balls—wouldn't want to exhaust oneself—but it was deuced hard to find a man who was both a good hand at the wheel and had a decent backswing. All that came to an end after the Great Groundskeepers Strike of '56, when Bob Hope cut one too many donuts into the 18th green in his stretch Jeep limousine, and from then on it was electric golf carts. There is still the rusting hulk of a 1938 Jaguar saloon, bonnet-down in a water hazard by the 16th green, and lord help you if you hit into it. It will take you at least three strokes to dig your way out of the rotting upholstery. I'm making all this up, of course, but I had to have something to write about on this leg of the journey, because no matter what renowned landscaper designed it, no matter how high the greens fees, no matter how the duffers may rhapsodize about the layout, all golf courses have this in common: They are booooooriiiiiiiiing!!! This one is worse than most, because you can't even see the course behind the high hedges on both sides.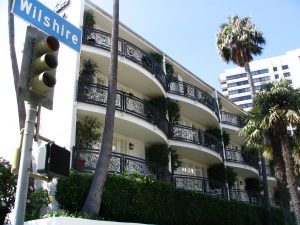 Eventually we escaped from Dunlop Hell and entered what may be the greatest concentration of wealthy people per square foot in Los Angeles, maybe in California. That's because they don't spread the millionaires out here, they stack them up. And you actually do have to be a millionaire to live here, at least on paper. A new condo building was going up right on the edge of the LACC, and it advertised units "from 5 million." One assumes that price gets you a bed-sitter in the basement with a toilet down the hall, next to the furnace.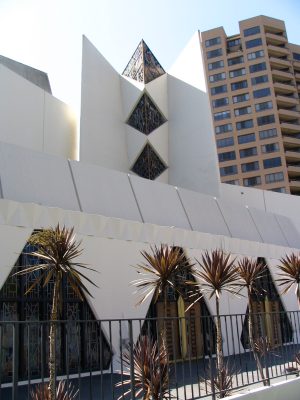 One of the first places we passed was the Beverly Hills Plaza Hotel, which seems a little presumptuous, since we were in Los Angeles and there was no plaza. I recognized it as a place I stayed a couple of times when I was working down here, though they've changed the name and remodeled it considerably. Also along this part of the street are two large Jewish temples, one Sephardic, the other something else. Both are quite modern.
The millionaire towers stretch for about half a mile, all the way to Westwood Village. Here and there you can see a modest 2- or 3-story apartment building from the days when the whole street was probably lined with such places, but they are almost completely gone now, replaced by vast towers. All these towers have names, and I think they've worked just about every possible combination with the word Wilshire in it. There's the Wilshire Thayer, the Wilshire House, the Wilshire West, the Wilshire Manning, the Park Wilshire, the Westwood on Wilshire, and just plain old "The Wilshire." That struck me as rather nervy. After all, Wilshire Boulevard is 15.8 miles long, and these clowns felt they could just be "The Wilshire?" Then there is the mysteriously named Argon Wilshire. What's going up next door, the Krypton Wilshire and the Xenon Wilshire?
A few christeners showed a little more imagination, but not much: La Tour, Mirabella, the Churchill, Blair House, the Dorchester, the Westholme, the Remington (private "estates," no less, stacked up above other estates!), The Legacy at Westwood, the Westford, the Longford, and the Californian. Then there was the Marie Antoinette. I have no idea where that came from. I will say this about these places: Almost all of them have balconies, though nobody has hung any washing out to dry on them. But there were a lot of plants. I wonder if they have gardeners to take care of them? They do have valet parking. I mean, if you lived there, would you want to park your own car in the downstairs garage? And here's an odd note. Most of the newer towers are a lot nicer to look at than the older ones. The "old" ones, many of them built as far back as the '60s, have no recognizable style, for the most part. The new ones are designed to a fare-thee-well, most with a faux/nouveau/deco/retro look that is a bit reminiscent of the Empire State and/or Chrysler Buildings. Lots of stuff that looks a bit like wrought iron, lots of pre-corroded copper, lots of close vertical lines. How architects must love the 21st Century! At last we seem to have pretty much shaken off the Curse of the Bauhaus, that sleek set of steel and concrete carbuncles on the face of the 20th Century, and new designers are free to use at least a modicum of imagination … at least for the rich.
Somewhere in there we passed a bus stop with what may be the most ridiculous advertisement I've ever seen, and that's saying something. It showed this really buff ninja-looking guy, all oiled muscles and black leather, and he's really one tough dude, because he's brandishing … a Razr2 cell phone! Like it was a samurai sword! Get outta my way, dudes! I got the fastest, sharpest, most deadly texting thumb in Westwood!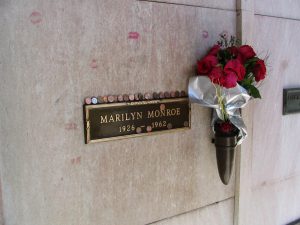 No visit to Westwood Village would be complete for us without a stop to pay our respects to Marilyn. She lies peacefully in a vault in the Pierce Brothers Westwood Village Memorial Park & Mortuary, one of the best-hidden tourist destinations in Los Angeles. It is a 2- to 2½ -acre (I paced it out and approximated) plot of green grass, old trees, and marble completely hidden away behind skyscrapers, only a few yards off busy Wilshire. The only clue to its existence is a small sign on Glendon Avenue, a sign that I drove by at least three times before we spotted it the first time we looked. There are more stars buried here per square foot than anywhere else on earth, I'd guess, including Jack Lemmon, Walter Matthau, Truman Capote, Dean Martin, Don Knotts, and Mel Torme. In fact, I just did a count, and the Seeing Stars website lists 72 names (including a few who were only cremated there and their ashes scattered or buried elsewhere, such as Janis Joplin and Gene Kelly) notable enough to be called famous. You may not recognize all of them, but I guarantee you'll know at least half, even if you've never read a fan magazine in your life. That works out to about one celeb every 1500 square feet. It's a bit crowded, but so far no one has complained, not even about the increasing number of big, bold tombstones with names written in Arabic. Iranians! Alert Homeland Security!
Next time: A much larger cemetery, and maybe the outskirts of Santa Monica. I can practically hear that surf crashing and smell the sea air!
September 25, 2007
© 2007 by John Varley; all rights reserved