Twenty-six miles across the sea …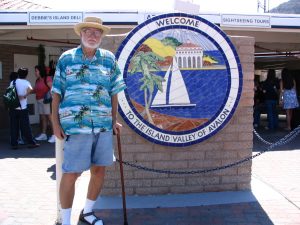 … Santa Catalina is a-waitin' for me
Santa Catalina, the island of romance
Romance, romance, romance.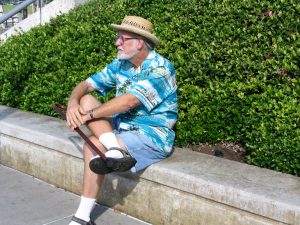 We had thought that, having completed our journey that will surely go down in the annals of urban exploration, we ought to get some sort of reward. Since they don't give out Olympic gold medals for Urban Walking Over a Period of Months (or at least not that I'm aware of), we'd have to take it upon ourselves to come up with a reward. I figured we might board one of those little tourist boats they have in Long Beach and pootle around the harbor for a while, enjoying the sea breezes, and then one day I found that little tune wandering around in my head. Twenty-six miles …
Our first urban journey was walking Sunset Boulevard, from downtown to almost-Malibu, and Sunset Boulevard is twenty-six miles long. The Los Angeles River is fifty-two miles long, and fifty-two divided by two is … twenty-six miles! Coincidence? I don't think so. Something was telling us, "Go to Catalina!" Never one to ignore an omen, especially if it involves doing something that sounds like fun, I booked us for two round-trip tickets to the island.
I had been to Catalina once, but in a rather unusual way. Almost all the ferries go to Avalon, the biggest and almost the only town on the island (there is a place called Two Harbors, pop. 298, at the narrowest place on the island, and that's it). But there is a little one-strip airport that's been bulldozed right at the top of the highest point on the island. Back in the '80s Richard Rush, the director of The Stunt Man, was briefly hired to direct my script Millennium, then still a fresh and exciting project (we were to go through four more directors), and we used to meet at his hillside house in Bel-Air for script conferences around his pool, where I just missed meeting Peter O'Toole one day. (Richard's girlfriend, Claud, worked for some sort of wild animal rescue organization, and sometimes there would be a lion or tiger cub wandering around. Ah, Hollywood!) We'd noodle around on different ideas, and then he'd say "Let's go fly somewhere!" And we'd hop in his car and drive to an airport in the Valley, where we'd get in his little Cessna and take off to various private aviation airports for lunch. One day we landed at the Catalina "Airport in the Sky." I didn't know it at the time, but it's seen as a challenging field to land on. He let me fly, except for take-offs and landings.
We went to the restaurant, the Buffalo Springs Station, for "$100 burgers," which means the burger costs $5 and the flight over … oh, a whole lot more. I always wondered if Richard charged the expense off to the movie development budget. The burgers were made from ground buffalo, the house specialty, though they were not the buffalo that run wild on the island, which were brought over for filming old western movies and then abandoned.
So I'm one of the probably small number of people who had been to Catalina, but had never seen Avalon. I was looking forward to it.
Our ferry was due to depart at 10AM and they want you there an hour early. Traffic at that time of day can be awful so we determined to leave at 7. But the traffic on the 710 was not bad at all, and we made it to Long Beach in a little less than an hour. After getting lost a little bit in the maze of streets and freeway entrances down there at Queensway Bay, we finally found the parking structure ($12 for all day) convenient to the ferry terminal. Exchanged our reservations for tickets ($53 round-trip for seniors, 55+, and this was my birthday, I was … gulp … 60!). By the time the big jet catamaran pulled in a crowd that had looked as if it might be small had swelled considerably. I wondered if we'd have a hard time finding seats. (We didn't.) There were two lines, one for steerage and one for the Commodore Lounge, which cost an extra $10 each way. I'd considering paying the extra, but when I saw it I was glad I'd saved the $40. All it got you was early boarding, a seat in a slightly more comfortable chair, inside, and a slightly better snack bar. With the regular fare you got a choice of inside or outside seating, and we chose the latter. You want the wind in your face if you're going to Catalina, don't you? Of course you do.
The ship left on time, and we crept through the no-wake zone of Long Beach Harbor, then when we hit open water the captain cranked up the engines and we zipped right along. I kept a lookout for dolphins and whales and flying fish, but we didn't see any. Soon the mainland vanished into the haze. The trip was quite smooth, just a slight roll here and there. I've never been seasick, but I've never really been tested, either, in high seas in a small boat. No worries there. If anyone got sick, I didn't see it.
In about an hour Catalina loomed ahead, a steep and rocky shore. The first sign of human habitation was a gawd-awful huge arc of high-density condos lining the first bay north of Avalon. I'd not expected that, as the island is owned by something called the Catalina Island Conservancy, set up by the Wrigley family who once owned the whole thing. They discourage too much development, but they only own 88% of the island. Oh, well, most of the island seems safe from that sort of blight, a haven for the buffalo and the endangered Catalina Island fox.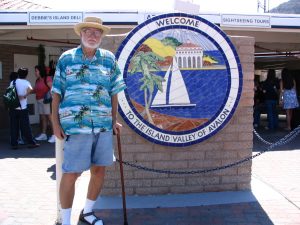 Avalon. The name conjures magic. It's the name of the mythical island where King Arthur is said to be buried. The real Avalon is a toy town on a toy harbor of the deepest blue imaginable, and it teems with boats from plastic kayaks to fairly big yachts, everyone puttering around enjoying the incredible sun and sand and water. Houses and apartment buildings climb all the hillsides around the narrow little valley. It was a Thursday and still fairly crowded; I wonder what it's like on the weekends? I probably don't want to know. The crowds of tourists were manageable this day, we never felt hemmed in, like you can at Disneyland.
In fact, Lee mentioned Disneyland when we first started walking. Everything is clean, and much of it is quaint, but not in a manufactured way, like Downtown Disney or Main Street USA. There are ugly apartment buildings here and there, but they are mostly squeezed together up on the hills. Down here on the flat most of the buildings look as if they'd been here for a while. We like that.
Tourism drives the place, without a doubt. Tourism has always been the main purpose of Avalon, it seems, right from its earliest development. There used to be a ceramics factory here, but never any other industry, and not much commercial fishing. Several people went broke trying to get it started, but once it got going, it never stopped. And there seems a fighting chance that it will remain just about the size it is now, without a lot more of those condos sprawling out on all sides. I'm keeping my fingers crossed.
We had seven hours to explore and do as many things as we could. We knew we couldn't do them all, so we prioritized. First on the list was the casino, so we bought tickets to that and then found a little Mexican place, Coyote Joe's, and had a slightly overpriced lunch. Well, everything's overpriced at a place like this. Neither of us are into fishing or snorkeling or lying out on the beach, even if we had time for stuff like that. We hadn't brought bathing suits, and I don't think either of us are eager to expose our aging bodies out on the sand with the muscle boys and bikini girls. But right from the ferry dock we'd been able to look down into the water and see big garibaldis, fish of such a striking orange color that I figured I'd want a better look at them. There are two ways to do this if you aren't a snorkeler. You can go on the traditional glass-bottom boats (this is where they originated), or for a bit more you can get on what they call a "semi-submersible," which is baloney, as they don't submerge at all but simply ride low in the water so you can see better. One of them was a yellow "submarine" called the Nautilus. We put that on our tentative list.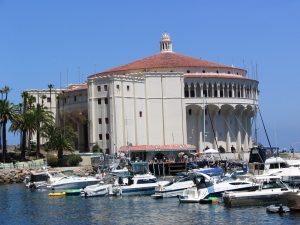 We walked out to the casino for the 50-minute tour. Though you can hire a taxi or rent a golf cart, the most common way to get around in Avalon is on foot. The town is not large, and even one with knees like mine can handle it pretty well. The place actually has a very stern attitude about normal motor vehicles, probably the only place in California that does. There are trucks for delivering goods, but the number of private vehicles is regulated. Basically, to get a conventional car on the island you have to wait until one of the cars that are already there breaks down. That wait is about ten years! One result of this policy that I noticed is that you see a lot of beaters sitting at the curb. I assume this means the owner is keeping it running with chewing gum and duct tape, so he doesn't have to wait a decade to replace it. Though why you'd want a piece-of-shit Gremlin or VW Rabbit when you can get a neat little 4-seat new Yamaha golf cart for $8,000 with no waiting is a mystery to me. We even went into a dealership and kicked a few tires.
The Avalon Casino is not only the most prominent feature of the town, it is also one of the most remarkable structures in California. The equivalent of a 12-story building, it was for a while the tallest building in LA County, until they built City Hall. Our guides, Joe and Mary Beth, told us more about the history of the place than I could possibly put down here. You should go there and take the tour. You will be boggled.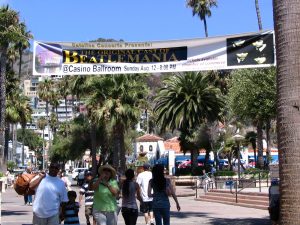 The first thing to get out of the way is the name "casino." There is no gambling there, and never has been. When it was built in 1929, that term didn't necessarily mean a place to gamble. In Italian it means a social gathering place, and boy, is it. There are basically two parts to it. Down below is one of the most gorgeous movie palaces I've ever seen, rivaling Radio City Music Hall. It seats over a thousand, was the first place ever designed specifically with talking pictures in mind, has the original Page pipe organ, still in operation every weekend with a first-run feature (The Bourne Ultimatum when we were there), and has a curved ceiling so acoustically perfect that you can stand on the stage and be heard quite clearly in the back rows. The ceiling is painted with fantastic art deco scenes depicting the history of the island. We learned all about it, and then saw a short Buster Keaton film.
Then it was up four long, broad ramps, to the equivalent of the 8th floor. Quite a hike; many of us were breathing hard by the time we got up there. But well worth it. What's up there is the Avalon Ballroom, with the world's largest circular dance floor, still all the original wood, so designed that when the dance floor is stomping and the theater sound system is blasting, neither space disturbs the other.
They still have dances here, still to big band music. Over 250 bands have played this Hall. Mary Beth described it, and I imagined this space back in the day …
You would arrive in the evening on the Catalina or the Avalon, twin ships that could carry almost 2000 people each. You'd dance in the ship's ballroom on the way over, and maybe have a few drinks, as the casino served no liquor on teetotaler Mister Wrigley's order. (They didn't start serving alcohol until 1948, though Joe said many a hip-pocket flask was smuggled in to spice up the punchbowl.) Once there you would dance until two or three in the morning to the likes of Kay Kyser and his Kollege of Musical Knowledge, featuring Ish Kabibble on the cornet, or Bob Crosby and his Bobcats, Artie Shaw, or the great Benny Goodman himself! Six thousand people could fit on the dance floor at one time. Then you'd get back on the boat and dance all the way back to the mainland. The price for this evening's entertainment, boat ride and ballroom admission included? $1.35. If you went to the movies instead it would cost you 35 cents, including a drink.
Mary Beth said her senior prom was held here at the ballroom, and the school basketball team plays its games here. I wondered what it was like, growing up on the little island in the little town? Must have been nice.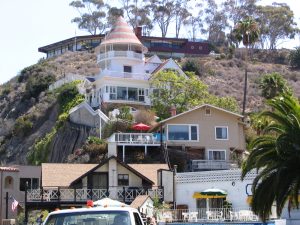 Then it was out onto the circular walk around the casino, which gave us a wonderful view of the harbor and surrounding hills. Joe pointed out the sights, including Gloria Swanson's house on the brow of the hill. … no, not that Gloria Swanson, he said, but a rich woman with the same name, who had one of the only swimming pools in Avalon, shaped like the island itself.
We learned much more about the fabulous place but, like I said, I'm not going to write a book about it. You must go there when you're in California.
Time was running out. I wondered if I should have booked us for a later boat … but I was getting pretty pooped by now. We had to decide whether to do the glass-bottomed boat or rent a cart, we didn't have time to do both. We opted for the cart. Which cost a pretty steep $40/hour, and as soon as we'd paid our money we learned that the carts were only good for the "scenic route," that you couldn't just drive anywhere you wanted in a rental cart, that privilege was reserved for island residents. Everywhere there were signs that said NO RENTAL CARTS! Well, that didn't seem fair … but what the heck. I turned it on and drove away on what the rental guy said would be about a 45-minute drive if we didn't stop a lot.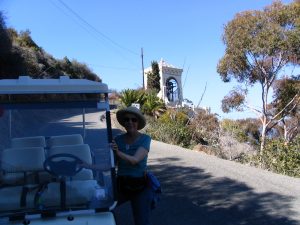 Those rental carts are pretty crappy. Top speed is about 15 mph, which is okay, you don't want to go much faster than that. But they lurch, and I don't know what sort of transmission they had but it was pretty quirky. When you stop them, they basically shut themselves off, then you press the accelerator and they lurch into action again. That, and the fact that a lot of the roads were rutted and potholed, made for a fairly wild ride. We went up the canyon, past the country club and—what else?—the golf course they managed to squeeze into the narrow space, past the tiny ballfield where the Chicago Cubs came for spring training for 30 years, past the school, to the Wrigley Memorial Gardens … where they wanted $5 to get in, so we didn't. Back down the hill, and then on a seriously winding road into the back country. Huge patches of it were burned black by a fire that happened only a few months ago and came very close to burning Avalon. (Most of the town burned down once before, in 1915.) It was desert scrub country, lots of cactus. The road was narrow and there were no guardrails, and I believe Lee's ass sucked a lot of foam out of the cart seat as we descended, no matter how slowly I drove. But soon we were overlooking the harbor again, and stopped so she could take some pictures of the bell tower, which rings every quarter-hour, and the vacation home of Zane Grey, which is now the Zane Grey Pueblo Hotel and looks very nice. And for something like this it's not even very expensive: $195/night in the summer for their premium ocean-view rooms, $110 in the winter.
It was nice seeing more than just the town, getting out in the island itself, but I'm not sure I'd recommend it. There are bus tours that take you deep into the interior but cost a lot more and take about 4 hours. I don't think I'd want to do that. Now I'm sort of regretting we didn't do the boat tour … but there's no point in that, there just wasn't time, even though we had to waste almost 45 minutes waiting for the ferry back. That's just how it is if you aren't spending the night … which I think I'd look into for a return trip. Also, the submarine ride has just moved to the top of my agenda for a return. I want to see the beautiful orange fishies up close. They say there are sharks out there, too, which is one reason you'll never see me in the ocean.
The trip back seemed slower for some reason. It wasn't, it took us an hour and five minutes, just like the trip out. I think it was because we were on a different, larger catamaran this time, and higher up, on a third outdoor deck the first boat didn't have, which made it seem less speedy. I was so tired I almost fell asleep in the cool evening air. Soon we were crawling through Long Beach Harbor, docking, getting back in the car, getting on I-710. No traffic at all on the way back.
All in all, one of our better days, and a fitting end to our Los Angeles River walk. Once we figure out what our next walk will be, y'all are invited to come along with us. Hope you've enjoyed this one!
John and Lee, August 2007
© 2007 by John Varley; all rights reserved