Forest Whitaker Gets a STAR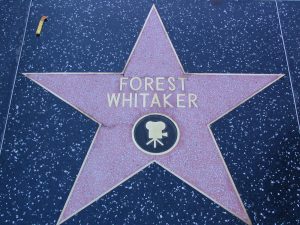 When: Monday, April 16, 2007 at 11:30 a.m.
Location: 6801 Hollywood Blvd, near Highland.
I remember as a kid coming to the Walk of Fame. It was like a field trip and very exciting to us…. [The star represents] where I came from, and where I am going and hopefully where I am at right now. ~Forest Whitaker
Angela Bassett introduced the big guy, but this one was mostly about family. He seemed to have a lot of them, and they were all proud of him. He delivered a humble, thoughtful speech. It was a big and appreciative crowd. He was just coming off his Oscar for The Last King of Scotland, and seemed a bit overwhelmed by it all. He seems to be a peaceful man, a student of yoga, a vegetarian, and (this doesn't preclude peacefulness) a black belt in karate.
April 16, 2007
Hollywood, CA