Days 1, 2, & 3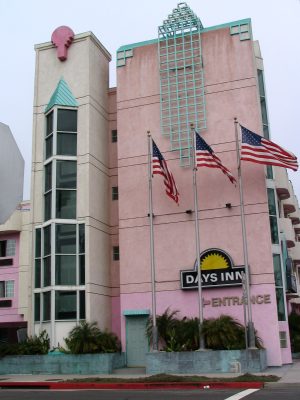 Day One
Day One of our Route 66 trek was … uneventful. Let's face it, at this point we're only two blocks over from where our last walk ended, on Wilshire Boulevard. Everything we saw today was basically more of the same. Lee didn't even find much to take pictures of, and that should tell you something.
The highlight of the day was a short visit with Barry R. Levin, who has a small and very nice bookshop there on Santa Monica Boulevard between Lincoln and 7th Street. He specializes in rare and hard-to-find science fiction, and his stock is impressive. I had heard of him for many years but our paths had never crossed. He was sitting at his desk inside, very natty in a three-piece suit complete with watch fob. Made me feel like a slob, but then I'm used to that. I introduced myself and signed the half-dozen of my books he had on his shelves, and we promised to drop in again. I'm sure we will.
About the only other thing of note were the very nice apartment and/or condo buildings along the beach. (We have to post pictures of something other than me and Mr. Levin, don't we?) One, the Pacific Sunset, had a funny banner stretched across the front: MOVE IN SAVINGS WITH FREE SUNSETS. Don't you believe it! As any fool knows, rooms in an identical building with no view of the Pacific would be hundreds of dollars cheaper per month. Maybe a thousand. You'll pay dearly for those sunsets!
Day Two
If this keeps up, it could be embarrassing. How can I write a trip report on a Great Adventure … if nothing happens? I mean, of course things happened, we drove to Santa Monica, we parked, we put one foot in front of the other, and then we got back into the car and drove home. But we didn't really see anything of interest. This is a very, very bland section of Santa Monica Boulevard and Route 66. No murals to speak of, no interesting shops, no pretty parks. Just mundane businesses and car dealerships. Lots of car dealerships, all of them upscale brands, though no Rolls or Ferrari, that would have been interesting. Lee took a total of seven pictures of this walk. Seven!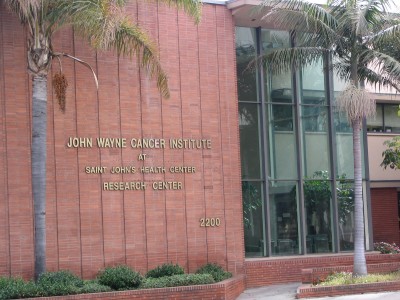 Only one of the pictures inspired anything to write about. This was the John Wayne Cancer Institute … at the St. John's Health Center. Surely not the same John? I suppose he could be canonized; if the Pope can make a saint out of Mother Teresa, he can make a saint out of anybody. (I'm not a Mother Teresa fan.)
… and one observation. We noticed that all those dealerships had large lots selling "pre-owned" cars. Every one of them. Lee thinks that silly word was coined a long time ago as a joke, as something to make Ralph Williams or some other sleazy car dealer stand out from the others. I think she's right. When I was young, no one spoke of pre-owned, people would have laughed. But it caught on, now no one seems to notice how ridiculous it is, and now they all use it, especially the upscale ones, as though the alternative word, the actual, non-weasel word, is just too plebian for them to put on a sign on a Lexus, or Audi, or Infiniti. Just how stupid do they think their upper middle class clients are, anyway? Get over yourselves, assholes! It's a used car!
Well, I've managed to write over 350 words about nothing. I guess if Seinfeld can do it, so can I. Let's hope the next walk is more interesting.
Day Three: Out of Santa Monica
Santa Monica is a pretty little town, and there are many interesting things to see and do there … as long as you don't get too far from the beach. I'm sure it's a nice place to live, and the neighborhoods we've driven through have looked middle-class and prosperous. But for urban adventurers like us, I have to say that the commercial areas on first Wilshire, and now Santa Monica Boulevard, are … deadly dull. Oh, sure, there were a few places here and there, but as I said above, Lee was hard pressed to find anything worth photographing, and I couldn't find much to write about.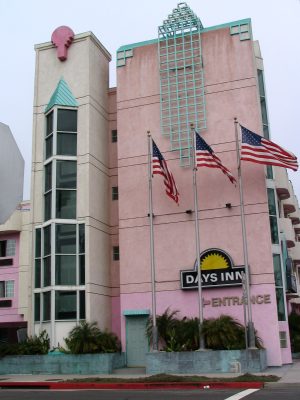 But today we left Santa Monica behind us, and things looked up almost immediately. Not that today is going down as one of amazing discoveries, but there was a lot more to look at, starting with a rather amazing pink and blue art deco building that turned out to be, of all things, a Days Inn. We've stayed in a few of them around the country and they're maybe a percentage point better than a Motel 6, but there's no way you can tout them as luxury accommodations, and no way you can shout about their usual architecture. But there's something about Los Angeles, it seems, that makes even big franchisees want to spruce themselves up a little, now and then, here and there. We've seen a pretty fancy KFC on Western, and a Phillips 66 station on Robertson that looks something like a stealth fighter and something like a flying saucer. Other examples abound. This is the sort of thing I expect in, say, Anaheim around Disneyland, or maybe in Hollywood, something to catch the eye and set it apart from all the competition, but the location of this Days Inn is no place special. And I doubt the rooms are luxurious. But I appreciate the extra effort.
There was a nice little furniture store full of vaguely Asian stuff. Prices were quite reasonable, for LA. Lee said she could easily back a U-Haul up to the place and load it up, if we only had any place to put it all.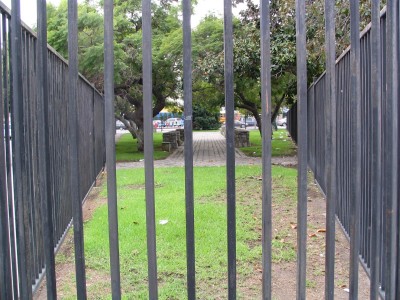 There was a tiny little triangular park with a few benches and a bit of grass, a couple of trees, totally surrounded by a high metal fence. The gate was locked, and looked like it hadn't been open in a long time. Keeping the bums from sleeping on the benches, I suppose, making the dope dealers move to less pleasant surroundings, probably. But it's a damn shame. A place like that ought to have a few dozen old farts getting some sun—though not today, it was overcast with the marine layer that's normal this time of year—maybe playing chess or cards. Too small for a playground, even a swingset or a slide, but you hate to see all those park benches going to waste.
There are hundreds and hundreds of places to eat along this stretch of Route 66. Most of them are quite small, in what Lee is calling "corner malls," which are like strip malls except they're on the corner to maximize retail space and minimize parking space, and are usually two stories high. Lots of Thai, and Chinese, and Mexican. Lots of sushi. There are a few bigger places.
Near the end of the day's walk we decided to grab a bite to eat, and a place called the Cafe 50's looked promising. Inside, it was even more promising. It looked like a real '50s diner (I know, there are a million of them, including a chain called Johnny Rocket's, but this one looked more genuine), and every available wall and the ceiling were covered with trashy fan magazine covers, trashy science fiction magazine covers, and trashy movie posters. You gotta hand it to those folks in the Fab Fifties, they knew how to do trashy. They could have made a new edition of Little Bo Peep look trashy. ("A Girl and Her Sheep! What Did They Do, Out in the Pasture?") In fact, I once owned a copy of a paperback of a William Faulkner book that featured a woman in a torn blouse showing a lot of shapely gams (as they said in the '50s) looking up at a muscle-bound guy in a torn t-shirt standing over her, threateningly. Rape was clearly the implication. Was it As I Lay Dying? I can't remember.
We grew so fascinated by the movie posters, in particular, that Lee wrote down some of the titles so we could look them up at the IMDb when we got home. One of the most suggestive was for something called Woman in a Dressing Gown. Here's the ad copy:
The Bold Story of an Illicit Love!

Why not a movie about illicit love? It's real. It happens.–And it's a great picture.

We don't want to mislead you. It is true the plot of "Woman In A Dressing Gown" is of a sensational nature. But it's not for sensation-seekers. We tell with honesty and taste the story of two women, one young, the other somewhat older, who share the love of one man. It's strong stuff and candid.
Whew! Steamy, huh? It sounded to me like one of those thinly disguised "educational" movies they used to make, maybe about lesbians, or unmarried pregnant women, way below B-movies, whose only purpose was to show a little nipple here, a little bare butt there. Pretty sweaty stuff for the '50s. Turns out it was a serious British film, made from a play, and won some awards, including a Golden Globe! (Of course, back then the Golden Globes were just a pissant little award given out by a handful of foreign journalists in Hollywood who wanted a chance to booze it up at an awards celebration, and hope a real star would show up. Come to think of it, it's still a pissant little award given out by a handful of foreign journalists, only now it's a black tie affair and attendance by all the Hollywood glitterati is mandatory. Go figure.)
Two of the sexy vixens featured up on the wall were Mamie Van Doren and Diana Dors. Lee was moved to look them up when we got home. Diana Dors died a long time ago. Her real name was Diana Mary Fluck—I kid you not! She had this to say about that, proving she had a sense of humor: "They asked me to change my name. I suppose they were afraid that if my real name, Diana Fluck, was in lights, and one of the lights blew…" You couldn't make this stuff up.
Mamie Van Doren is not only still alive, she's still very much kicking, with boobs the size of the Graf Zeppelin and the Hindenburg, which she shows at every opportunity, like at parties with her friend, Hef. She's 76, fer cryin' out loud! I have to say, she doesn't look it. She has a vast website with more pictures of herself than you could shake a stick at … or shake something at, anyway … and a blog, where she enjoyably, and very articulately, shoves corncobs and other uncomfortable objects up the ass of George W. Bush, or George the Weenie, as she sometimes call him. My kinda gal!
The food at the diner wasn't bad, either. I'd like to try a few more items. They have a bewildering array of specials every day of the week.
We went on a little bit more through the Sawtelle neighborhood, almost to the 405 freeway. Next time: West Los Angeles and Rancho Park. See you then!
November 12, 2007
© 2007 by John Varley; all rights reserved