Rudolph Valentino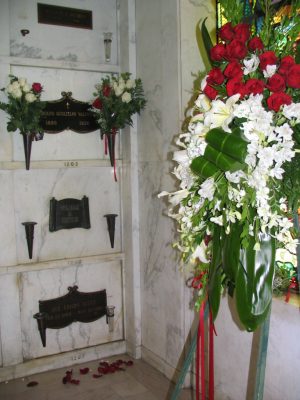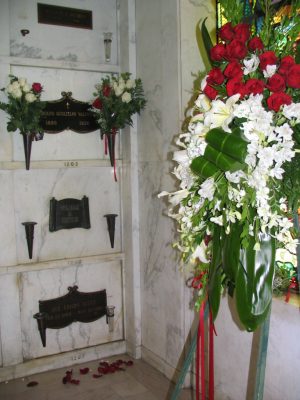 August 23 was the 81st anniversary of the death of Rudolfo Alfonzo Raffaelo Piero Filibert Guglielmi De Valentina D'Antonguolla, in New York City, of peritonitis following a perforated ulcer. We know him as Rudolph Valentino. (I've found two different versions of that gigantic name, and I'm going with the longest one.) Every year since 1926 his fans (and now their descendants) have converged on Hollywood Memorial Park (now called Hollywood Forever) to pay their respects. On our first visit to Hollywood Forever, two years ago, we were stunned and disappointed to find that we had just missed the ceremonies, which had concluded only a short time before. We resolved that we'd make it back one day, and August 23, 2008, was that day.
You never know what you're going to get on Valentino Day. The time we just missed, it was the 80th anniversary, and there were TV crews and a real big crowd. They had left their flowers at both the Valentino shrine and at the crypt itself. Today the crowd was more modest, but it eventually filled up the gold and white straight-backed chairs in the central nave of the Southeast Mausoleum, just a stone's throw away from the Paramount Studios. I'd estimate between 100 and 150 people were there. Nothing like the 100,000 frantic fans who turned out in New York for the funeral mass, when Pola Negri swooned silent-movie-style over the coffin, and people were breaking windows in the church to get in, but not bad for a man who has been dead for 82 years. There were similar crowds in Hollywood when he was entombed, where planes flew over dropping millions of rose petals on the cortege route.
Some of the people were in period 1920s costumes. There was one lady in a white wedding dress with a short skirt, and a hat with flashing red lights on it. Don't ask me what that was all about. It's the sort of sight you see every day in our beloved screwy bally-hooey Hollywood.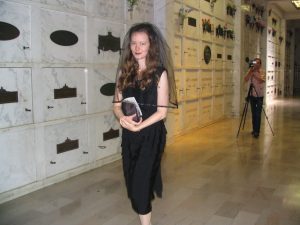 Before the ceremony began a "Lady in Black" showed up with a bouquet of red roses. I say a Lady in Black, because there have been several of them over the years—sometimes a lot of them at once! The original was a woman named Ditra Flamé (pronounced Fla-MAY … a stage name, you think?), who showed up every year from 1926 to 1954. She stopped coming because she said there were now too many Ladies in Black, it had become a regular zoo with all of them shoving for position. But she returned in 1977 and got in the papers again. The madness tapered off over the years, but there has always been a Lady in Black, some of them with a long run, others only wannabes. I don't know anything about our Lady in Black today. She appeared, walked slowly up the aisle, and then down to the crypt. She returned without the flowers. Traditionally, she shows up in a limo, but I wasn't outside at the time and can't confirm this.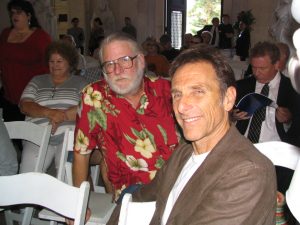 I took a seat at the size 25 feet of Saint Paul and contemplated his marble toes until the service began.
There were a few speeches, and some singing. Either Bob Mitchell or Vince Morton sang "You, My Love," and "He Loved, He Danced, He Tangoed," while the other one played what sounded like an old Hammond organ. Both of them were pretty old, but didn't do a bad job, and they got a sincere round of applause.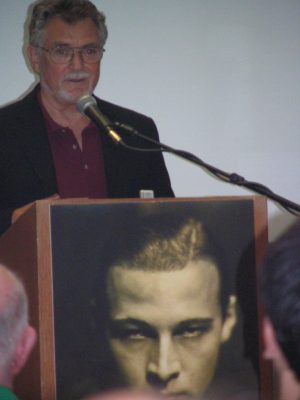 Tim Considine was there to deliver remarks on his father, John W., and his friendship with Valentino. I wouldn't have known who he was if Lee hadn't told me he was Spin. You know, Spin Evans from the "Spin and Marty" serials on the "Mickey Mouse Club" back in the fifties. He was also Frank Hardy in "The Hardy Boys." I never saw any of those. He was in "My Three Sons," but by 1970 he was playing "Soldier who gets slapped" in Patton. A bit of a comedown, huh? Luckily, he doesn't have to rely on a film career for a living. He's an auto historian, writer, and photographer, specializing in motor sports.
Then Ian and Regina Whitcomb sang "New Star in Heaven Tonight," about Valentino, as Ian played the ukulele, and finished with Valentino's signature piece, "Sheik of Araby."
I'm the Sheik of Araby
Your love belongs to me
At night when you're asleep
Into your tent I'll creep
The stars that shine above
Will light our way to love
You'll roam this land with me
I'm the Sheik of Araby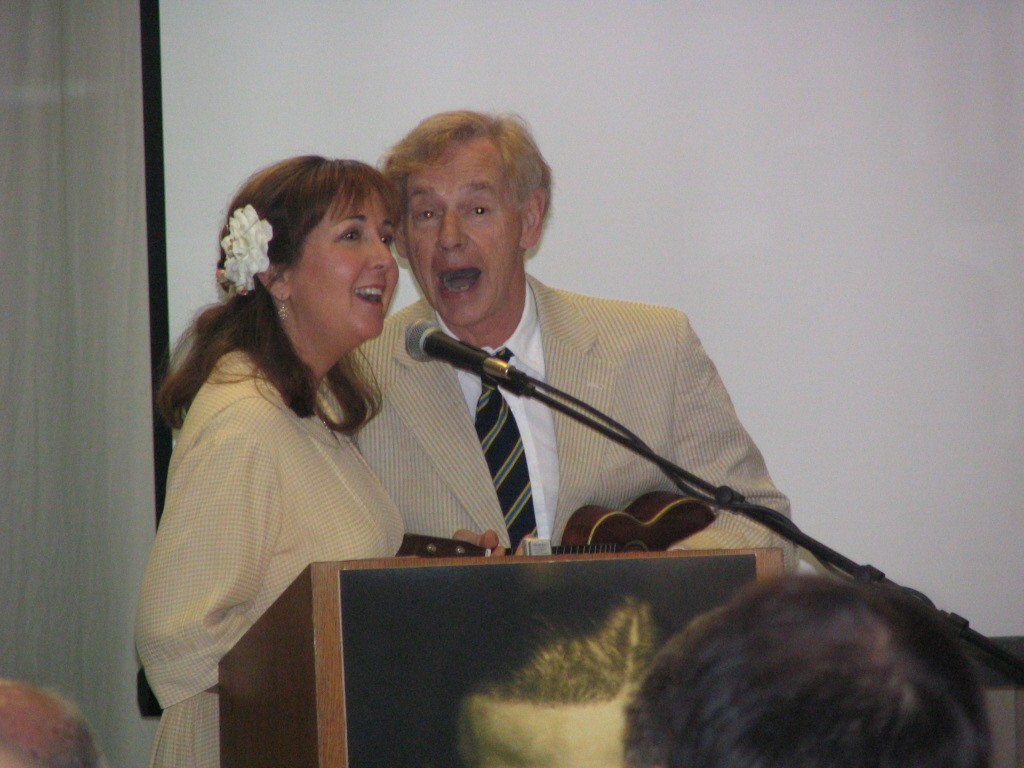 September 2, 2008
Hollywood, CA